Ted Williams was a former professional baseball player who devoted nineteen years of his life on the field. Following it, he commenced with the game off the field as the manager.
One of the greatest hitters in MLB history, Ted depicts a net worth of $5 million.
During his career, Ted was fully devoted to the Boston Red Sox. Apart from his gameplay, he was indulged in media appearances, social works, and many more.
By the time Ted retired, he had stood with the highest on-base percentage of all time. Not to mention, he also had one of the highest batting averages among the MLB players.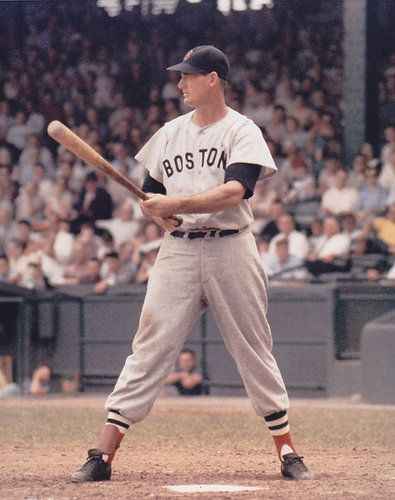 Anyways, let's dive into his career earnings, works, and much of his career adventures.
Quick Facts
Full Name
Theodore Samuel Williams
Date of Birth
August 30, 1918
Birth Place
San Diego, California
Nick Names
Teddy Ballgame, The Kid, The Splendid Splinter, and The Thumper
Religion
Atheist
Nationality
American
Ethnicity
White
Zodiac Sign
Virgo
Death Date
July 5, 2002 (aged 83)
Death Place
Inverness, Florida
Drafted Height
1.9 meters (6 feet 2 inches)
Drafted Weight
93 kg (205 lbs)
Eye Color
Green-brown
Hair Color
Grey
Father's Name
Samuel Stuart Williams
Mother's Name
May Venzor
Siblings
Danny Williams
Education
Herbert Hoover High School
Amherst College
Marital Status
Married
Wife
Three wives; Dolores Wettach (m. 1968-1972), Lee Howard (m. 1961-1967), and Doris Soule (m. 1944-1955)
Kids
Three children; Barbara Joyce ("Bobbi Jo"), John Henry Williams, and Claudia Willimas
Profession
Former baseball player and manager
Bats and Throws
Left batting and right throwing
Playing Team
Boston Red Sox
Position
Left fielder
Team Managed
Washington Senators / Texas Rangers (1969–1972)
MLB Statistics
2,654 hits, 1,839 runs batted in, 521 home runs, .344 batting average, and .482 on-base percentage
Net Worth
$5 million
Last Update
June, 2023
Ted Williams Net Worth | How much has he earned?
In his rookie years, Williams commenced his earning from the line of $4,500 and eventually moved on top of the salary ladder. Likewise, from 1940 to 1948, his salary gradually rose from $12,000 to $60,000.
Herewith, he was already second on the salary ladder. Similarly, Ted gained up to $90,000 by 1951.
Right then, he and Joe DiMaggio shared the same position in salary space, and the next year, as Joe retired, Ted became the first on the salary ladder.
Altogether, by the time of his retirement, Ted had earned $10,800,000 in salary if it's to compare in today's time.
You might be interested in learning about Rachel Homan's career earnings, endorsements, and more!
Post-retirement indulgence
After Ted's retirement, he commenced working as a special batting instructor for the Boston Red Sox.
Following it, he served as Tom Yawkey's executive assistant, and after four years, he stood a the team's vice president.
In 1969, Ted appeared as the manager for the Washington Senators. During his four gears long managerial career, he often visited the Boston Red Sox as the guest batting instructor.
Brand Endorsements
One of Ted's greatest deals back in his days was with the Sears. He would endorse their line of in-house sports equipment and star as their marketing idol with the contract.
For elaboration, the endorsed line included fishing, hunting, and baseball equipment. Right there, it also featured the "Ted Williams" edition of Gamefisher aluminum boat and 7.5 hp "Ted Williams" edition motor.
Back then, the deal earned Ted $125,000 as an annual salary. Before coming up with Sears, he marketed the brand "J.C. Higgins."
Alongside Sears, Ted became the chairman of Sears' "Ted Williams Sports Advisory Staff."
With loads to carry on hand, Ted Williams had a hard time managing his works, and that was when his elder son stepped in to help him with it. During his career, Ted had numerous autograph shows and card shows.
Therewith, John Henry Williams (Ted's son) became his manager and gave stricture to his work schedule and business affairs. Additionally, John also worked to expose forgeries in the memorabilia market.
On a similar note, John opened up the Ted Williams Card Company along with Grand Slam Marketing.
Books
Back in 1970, Ted Williams wrote a book titled 'The Science of Hitting' (revised 1986).
Apparently, this book discusses the subject indulging his ideal theory about the strike zone and on how to swing at the pitches.
In 1969, Williams wrote his autobiography alongside John Underwood titled, "My Turn at Bat: The Story of My Life."
Click to read more about Chris Paul's net worth, earnings, and more!
Overall Relationship with the Media
As an athlete, Ted Williams did have a good relationship with the media; however, it was not the case with every single one.
Talking about it, Ted had a nearly two-decade-long uncomfortable mess lurking around the Boston newspapers.
As per the records, it prevailed as the Boston newspaper would dig onto his personal life that ted despises. In the meantime, Sport Magazine and Ted Williams maintained a career-long feud.
All along the journey, there were several sportswriters and news columns that often criticized his gameplays. Like his relationships with media, he maintained a good friendship with Ty Cobb during his career.
Unfortunately, their friendship didn't prolong more as Cobb often stated that Rogers Hornsby was the greatest right-handed hitter of all time. Indeed, this thought led Cobb to throw a fit with Ted and expelled him from his hotel room.
Later, while discussing the terms of friendship, Ted himself revealed this incident that ended their friendship.
Ted Williams | Lifestyle
Williams did lead a happy and active life but with his own share of health issues and troubles. Although he didn't suffer much during his early days and mid days, however, during his old days, he suffered through various health issues.
Still, thanks to his son, he helped him keep himself away from drinks and alcohol and indulge himself with an exercise schedule. Throughout his life, Ted had an excessive intake of alcohol.
At the same time, he also treated himself mostly with a typical Western diet loaded with red meat, processed meat, sugar-added foods, sugared drinks, and fried foods.
Having said these, Ted did have his own set of workout routines; however, once he stopped indulging in it. It slowly impacted his health.
Follow to get details on Bode Miller's earnings, net worth, endorsements, and charitable works.
Beliefs
According to the sources, Ted Williams was an atheist. As explained by his daughter, Williams never beloved something with "life after death and reunion of souls."
Apart from his religious belief, William was a Republican. According to the biography, Ted had a liberal attitude on civil rights. During his time, he immensely supported Richard Nixon and even joined loads of his campaign.
As per Ted, Nixon was the greatest president of his lifetime, and hence, he has his picture on his managerial desk.
House
According to the book "Ted Williams: The Biography of an American Hero" by Leigh Montville, Ted resided in Florida. As an avid fisher, Ted resided in Florida's Upper Matecumbe Key.
To elaborate, his former estate was situated at Mile Marker 82 in the heart of fabulous Islamorada. Apparently, the house was built in the 1950s, and Ted bought it in 1960 and resided there for a decade.
For the exterior, the house stands on a 1.7 acres land with 100 feet of frontage. It depicts four bedrooms with an office room.
Other Spare Activities
Ted Williams was an aside fisher and, indeed, an accomplished fisher. Well, he was well known as an expert fly fisherman and deep-sea fisherman.
During his career days, most of his summer would be spent fishing at the Miramichi River in Miramichi, New Brunswick.
In fact, his fishing art was admired on a professional level, which earned him the 2000 International Game Fish Association Hall of Fame.
On the other hand, Ted was also fond of pigeon shooting. Often, he lightened his interest at Fenway Park.
Charity and Help
Throughout his career, Ted Williams was always giving to those in need. Not to mention, he assisted immense support for children's cancer research and treatment.
Apart from his behind-the-scenes work, he would often visit the children who were getting treated for cancer. During his visits, he would always make sure to pay all their hospital bills without hesitation.
On one such occasion, Ted launched a fund that collected $750 million between 1948 and 2010. Besides, Ted is forever linked with the Jimmy Fund of the Dana–Farber Cancer Institute.
To support the charity and children suffering, Ted practically flew everywhere for autograph signing to collect funds.
Some of his reported autograph signing places include American Legion banquets, temples, churches, Little League games, drive-in theaters, department stores, and much more.
Altogether, to honor his generous works for the community and children, a bronze statue has been made outside Fenway Park. To describe, the statue is 8½-foot that stands in a four feet granite stand.
You might want to learn about Anthony Joshua's earnings and lifestyle to date.
Brief Glance on Ted Williams
Ted Williams used to be in the military, where he served in the Air Force. As for his personal life, he was initially married to Doris Soule in 1944. However, a decade later, they were divorced.
Together the duo had a daughter named Barbara Joyce ("Bobbi Jo"). Following it, Ted married a former Miss Vermont and Vogue model in 1968.
With Dolores Wettach, he had a son, John Henry Williams and Claudia Williams. Sadly this marriage too ended in divorce in 1972.
Lastly, he married his third wife, Louise Kaufman, and they were together until Louise's death in 1993.
Achievements and Honors
19× All-Star (1940–1942, 1946–1951 & 1953–1960, twice)
2× AL MVP (1946 & 1949)
2× Triple Crown (1942 & 1947)
San Diego Padres Hall of Fame
Major League Baseball All-Century Team
Major League Baseball All-Time Team
Associated Press Male Athlete of the Year (1957)
American League Most Valuable Player Award (1949 & 1946)
Quotes
"Baseball gives every American boy a chance to excel, not just to be as good as someone else but to be better than someone else. This is the nature of man and the name of the game."
"By the time you know what to do, you're too old to do it."
"There's only one way to become a hitter. Go up to the plate and get mad. Get mad at yourself and mad at the pitcher."
FAQs
What was Ted Williams's net worth when he died?
Ted Williams had a net worth of $5 million at the time of his death.
Why is Ted Williams so famous?
Ted Williams was famous and exceptionally lauded for his batting ability. As a fearsome hitter, the late player hit 521 home runs during his career.