Terry Francona is a famous name in the baseball world. "Tito," as you like to call him, is an American baseball player, coach, and Manager of the Cleveland Indians and Boston Red Sox of Major League Baseball (MLB).
Terry is known as one of the greatest masterminds in the history of baseball. Moreover, he is twice the 's AL manager years AL manager, World Series Champion, and the Golden Spike Award.
Hence, today, we will focus more on Terry Francona's career and also discuss his personal life, net worth, marriage, children, and much more. So follow to the end of the article to know more about Terry.
Let us start with some of the quick facts.
Quick Facts
Full Name
Terrence Jon Francona
Birth Date
April 22, 1959
Birth Place
Aberdeen, South Dakota, United States of America
Nick Name
Tito
Religion
Unknown
Nationality
American
Ethnicity
White
Education
New Brighton Area High School

University of Arizona

Horoscope
Taurus
Father's Name
John Patsy Francona (Tito Francona)
Mother's Name
Roberta Jackson
Siblings
Amy Francona
Age
63 years old (as of July 2021)
Height
6 feet 1 inch (184 cm)
Weight
86 kg (189 lbs)
Shoe Size
Unknown
Hair Color
Blad
Eye Color
Brown
Body Measurement
Unknown
Build
Athletic
Married
Divorced
Wife
Jacque Lang (m. 1982 )
Children
Alyssa Francona

Nicholas Francona

Jamie Francona

Leah Francona

Profession
American Baseball Manager
Net Worth
$5 million
Salary
$900,000
Currently Works As
Manager for the Cleveland Indians
Affiliations
Phillies, Chicago Cubs, Cincinnati Reds
Active Since
1979
Social Media
LinkedIn
Merch
Posters, Autographs
Last Update
November, 2022
Terry Francona | Early Life
Terrence Jon Francona, shortly known as Terry Francona, was born in Aberdeen, South Dakota, the United States of America.
Notably, he is the son of John Patsy Francona (Tito Francona) and Roberta Jackson. Aside from his parents, Terry grew with his sister Amy Francona.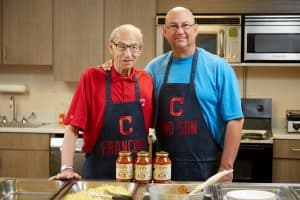 Moreover, his father, Tito, was a famous major league baseball player who played for several Major League clubs from 1956 to 1970. Since his younger days, Terry got engaged in baseball as his talented father mentored and guided him.
Likewise, to start his baseball career, he went to attend New Brighton Area High School in New Brighton, Pennsylvania.
After graduation, Terry enrolled at the University of Arizona to receive his bachelor's degree. He played college baseball for the Arizona Wildcats baseball team.
Terry Francona | Age, height, and Nationality
Terry Francona was born in 1959, making him 62 years old as of now. Moreover, he was born on April 22, which makes his birth sign Taurus.
And from what we know, people who fall under this sun sign are typically hardworking, free-spirited, and out-going at the same time.
Likewise, Terry stands at 6 feet 1 inch (184 cm) and weighs around 86 kg (189 lbs). Aside from this, his body measurements are unknown at the moment.
Not to mention, Terry is blad-headed and has got a pair of Brown eyes. Likewise, he is an American citizen whose ethnicity belongs to White.
Terry Francona | career
As a Player
During his college years, Terry represented the United States at Pan American Games. Also, in 1980 he won the college world series and was named the most outstanding player of the tournament.
Following that same year, Francona also won the Golden Spikes Award. In 1981, he made his major league debut with Montreal and played as an outfielder. Likewise, he then went to the National League Division Series and played against the Philadelphia Phillies.
Moreover, Francona got shifted to first base, played one hundred games more than in the outfield, and developed a reputation as a contact hitter.
He also made an appearance with Milwaukee in 1989 as a pitcher striking out one batter on three pitches and throwing 12 pitches.
As a coach
After retiring as a player, Terry started coaching and spent several years as a coacher in the Chicago White Sox organization. Then, he began managing the rookie league Sarasota White Sox of the Gulf Coast League in 1991.
Besides that, he also worked with the Dominican Winter League.
Moreover, as a manager, Terry also won two distinctions 1993 Baseball America Minor League Manager of the year and 1994 Baseball America top managerial candidate.
Similarly, he also worked with Buddy Bell in 1996 and became a third-base coach for the Detroit Tigers.
As a Manager
Philadelphia Phillies
After the 1996 season, Terry got hired as the manager of the Phillies. During his first four seasons as the skipper, the club never rose above third place. However, in 1999 they finished in third place, behind the division-rival New York Mets and the Atlanta Braves.
Moreover, in 2000 he spent the season as a special assistant for the Cleveland Indians and as a bench coach for the Texas Rangers and Oakland Athletics.
Boston Red Sox
Boston Red Sox hired Terry to manage their club in 2004, which led them to the American League's second-best record behind the New York Yankees. Likewise, they also won more games than any other team in the American League.
Unfortunately, in the 2005 season, Terry got hospitalized due to severe chest pains, painful knees, and blood clots issues.
After two years, he returned to action, and under his leadership, Red Sox won the AL East Division, finishing two games ahead of the Yankees.
Also, Francona is the only manager to win his first eight consecutive World Series games in Major League history. And the second manager to guide the Red Sox clubs to World Series titles.
In 2009, Terry recorded himself as the third manager in club history to have 500 wins. Also, he became the fourth person to manage 1,000 games for the Red Sox. Similarly, in 2011, he got his 1,000th win as a manager and finished his Red Sox career.
Cleveland Indians
Terry got hired as the manager of the Cleveland Indians in 2012. Under his leadership, the Indians finished the 2013 regular season and were named the American League Manager.
Likewise, he also managed Cleveland to the American League Central Division title-clinching a berth in the ALCS with a win at Fenway Park.
Besides, Terry's Cleveland moved on to the World Series by beating the Toronto Blue Jays and won the game against Chicago Cubs.
Not to mention, Terry again got named as American League Manager of the Year for the second time in 2016.
As a Broadcaster
After his departure as a manager from the Red Sox in 2011, Terry joined the Fox network as the color analyst for the first two games in the American League Championship series.
Likewise, he also signed with ESPN and joined their Sunday Night Baseball telecast as an analyst and contributed to ESPN's Little League World Series coverage.
Health
Francona got hospitalized many times due to his poor health conditions. He got suffered from a life-threatening pulmonary embolism in 2002, which led to circulation issues.
Likewise, in 2017, he missed several games due to feeling lightheaded and was admitted to the Cleveland Clinic and was expected to rest until July 14, 2017.
Also, Terry had to undergo catheter ablation due to his irregular heartbeat as a reason for which he had to skip the 2017 MBA All-Star Game.
Terry Francona | Net Worth & Salary
Terry has spent nearly a decade as a Baseball player, manager, coach, and broadcaster. He is one of the highest-paid managers in major league baseball. During the period, he made a significant fortune in every field.
According to reports, Francona has accumulated a net worth of nearly $5million. Aside from his net worth, Francona made almost $4.2 million a year as a Cleveland Indians manager. Without a doubt, most of his earnings are from his career as a baseball manager.
Likewise, Terry reportedly earned $900,000 annually throughout his MLB career. He has also earned nearly $1.12 million as a baseball player between 1985 and 1990. Besides that, from 1985 to 1986, he has also made $250,000 in a season.
Notably, he had also signed a $12 million contract with Red Sox back in 2004. Moreover, Francona also worked at FOX and ESPN networks, so he had earned a considerable amount as a broadcaster.
Terry Francona | Personal Life
Francona might be successful when it comes to baseball, but not so much in his personal life. For those who don't know, Terry is a divorced man as of now.
Terry was married to his wife Jacque Lang in January 1982. They have four children, three daughters: Alyssa Francona, Jamie Francona, and Leah Francona, and a son named Nicholas Francona.
Unfortunately, their marriage fell apart 30 years after. Likewise, Terry confirmed his separation in an interview, saying they were in the final divorce stage. By early 2011, Terry and Jacque got divorced and started living separately.
Hence, the exact reason for their separation is still unknown. Also, it seems Terry is spending a single and happy life as of now.
Current Injury
Recently, Terry Francano struggled with a staph infection on his left toe. Herewith, he had to undergo surgery at Cleveland Clinic.
Well, Terry made a 10-day hospital stay during which they had to remove a part of the bone in his toe. After surgery, he was on crutches and only opened up later from Goodyear, Arizona.
Aside from his foot injury, Terry struggles with the PICC line (Peripherally Inserted Central Catheter) in his arm. Way before it too, he had gastrointestinal and blood clot issues due to which he had to undergo nine to ten surgeries.
All along his journey, Terry also had his right hip replaced following the Indians' Game 7 loss to the Cubs in the 2016 World Series. Back in 2017, he went through cardiac ablation surgery to correct an irregular heartbeat.
If you are interested in Terry Francano's rookie card, click the link to follow.
Social Media Presence
Just as expected from the folks of his age, the Baseball manager is not active on any social handles and stays far from it as much as he can. He is not precisely what you would call tech-savvy. Likewise, the only updates we get about Terry is from his LinkedIn account.
Quotes
"I wouldn't trade it for the world. Trying to be a little bit better than somebody else at what you love is a great feeling."
"The comfort I have is our ability to play. I know that we will show up and play the next game, and that's what gives us the most comfort."
Some FAQs
Why do they call Terry Francona Tito?
Terry's father, John Patsy Francona, was a Major League Baseball player and was nicknamed Tito. Being his son and a baseball manager and player the same as him, Terry Francona was called Tito.
Where did Terry Francona go to college?
Terry Francona went to the University of Arizona.
Is Terry Francona Italian?
Terry Francona was born in South Dakota, USA, and is American by Nationality.
Did Terry Francona play baseball?
Terry played college baseball for the Arizona Wildcats baseball team and represented the United States at Pan American Games in 1979.
What is Terry Francona's career statistic like?
Terry Francona debuted in the MLB debut on August 19, 1981, for the Montreal Expos. Nearly a decade later, he retired from the field on April 19, 1990, for the Milwaukee Brewers.
During his career, Terry maintained his MLB statistics of 143 runs batted in, a batting average of .274, 16 home runs, and a .543 winning percentage. Well, he maintains a managerial record of 1,722–1,448.
Which jersey number did Terry Francano wear?
Terry Francano wore jersey number 77 for the Cleveland Indians.
You might be interested in buying Terry Francano's jersey, click the link to follow.