The South African model, Demi-Leigh Nel-Peters, is widely known as the American football quarterback Tim Tebow's wife. She was named Miss South Africa in 2017 and the second from South Africa to wear the Miss Universe crown.
The beauty queen beat Miss Columbia Laura Gonzalez to win the Miss Universe pageant in 2017. When asked about her Miss Universe journey, she said her life changed forever after that day.
The South African model studied at North West University with BCom Business Management and Entrepreneurship degree.
Her husband, Timothy Richard Tebow, played three seasons in NFL with the Denver Broncos.
He played college football in Florida, where he was awarded Heisman Trophy and led his team to BCS National Championship in 2007 and 2009.
The pair visited South Africa on December 14, 2022, where they played double-date golf with Rolene and Daniel Strauss. The pageant winner shared a picture on Instagram where she wrote, "Date day with the Tebows."
In this article, we have tried our best to gather all the available information about Demi-Leigh Nel Peters and compile them all. Let's dig in!
Demi-Leigh Nel Peters | Quick Facts
Full name
Demi-Leigh Tebow Nel Peters
Nickname
Demi Peters, Demi Nel
Birthdate
June 28, 1995
Birthplace
Sedgefield, Western Cape, South Africa
Nationality
South African
Ethnicity
Afrikaans
Religion
Christian
Horoscope
Cancer
Age
28 Years Old
Father's name
Bennie Peters
Mother's name
Anne-Marie Steenkamp
Sibling
Half-sister, Franje
High School
Outeniqua High School, George, South Africa
College
North West University
Qualification
Business Management and Entrepreneurship Degree
Height
5'8″/1.73 m/173 cm
Weight
60 kg/132 lbs
Hair Color
Brown
Eye Color
Hazel
Body Type
Pear
Sexual Orientation
Straight
Marital Status
Married
Husband Name
Tim Tebow
Married Year
January 20, 2020
Profession
Model
Title

Miss South Africa 2017
Miss Universe 2017

Major Competitions

Miss South Africa 2017 (Winner)
Miss Universe 2017 (Winner)

Hobbies
Hiking, Scrap-booking, Reading books, Modeling
Favorite Food
Pork Ribs, South African Grilled Cheese
Net Worth
$5 Million
Merch
Tim Tebow: On A Mission, Jersey
Social Media
Twitter, Instagram
Last Update
November 2023
Demi-Leigh Nel-Peters | Childhood And Early Life
Demi-Leigh Nel-Peters was born on June 28, 1995, in Sedgefield, Western Cape, to the supporting parent's Bennie Peters and Anne-Marie Steenkamp.
She grew up with Franje, her half-sister, who suffered cerebellar agenesis, which implies the complete absence of the cerebellum, irrespective of its underlying cause.
The South African model described her as the most crucial motivation in her life. Sadly, Franje died on May 4, 2019, as per Nel-Peters' Instagram post.
Demi attended Outeniqua High School in George, Western Cape, and was the first female in her high school to be chosen as both the school and hostel head girl.
She was voted Deputy Junior Mayor of the George City Council while studying in Grade 11. Nel-Peters graduated from University in March 2017, just a few days before becoming Miss South Africa 2017.
Likewise, Nel-Peters speaks both English and Afrikaans. She continues exhibiting her leadership attributes and savviness even after completing her University education.
Demi-Leigh Nel-peters | Nationality
Demi-Leigh was born and raised in South Africa. The pageant winner currently resides in the United States and holds dual citizenship in South Africa and the United States.
Similarly, her ethnicity is Afrikaans, as her ancestors descended from a group of Dutch settlers who arrived in South Africa in the 17th and 18th centuries.
Nel Peters is of mixed-race descent, referred to as 'Cape colored' in South Africa.
A Glimpse Into Demi-Leigh Nel-Peters's Pageantry
On March 26, 2017, Demi-Leigh debuted in the pageantry world as the Western Cape's representative in the Miss South Africa 2017 Competition.
Before that, Nel-Peters worked as a part-time model for Boss Models and Vision Management Cape Town.
She represented South Africa in Miss World 2017 and Miss Universe 2017. However, due to the date collision of the two pageants, Demi was sent to Miss Universe, which took place in Las Vagas.
Nel-Peters was crowned Miss Universe 2017 by ex-title holder Iris Mittenaere. Before her, Margaret Gardiner was the first South African to win the crown.
Her reign ended on December 17, 2018, in Bangkok, Thailand, which hosted the 2018 Miss Universe competition. Catriona Gray of the Philippines was crowned as her successor.
The Reality Behind Her Commitment
During a Miss Universe feature, Nel-Peters stated that she wanted to utilize her self-defense seminars to help as many women as possible.
The idea came after she was hijacked in Johannesburg, South Africa, by three armed men held at gunpoint at mid daylight.
Demi-Leigh was forced to hand over her car keys and was pushed inside her vehicle by the carjacker. Somehow, she struck one of them in the throat and ran away.
Tim Tebow's Wife Almost Lost Her Life
The pageant queen was held up at gunpoint and was nearly abducted by a gang of males in June in Johannesburg, one month after being named Miss South Africa 2017.
She explained how she defended herself in a life-threatening event. In an interview with Page Six, the 22-year-old model said she was fortunate to have taken a female empowerment course just three months before the attack.
Nel-Peters admitted, "It was terrifying," However, they showed me what to do if you find yourself in a position like that."
Luckily, she punched one of his attackers in the throat and ran away. A Good Samaritan noticed her and immediately took her to the hospital.
Tim Tebow's Wife | Net Worth
Being elected Miss Universe have its advantages, and money is undoubtedly one of them. Demi-Leigh Nel-Peters' net worth is believed to be $5 million.
After becoming Miss Universe in 2017, she endorsed numerous companies and appeared on several television shows. Demi also got a year-long 'Miss Universe' remuneration after winning the title in 2017.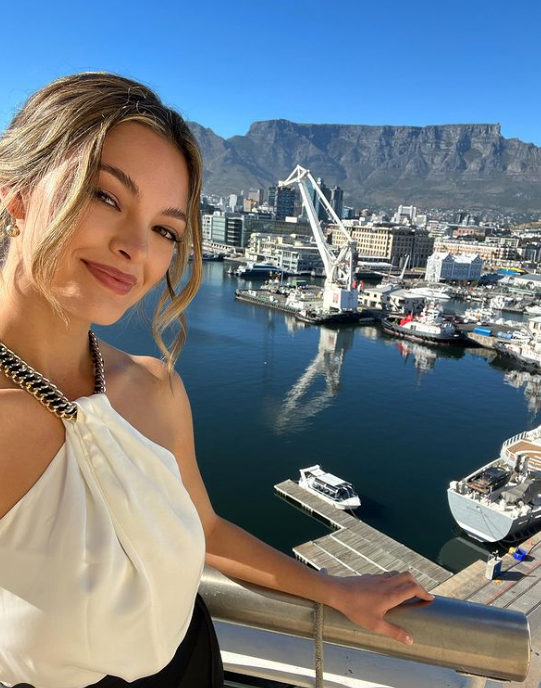 Likewise, other advantages of the title included a year of luxury lodgings in a New York City apartment, a year's supply of Farouk Systems hair care products and equipment, a shoe wardrobe by Chinese Laundry Shoes & Accessories; a modeling portfolio, dermatological treatments, travel services, and many more.
Also Read: Howie Long Bio: Career, Net Worth, College & Wife>>
Who Is Demi-Leigh Nel-Peters' Husband?
The 28 year-old model Demi-Leigh Nel Peters is happily married to the American football quarterback tight end Timothy Richard Tebow, aka Tim Tebow.
Tebow attended the University of Florida, where he won the Heisman Trophy as a sophomore. Similarly, he also led his team to two BCS National Championships in 2006 and 2008.
He owned the Southeastern Conference records for career passing efficiency and running touchdowns after his collegiate career.
The Broncos drafted the NFL quarterback tight end in the first round of the 2010 NFL Draft and, thus, became the team's starting quarterback for the 2011 season.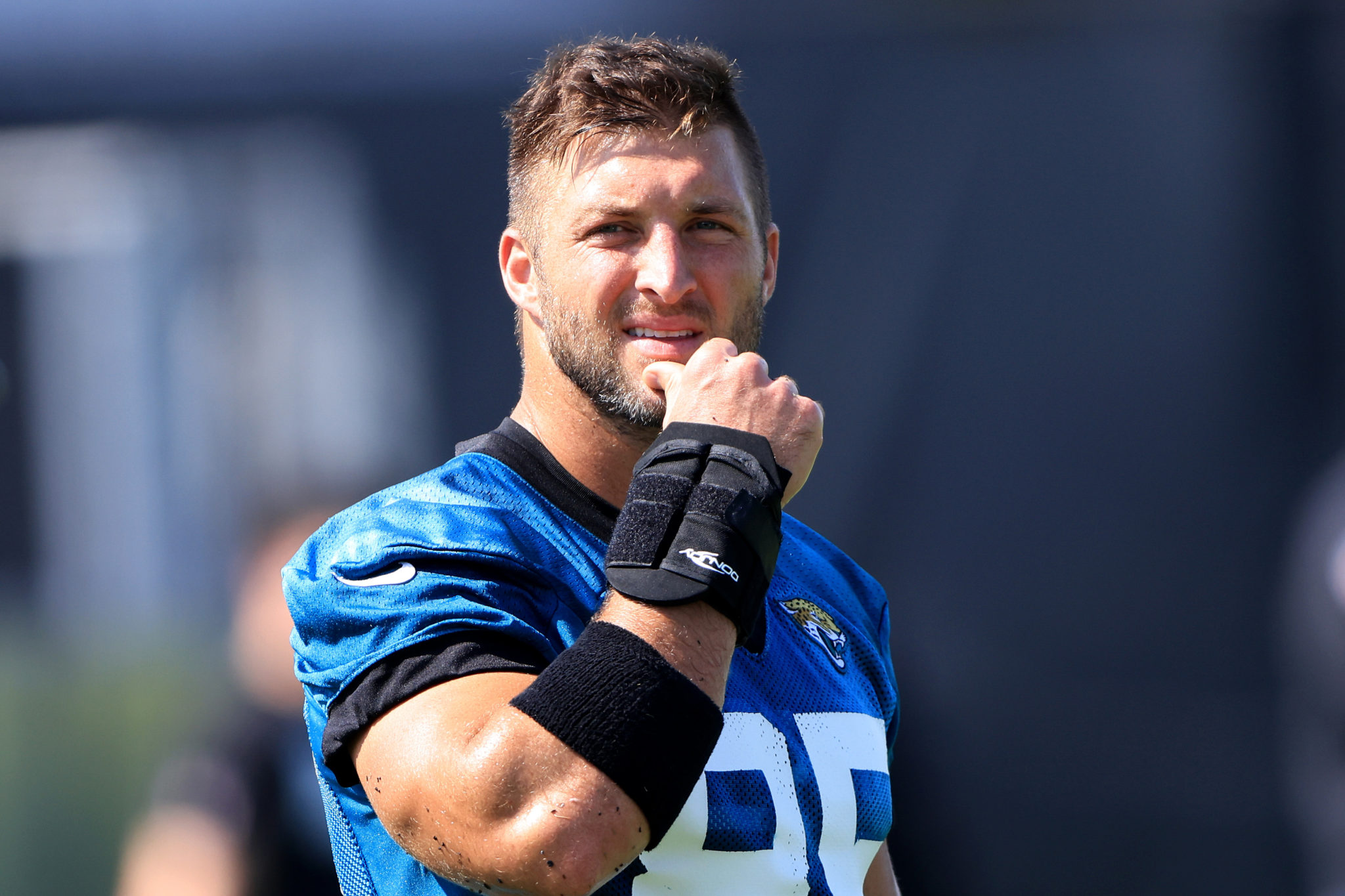 Later, he was traded to the New York Jets, where he spent a year as a backup.
Tebow pursued a minor league baseball career in the New York Mets organization from 2016 to 2021 after failing to make the final rosters of the New England Patriots and Philadelphia Eagles.
He returned to the NFL as a tight end for the Jacksonville Jaguars the same year but was dismissed after one preseason game.
Tebow, known for his open Christian faith, became a cultural phenomenon with the 2011 Denver Broncos. His propensity for kneeling on football grounds and his style of prayer earned the moniker "Tebowing."
How Did The Couple Meet?
Demi-Leigh and Franje met Tim during a charity event in South Africa called Night to Shine, a Tim Tebow Foundation Project.
The football quarterback said his charity project invited Nel-Peters and her family to the event, which led to their relationship, in an appearance on Today in 2018.
After dating for a few years, the couple engaged in January 2019 at Tebow's family farm in Jacksonville, Florida. Timo proposed to Nel-Peters at his family's farm.
The couple took a trip around the property and halted by a small lake. At that place, Tebow had erected an arbor, and a custom-made bench with the couple's first meeting date etched.
Tebow had secretly flown Nel-Peters' family and closest friends from South Africa to Florida to witness the engagement. Likewise, the invitees watched the proposal from a distance and didn't suspect a thing.
Following the engagement, the couple's friends and relatives emerged from hiding, much to Nel-Peters' surprise, since she had no idea that her family and friends had traveled halfway across the world to attend the engagement party.
In addition, the couple's inner circle then ate supper at a Jacksonville club, where family and friends gave speeches and toasts.
Tim Tebow And Demi-Leigh Nel-Peters Wedding Day
The wedding of Tim Tebow and Demi-Leigh Nel-Peters was a fairytale come true. On January 20, 2020, the pair exchanged vows in the bride's native country of South Africa.
They held their wedding ceremony and reception at La Paris Estate in Franschhoek. The site is renowned for its magnificent vineyards and farm-to-table experiences around the Cape.
Moreover, Nel-Peters wore David's Bridal sleeveless white crepe gown with a scooped back that she paired with a low chignon.
The beautiful bride was more concerned with the veil, which she knew she wanted to be spectacular. It was a 20-foot-long piece.
Similarly, guests were wowed by various culinary options during cocktail hour, including a mozzarella roller, as the newlyweds snapped sunset shots.
The sit-down lunch also featured a menu that was a combination of American and South African cuisine.
The couple later revealed requested gifts, picked collection of things, monetary funds, and charitable offerings from their guests leading up to Nel-Peters and Tebow's wedding.
Does The Couple Have Children?
At present, the lovely couple does not have any children. However, the 33-year-old athlete mentioned he was ready to be a dad.
The couple wishes to have children but is unsure of the right time and timeline.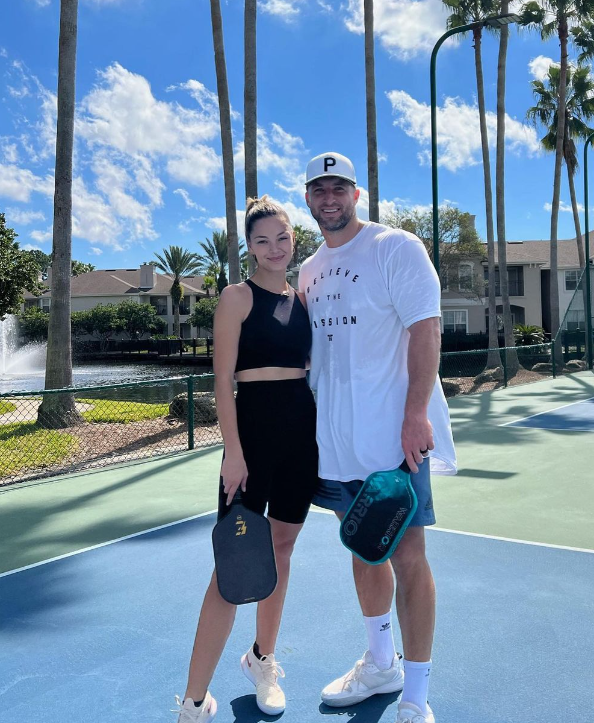 Similarly, Tim Tebow mentioned that children did come between the couple, and they hoped that day was coming soon.
Tim Tebow's Wife | Social Media Presence
The 2017 Miss Universe is quite active on her social media. Most of her post shows beautiful pictures of her traveling around and appreciating the cultures.
Instagram: 1.6M followers
View this post on Instagram
Twitter: 59.3K followers
Her recent Instagram post is about the South African farmers market, highlighting the quality of raw ingredients and fresh foods.
Likewise, she frequently shares pictures with her three adorable dogs, Paris, Kobe, and Chunk.
Tim Tebow's Wife | Popularity
Tim Tebow's wife, Demi-Leigh, is always the center of attraction, thanks to her Miss South Africa 2017 and Miss Universe 2017 title.
The graph shows her search trends over 12 months.
Tim Tebow's Wife | FAQs
What is Demi-Leigh Nel-Peter's leisure activity?
Demi enjoys playing the calming game of golf and often posts videos and pictures on her social media during her free time.
When did Demi-Laigh change her surname?
Demi-Leigh changed her surname after her marriage to Tim Tebow in 2017.