Gisele Bundchen is one of the most popular supermodels on earth and a famous WAG. The wife of former Buccaneers quarterback Tom Brady, Gisele, divorced Brady in October 2022, surprising everyone. The couple got separated after 13 years of marriage.
Gisele is a successful model, activist, and businesswoman who originally hails from Brazil.
Fashion enthusiasts often remember her journey from an awkward 14-year-old teenage model to the highest-paid model in the world very fondly.
Despite being an independent woman, her high-profile dating life makes headlines from time to time.
Before she found love with Tom, she was dating the superstar Leonardo Dicaprio.
The 42 years old Gisele has everything a woman could ever hope for, wealth, fame, and a lovely family. She is an inspiration to many people all around the world.
The duo tied the knot in February 2009 and share two kids together: Benjamin Rein (13) and Vivian (10).
Tom Brady, the seven times Super Bowl champion, announced his retirement from the sport after playing for 23 seasons in NFL on February 1, 2023.
Few months before Tom announced his retirement, Gisele was rumored to be in a romantic relationship with jiu-jitsu instructor Joaquim Valente as they were photographed at a restaurant Koji in Provincia de Puntarenas, Costa Rica.
Today we will go through the life of the fabulous woman who continues to be loved by fans worldwide despite quitting the runway in 2015.
Quick Facts
| | |
| --- | --- |
| Full Name | Gisele Caroline Bündchen |
| Common name | Gisele Bündchen |
| Nick Name | Gise, The Body, Hurricane Gisele, The Midas Queen |
| Birthdate | July 20, 1980 |
| Age | 42 years old |
| Zodiac Sign | Cancer |
| Religion | Christianity |
| Mother's Name | Vânia Nonnenmacher |
| Father's Name | Walter Bündchen |
| Siblings | Four sisters |
| Birthplace | Horizontina, Rio Grande do Sul, Brazil, |
| Home Town | Horizontina, Brazil, |
| Citizenship | Brazilian |
| Residence | Los Angeles |
| School | N/A |
| College | N/A |
| Education | N/A |
| Height | 5'11″/1.80 m/180 cm |
| Weight | 55 kg/121 lb. |
| Eye Colour | Blue |
| Hair Colour | Light Brown |
| Shoe Size | 41 (EU) |
| Martial Status | Divorced (October 28, 2022) |
| Partner (Ex) | Tom Brady (m. 2009-2022) |
| Children | One Son (Benjamin Brady), One daughter (Vivian Lake) |
| Sport | None |
| Profession | Model, Businesswoman, Activist |
| Famous for | Supermodel, Tom Brady's wife |
| Agency | The Lions, IMG Models |
| Hobbies | Travel, Reading, Horseback riding, |
| Net Worth | $400 million |
| Affiliated Brands | Victoria's Secret, Vogue |
| Social Media | Facebook, Twitter, Instagram |
| Website | giselebundchen.com |
| Merch | Book |
| Last-Update | March, 2023 |
Early Life and Family
On July 20, 1980, Gisele was born in Horizontina, the Rio Grande do Sul of southern brazil. Her full name is Gisele Caroline Bundchen.
She is a sixth-generation German Brazilian. However, she has long forgotten whatever little german she learned in school.
Her father, Valdir Bündchen, is a sociologist and writer, and her mother, Vania Nonnenmacher, is a bank clerk pensioner. Besides her four other siblings, she has a fraternal twin, Patricia.
If Gisele had not been a model, there are fair chances she would have been an athlete. Gisele had repeatedly mentioned that she did not even know modeling was a career option when she was a kid.
On top of that, she was an insecure kid; she thought she looked 'strange.'
As a young girl, she aspired to be a volleyball player. Her height and physique were both ideals for that career.
However, a series of events happened when her mother enrolled her in a modeling academy along with sisters Patricia and Gabriele.
Vania wanted her daughter to learn elegance, better posture, and confidence, which she thought was important for everyone. So, alongside, they took it as preparation for their debutante ball.
But as fate would have it, it turned out to be an entry ticket to the glamour world for Gisele.
Rise To Fame
After the girls completed the course, they were rewarded with a trip to Sao Paulo, Rio de Janeiro, and Curitiba. While on the trip, she was spotted by Elite Model Management in a shopping mall.
She entered the Agency's Look of the year contents in 1995, where she was placed second nationally and fourth globally.
Following that, she moved to Sao Paulo to launch her modeling career.
Her runway debut was at the New York Fashion Week in 1996. In 1997, she appeared on the cover of Brazilian Vogue, which brought recognition to her.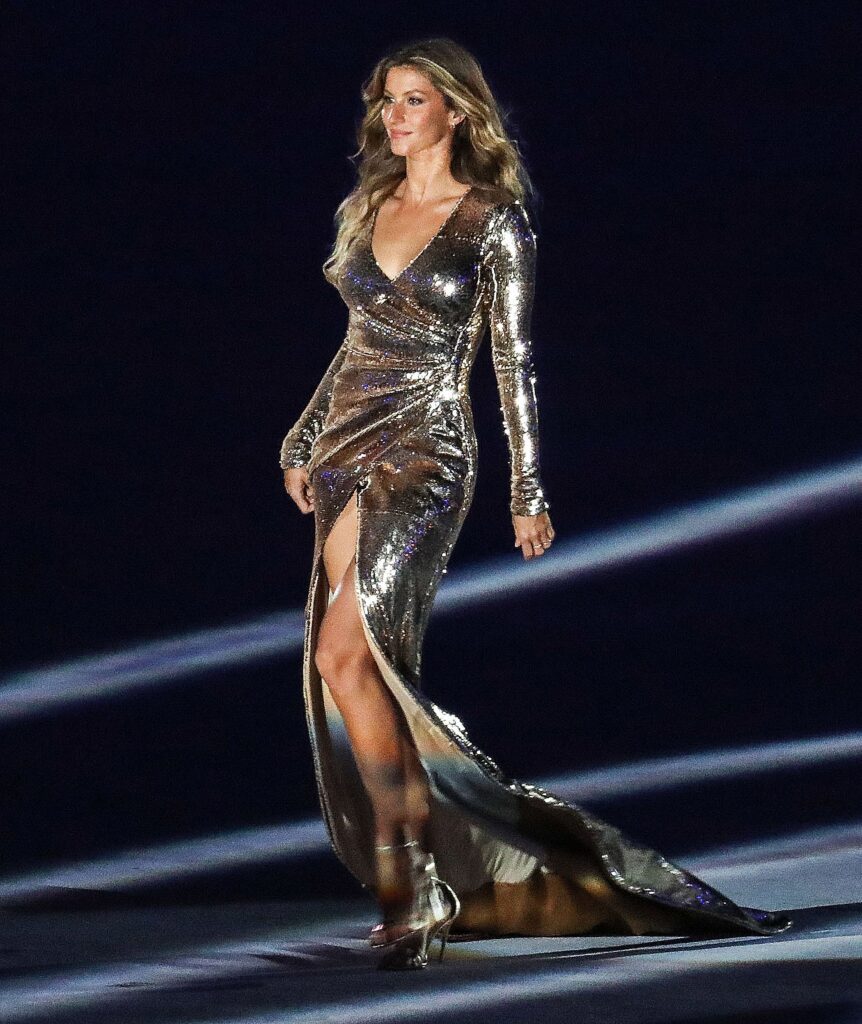 Gisele remembers being rejected 42 times in auditions before being cast in an Alexander McQueen runway show in 1998.
After that, she frequently appeared in leading magazines and fashion campaigns. She posed for Dolce & Gabbana, Ralph Lauren, Versace, Missoni, and many other brands in 1998.
Bundchen signed with IMG models in 1999. That year, she was featured on the U.S Vogue cover, where she was called "the return of the sexy model'.
In 2002, the Rolling Stone Magazine called her "The most beautiful girl in the world."
Soon, a contract with Victoria's Secret took her career to a new height. It was around this time; she was labeled a supermodel.
Acting And Singing Career
The multitalented lady has appeared in movies as well. She debuted in the comedic thriller Taxi in 2004.
Two years later, she appeared in the hit movie 'The Devil Wears Prada.' She had minor roles in both of the films.
Similarly, she has realized two singles so far. All Day and All of the Night was released in 2013, and Heart of Glass in 2014.
Relationships
Bundchen dated Leonardo Dicaprio for six-year, from 1999-2005. For that period, they were one of the most talked-about couples in Hollywood.
Gisele was a rising star then, and she started getting much media attention around 2000 after she got linked to DiCaprio.
However, Gisele initially avoided talking anything about her relationship.
In November 2002, W magazine featured an article that said the couple had broken up. Gisele mentioned that "Boys are cute. No time for boys. There is nothing else to say."
They got back together in mid-2003, and, this time, they were more serious than ever.
They went vacationing in Machu Pichu and appeared a few times in public.
During 2003 and 2004, the magazine swore that the relationship would soon become marriage.
In 2004, people magazine even reported that Leo had purchased a Neil Lane Diamond ring, making fans excited.
In early 2005, they attended the academy awards together, which made fans even more eager to see the couple getting hitched soon.
But to everyone's surprise, they broke later that year. And they moved on pretty quickly too. By the next year, they were already with new partners.
Gisele did not reveal the reason for her breakup until significantly later. Towards the end of that relationship, Gisele was experiencing mental health problems.
Panic attacks and anxiety were frequent. Following that, she made some drastic changes in her lifestyle. She cut cigarettes, wines, and caffeine and stopped numbing herself with all the work.
Unfortunately, she was the only one interested in soul searching. It was hard to be changed while your partner stayed the same. So she called it quits.
Meeting Tom Brady
The couple has a fascinating love story. They met first in December 2009 on a blind date set up by a mutual friend.
Tom had just gotten out of a relationship and was unsure if he was ready to start dating again.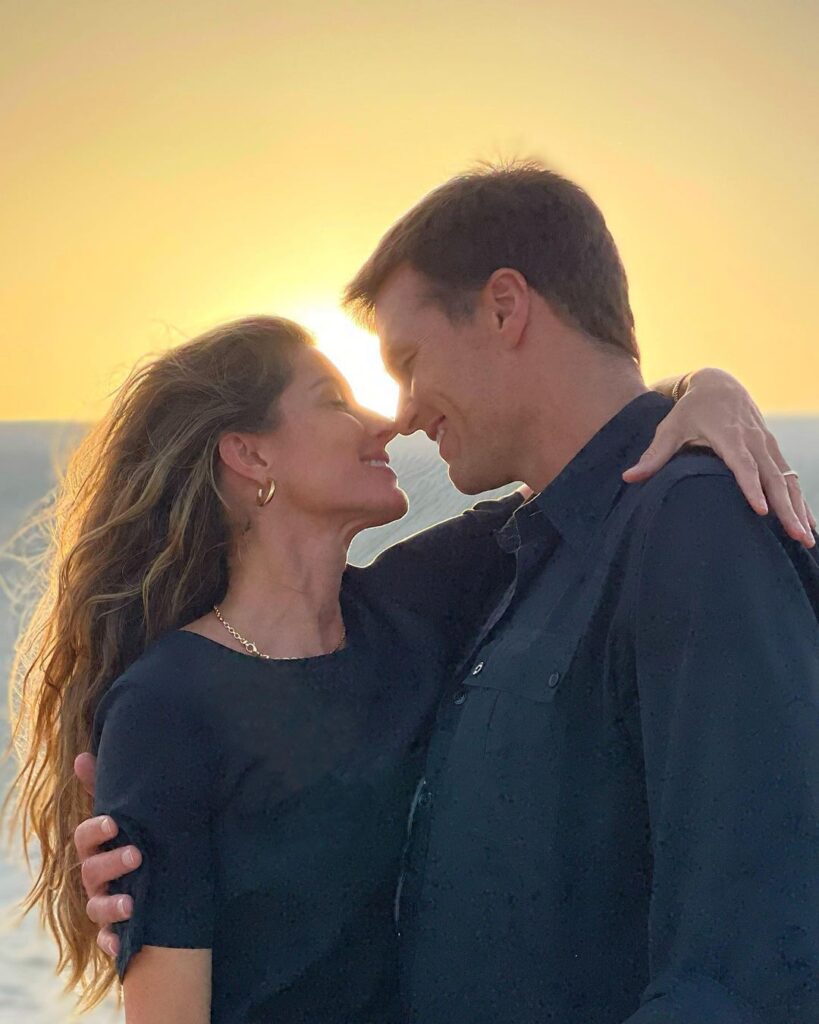 But as soon as he saw her, all his doubts vanished. He thought, 'she was the most beautiful woman I've seen in my life.".
Gisele didn't feel any different from Tom. On the contrary, she was charmed by his smile in an instant.
"I knew right away- the first time I saw him," she said in an interview later. Since that day, they have never spent a single day without talking to each other.
Baby Mama Problems
Everything seemed rosy at the beginning of the relationship. However, a situation soon followed which tested the waters of the bond between them.
Shortly after they began dating, Brady discovered that his ex-girlfriend, Bridget Moynahan, was pregnant. It was a difficult situation to go through for all of them.
Gisele later wrote in her memoir that she felt like 'it turned her life upside down.'
Moreover, Brady supported Monahan and was actively part of his son's life. "He's the most amazing son," he once shared in an interview.
Proposal and Marriage
Tom popped the question after two years of dating. He played a prank on her to surprise her with the ring.
He called and said the house was flooding, so she returned quickly. Tom had decorated the house with roses and candles and was ready on his knees with a ring.
The superstar couple married twice! The first ceremony occurred on February 26, 2009, in Santa Monica, California.
The intimate wedding took only ten days to plan and only had their parents and Tom's son, John, as guests.
In the following April, they threw another bash, this time on their property in Costa Rica.
It was a more meaningful ceremony than before, where about forty guests, just the extended family, were invited.
Kids
Gisele and Tom welcomed their first kid, a son, Benjamin Brady, in 2009 and their second child, a daughter, Vivian Lake, in 2012.
Divorce With Tom Brady & Settlements
After 13 years of marriage, the power couple decided to divorce in October 2022 and sought lawyers.
The seven-time Super Bowl champion and his Brazilian model wife were "hitting a rough patch."
The reason behind the divorce is not known precisely; however, we can speculate it's Tom choosing not to retire from the NFL and not giving enough time to his family.
"There's a lot of tension. She was so happy when he announced his retirement, and she wasn't thrilled at all when he went back on that," a source claimed.
The marriage went downhill, and the NFL star and model divorced on October 28, 2022.
The couple has decided to take joint custody of their children after the divorce.
Since the two had recently bought a property on Indian Creek Island in Miami Beach, Giselle was planning on staying in the area after the divorce went through.
Currently, Gisele Bündchen is busy renovating her Florida Cottage – bought months before her divorce.
Net Worth
As of 2023, Gisele has a net worth of $400 million. Gisele is a brand in herself.
Her modeling career, brand endorsements, book publication, and entrepreneurship contribute to her massive net worth. Similarly, her husband Tom has a fortune of $250 million.
Her product lines include clothing, lingerie, footwear, jewelry, and skincare. Most of these products are environmentally friendly.
From 2002 to 2017, Gisele enjoyed her status as the highest-paid model in the world.
In 2011, Bundchen and Brady were named Forbes' highest-paid celebrity couple worldwide.
In 2013, Forbes ranked her world's third most successful female entrepreneur.
Philanthropy
Gisele has always put philanthropy and activism as essential to her superstar personality. After quitting runway in 2015, she has been even more active in humanitarian work.
Her primary focus is on environmental awareness. After a visit to the Xingu region in Brazil in 2004, she started advocating for forest and water-related projects in the amazon rainforest and Atlantic forest.
In 2008, she and her family launched the 'Clean Water Project' in her hometown Horizontona.
This project promotes sustainable environmental management and recovery of riparian vegetation in the area.
In September 2009, Giselle was appointed a goodwill ambassador for the united nations environment program. She visited Africa for UNEP in 2012.
In 2013, Bundchen supported the United Nations Campaign THINK.EAT.SAVE, which promotes food waste reduction.
In January 2014, she joined the board of directors of the rainforest alliance.
Besides this, she donates proceeds from her product sales to different campaigns.
She has taken part in many auctions and sales for charitable donations.
She donated $1.5 million to Red Cross for the relief efforts in Haiti after the 2011 earthquake.
Bundchen formed the Luz Alliance fund in 2020 in partnership with the Brazil Foundation.
This fund supports health, hygiene, and good to Brazilian families in response to the impacts of the coronavirus pandemic.
Gisele and Tom donated 10 million meals to Feeding America in 2020 in partnership with wheels up.
About Tom Brady
Tom Brady needs no introduction for hardcore football fans or sports enthusiasts. He is undoubtedly one of the best footballers the world has ever seen.
Tom Brady was born Thomas Edward Patrick Brady Jr. in August 1977 in California, San Mateo.
His father, Thomas Brady Sr., is of Irish descent, while his mother, Galynn Patricia Johnson, has german, Norwegian, Polish, and Swedish heritage.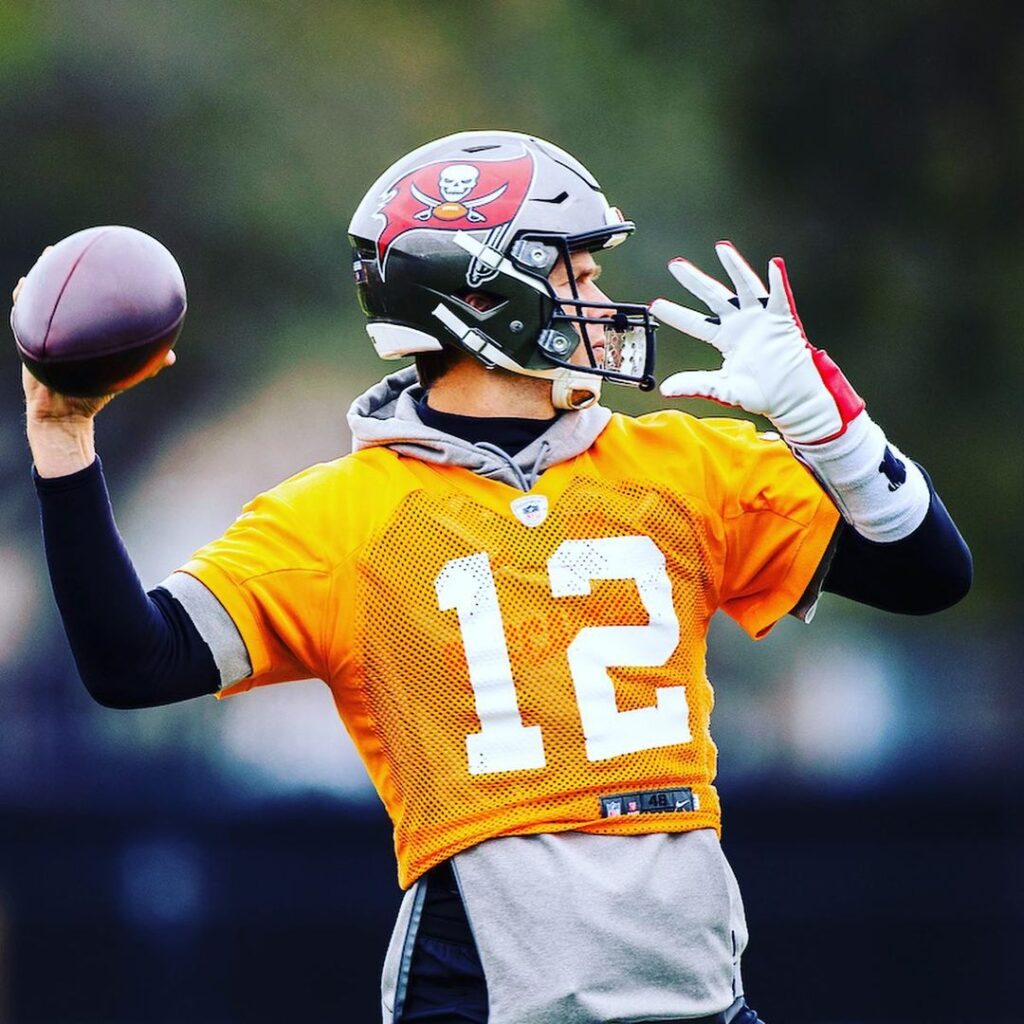 Tom started to go to football games in his early childhood and grew up as a fan of the Los Angeles Lakers and Boston Celtics.
He was athletic since his youth and played baseball, football, and basketball during high school.
Although he had an opportunity to play professional baseball after high school, he gave it up and went to the University of Michigan.
He did not spend much of his first two college years on the field. During his senior year, he helped his team win the orange bowl.
He was drafted in the sixth round of the 2000 NFL draft by the New England Patriots. He took over as a quarterback in the 2001 season and won his first MVP award at Super Bowl XXXVI.
During his professional NFL career, he earned many awards and accolades, including the Super Bowl seven times, Super Bowl MVP five times, NFL passing yards leader four times, NFL passing touchdowns leader five times, and was named the First-team All-Pro three times, Pro Bowl 15 times and many more.
On February 1, 2023, Tom announced his retirement from professional football and will join Fox Sports as their lead color commentator for their NFL broadcasts.
After the announcement of Tom's retirement, Gisele Bündchen was sincerely happy for Tom Brady but she had moved on with her life quite a while ago, per sources.
Social Media
The supermodel has a considerable fan base which is evident in her social media numbers. Here is a list of her social media fan following:
Instagram: 20.5M followers
Twitter: 4.6M followers
Facebook: 6.2M followers
View this post on Instagram
However, she has not posted anything on her social media handles in the last 11 weeks.
Popularity
As the news of the divorce spread across the world, Gisele was searched on the web.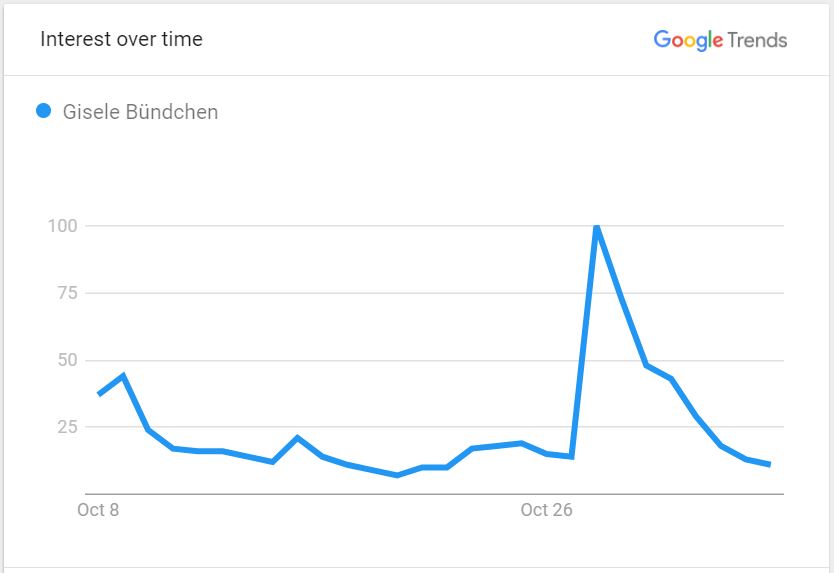 The above graph shows the highest number of searches made on October 28, 2022, the day of the couple's divorce.
Frequently Asked Questions
How many languages does Gisele Bündchen Speak?
Gisele has a grasp of five languages: English, Spanish, French, Portuguese, and Italian. However, she might not be fluent in all of them.
When does Gisele Bundchen wake up?
Gisele wakes up at 5:30 am daily to the sounds of the ocean from her phone. She also meditates every morning, even if just for five minutes.
How long have Gisele and Brady been together?
The supermodel and former NFL quarterback Brady were together for 14 years and married for nearly 13. Whether you're a Patriots or Buccaneers fan, you must admit that Tom Brady and Gisele Bündchen's relationship was pretty adorable.
When did Leonardo DiCaprio and Gisele split?
Leonardo DiCaprio and Gisele split in 2005 after six years of relationship. Although Gisele Bündchen and Leonardo DiCaprio may have broken up over a decade ago, it's still making headlines.
Who's worth more money, Tom Brady or Gisele?
Gisele Bündchen's net worth is $400 million, almost double that of her husband, Tom Brady. Brady's worth is around $250 to $300 million, and he has a $30 million salary from the NFL.