You must have seen Bridget Moynahan appearing in a recurring role in the popular show Sex and the City. Natasha Naginsky from SATC is Tom Brady's ex-girlfriend. Moreover, she has a son with Brady, Jack Edward.
The NFL fans mainly recognize Moynahan from her past ties with Brady. But her life is not limited to being Brady's ex or the mother of his child.
Bridget is a famous actress who has given several hits. She is an equally loved and acclaimed model. She is remembered mostly for her role as Erin Reagan in Blue Bloods, Rachel in Coyote Ugly, Whitney Crane in Six Degrees, and Eliza Coles in Unknown.
Bridget's filmography and television work are much wider than the list above. We will be discussing it later in the article.
Bridget has seen a lot in her life, from Hollywood fame and single motherhood to unwanted media attention and the beauty of marriage. Indeed, Bridget is one hell of a strong woman.
The journey of pregnancy was very hard for Bridget with all the media attention. She poured her feeling into her book 'Our Shows, Our Selves,' stating, "Having a baby should have been the most joyous time of my life, but instead, I felt assaulted."
Read this article till the end to know more about Bridget Moynahan. Now, let's jump to the quick facts.
Quick Facts about Bridget Moynahan
Full Name
Kathryn Bridget Moynahan
Known As
Bridget Moynahan
Date of Birth
April 28, 1971
Birth Place
Binghamton, New York, United States
Descent
Irish American
Religion
Catholic
Nationality
American
Zodiac Sign
Taurus
Age
52 Years Old
Height
177 cm (5 feet 9.6 inches)
Weight
57 kg
Hair Color
Dark Brown
Eye Color
Dark Brown
Body Measurements
(35-24-35) inches
Father's Name
Edward Bradley Moynahan
Mother's Name
Mary Bridget Moynahan
Siblings
Two Brothers
Brothers' Name
Andy Moynahan
Sean Moynahan
Education
Longmeadow High School
Former Partners
Tom Brady (2004-2006)
Scott Rosenberg (2001-2003)
Marital Status
Married
Spouse
Andrew Frankel
Children
A son
Son's Name
Jack Edward Thomas Moynahan
Profession
Model
Actress
Active Years
1997–present
Net Worth
$25 Million
Social Media
Instagram, Twitter
Merch
Books: The Blue Blood, Our shoes, Our Selves
Last Update
November, 2023
What is Life Before Fame of Tom Brady's Ex-girlfriend?
The actress, Bridget Moynahan was born on April 28, 1971, in Binghamton, New York, United States. She was born to parents Edward Bradley Moynahan and Mary Bridget Moynahan in a Catholic household.
Edward Bradley was a Ph.D. chemist and an administrator at the University of Massachusetts Amherst. Bradley died at the age of 80 in October 2018.
Mary Bridget is a former school teacher. The family hails from an Irish American background.
Bridget is Edward and Mary's second child. She has an elder brother and a younger brother: Andy Moynahan and Sean Moynahan.
The family moved to Longmeadow, Massachusetts, when Bridget was seven years old. Bridget then attended Longmeadow High School in Massachusetts.
She was a very sporty kid. She played basketball, soccer, and lacrosse in high school. Bridget once said that she remembers herself being very tomboyish in childhood. It might be because she grew up around her two brothers.
However, Bridget transitioned to being girly with her modeling career after graduating from high school. She used to be the kind of kid who never even held a fashion magazine, but destiny landed her in the fashion and media.
Bridget went to a modeling audition in Springfield, Massachusetts, with a friend of hers. She was there for her friend's audition. However, the audition agency liked her and signed her instead of her friend.
This was the beginning of Bridget's new life that got her name, fame, wealth, controversies, and companionship.
Bridget Moynahan and Tom Brady
Tom Brady and Bridget Moynahan started dating in 2004. And in 2006, the couple split up.
Both Bridget and Tom are happily married to other people now. Bridget is married to businessman Andrew Frankel, and Tom is married to Brazilian model Gisele Bündchen.
But what still holds them together is their son, Jack Edward Thomas Moynahan. Both Tom and Bridget love their boy dearly and have been playing their parts individually in his life.
When Tom and Bridget broke up in 2006, they did not know about the pregnancy. Moreover, Bridget had thought of having children only after marriage.
When Tom had started seeing Gisele for some weeks, he discovered that his ex-girlfriend was pregnant with his child. It was a shock for all three.
Gisele Bundchen described how she felt in her book 'Lessons: My Path to a Meaningful Life' stating, "Two months into our relationship, Tom told me that his ex-girlfriend was pregnant. The very next day, the news was everywhere, and I felt my world had been turned upside down."
However, things calmed down, and the trio was the happiest with the birth of Jack Edward. Jack is Bridget's world. Tom loves him equally.
Moreover, Gisele said in an interview that Jack feels like her own child even though she did not give birth to him. She lovingly calls him a bonus child.
The Turbulences
It is not easy for a single mother in a patriarchal society. It gets more complicated if you are a celebrity surrounded by paparazzi. Things were indeed complicated for Bridget at the beginning of her pregnancy and motherhood.
Moynahan broke down in July 2008 Harper's Bazaar issue. She said she was unsure of everything around her, gave it a thought, and uttered that she wanted to be a single mom.
She further stated, "When you're suddenly pregnant, and no one is standing by your side, even if you're in your 30s, it's a hard conversation."
Bridget referred to herself as a traditional girl who believed in marriage. She added how she always thought that she would marry first and then start a family.
It was hard for her to accept that that was how she was going to have a family.
Bridget further said that she sobbed after she came home alone from the hospital with her newly born son. She stated, "All of a sudden, you have this newborn you have no training for. It's frightening."
She felt assaulted because of the attention at a time when she was supposed to be the happiest with her newborn baby.
Bridget poured her feelings down in her book, stating, "It's unnerving to be followed and stalked like that, especially during such an emotionally vulnerable time. … I became reclusive for a bit. I became wildly private, and I shared little and only with a select few."
She had lost most of her confidence at this moment, and she purchased black leather Miu Miu motorcycle boots to feel confident again.
When the media personnel asked her about Tom Brady, she boldly said that there was no reason why Jack Edward should know about the personal lives of his mother and father.
Heartbreak and Beyond
Bridget was heartbroken with everything that was happening in her life at that moment. She said how experiencing the traumatic incidents of being heartbroken followed by her pregnancy changed her whole life.
She remembers how everything went upside down for her. The attempts to get out of the dramas of her past relationships continued, but the same waves followed again and again.
However, when she held her son, Jack, she felt that the little boy was worth everything. Having a child was the best thing in the world for Bridget.
When Bridget was asked back in the day about the value of the presence of a male figure in her child's life, the bold woman said that she would rather be alone than with someone that does not work.
She gave a message of how she and her child were enough for each other. Bridget once even admitted that Brady was not holding her hands in the hospital while she gave birth to their child.
She added that she would not have had it the other way and had no regrets about having her baby independently.
Bridget Moynahan, Tom Brady, and Gisele Bündchen
Tom Brady had just started dating Gisele Bündchen, and the news of Bridget Moynahan's pregnancy burst out. The newspapers and media houses showed the picture of the trio everywhere for months.
The unbreakable string had been attached then, and the trio has been maintaining it till today. It's not about them but their child, Jack. If they want to have a presence in Jack's life, they will have to be around each other.
Bridget once said in an interview that she has never commented on Tom and Gisele. She said that she has a relationship with these people on a daily basis. She acknowledges that she's raising a child, and it's public.
Bridget further added that she's glad that her child is surrounded by love, whether it's extended family, stepmother, cousins, or boyfriend.
You might want to read about Tom and Gisele's daughter Vivian: Tom Brady's Daughter: Vivian Lake Brady Bio>>
Because of their history, there have been speculations of animosity between them, but when the trio was seen together at the park in New York City in 2014, things calmed down a bit.
Apart from this, Bridget has always supported Brady's professional life. In fact, she is a proud fan who makes sure to congratulate Brady after each of his achievements.
Moreover, when she was reading the Amity Gaige novel 'Sea Wife,' Moynahan shared a photo of the page that wrote 'the image of Tom Brady shirtless' on her Instagram account. She was indeed surprised to find her ex's name that way.
Career of Tom Brady's Ex-girlfriend
Bridget Moynahan – Filmography
Moynahan has been a part of several great movies. We have listed her movie presence below:
Apartment owner in Row Your Boat (1999)
Amy in In the Weeds (2000)
Fame in Trifling with Fate (2000)
Rachel in Coyote Ugly (2000)
Marie in Whipped (2000)
Halley Buchanan in Serendipity (2001)
Dr. Cathy Muller in The Sum of All Fears (2002)
Layla Moore The Recruit (2003)
Dr. Susan Calvin in I, Robot (2004)
Ava Fontaine in Lord of War (2005)
Charlie Kelsey in Gray Matters (2006)
Eliza Coles in Unknown (2006)
Amy Newman in Prey (2007)
Helen Owen in Noise (2007)
Dorothy Quimby in Ramona and Beezus (2010)
Michele in Battle: Los Angeles (2011)
Barbara in Small Time (2014)
Luke's Mom in Midnight Sun (2014)
Helen Wick in John Wick (2014)
Helen Wick in John Wick: Chapter 2 (2017)
Tracy Peters in Crown Vic (2019)
Bridget Moynahan – Television Appearances
We have listed Bridget Moynahan's television appearances below:
Natasha Naginsky in Sex and the City – 7 Episodes (1999-2000)
Lily in Going to California – Episode: "Lily of the Field" (2001)
Whitney Crane in Six Degrees – Main role in 13 episodes (2006-2007)
Ashley Cardiff in Eli Stone – Episodes: "Help!", "Owner of a Lonely Heart" (2008)
Erin Moriarty in Bunker Hill – TV movie (2009)
Erin Reagan in Blue Bloods – Main role (2010-present)
You might also be interested in reading Tom Brady's sister's bio: Julie Brady Bio: Tom Brady's Sister, Husband, Kids & Career>>
Bridget Moynahan – Husband
The American actress Bridget is married to businessman Andrew Frankel. The couple tied the knot in October 2015.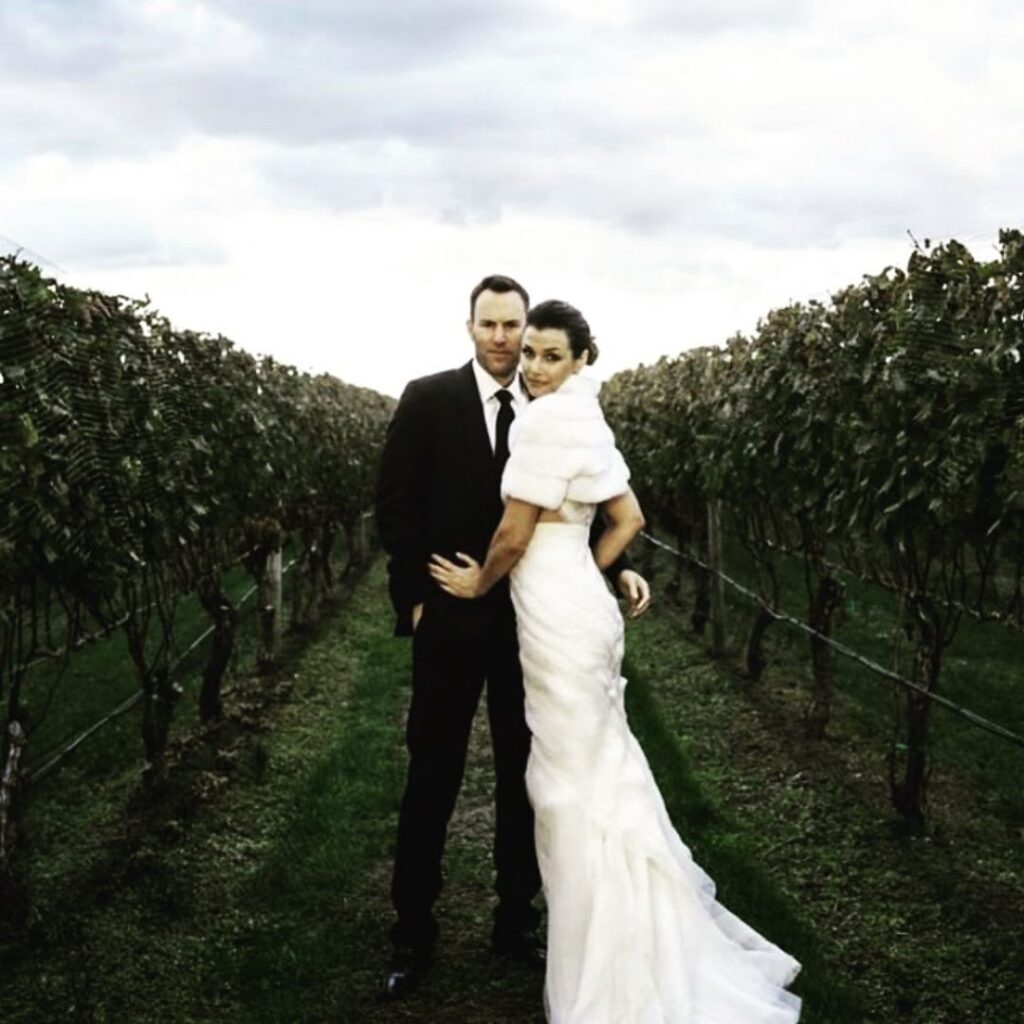 On her November 2015 appearance on The Rachael Ray Show, Bridget said that Andrew is the nicest guy ever. She referred to him as genuine, kind, and sensitive.
Bridget Moynahan – Net Worth
Bridget's net worth is estimated to be around $25 Million. The actress lives a lavish life with her husband, Andrew.
Further, Bridget Moynahan is said to earn $60,000 per episode for her role in Blue Bloods.
Everything You Need To Know About Tom Brady's Kids!>>
Bridget Moynahan – Social Media Presence
Moynahan is pretty active on her social media handles. You can follow her via these links:
Common Queries about Bridget Moynahan
Was Tom Brady married to Bridget Moynahan?
No, Tom Brady and Bridget Moynahan were not married. They were in a relationship from 2004-2007. They have a son together, Jack.
What does Andrew Frankel do for a living?
Andrew Frankel is the co-president of the brokerage firm named Stuart Frankel & Co. The public knows him after marrying the actress of Lord of War, Bridget Moynahan.