Mayweather Top 10 Knockouts! Floyd Mayweather Jr. is considered the greatest boxer of all time. The 46 year-old former professional boxer and promoter is often referred to as the best defensive boxer in the sport's history.
Since his debut in the boxing world, Mayweather has captivated fans with his talent and incredible performance in the ring. He competed in the super featherweight, lightweight, light welterweight, welterweight, and light middleweight categories.
During his career, he retired undefeated and won 15 major world championships, from super featherweight to light middleweight. Similarly, he has 26 consecutive wins record in world title fights.
He won a bronze medal at the 1996 Olympics as an amateur boxer in the featherweight division.
His career spanned from 1996 to 2017, during which Mayweather established himself as the best pound-for-pound boxer. He attracted the most lucrative pay-per-view attractions of all time in any sport.
It shows that he has given some remarkable performances in the boxing ring. Therefore, today we are looking at Mayweather top 10 knockouts. Let us look back at his professional career and discuss it together.
So please stick with us as we present ten of Mayweather's knockout moments that we believe are the best of his career. Let's get to it!
Quick Overview
Here is a quick preview of Mayweather's knockout opponents and the year the match took place.
| | |
| --- | --- |
| Opponents | Year |
| 10. Emanuel Augustus | October 2000 |
| 9. Marcos Maidana | May 2014 |
| 8. Ricky Hatton | December 2007 |
| 7. Genaro Hernandez | October 1998 |
| 6. Canelo Alvarez | September 2013 |
| 5. Juan Manuel Marquez | September 2009 |
| 4. Miguel Cotto | May 2012 |
| 3. Diego Corrales | January 2001 |
| 2. Oscar De la Hoya | May 2007 |
| 1. Arturo Gatti | June 2005 |
Mayweather's Top 10 Knockouts
We have prepared our list with references from internet sources like One37pm, Men's Journal, etc.
10. Emanuel Augustus
The first fight we are starting off our list is Mayweather's fight against Emanuel Augustus. The match took place on October 21, 2000, at Cobo Hall, Detroit, and it was one of the best fights of 2000.
Mayweather has mentioned several times that Augustus, also known as The Drunken Master, as one of his most formidable opponents. But at the end of the fight, Mayweather had the upper hand and won the match by TKO.
However, Augustus did not go down before giving his all. As both the boxers entered the fight, Mayweather had a perfect boxing record of 23-0-0 (17 KOs), while Augustus had a record of 22-16-4 (10 KOs).
In round seven, Mayweather showed his dominance. Then in the round nine opening minute, he came with jabs and left hooks and defeated The Drunken Master.
It still baffles us how boxing decisions are made, considering the number of faulty decisions made frequently. Here are the ten most controversial boxing decisions!
9. Marcos Maidana
Number 9 on our Mayweather top 10 knockouts, we have the fight that took place on September 13, 2014. His opponent was Marcos Maidana, "The Chinaman" for the welterweight championship at the MGM Grand Garden Arena, Las Vegas, Nevada.
It was a rough night, and Mayweather had underestimated his Argentinean opponent quite a bit. Mayweather had the Ring and WBC welterweight titles on the line.
Maidana started powerfully, gave his opponent an early cut, and battered him for several rounds. Despite that, Mayweather was able to land sharp counters rights on several occasions.
Then his punches paid off, and he won the 12-round match with the majority decision. Maidana certainly gave his best, but Mayweather was better and remained an undefeated champion.
The boxers returned after four months for version II of their match, which Mayweather won.
8. Ricky Hatton
Our eighth pick for Mayweather top 10 knockouts is his fight against the Hitman, Ricky Hatton. The match was billed as "Undefeated," held at the MGM Grand Garden Arena, Las Vegas, on December 8, 2007.
Hatton was looking to defeat the undefeated Mayweather for the WBC & The Ring welterweight titles. He tried to dominate the match in the early rounds and even landed a left jab that knocked Mayweather off balance.
However, Hatton was worn down after the fifth round from chasing Mayweather. Mayweather capitalized on Hatton's exhaustion and threw some damaging punches. After that, the match was in Mayweather's control.
In the 10th round, he knocked Hatton with a left hook. Hatton took the hook pretty badly, looking disoriented when he got up. Mayweather landed a flurry of punches and another left hook, putting Hatton down again.
The undefeated champion Mayweather remained undefeated. Truly one of the best knockouts of his career.
7. Genaro Hernandez
For number 7, we look back at the 1998 match between Mayweather and Genaro Hernandez. The match took place at Hilton, Las Vegas, on October 3.
At the time of the match, Mayweather was 21 years old, while Hernandez was a well-seasoned, veteran boxer and reigning WBC super featherweight title holder. The title was on the line.
Although Hernandez was a veteran, Mayweather, with his speed and ability, had the upper hand. He came off strong and had a controlled pace with deft footwork that helped the young Mayweather to dominate.
Then in the eighth round of the game, Mayweather out-jabbed the champion with a technical knockout. He became the WBC super featherweight champion, his first title win.
6. Canelo Alvarez
Our sixth pick is Mayweather's fight against Canelo Alvarez. The match was held at MGM Grand Garden Arena, Las Vegas, Nevada, on September 14, 2013.
The match is among the best performances that Mayweather has given in the ring. Although Alvarez tried to give his best, the skill difference between the two boxers was evident during the match.
Mayweather started the match aggressively as he landed a heavy jab and lunged toward Alvarez. He continued to dominate the game as Alvarez tried to make comebacks.
Mayweather had the upper hand during most of the match with his speed and combination of punches. In the final round 12, Mayweather landed solid jabs on Alvarez and came out victorious.
Boxing is widely known for its epitome of fast reflexes, blood, and fights. Click here to read about the boxers considered the hottest in the world of boxing!
5. Juan Manuel Marquez
On number 5, we have Mayweather's match against Juan Manuel Marquez on September 19, 2009. The match took place at MGM Grand Arena in Las Vegas.
It was Mayweather's return to the ring after his 2007 match against Ricky Hatton and his announcement to take a two-year layoff. It was a remarkable comeback for him as he won the match against Marquez, aka Dynamite.
Mayweather started the opening round aggressively with a quick jab and a lunging left hand. Marquez tried to return an occasional hook, which missed Mayweather, who was too fast for him.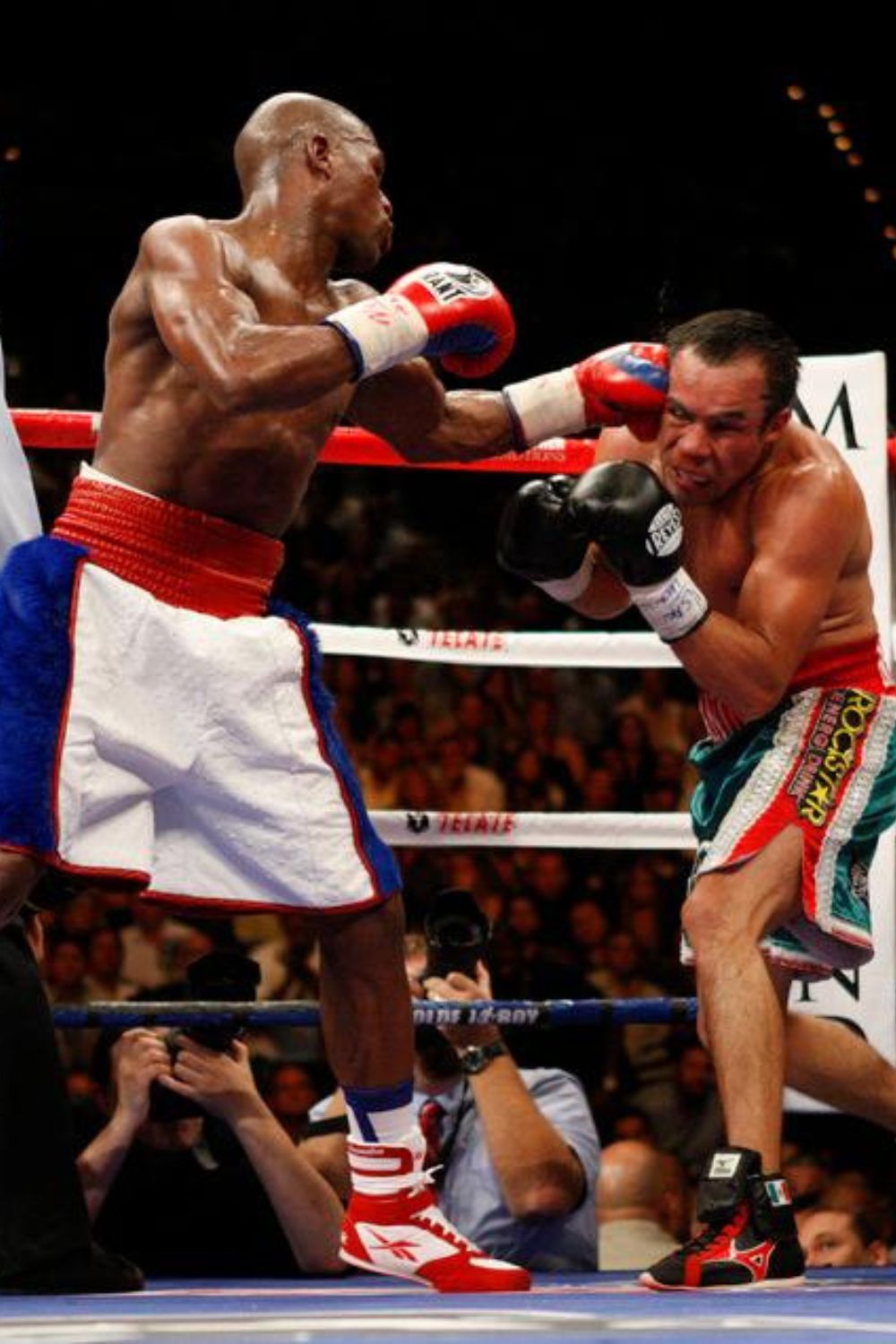 In the sixth round, the disparity between the two boxers grew as Mayweather landed a lead right hand at one point, with Marquez bleeding from the nose.
In the final round, Marquez continued taking damages as Mayweather showed total control in the game. Consequently, the match went to Mayweather and made for a triumphant return to the sport.
4. Miguel Cotto
On number 4, we have Mayweather versus Miguel Cotto game held at the MGM Grand Garden Arena in Las Vegas on May 5, 2012. The match had the WBA (Super) super welterweight title on the line.
The match was a fascinating and competitive one. Cotto gave Mayweather quite a time with his aggressive approach and a staunch jab from a distance. By the fifth round, Cotto's jab connected with Mayweather and had him bleeding from the nose.
It was a close fight, and it seemed that Mayweather's undefeated strike might end. However, he jumped back to the game with his fast footwork and clean counters.
In round 12, Cotto got hurt, and Mayweather won the game. Mayweather remained undefeated, becoming one of his career's most memorable moments.
3. Diego Corrales
Mayweather versus Diego Corrales boxing event occurred on January 20, 2000. It was held at MGM Grand, Las Vegas.
Mayweather probably gave the most dominant display of his skills during the match as his WBC super featherweight championship was on the line. He outclassed the late Diego Corrales in every possible way.
Mayweather landed 220 of 414 punches during the match and threw sharp counterpunches with the quick-strike offense. Meanwhile, Corrales could not land more than ten punches in a round.
Corrales was destroyed by then 23 years old Mayweather. Mayweather knocked him three times in the seventh round and twice in the tenth.
With shocking ease, Mayweather won the match against Corrales in the tenth round. Although a world-class fighter, Corrales realized that his opponent was way out of his league for him to win the match.
2. Oscar De la Hoya
On number 2 of Mayweather top 10 knockouts, we have his May 5, 2007, match against Oscar De la Hoya. The match was held at the MGM Grand Arena in Las Vegas, Nevada, with WBC super welterweight title on the line.
Oscar De la Hoya was a six-division world champion, while Mayweather was an undefeated four-division champion when they entered the fight. The match at the time was the most lucrative boxing match, generating over $130 million in revenue.
The match was one of Mayweather's important ones to establish himself as the premier fighter. Therefore, his skills were on full display during the match. De La Hoya also did not disappoint the crowd.
Mayweather won the match and launched his career into popular culture. De La Hoya could not keep up with his speed and skills. Consequently, Mayweather beat him fair and square.
1. Arturo Gatti
Our number 1 pick for the Mayweather top 10 knockouts goes to his June 25, 2005, match against Italian-Canadian boxer Arturo Gatti. The event took place at the Boardwalk Hall, Atlantic City.
It was Mayweather's first headline appearance on a PPV card. Meanwhile, the veteran boxer Gatti's WBC junior welterweight title was on the line. However, Mayweather easily outdid his opponent in every term.
Mayweather's reflexes, speed, and skill were, on the whole, another level for Gatti to handle. The match turned into a brawl when Mayweather hit Gatti while looking at the referee.
Compared to Mayweather's quick reflexes and jabs, Gatti's offense was slow-handed. It was too much for him to handle, and his offense never landed on Mayweather. It was evident by round six that Gatti was in trouble.
Mayweather won the match with a breeze. With such a vast skill difference, Gatti threw the towel halfway through the match.
Conclusion
With his numerous accolades and performances, Floyd Mayweather is regarded as the greatest boxer of all time. The Boxing Writers Association of America named him "Fighter of the Decade" for the 2010s.
Likewise, Mayweather was inducted into the International Boxing Hall of Fame in 2021. It is no surprise when we look back at his performance and presence in the boxing ring. He deserves to be called the greatest.
Which knockout moment do you think is Mayweather's best in his career? Do you agree with our list? Do let us know!
"Who is the greatest?" "Who are the best boxers of all time? Simple yet intriguing question! Click here to read our list of the top ten best fighters of all time!