The role-playing (RPG) board games are a relatively new concept of board games. The board game industry has been booming in recent years, and the RPG board games are the result of this development.
The first published RPG game was Dungeons & Dragons, which established a pattern for the board game. However, it is not universal for all tabletop RPG games.
The RPG board games' popularity is their captivating storyline, beautiful graphics, and designs. Similarly, those who love strategic board games will find the RPG board games delightful.
You can now find various kinds of these games with different genres like fantasy, horror, etc. These board games are a great way to break from technology and entertain your friends and family for game night.
Since there are plenty of RPG board games to choose from, we have prepared a list of some of the best ones guaranteed to give you a thrilling experience.
So now, without any further delay, let us rank the top ten best RPG board games!
Top 10 Best RPG Board Games
We have prepared the list with references from internet sources like the RecRoomPick and Polygon. Before we dive into the details, let us look at the preview of the list first.
10. IDW Games Teenage Mutant Ninja Turtles: Shadows of The Past Board Game
Age: 14+
Playtime: 60-90 minutes
The first game on our list is the IDW Games Teenage Mutant Ninja Turtles: Shadows of The Past Board Game. It is a miniatures combat, scenario-driven campaign game from the comics.
Mateus Santo Louca and Tony Vargas have done the board game's artwork. The players can take the role of their favorite Turtle or ultimate villain, Shredder.
As the players progress through the game, they can develop their characters' strengths, fighting styles, and equipment to create a lasting story arc.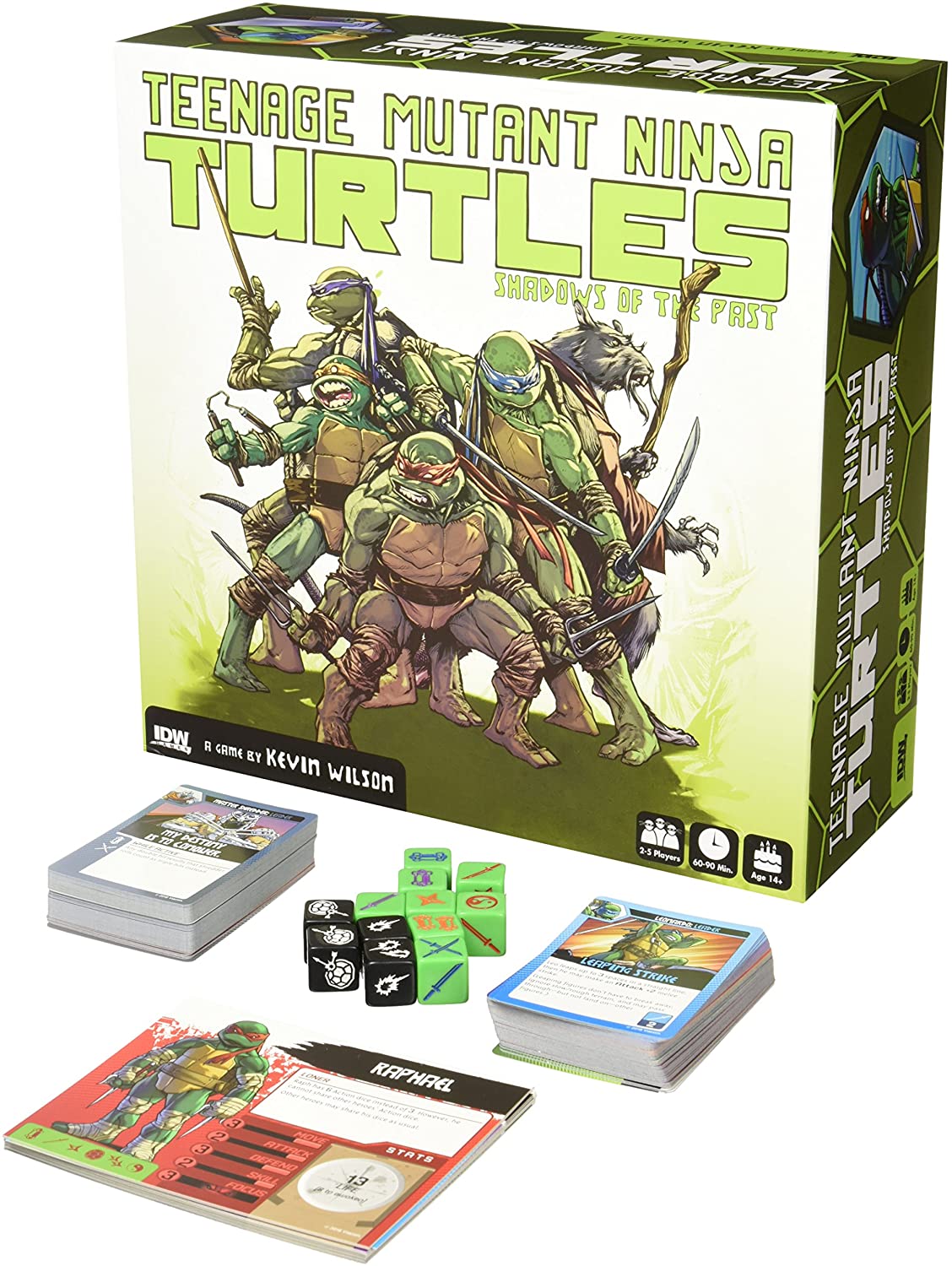 Similarly, fan-favorite characters like Casey Jones and Aplex appear throughout the missions. The Turtles players can call on their closest allies for help in battling their deadliest foes.
The board game has more than 40 sculpted miniatures, 12 unique maps, and 100+ cards. The game has high-quality component design and detail. However, it lacks complex strategic and tactical elements.
Zombies are popular among the horror genre-loving masses. If you love zombies and playing board games, then why not try zombie board games? Read more!
9. Runewars: Revised Edition
Age: 14+
Playtime: 120-240 minutes
On number 9, we have , an epic game of contest, adventure, and fantasy empire RPG board game. Corey Konieczka is the designer of the game.
Runewars occur in the same fantasy universe as the best-selling board games Runebound and Descent: Journeys in the Dark Second Edition.
The board game is designed for two to four players. Here players play against each other in a strategic game of battles and area control. They must gather resources, raise armies, and lay siege to heavily fortified cities.
For those who love strategic and tactical games, Runewars will provide them with intellectually stimulating gameplay. Similarly, the battle confrontations further enhance the RPG experience.
However, the complexity is not suitable for beginners. The board game creators have brilliantly created a detailed Runebound universe for a fantastic RPG gaming experience.
8. Clank! Legacy: Acquisitions Incorporated
Age: 13+
Playtime: 90-120 minutes
Next, we have Clank! Legacy: Acquisitions Incorporated. It is a big double-sided board game. This RPG board game has elements, from gremlins and vampires to the giant dragon.
The game takes you on a grand adventure where players have to save the world. Players will have to work with and against each other through a ten-plus game campaign. It has 44 adventure-packaged pages that help to unfold the story.
The players' choices will affect the game and the world around them. The Clank! Legacy: Acquisitions Incorporated has an immersive story, and your strategies and preferences will determine your success and failure.
The RPG board game is an engaging semi-cooperative game. It includes 300+ cards and well-made gorgeous player miniatures and dragons.
7. Mansions of Madness 2nd Edition Board Game
Age: 14+
Playtime: 120-180 minutes
Mansions of Madness 2nd Edition Board Game is our number 7 pick for the top RPG board games. It is an app-enhanced horror board game that draws inspiration from H.P. Lovecraft's works.
The game takes its players to a mysterious universe like Arkham Horror 3rd Edition, Arkham KCG, Eldritch Horror, and Elder Sign. They have to explore the veiled and misty streets of Innsmouth and the haunted corridors of Arkham's cursed mansions.
The players take the role of the investigators. As they explore the haunted Arkham mansions to discover strange secrets, solve cunning puzzles, and battle otherwordly dangers.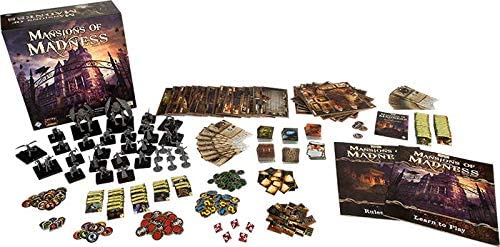 A unique feature of the game is that it has an app-driven game. A free digital app is required to play the game and guides the players through each scenario.
The Mansions of Madness 2nd Edition Board Game features four varying length and difficulty campaigns. As a result, it is an excellent choice for game night and especially for horror fans.
6. Pathfinder Adventure Card Game
Age: 12+
Playtime: 60+ minutes
On number 6 of the top RPG board games, we have Pathfinder Adventure Card Game. It is a fun adventure board game suitable for adults and children alike.
The game takes place in the ancient land of Varisia. Among the ancient ruins, there are giants, foul deities, and maniacal goblins, all plotting for the end of the peaceful town of Sandpoint.
Players have to launch a campaign against the evils plaguing Varisia. After the players choose the character, they have to build a deck of allies and equipment and explore lethal locations as they journey through multiple scenarios.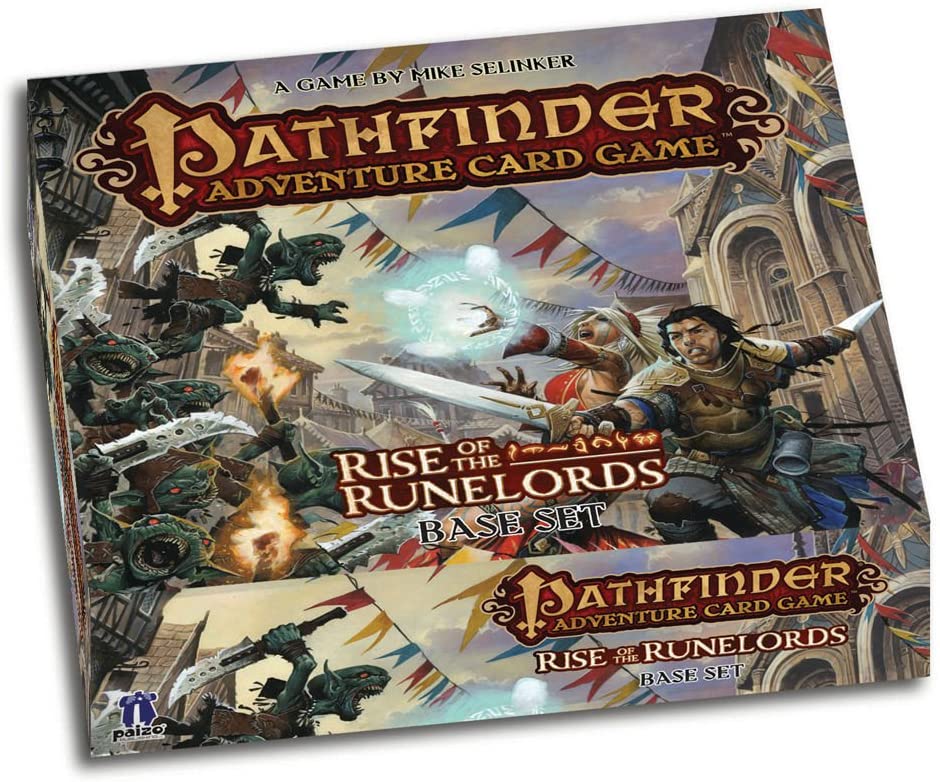 As the game progresses, the characters grow stronger with each game. It adds unique gear gaining incredible powers required to challenge more significant threats to complete the game.
Pathfinder Adventure Card Game is a treat for fantasy lovers. Its variety of characters and scenarios makes it a great board game.
Do you love good strategic games? Then click here because the work placement games are perfect for strategy-loving game players, and we have just the list.
5. WizKids Mage Knight Board Game: Ultimate Edition
Age: 14+
Playtime: 60+ minutes
WizKids Mage Knight Board Game: Ultimate Edition is a critically acclaimed and award-winning board game. It combines the elements of RPGs, deckbuilding, and traditional board games.
The board game captures the rich history of the Mage Knight universe. It includes the original base game plus all three expansions: The Lost Legion, Krang, and Shades of Tezla.
The game is easy to understand and upgraded from the original board game. It includes a detailed rules text, five completely new cards, and new paint jobs.
The WizKids Mage Knight Board Game: Ultimate Edition is available in various languages. With this, the board game can gain a more potent global audience. Furthermore, the board game is available at an affordable cheap price.
4. Kabuto Sumo
Age: 13+
Playtime: 15-20 minutes
Our fourth pick for the top RPG board games is Kabuto Sumo. If you are looking for a quick and easy option for younger kids, this board game is ideal.
Kabuto Sumo is a slide/ push game where the players' primary objective is to push the other sumo wrestling beetle players out of the ring. The players can choose from different wrestler beetle.
Each wrestler beetle is based on real-life insect and their physiological defense mechanisms. They all have special signature moves and uniquely shaped pushing pieces that can dramatically influence the gameplay.
While pushing discs may look straightforward, choosing the right wrestler is crucial for the match, crafting a strategy, and quickly adapting to changes. It is simple yet interactive and strategic.
The board game comes up with a sumo ring, 40 wooden discs, four wrestler pieces, four wrestler reference tokens, eight wrestler cards, eight signature move pieces, and five junior league cards.
3. Dark Souls: The Board Game
Age: 14+
Playtime: 90-120 minutes
If you enjoy science fiction, then the Dark Souls: The Board Game will take you into its Dark Souls Universe from the video game for a challenging and gripping RPG board game experience.
The Dark Souls is a highly acclaimed video game, and the board game has brought the video game to your tabletop. It is an action-packed cooperative Dungeon Crawl RPG board game.
The players can choose from different iconic characters like a knight, warrior, assassin, or herald. Players need to defeat the Undead Legions and make their way to confront the final bosses.
It is one of the games where players need to be clever and strategic. They have to manage their stamina to survive and explore dangerous locations full of monsters and treasures. Every choice will lead the players to new dangers and places.
Dark Souls have multiple difficulty modes and a high level of replayability. Therefore, it will satisfy any hardcore tabletop gamers while also accessible to beginners.
2. Cthulhu: Death May Die
Age: 14+
Playtime: 90-120 minutes
On number 2, we have a thrilling horror adventure RPG board game Cthulhu: Death May Die, for horror genre lovers. The board game remarkably captures the Cthulhu vibe with its easy and fast setup setting.
Cthulhu: Death May Die has a very engaging storyline. An Elder God has reached out to the cultist giving them the knowledge necessary to awaken it to unleash its hellish powers on the unsuspecting populace.
As the final ritual has begun, the players will have to take the role of the investigators and have to collect enough clues to find a weakness to alter the ritual to blast the god to death.
Similarly, the players must work together to fight the cultist while searching for answers. There are multiple investigators, story boxes, and a pair of Elder Gods. Thus, there's a new scenario every time, and no two games are the same.
The board game comes with a beautifully designed storyboard, and the miniatures are crafted with details. Cthulhu: Death May Die is one of the best RPG board games to entertain you without being overly complex.
People love mysteries, which must be why the escape room board game's popularity has exploded. Read here about the six best escape room board games of the year!
1. Gloomhaven
Age: 14+
Playtime: 60-120 minutes
Our top RPG board game pick goes to the Cephalfair Games' Gloomhaven. It is a Euro-inspired tactical combat board game in a persistent world of shifting motives.
The players will take on the role of a wandering adventurer. Every character has their own unique set of skills and reasons for traveling to this dark corner of the world. The innovation card system helps to decide the order of play.
Similarly, the players must work together at times to complete menacing dungeons and ruins. As the game progresses, the players will be able to enhance their abilities with experience and loot and discover new locations to explore.
Gloomhaven is ideally played over many game sessions. Each decision on what to do will determine how the story will continue. In a way, it is a kind of "Choose Your Own Adventure" book.
You can play this RPG board game individually with a maximum of four players. Gloomhaven is a fun RPG board game with thrilling twists and turns ideal for the whole family.
Conclusion
The RPG board games are a great way to have a friendly competition with your friends and family. You need to assess every situation and note clues to develop clever strategies and tactics to win the game.
These game are not only entertaining but also helps in thinking and imagination development. Some of the games have complex strategies; thus, consider if the game can be played by the whole family or not before purchasing.
We hope you enjoyed our list. Thank you for reading!