In the world of sports and athletics, athletes can be commonly seen doing various other jobs other than sports, may it be by hobby or by choice. Now, moving to the political side, did you know the top ten athletes turned politicians?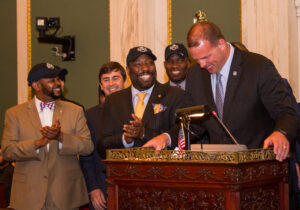 If you are left in awe like most people then, yes! Some politicians are well respected former athletes. Likewise, on today's list, we have ranked the top ten athletes who became politicians.
In addition, some of the athletes mentioned here have an interesting back story. So, make sure to read it through.
Top Ten Athletes Who Turned Athletes
Today's article is based on the popularity and media coverage received by these athletes turned politicians.
| | | |
| --- | --- | --- |
| Rank | Name | Sport Affiliated to |
| 1 | Arnold Schwarzenegger | Bodybuilding |
| 2 | Jim Bunning | Baseball |
| 3 | Chris Lytle | Mixed Martial Art |
| 4 | Jesse Ventura | Wrestling |
| 5 | Kenneth Dryden | Hockey |
| 6 | Imran Khan | Cricket |
| 7 | Andriy Shevchenko | Soccer |
| 8 | Kevin Johnson | Basketball |
| 9 | Dave Bing | Basketball |
| 10 | Jon Runyan | American Football |
10. Jon Runyan
If you're a fan of the NFL, then you must be well known with the name Jon Runyan. Apart from being a former NFL professional offensive, he is also a US Congressman.
Runyan joined politics after his 13 years of a successful American football career. As of now, he is a member of the Republican party.
Besides, Runyan won his nomination in 2010 by defeating Democratic incumbent John Adler.
However, in 2014, Runyan talked about his lack of interest in getting re-elected due to his dissatisfaction with his other Republican members regarding the government shutdown issue.
<15 Greatest Female Bodybuilders of Current Year>
As of now, he holds the 10th position in the top ten athletes turned politicians list.
9. Dave Bing
Dave Bing is one of the two basketball players to turn into a politician on this list. Coming at number 9 on the list, Dave Bing is a former mayor of Detroit, Michigan.
Talking about his career, Bing had a professional basketball career from 1966 to 1978. He was, in fact, soo good at the sport that while playing for Detroit Pistons on the 1975-1976 season, he was named the Rookie of the Year.
Not only this, but Bing is also a Hall of Famer and the seven-time All-Star guard in the NBA.
Bing entered politics in 2008 as a Democrat. Soon after, in 2009, he declared that he would run for Mayor of Detroit.
However, Bing suffered from numerous health issues and also suffered low approval ratings.
8. Kevin Johnson
Kevin Johnson is the second former NBA professional who turned onto politics. Ranked 8th, Johnson is among the famous NBA athletes and is widely respected.
He is the first black Mayor (55th Mayor) of Sacramento, California, from 2008 to 2016.
Talking about his professional career, he played in the NBA, representing Cleveland Cavaliers and the Phoenix Suns from 1987 to 2000. Moreover, he is also the three-time All-Star player, followed by his claim on the title of Most Improved Player in 1988-1989.
<Ranking 12 Best NBA Coaches of All Time>
Similarly, just like in his sporting career, Johnson has done a great job in some of the needed social issues during his time as a mayor. He mitigated some of the problems like gang violence, promotion of arts, helping the homeless, and many more.
Therefore, deserving a place in the top ten athletes turned politicians list.
7. Andriy Shevchenko
Andriy Shevchenko is a former Ukrainian professional soccer player turned politician and ranked 7th in the top ten athletes turned politicians list.
Throughout Shevchenko's 17 years of professional career, he played in numerous clubs such as Chelsea, AC Milan, and Dynamo Kyiv. During his time at soccer, Shevchenko helped AC Milan bag the 2003 UEFA Champions League.
Besides that, he also helped his country by scoring a total of 48 goals in international matches.
Moreover, even though Shevchenko supported the Social Democratic Party of Ukraine since the late 90s, he officially joined the politics after his 2012 retirement from soccer.
However, after his unsuccessful political attempt, he went back to sports.
6. Imran Khan
Imran Khan is one of the most famous and widely recognized top ten athletes turned politicians in the world. To be precise, he is ranked 6th on the list.
Khan's most of success in politics is due to his fame from a professional cricket career. The former cricketer was soo skilled in his sportsmanship that he was the captain of the Pakistani national team. Not to mention, fans still call him a legend.
Talking about Khan's cricket career, he began at the age of 16, slowly moving his way into the international platform. During his two-decade-long career, he made his name to the most outstanding player of the century list.
Most importantly, he led Pakistan to victory during the 1992 Cricket World Cup.
Besides, securing wins for his country wasn't just enough for him; he had to do more. Khan wanted to join politics and help his country achieve more prosper. Hence, he joined politics after his retirement in 1994.
Currently, Khan is the Prime Minister of Pakistan and is widely loved and respected in his country.
5. Kenneth Dryden
Kenneth Dryden is a former Canadian NHL goaltender who became a politician. Moreover, he is ranked 5th in the top ten athletes turned politicians list.
<Jayne Kennedy: Bio, Career, Awards, Spouses & Net worth>
Not to mention, he was a hockey legend during his time. Still considered one of the greatest, he led his country to win the Stanley Cup for 6 years (1972, 1973, 1976, 1977, 1978, and 1979).
In addition, his name is carved into the Hockey Hall of Fame plates. Although his professional hockey career ended in 1979, he remained with the sport as a commentator and sports executive.
Similarly, Dryden joined the Liberal Party of Canada and ran for the house of commons in the federal election. Later, he got elected into the Canadian Parliament and served as the Minister of Social Development.
4. Jesse Ventura
Known as "The Body" in the wrestling world, Jesse Ventura is a successful American professional wrestler in the WWF.
Similarly, the former wrestler was a common household name during his generation. Due to his unique character, he lightened up the wrestling entertainment industry.
To clarify, he wasn't just a wrestler; he is also a former US Navy. He used to be a US Navy Underwater Demolition Team member during the Vietnam War.
But, most importantly, Ventura became the Mayor of Brooklyn Park, Minnesota, from 1991 to 1995.
3. Chris Lytle
Ranked 3rd on today's list and also the only athlete from the combat sports industry, we have Chris Lytle.
Lytle is among the well-respected mixed martial artists/boxer of all time. Not to forget his career in the UFC; he fought in the Welterweight series.
Similarly, he is also the Welterweight Champion of Cage Rage.
Moreover, Lytle is also a full-time firefighter.
Lytle did not just limit himself to these fields. He entered the world of politics in 2012 and ran for the seat of Indiana State Senate, District 28. Unfortunately, he lost in the election. Despite his tries, his career as a politician never became successful.
2. Jim Bunning
If you're a baseball fan, then you already know who he is. Ranked second in the top ten athletes turned politicians list; we have Jim Bunning.
Looking into his professional baseball career, Bunning pitched the field from 1955 to 1971 for Philadelphia Phillies and Detroit Tigers.
Not to mention, some of his innings are considered the best in the history of baseball. They are, in fact, soo good that it beats the score of some of the best players in the sport. In addition, Bunning records the second-highest career strikeouts in the history of MLB.
<All about the American star Lance Mountain>
Bunning's name was carved into the National Baseball Hall of Fame and Museum in the year 1996.
However, Bunning became the city council member after returning to Kentucky and later became the state senate and Junior US Senator.
Due to low funds, Bunning decided not to run for re-election in 2010.
1. Arnold Schwarzenegger
For the number one ranked athlete turned politician, he doesn't need an introduction. Arnold Schwarzenegger is the myth, the man of legend.
There isn't a person in this day and age who doesn't know him. Moreover, many idolized Schwarzenegger and is respected and looked up to as the most crucial figure in the world of bodybuilding, powerlifting, and weightlifting.
Some of his most prestigious awards are five-time Mr. Universe wins and seven-time Mr. Olympia wins. Apart from these, Schwarzenegger has secured wins in multiple different tournaments and competitions.
Besides, at the age of 75, Schwarzenegger has maintained his body by exercising and living a healthy life. After success in bodybuilding, he joined acting and became an action superstar.
Just like his bodybuilding career, the Austrian-American legend crushed the acting industry in no time. But, to clarify, he is soo much loved and respected that his name is engraved into the star on the Hollywood Walk of Fame.
Moreover, this wasn't enough for our action star because he joined politics and became the 38th governor of California after the recall election of 2003.
With all these achievements and success, Arnold Schwarzenegger deserves the number one spot more than anyone on the list.
Conclusion
The legends mentioned above have created their legacy and achieved greater heights in both the world of sports and politics.
There is a lot that we could learn from them. So, which one is your favorite from the list? Feel free to mention below.