Imran Khan is a former Pakistani cricketer who served as the 22nd Prime Minister of Pakistan from August 2018 until April 2022. He has a net worth of $50 million as of May 2023.
Khan, the 1992 World Cup winner, has made money from his successful career in cricket and politics.
Imran Khan was born in 1952 in Lahore, Pakistan, and went to elite schools in Pakistan and UK.
Imran started playing cricket at the early age of 13 and made his test debut on 3 June 1971 as a medium-pacer at 18 and his ODI debut on 31 august 1974.
Khan has made his mark as one of the best all-rounders in Pakistan and the world.
Even after winning the 1992 World Cup and later retirement. Imran continued to serve the country by founding his political party Pakistan Tehreek-e-Insaf (PTI), on 25 April 1996.
PTI was established as one of Pakistan's major ruling political parties during Imran's reign as the former Prime Minister of Pakistan from 2018 to April 2022.
Recently he survived an assassin attack at a political rally in 2022, which is also sectioned below.
This article will explore his lifestyle, net worth, and properties. Before going into details, here are a few quick facts about him:
Imran Khan | Quick Facts
Full Name
Imran Ahmed Khan Niazi
Common Name
Imran Khan
Nick Name
IK, The lion of Lahore, Kaptaan
Birthdate
5 October 1952
Age
70 Years Old
Zodiac Sign
Sagittarius
Mother's Name
Shaukat Khanum
Father's Name
Ikramullah Khan Niazi
Siblings
4 Sisters
Birthplace
Lahore, Pakistan
Home Town
Lahore
Nationality
Pakistani
Residence
Prime Minister Enclave (Official) Bani Gala Mansion (Personal)
Religion
Islam
Ethnicity
Pashtun, Niazi Tribe
School
Aitchison College And Cathedral School
College
University Of Oxford Keble College, Oxford (1972–1975)
Education
(BA) Philosophy, Politics, And Economics (Graduated 1975)
Height
6 ft/1.83 m/183 cm
Weight
75 kg/165 lbs
Eye Color
Hazel Brown
Hair Color
Salt & Pepper
Shoe Size
10 U.S.
Martial Status
Married
Wife
Bushra Bibi
Children
2 Sons, 1 Daughter
Wives

Jemima Goldsmith (1995-2004) Divorced
​Reham Khan (2014-2015) Divorced
Bushra Bibi (2018- Present)

Profession
Former Cricketer, Former Prime Minister Of Pakistan
Debut
1971 June 3 (On The National Team)
Style
Right-Hand Bat, Right-Arm Fast Bowl
Jersey
N/A
Coach
N/A
Status
Retired (1971 – 1992)
Retired On
1992 (As A Cricketer)
Awards

Pride Of Performance (1983)
Hilal-e-Imtiaz (1992)
International Cricket Hall Of Fame (2010)

Affiliations

Pakistan Tehreek-e-Insaft (PTI) (25 April 1996)
The former Chancellor At The University Of Bradford

Imran Khan Net Worth
$50 Million
Hobbies
Listening To Music, Watching Films, And Traveling
Favorite Book
N/A
Favorite Food
Roasted Desi Murgi
Merch
Books
Social Media
Facebook, Twitter, Instagram
Last Update
May 2023
Imran Khan | Net Worth & Income
The former Prime Minister, Imran Khan, made his fortune via his cricket career and brand endorsements during his youth. However, his wealth as a politician is only in the peripheral view.
His highest prize money as a cricketer back then was £90,000 ($108,383) in the victorious World Cup 1992.
After his retirement as a cricketer, Imran reinforced himself with philanthropy and politics as a post-career.
Getting elected as the 22nd Prime Minister of Pakistan in 2018 was the highest-marked stepping stone of his life.
Supposedly, the former Prime Minister's earnings for the first two months were Rs. 85 million ($375,013).
Controversially his properties and assets are even more declared via his tax return, i.e., Rs. 141 million, and the total value of Tosha Khan's extravagant gifts given to him as a Prime Minister is even more at Rs. 142 million.
The extravagant gifts included an Rs. 85 million Rolex watch and many more luxurious items.
In 2019, he gathered three installments of Rs. 23 million ($101,469) (2017), Rs. 27 ($119,162) million (2018), and Rs. 20 million ($88,238) (2019).
This amounted to Rs. 29 million ($127,945) after selling his property in Ferozewala, Pakistan.
In the same year, he sold his Jewel watch set (a set containing a Graff gents watch, a ring, pair of cufflinks, and a pen) to Umar Farooq Zahoor for 7.5-million-dirham approx ($2,041,927).
Additionally, he deposited 20.1 million PKR ($88,675) in the government treasury (20 percent of the 100 million rupees assessed value by Toshakhana) in 2019.
The watch set was gifted to Imran by Saudi Prince MBS with over 2,000 diamonds and was valued at around 100 million PKR; however, it is now at 1.7 billion PKR by TimeZone Watch Ltd.
Imran Khan | House & Cars
House | Official & Private
The politician of Pakistan lives in his lavish residence, 'Bani Gala,' in the north of Islamabad on the eastern bank of Rawal Lake.
But after he was appointed PM, Imran surprised everyone by announcing he won't stay at this luxurious house. He instead chose to live in a modest minister's enclave.
Reportedly, this move of his saved billions of rupees from Pakistan's national fund.
However, his mansion has been controversial for being built without permission from authorities. PM Imran paid a fine of 1.206 million PKR (approx. $5,409) to the Capital Development Authority to approve the map of his sweet home.
This residence spreads over 37 acres and consists of his office, reception area, six bedrooms, a drawing room, a dining hall, and a playroom.
Besides his major residence, he has ten more properties around Pakistan. He has inherited a modest house in Lahore valued at PKR 40.53 million ($176,537).
Besides him, his wife also owns some properties around Pakistan.
In 2022, Imran Khan declared all of his assets, including his wife's, to the Election Commission of Pakistan (ECP).
Additionally, with no jewelry possession, he inherited two houses and 228 kanals of land in the Bhakkar district.
Likewise, he gets Pakistani Rs. 1.4 million ($6,174) as rent from his flat and a commercial plot on Constitution Avenue in Islamabad.
As a part of his possession, he showed Pakistani Rs. 11.22 million ($49,643) cash in hand and four goats worth Rs. 0.2 million ($882).
Imran Khan mentioned Pakistani Rs. 48.66 million ($214,683) expenditure on the construction of the Zaman Park house and an additional Pakistani Rs. 4.9 million ($21,830) on Banigala.
Cars
It is generally expected from a man of his stature to have several luxurious cars. But when his assets were valued in 2018, it was found that he did not have a single car.
Though Khan has won or been gifted a few cars.
Similarly, being a politician and former Prime Minister makes him subject to government cars.
But other than that, ethically, he doesn't have a fleet of cars in his house.
He won a Rover 827 Vitesse worth $72,000 in 1989 and the title Cricketer of the Year.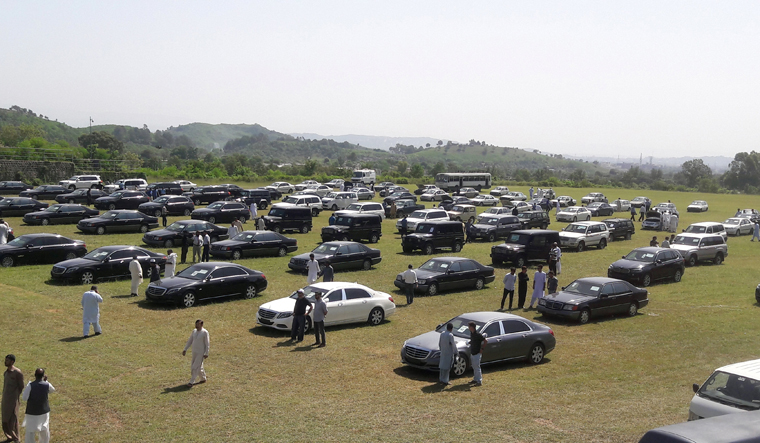 He is often seen behind the wheels of a Toyota Land Cruiser Prado, which is believed to be either a gift or a property of his party PTI.
As a politician and former Prime Minister, Khan has always prioritized ending corruption and cutting the government's expenses.
He has never favored extravagant services on the money of taxpayers.
As a matter of fact, in September 2018, he auctioned more than 100 luxury cars that belonged to the government. Along with that, he also auctioned a few helicopters.
The vehicle lineup consisted of Mercedez Benz, SUVs, bulletproof BMWs, and 40 Toyota cars. They were sold off to the highest bidders.
Imran Khan | Lifestyle
During his prime days, Imran Khan had a 'playboy' image due to his constant partying in nightclubs in London.
He was considered a socialite of London society and was always on the radar of the media and paparazzi.
But over the years, Khan slowly shredded that image. Despite having the money to live a fancy and extravagant lifestyle, he rarely flaunts it.
Khan talked about his bachelor life and said 'he never claimed to be an angel.' But he has successfully diverted himself towards philanthropy and community service.
Imran Khan | Vacations & Trips
Imran has traveled exclusively to international and internal competitions as a national team captain.
Since 2018, he has visited 13 countries as Prime Minister of Pakistan, including the USA, Sri Lanka, China, UAE, etc.; by 2022, it was 34 foreign trips to 16 countries.
However, he tried to keep state trips short and humble to keep the state expense low.
During his official visit to the States in 2019, his team traveled by commercial Qatar Airways flight. To cut hotel expenses, they stayed in the residence of the Pakistani ambassador to the U.S.
Imran is a busy person who doesn't have much private time to spend with his family. But he occasionally goes on international vacations with his children.
Imran Khan | Endorsements
Even before social media, Imran Khan was a huge celebrity, unlike anyone Pakistan has ever seen. He was the major choice of big brands for endorsements.
Because of that, the former captain worked with Pepsi, Brooke Bond, Cinthol, and Thumbs Up, among others.
Assassin Attack
Pakistan's former Prime Minister got shot three bullets in his right leg at a political rally in Gujranwala on November 2022.
The attack was addressed as an assassination attempt by his party.
Imran Khan | Philanthropy
Imran was born and raised in an affluent family and built an even bigger life for himself. He has never been short of cash for his needs, so serving the community has always been his main concern.
His biggest act of social service yet was establishing the only Shaukat Khanum Memorial Cancer Hospital & Research Centre in Lahore, Pakistan.
When his dear mother succumbed to cancer in 1985, he founded Shaukat Khanum Memorial Trust in her memory.
The primary goal of this organization was to raise funds and establish the Shaukat Khanum Memorial Cancer Hospital and Research Center.
It is reported that the donations and funds exceeded $25 million from all over the world.
You would even be surprised to learn that he donated all his prize money (£90,000) ($108,383) after winning the World Cup to the same trust. This hospital treats 75% of the patients free of charge.
He also has 'Imran Khan Foundations' that work for various causes, mostly helping needy people. It works to provide relief during disasters, development projects in villages, etc.
Another great contribution Khan has given to Pakistan is Namal College. It was established in 2008 with the help of donors and community support under the leadership of Imran.
Initially, it ran programs affiliated with the University of Bradford, UK. It became an independent institute in early 2019.
Imran Khan | Books
Imran khan regularly writes non-fiction articles and editorials in magazines.
He has published many books, which are listed below.
Pakistan: A Personal History
All Round View
Indus Journey: A Personal View Of Pakistan
Imran: The Autobiography Of Imran Khan
Imran Khan's Cricket Skills
Warrior Race
Mea Aur Meara Pakistan Imran
Renewable Energy And Sustainability
Due to the famous persona he has built, Khan's books are always taken with high interest by Pakistani readers.
Imran Khan | Pets
As far as we know, Imran Khan has had 5 dogs in his Bani Gala residence- Sheru, Sherni, Motu, Pidu, and Maximus. Motu, Pidu, and Maximus are still alive, while the Sheru and Sherni have passed away.
Imran is a huge fan of dogs and believes them to be the house's guard and great companions. The media give his pets special interest, and Imran is asked about them in almost every interview.
Apart from dogs, he also has reared a range of animals, like chicken, cow, goat, buffalo, etc., in his farmhouse.
Imran Khan | Movies
Imran's life has been featured in a few documentaries over the years. A 2010 Pakistani film 'Kaptaan: The Making of a Legend' also depicts his life, career, and philanthropic endeavors.
During his youth, he was popular for his charming personality and handsome looks. He later revealed that Dev Anand asked him to act in a Bollywood (Indian) film.
However, Kaptaan rejected the offer saying "he couldn't even act in a school play."
Imran Khan | Cricket Days
Imran started playing cricket in his early teens and soon progressed to first-class cricket at 16. He debuted for the Pakistani national team at the young age of 18.
However, it was only in 1982 that he became the team captain, succeeding Javed Miandad.
Imran Khan played professional cricket for 20 years and is still remembered as the best Pakistani cricket captain. Under his leadership, the Pakistani team won the World Cup of 1992.
He initially announced his retirement after the 1987 World Cup.
But his craze was so strong among the Pakistani sports lover that Pakistan's president Zia ul Haq specially requested him to return. He played for the team from 1971 to 1992.
Quotes
"It is not defeat that destroys you; it is being demoralized by defeat that destroys you."
"The more you study, the more you know; how less you know."
"Compromise for your Dream but NEVER Compromise on your Dream."
Imran Khan | Trivia
Imran was sent off to elite schools in Pakistan and the UK.
Once on a trip with his children to some remote part of Pakistan, Imran Khan was looted at gunpoint. The robbers took his mobile phone, credit card, and camera.
Imran has been married three times. His second wife, Rehem Khan, accused him of being bisexual after their divorce. Along with that, she also accused him of taking drugs and being involved in adultery.
The Search Graph
Imran Khan being the ex-Prime Minister of Pakistan, is immensely famous and holds massive credibility.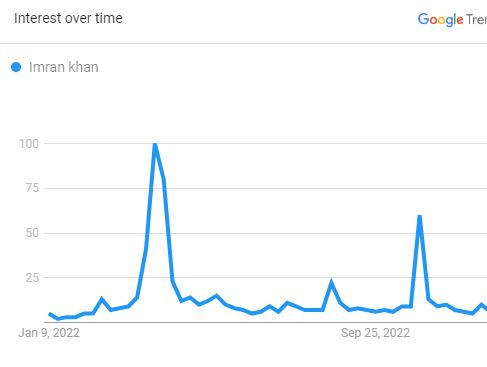 His popularity graph also depicts that many people follow him and search for him religiously.
Imran Khan | FAQS
How much tax Imran Khan paid in 2019?
On 3 January 2022, FBR (Federal Board of Revenue) released its 2019 tax directory for parliamentarians, which revealed that he had paid Rs. 9.8 million ($42,914) in taxes in 2019.
What did Imran Khan do for Pakistan?
Imran worked on many aspects like making Pakistan business-friendly, Pakistan's business growth, and improving life in Balochistan.