Trevon Diggs is a highly acclaimed cornerback known for his stellar performances for the Dallas Cowboys in the National Football League (NFL).
As the youngest member of the renowned Diggs family, Trevon has continued the legacy of his family's athletic achievements, following in the footsteps of his accomplished brothers, Stefon Diggs and Darez Diggs.
Trevon played college football at Alabama before being drafted by the Cowboys in the second round of the 2020 NFL Draft and has since become a crucial player for the team.
His exceptional gameplay and immense value have earned him several accolades, including being named First-team All-Pro, CFP National Champion, and a two-time Pro Bowler.
This article will explore Trevon Diggs' early life, net worth, girlfriend, children, and more. But first, let's look at some quick facts about this NFL star.
But let's start with his quick facts first.
Quick Facts
Full Name

Trevon De'Sean Diggs

Nick Name

Diggs

Date of Birth

September 20, 1998

Age
24 Years Old
Birth Place

Gaithersburg, Maryland

Nationality

American

Ethnicity

African-American

Zodiac Sign

Virgo

Height

6 ft 1 inch/1.85 m/185 cm

Weight

204 lb/93 kg

Hair Color

Black

Eye Color

Brown

Father's Name

Aron Diggs

Mother's Name

Stephanie Diggs

Siblings

Four: Stefon Diggs, Darez Diggs, Aaron Jr, and Porsche Green

High School

Thomas S. Wootton High School and The Avalon School

Education

Graduated

University

University of Alabama

Relationship Status

Unknown (Rumored to be dating Joie Chavis or Yasmine Lopez)

Children

Aaiden Diggs (son)

Profession

Football Player

Position

Cornerback

Leagues

National Football League (NFL)

NFL Draft

2020 / Round: 2 / Pick: 51 by Dallas Cowboys

Debut Year

2020

Playing Teams

Dallas Cowboys (2020-Present)

Jersey Number

7 (Dallas Cowboys)

Notable Awards and Achievements

First-team All-Pro (2021)

Two times Pro Bowl (2021, 2022)
NFL Interceptions Leader (2021)
CFP national champion (2018)

Net Worth
Approximately $3 Million
Social Media

Instagram

, Twitter
Merch

Not Available

Last Update
June 2023
Early Life & Family
Trevon De'Sean Diggs was born on September 20, 1998, in Gaithersburg, Maryland. He was born the youngest child to his father, Aron Diggs, and his mother, Stephanie Diggs.
Trevon shares a special bond with his mother, whom he fondly calls "Superwoman." She raised him and his four siblings alone after his father died due to congestive heart failure in January 2008. She works as an Amtrak train attendant.
Furthermore, he has two older brothers: Stefon and Darez Diggs, a half-brother named Aaron Jr., and a half-sister named Porsche Green.
His brother, Stefon, played college football at the University of Maryland and shone as a talented wide receiver in the NFL's Buffalo Bills. He was picked in the fifth round of the 2015 NFL Draft by the Minnesota Vikings.
Similarly, his brother, Darez, played wide receiver for the Morgan State Bears and the UAB Blazers during college.
As the youngest of five siblings, Trevon admires his older brother, Stefon Diggs, whom he regards as a fatherly figure.
Early Career
Diggs attended Thomas S. Wootton High School in Rockville, Maryland, where he played defensive back and wide receiver. After his sophomore year, he transferred to The Avalon School in Wheaton, Maryland, to follow his football coach Tyree Spinner.
He had impressive stats in his high school career, with 78 receptions for 1,008 yards and 15 touchdowns as a junior and 1,269 receiving yards as a senior.
Thus, he committed to playing college football at the University of Alabama after graduating from high school. He started as a true freshman in 2016, playing safety, wide receiver, and as a return specialist.
Later as a sophomore in 2017, he made the switch to cornerback. He showed fantastic performance as a cornerback, and after a successful college career, he decided to declare for the 2020 NFL Draft.
Professional Career
Diggs' professional career began when he was picked by the Dallas Cowboys in the second round as the 51st overall pick in the 2020 NFL Draft.
Even as a rookie, he was a valuable addition to the team.
The following year of his debut, he was named the starting left cornerback, and he started the season off with a bang, earning both NFC Defensive Player of the Month for September and NFC Defensive Player of the Week awards.
Furthermore, he tied an NFL record for the most consecutive games with an interception to start a season, matching Brian Russell's record in 2003.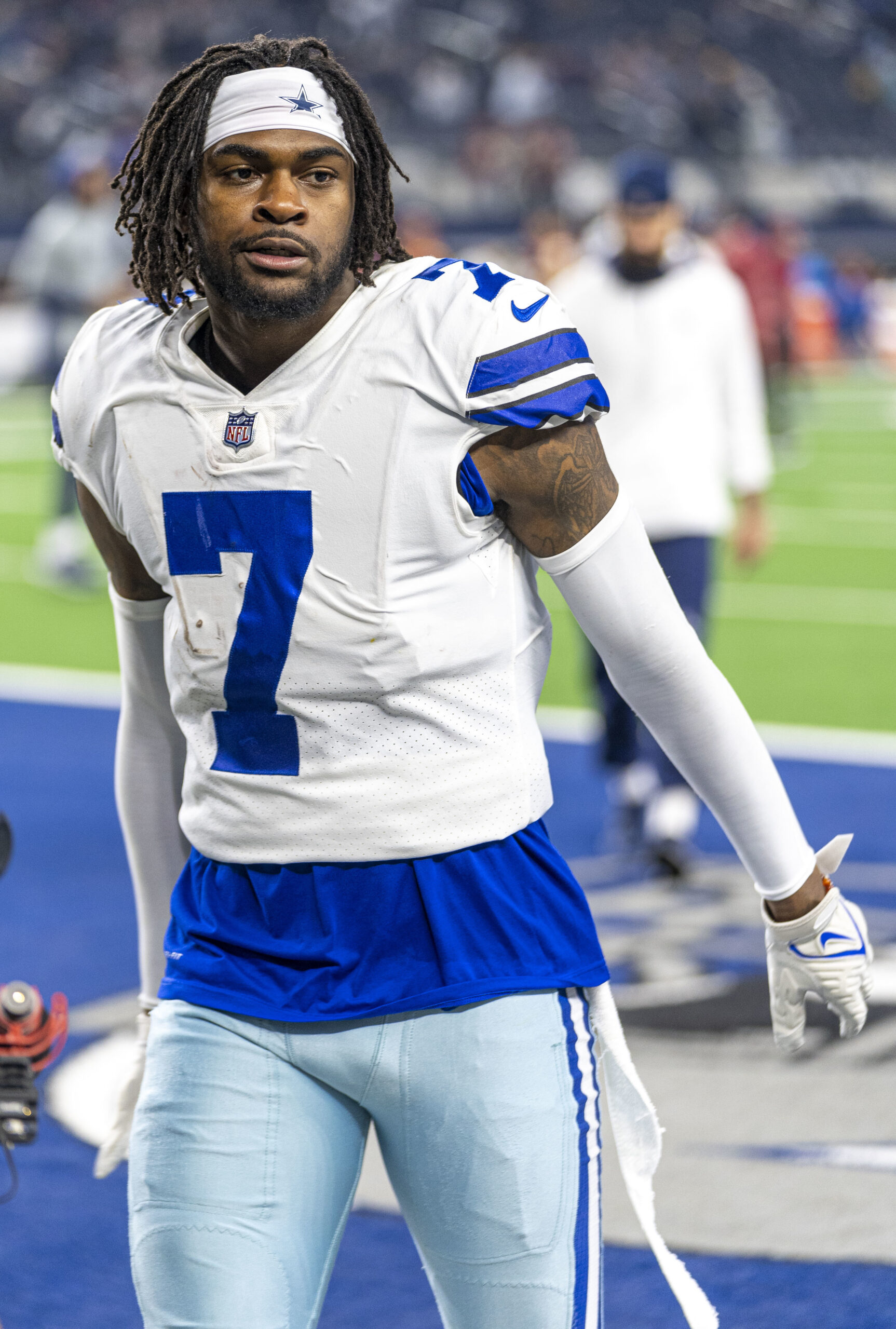 In addition, he joined the ranks of Hall of Famer Rod Woodson by recording seven interceptions in the first six games of a season.
In no time, Diggs became the player with the most interceptions in the NFL with 11 since Everson Walls in 1981, which earned him First Team All-Pro recognition for his standout performance.
Awards & Achievements
Trevon Diggs has won several honors and awards for his exceptional gameplay. Some of these include,
First-team All-Pro (2021)

Two times Pro Bowl (2021, 2022)

NFL Interceptions Leader (2021)

CFP national champion (2018)

Third-team All-American (2019)

First-team All-SEC (2019)
Girlfriend, Relationship, & Rumors
There have been several rumors about the romantic life of Trevon Diggs, including rumors circulating that he may be dating Joie Chavis. While neither Party has confirmed the relationship, several circumstances have led fans to believe they are a thing.
One instance that sparked the rumors was a video that surfaced on Twitter, showing Trevon and Joie kissing after a game.
Additionally, Joie has been spotted at several Cowboys games, including one where she was seen cheering on Trevon while holding a cup printed with his image.
Rumors have also been about Trevon's relationship with Yasmine Lopez and Chinese Kitty.
Chinese Kitty called him out in a social media post, saying he asked back the $150k worth of watch he gifted her when they were in a relationship. Similarly, Yasmine Lopez says she gave birth to the son of Trevon Diggs.
However, these are just rumors, and Trevon has not commented on them.
Short Glance At Trevon's Rumored Girlfriend, Joie Chavis
Joie Chavis was born on 27th September 1988 and is 34 years old as of 2023.
Joie is a social media influencer, entrepreneur, skilled gym trainer, and professional dancer.
She is also a mother to two children named Shai Moss and Hendrix Wilburn from her previous relationship with Bow Wow.
Trevon's Hype Boy, Aaiden Diggs
Trevon Diggs has a son named Aaiden Diggs, who is already making waves on social media. A video of Aaiden, in particular, went viral on social media, where he can be heard cheering on his father from the sidelines during one of his games.
He has, thus, been named Trevon's hype boy, and people have praised him for being so supportive at such a young age. He was born in 2016 and is 7 years old as of 2023.
He even has his customized jersey with his dad's number and name. Trevon also supports his son and can be seen posting him on his social media.
Alleged Second Son, Chosen Alexander
However, Diggs is known to have one more son apart from Aiden. Born in August 2021, Chosen Alexander is the child of model Yasmine Lopez, Digg's rumored ex-girlfriend.
Chosen is 1 years old as of 2023.
As Lopez claims, Chosen was conceived following an alleged "summer romance" with the NFL star.
However, it has not been confirmed in a court of law that Diggs is the father. But Lopez has claimed that Digg is the father and has been raising him as a single mom.
Net Worth & Contracts
NFL star Trevon Diggs's net worth is around $3 million as of June 2023. He has earned his wealth from his primary career as an NFL player.
According to Sportrac, he signed a 4-year contract worth $6 million with the Dallas Cowboys in 2020, which includes a $2 million signing bonus and $3 million guaranteed. His average annual salary under this contract is $1.5 million.
In 2023, Diggs will earn a base salary of $4 million, much more than his previous years' salary.
Frequently Asked Questions (FAQS)
What are the overall NFL statistics of Trevon Diggs?
Trevon Diggs has recorded impressive NFL statistics throughout his career. Throughout his career, he has recorded 142 tackles, 1.0 sacks, 1 forced fumble, 49 pass deflections, 17 interceptions, and 2 touchdowns.
How many kids does Trevon Diggs have?
Trevon Diggs has one son named Aiden Diggs, born in 2016, who is now 7 years old. He can be seen posting about his son on social media. But, apart from Aiden, he has an alleged son named Chosen from his rumored ex-girlfriend.