Stephanie Diggs is the proud mother of the American footballer Stefon Diggs and Trevon Diggs. She's been through a lot in her life, but mama Diggs has fulfilled her motherly duty, no question asked!
She tragically lost her husband in January of 2008, and despite that, she responsibly raised her three sons: Stefon, Trevon, and Darez, in Maryland.
Interest in Stephanie Diggs grew after the rise of his two sons in the American football scenes.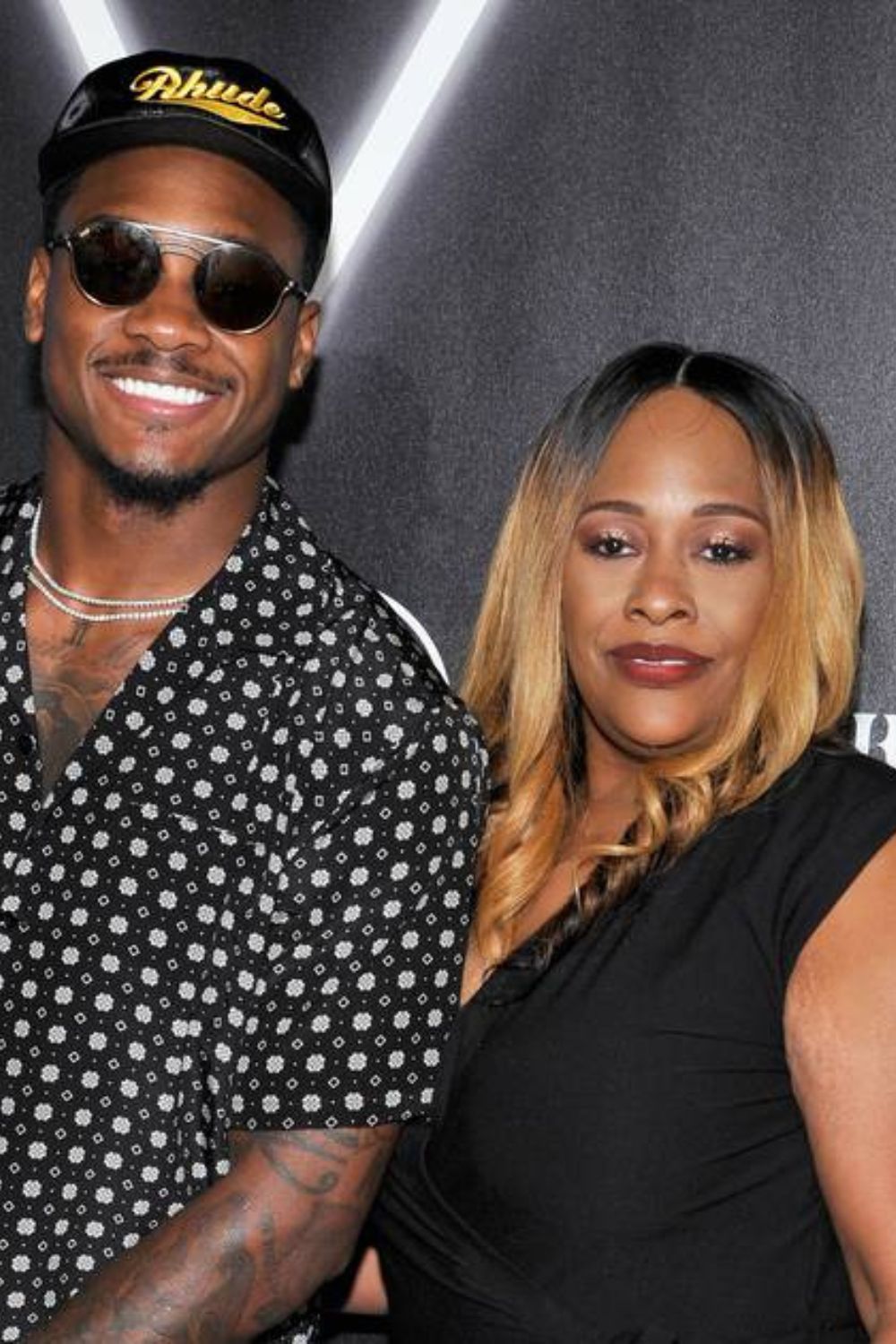 With the first freshman appearance of Stefon Diggs in 2012 as a wide receiver on the exceptional team of Maryland Terrapins Football Team, the young Stefon quickly rose to fame after ranking second in ACC in the same year.
First, let's look at the quick facts about Stephanie Diggs.
Stefon Diggs Mother: Stephanie Diggs | Quick Facts
| | |
| --- | --- |
| Full Name | Stephanie Diggs |
| Date Of Birth | Not Available |
| Residence | Maryland, United States |
| Age | Not Available |
| Gender | Female |
| Sexual Orientation | Straight |
| Height | Not Available |
| Weight | Not Available |
| Nationality | American |
| Ethnicity | African-American |
| Father's Name | Not Available |
| Mother's Name | Not Available |
| Hair Colour | Black |
| Eye Colour | Dark Brown |
| Skin Colour | Dark Brown |
| Marital Status | Widow |
| Partner | Aron Diggs |
| Kids | Stefon, Darez, and Trevon |
| Profession | Not Available |
| Net Worth | Not Available |
| Salary | Not Available |
| Social Media | Instagram |
| Stefon Diggs Merch | Jersey, Autographed Poster |
| Last Update | November, 2023 |
Stefon Diggs Mother: Stephanie Diggs | Family
The family of Stephanie Diggs consists of her three sons Stefon Diggs, Trevon Diggs, and Darez Diggs. In addition, she has a half-son and a daughter named Aron and Porsche, respectively.
Sadly, her husband, Aron Diggs, passed away at 39 in January 2008. The cause of the death was congestive heart failure.
After the death of Aron Diggs, 14-year-old Stefon Diggs had to step up and be responsible for his family.
He acted as a Father figure for his two younger brothers and wanted them to look up to him.
Stefon Diggs: Professional Career
Now, let's talk about Stefon Diggs. He started playing football when he was five and continued playing football in high school and college.
Top 15 NFL Defenses of all Time >>
High School
During his junior year of high school, Stefon recorded 23 touchdowns with 810 yards receiving and became a runner-up for the Gatorade Maryland Player of the Year.
In his senior year of high school in 2011, he was listed as the MVP of the U.S. Army All-American Junior Combine. Then the following year, he was invited to play in the U.S. Army All-American Bowl.
With such massive ratings and performance, Stefon received many scholarships offers from USC, Ohio State, Florida, Auburn, etc.
However, he chose to stay close to home to take care of his family and chose the University of Maryland on an athletic scholarship.
College
On an athletic scholarship, Stefon attended the University of Maryland and joined the Maryland Terrapins Football team.
He received the ACC Specialist of the Week honors after recording 239 all-purpose yards. He also earned ACC Rookie of the Week for his 66-yard touchdown against Boston College for the third time.
To top off his 2012 year, he was voted second in the ACC Freshman of the Year, falling short behind Duke Johnson of the Miami Hurricanes.
In 2013, Stefon injured his right fibula during a match against Wake Forest, ending his 2013 season. Stefon could play only seven games and missed six games of the season.
Despite the injury, he was named an honorable mention for All-ACC selection by both coach and the media.
After Lowa scored 53 yards for a touchdown and nine receptions for 130 yards, he had to miss the game with Michigan State due to his suspension.
He also missed the final two games due to a lacerated kidney.
Professional Career
Stefon Diggs entered the 2015 NFL draft and was picked up by the Minnesota Vikings in a four-year deal of $2.5 million, including the signing bonus of $227,000.
Stefon didn't play for the first three games at the start of the season. Despite that, he led the team with 52 receptions and 720 receiving yards, including 13 receptions of 20+ yards.
With such a great start to his professional career, he became the 2nd most yard received by the rookie falling short behind the wideout player of Raiders, Amari Cooper, with 1070 receiving yards.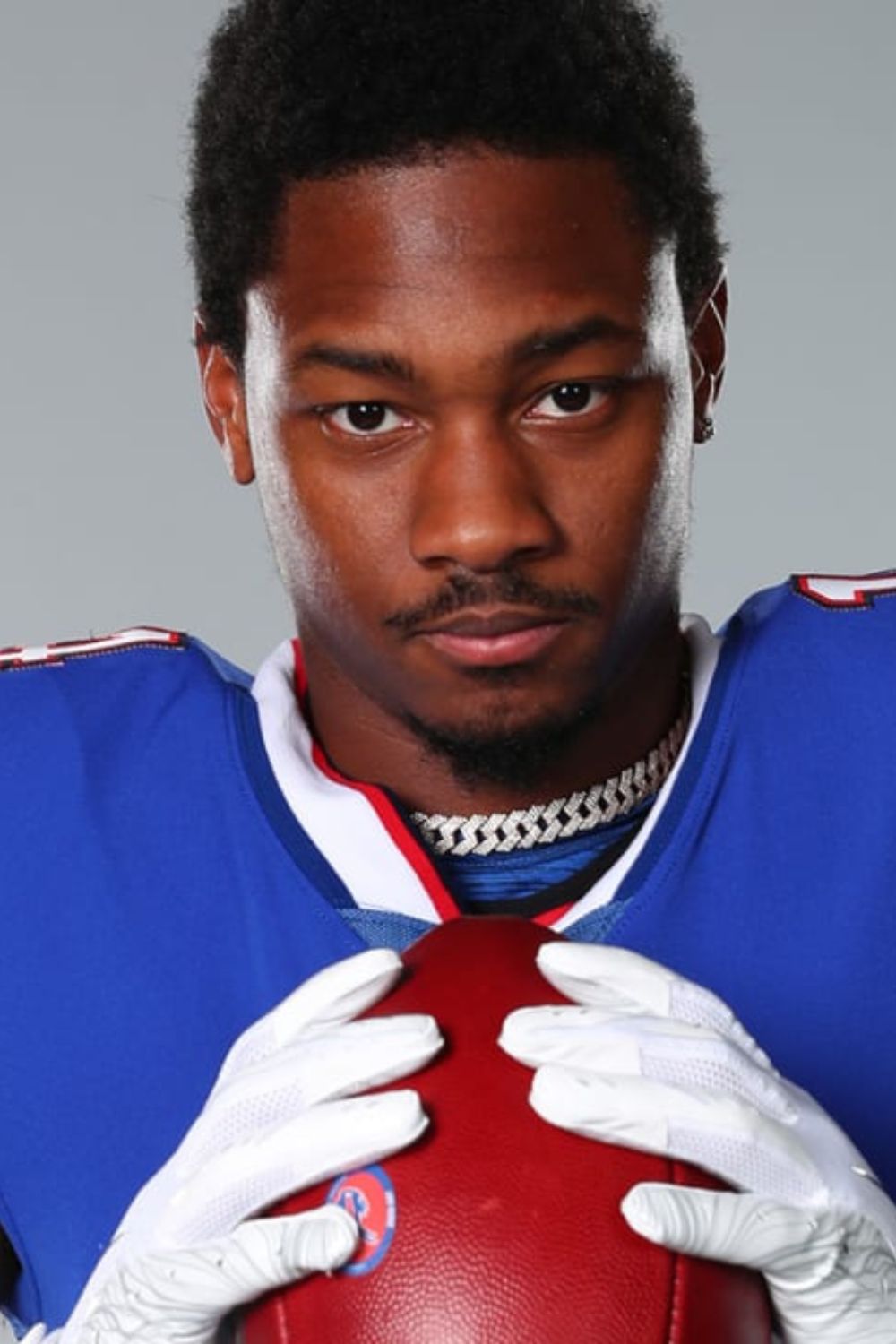 Stefon was also part of the receiving duo with Adam Thielen, the first pair of Minnesota Vikings with 900 yards each since 2000.
With a catch rate of 75%, he ranked 5th as an NFL wide receiver in the year.
After winning a dramatic victory over New Orleans Saints with a 61-yard touchdown, he was dubbed the Minneapolis Miracle. It was also the first-ever play to end in a touchdown as the time expired in the NFL playoffs history.
Top 50 NFL Fantasy Players for 2021 >>
Trade To Buffalo Bills
In the 2020 NFL draft, Stefon Diggs was traded to Buffalo Bills for Justin Jefferson on March 20, 2020.
On his debut for his new team on September 13, he caught eight passes for 86 yards, effectively winning 27-17 in favor of the Buffalo Bills.
After his win over New England Patriots with three touchdowns and nine catches for 145 yards, he broke the franchise record of Eric Moulds for receiving yards in a single season.
For their outstanding performance of Stefon, he won the award for the AFC Offensive Player of the week. Additionally, Stefon also achieved his first Pro Bowl honor.
Trevon Diggs: Professional Career
Moving on to Trevon Diggs's career, he was recently drafted in the 2020 NFL Draft by the Dallas Cowboys.
He played as a wide receiver and defensive back during high school and scored 15 touchdowns and 78 receptions.
Diggs attended the University of Alabama to play football for his college years and switched to cornerback in his Sophomore year.
As a professional player in Dallas Cowboys, he recorded his first sack Baker Raegan Mayfield, but he eventually lost with a 38-49 defeat.
In week 9 of the 2020 season, he fractured the bone on his foot and was placed on an injured reserve on November 18, 2020. A month later, on December 19, he was released from the injured reserve.
Stefon Diggs Mother: Social Media
Stephanie Diggs is not very active on social media. She doesn't use social media much, but she has an Instagram account with 566 followers.
However, she hasn't posted on her Instagram Account since her last post on November 29, 2019, where she congratulated her son Stefon Diggs for his birthday.
Contrary to Stephanie Diggs, her son Stefon Diggs is active on social media. She was amassing over 1.2 million followers on Instagram.
Her second son Trevon Diggs also has a massive following of 691k followers on his Instagram and 173.8k followers on Twitter. Despite not posting much on Instagram, he is frequently seen tweeting stuff on Twitter.
Stefon Diggs Mother: Net Worth And Salary
The work of Stephanie Diggs or her net worth has not been made public.
However, the net worth of Stefon Diggs is estimated to be around $16 million, and Trevon Diggs is approximately $1.5 million. Judging from her son's net worth, Stephanie Diggs must be doing quite well.
FAQs
How did Stephanie Diggs's husband pass away?
Stephanie Diggs was married to her husband, Aron Diggs, and bore three children. Unfortunately, at 39, he passed away due to congestive heart failure in January 2008.
How many Diggs brothers play in the NFL?
The infamous Stefon Diggs plays for the Buffalo Bulls in NFL and has achieved many achievements.
Besides Stefon Diggs, his brother Trevon Diggs also plays American Football in NFL for the Dallas Cowboys.
Are there other children besides Stefon and Trevon?
Yes, there are other children besides her two widely known sons, Stefon and Trevon. She also has a son named Darez Diggs, a half-son named Aron, and a half-daughter named Porsche.
Is Stefon Diggs in a relationship?
Stefon Diggs is entirely private about his relationships and personal life, which might be why he hasn't posted anything about his girlfriend and relationship on his social media.
However, it is known that he is dating Tae Heckard, an Actress. Together they have also given birth to a daughter named Nova.
Allegedly they have been together for two years, but Stefon is not the only relationship she has had in her life.
In her early 40s, she was previously married to Brandon Jennings and gave birth to a son named Brandon Byron Jennings, Jr.
Also, check out Colt Brennan's Bio: Stat, Net Worth, Car Accident & Football >>