Trey Lance, the quarterback for the San Francisco 49ers in the NFL, has the perfect partner as he and his girl both have athletic backgrounds. His girlfriend, Brynn Chandler, is a former college volleyball player.
Currently, she is pursuing her career in a corporate. Chandler is working as an account executive at Verkada (August 2022- now).
Even though she didn't puruse a football career herself, she has connections with NFL from two generations. Brynn's father & grandfather both played in NFL; both were quarterbacks.
As for Chandler herself, she excelled as a volleyball player at high school & then at college.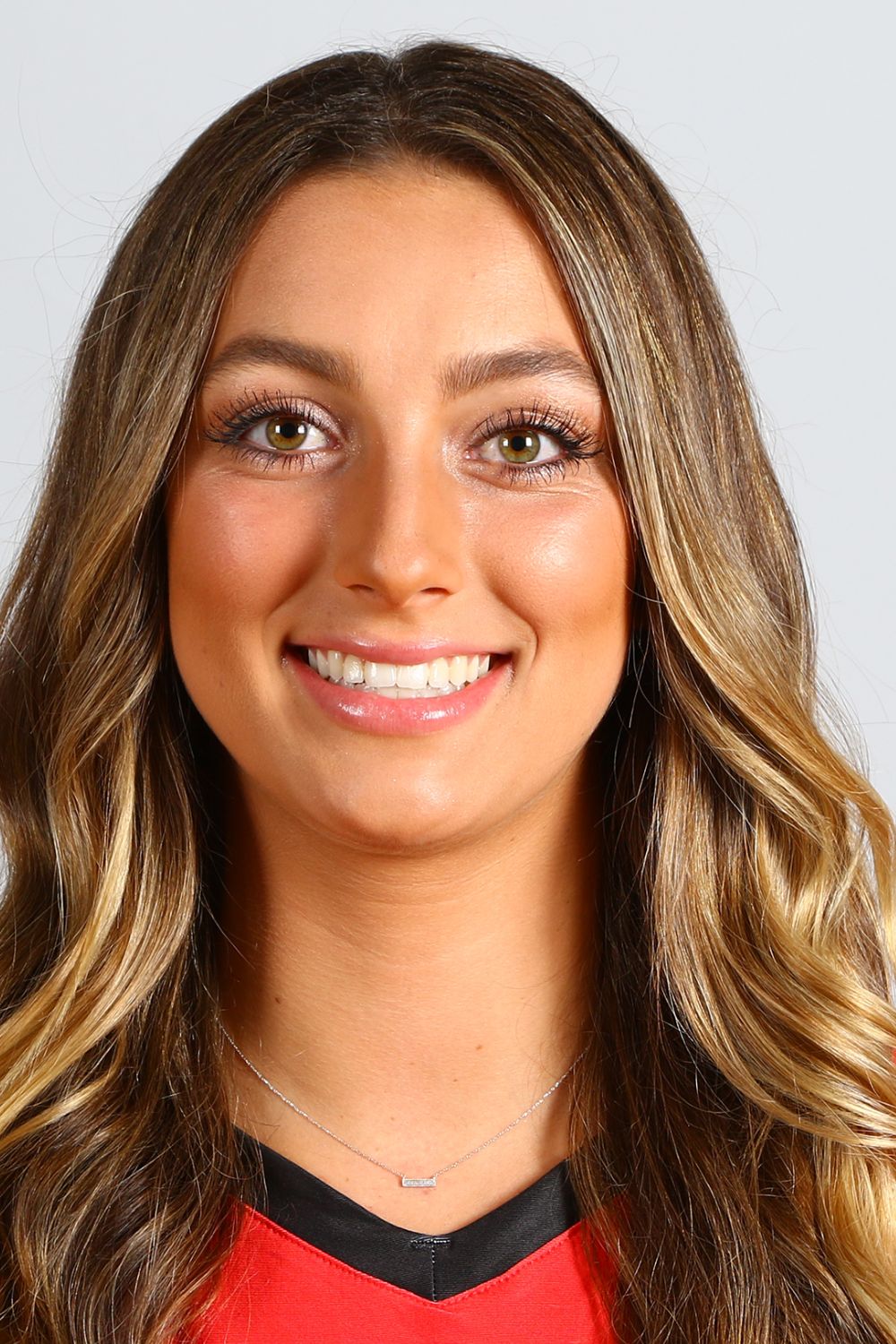 While with Coast Volleyball Club, Brynn led the team to to national rankings, garnered a third-place result at the state competition, and won three consecutive league championships for the team.
Coast Volleyball Club made its seventh trip to the USA Junior Nationals thanks to her leadership.
Her former team, Wave Volleyball, attended Junior Nationals six times and always placed ninth or better while winning three medals.
Talking about her boyfriend, Trey was named the starter for the 49ers over Garoppolo for the 2022 season.
Continue reading this article to learn more about Trey Lance's girlfriend.
Quick Facts
| | |
| --- | --- |
| Full Name | Brynn Brodie Chandler |
| Date of Birth | January 20, 1999 |
| Age | 24 Years Old |
| Zodiac | Aquarius |
| Birth Place | San Diego, California |
| Current Residence | San Mateo, California |
| Nationality | American |
| Religion | Christian |
| Ethnicity | White |
| Height | 5 ft. 11 in/1.80 m/180 cm |
| Weight | Not Available |
| Hair Color | Brown |
| Eye Color | Brown |
| Tattoo | None |
| Sexual Orientation | Straight |
| Distinctive Features | Slim Built, Fair Skin, Often Changes Her Hair Colour |
| Father's Name | Chris Chandler |
| Mother's Name | Diane Chandler |
| Siblings | Ryann and Skye (Sisters) |
| Marital Status | Not Married |
| Boyfriend | Trey Lance |
| Children | None |
| Profession | Account Executive at Verkada |
| Sport | Volleyball |
| Best Known As | Girlfriend of Trey Lance |
| High School | Torrey Pines High School |
| University | University of Georgia |
| Net Worth | Not Available |
| Social Media | Instagram, Twitter |
| Merch (Of Trey Lance) | Signed Rookie Card, Signed Helmet |
| Last Update | May 2023 |
Who Is Trey Lance's Girlfriend?
Brynn Chandler is Trey Lance's romantic partner.
Trey's relationship status is the subject of an interesting narrative. The athlete was once connected to Liv Cowherd, the child of FOX Sports presenter Colin Cowherd.
The suspicions were put to rest when Trey uploaded his photo with Brynn.
While Lance made his NFL debut with the San Francisco 49ers, Chandler was preoccupied with her projects.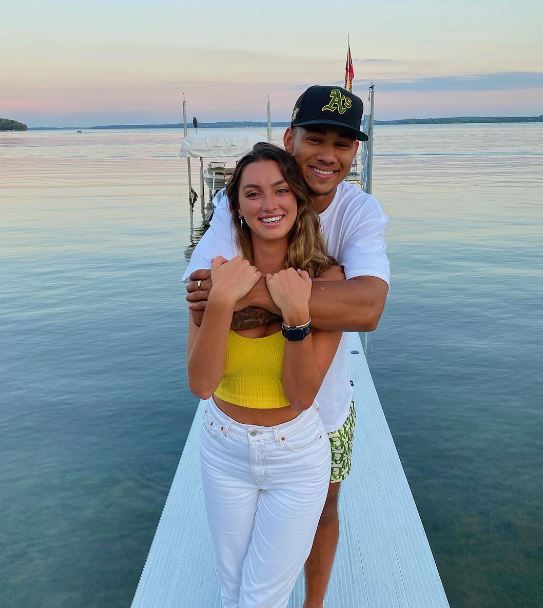 In July 2021, Lance and Brynn Chandler shared a photo of them on social media.
On July 8, 2020, Chandler posted a picture of herself and Trey to her Instagram, officially announcing their relationship. Though those pictures are no where to be found on their social media.
Probably, the duo wants to keep their relationship profile low.
Even if they don't appear together, Brynn is often seen cheering for her boyfriend Trey on his NFL games. She posts picture on her Instagram attending the 49ers games.
Brynn Chandler Played College Volleyball
Trey Lance's girlfriend, Byrnn Chandler, is a former college volleyball player who played for Bulldogs at the University of Georiga.
While at Georgia for three years, she earned the honors: 2017-18 SEC First-Year Academic Honor Roll, 2018 SEC Fall Academic Honor Roll & 2019 SEC Fall Academic Honor Roll.
As a freshman in 2017, Brynn made seven-game appearances, with notable four digs (out of nine in the season) from her debut collegiate game versus UNC Asheville.
In 2018, she participated in 16 sets in seven matches, with two starts to finish the season against Arkansas (11/21) and Mississippi State (11/23).
Her sophomore year concluded with 21 digs (inclusive of career-high five digs for two times), seven assists, and two aces.
In 43 attempts, she only made one reception fault.
As a senior, Brynn Chandler participated in all 30 games, starting six of them. She made a statement at the serving line by compiling a team-high 35 aces.
Her seven aces versus Ole Miss (10/23) were the second-highest by a Bulldog in a four-set match.
What Is She Doing Now?
After graduation from the University of Georgia (July 2017- December 2020) with a degree in Communication Studies, Brynn went to Gonzaga University. There, she obtained her Master's degree.
According to her LinkedIn profile, Chandler works as an account executive at Verkada (August 2022- now).
Previously, she was an associate account executive for seven months at Verkada.
Parents Are Separated | More On Family!
Brynn Chandler was born on January 20, 1999, in San Deigo, California, to Chris and Diane Chandler. As of 2023, she is 24 years old.
She is the youngest of three sisters; the eldest one is Ryann Chandler (b. March 9, 1995) & the middle one is Skye (b. December 7, 1996).
Her parents, who married in 1994, are separated now (they parted ways in 2011).
Brynn's father Chris Chandler, is a former NFL quarterback who played for 17 seasons (1988-2004) with Colts, Buccaneers, Cardinals, Rams, Falcons & the Bears.
Her mother, Diane Chandler, a former USC tennis player, is the daughter of John Brodie, a former 49ers quarterback & 1986 College Football Hall of Fame, who played from 1957 to 1973.
As reported, her dad Chris is married to his second wife, Chrystal Okada. On the other, Chandler's mother, Diane, is in a relationship with Paul Heidemann.
Brief On Sisters
The passion for sports reigns in Brynn's sister too.
Brynn Chandler's eldest sister Ryann also played volleyball; at Torry Pines High School & then at University of California, Los Angeles, where she majored in Sociology.
According to her LinkedIn profile, Ryann Chandler work as a Sr. enterprise customer success manager at HackerOne (January 2023- now).
Previously, she was customer success manager at Darktrace (2020-21) & Gong (2021-23).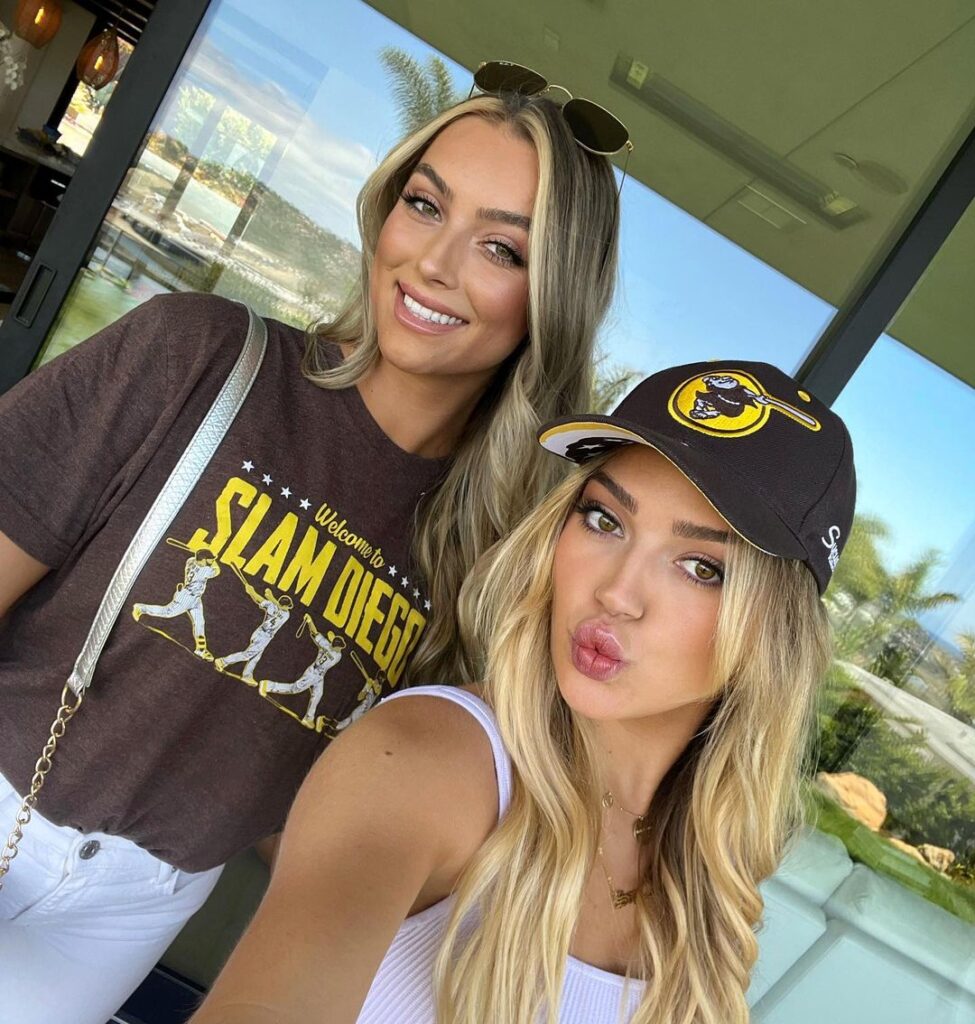 Her other sister Skye Chandler is a 2019 graduate of the University of Arizona.
Currently, Skye works as a VP of talent acquisition of The Walt Disney Company (April 2022- now).
Prior to that, she was a HR team coordinator for Riot Games for 2 years & 8 months (2019- April 2022).
Trey Lance's Girlfriend Knows How To Shut Haters
The San Francisco 49ers selected Trey Lance with the third overall pick in the 2021 NFL Draft.
Lance looked reasonably solid when he got the chance to play, despite spending most of the season backing up Jimmy Garoppolo.
Lance overtook Garoppolo as the odds-on favorite to start for the 49ers.
His girlfriend, Brynn Chandler, is one person who has been significantly touched by the increased attention Lance has been receiving.
Chandler previously gained notoriety for her actions at a 49ers game. Her laughing in response to the unsettling claim that her lover acts single caused her to go viral online once more.
To be fair, Chandler doesn't seem to get much attention on Lance's Instagram profile.
She doesn't have any content online about Lance, either. However, she does have a ton of fantastic images of her own.
Net Worth & Salary
Brynn Chandler's net worth is unknown, but it is allegedly in the 6-digit figure.
As an account executive, she could be earning a salary in the hefty 5-digit figure.
The average annual paycheck of an account executive in the United States is $98,623, according to Salary.com.
Trey Lance, on the other hand, has a net worth of $10 million as of 2023.
Thanks to his earnings from NFL contracts & endorsement deals. Lance has sponsorship deals with Chipotle, Bose, Old Spice, and Cantu Beauty.
Although the precise financial terms of such agreements aren't available to the general public, they are assumed to be significant given Lance's background as an athlete.
Lance, the third overall pick of the 2021 NFL Draft (behind Trevor Lawrence & Zach Wilson), signed a four-year rookie contract with the 49ers on July 28, 2021.
He receives a yearly payment that is different every year, similar to how rookie contracts in the NFL are scaled.
Lance made merely $600,000 for his whole rookie season in 2021, but his guaranteed money appeared in the form of a signing bonus that was much over $5 million.
According to Spotrac, the signing bonus remains the same for the 2022-23 season, but Lance's yearly salary rose slightly to a value of about $2.2 million.
For the 2023-24 season, Trey Lance's salary will be $3.76 million, that makes him #8 in the list of San Francisco 49ers' players with highest-cap in 2023.
His wealth will continue to grow in the upcoming season, especially when his compensation with the Niners and his endorsement deals grow.
Social Media Presence
Brynn has significant followers on Instagram and is active on the platform. She often posts gorgeous photos of herself.
She rarely shares pictures with Trey. Despite keeping their romance quiet and rarely posting photographs on social media, the couple seems serious and loyal to one another.
View this post on Instagram
Instagram– 11.6k followers
LinkedIn– 500+ connections
TikTok– 3697 followers
Frequently Asked Questions (FAQS)
How long is Trey Lance out for?
Trey Lance's recovery from breaking his fibula and tearing his deltoid and sesamoid ligaments in his ankle is expected to take 4-6 months.
How many games did Trey Lance play in the NFL?
Lance played six games with two starts as Jimmy Garoppolo's backup during his debut season. He was selected to start the 2022 season, but in Week 2, he had an ankle injury that would end his season.
Is Trey Lance good for fantasy?
Trey Lance, the quarterback for the San Francisco 49ers, might be a lock in 2022 fantasy football. According to PFF forecasts, Lance will rank among the top five rushers at quarterback.