The injury incident from his last game has left fans horrified. Some have even speculated that the injury has led to Treylon Burks death.
However, the news of Burk's death is uncalled for, and he is making a speedy recovery in the hospital.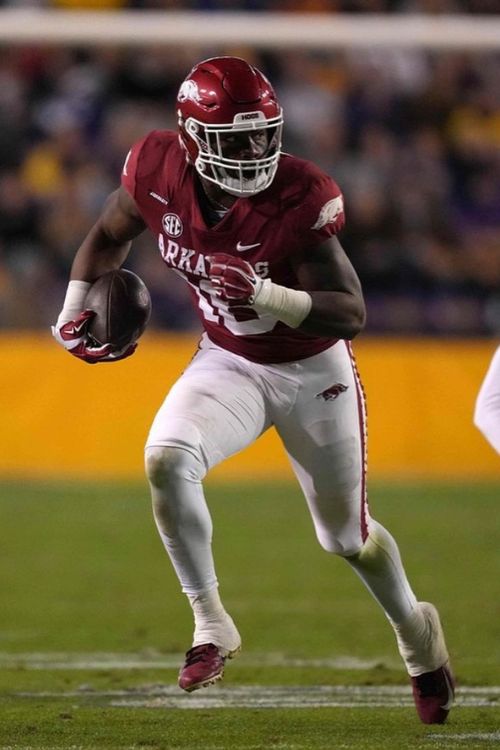 Treylon Burks is a wide receiver in the National Football League (NFL) for the Tennessee Titans.
Burks was born in Flint, Michigan, on March 23, 2000, and grew up in Warren, Arkansas. He went to Warren High School and played wide receiver for the football team.
On top of being a football player, he also loved playing basketball and baseball during high school.
On July 30, 2018, he committed to play college football at the University of Arkansas.
He earned a four-star recruit status, ranking 103rd in the US and holding the top prospect position in Arkansas. The Titans selected Burks 18th overall in the 2022 draft.
Tennessee gave up receiver A. J. Brown in exchange for the draft pick from the Philadelphia Eagles, as well as a third-round pick in 2023.
Furthermore, Burks is an adrenaline junkie, and hog hunting is one of his favorite hobbies.
Here's What You Need To Know About Treylon Burks Death Rumors
Firstly, the news of the death of Treylon Burks is a massive hoax spread by agencies hungry for clout. He is very alive but not so well as he is undergoing treatment at the moment.
In a recent game against Pittsburgh, Titans wide receiver Burks suffered a brief loss of consciousness and is now in concussion protocol.
Burks was in the air leaping for a pass on fourth down along the left sideline. He landed hard out of bounds with his head bouncing off the turf.
The medical staff immediately rushed in to help Burks as he lost consciousness. They secured Burks to a backboard and removed his face mask after the incident.
The receiver stayed down for a few minutes, and they put him on a stretcher as a precaution against a possible spinal injury.
He wiggled his toes and gave a thumbs-up as they loaded him onto the cart, and then he departed the field.
Players from both teams watched nearby. This was why many fans started to worry that he was dead.
His coach, Mike Vrabel, mentioned that he had exchanged texts with Burks confirming that he was alive.
Additionally, he also expressed hope for his speedy recovery and commended everyone for following protocol to ensure Burks' well-being.
When It comes to Injuries, Burks Is No Stranger
Burks has been injured so many times that it is a surprise that he made it this far into his career.
His previous concussion occurred on December 4, 2022, during his only touchdown reception in a game against the Eagles.
In this season, while participating in a joint practice with the Vikings, Burks hauled in a deep pass and suffered an LCL sprain upon landing on his knee.
In Week 4 of 2022, Burks experienced turf toe, and the team put him on injured reserve on October 8. They subsequently activated him from injured reserve on November 12, 2022.
In his high school career, he missed most of his senior season in 2018 after tearing his ACL. However, injuries are all part of the game, and we wish him a speedy recovery.