Trinity Rodman boyfriend, Chris Kuzemka, is a NCAA basketball player who currently plays for the Loyola Maryland Greyhounds as a guard.
Trinity Rain Moyer-Rodman is an American professional soccer player renowned for her skills as a forward.
She currently plays for the Washington Spirit in the National Women's Soccer League (NWSL) and represents the United States women's national soccer team.
Born and raised in Newport Beach, California, Rodman began her professional journey at the age of 18.
She got selected by Washington Spirit as their first draft pick (second overall) at the 2021 NWSL College Draft at the age of 18.
Her outstanding performances during her debut season in 2021 earned her prestigious accolades, including NWSL Rookie of the Year, NWSL Best XI, and U.S. Soccer Young Female Player of the Year.
Moreover, she became the highest-paid player in the NWSL as of February 2022.
Rodman continues to make a name for herself as a rising star in women's soccer, captivating fans and inspiring future generations with her exceptional talent and achievements.
Trinity Rodman Boyfriend Chris Kuzemka
Trinity Rodman's boyfriend, Chris Kuzemka, is a talented sophomore shooting guard who plays for the Loyola Maryland men's basketball team.
With his skills and abilities on the court, he contributes to the team's success and showcases his passion for the game.
Kuzemka comes from a remarkable athletic lineage, with several family members excelling in various sports.
His paternal grandfather, Nick Kuzemka, showcased his skills on the football field while representing Army West Point.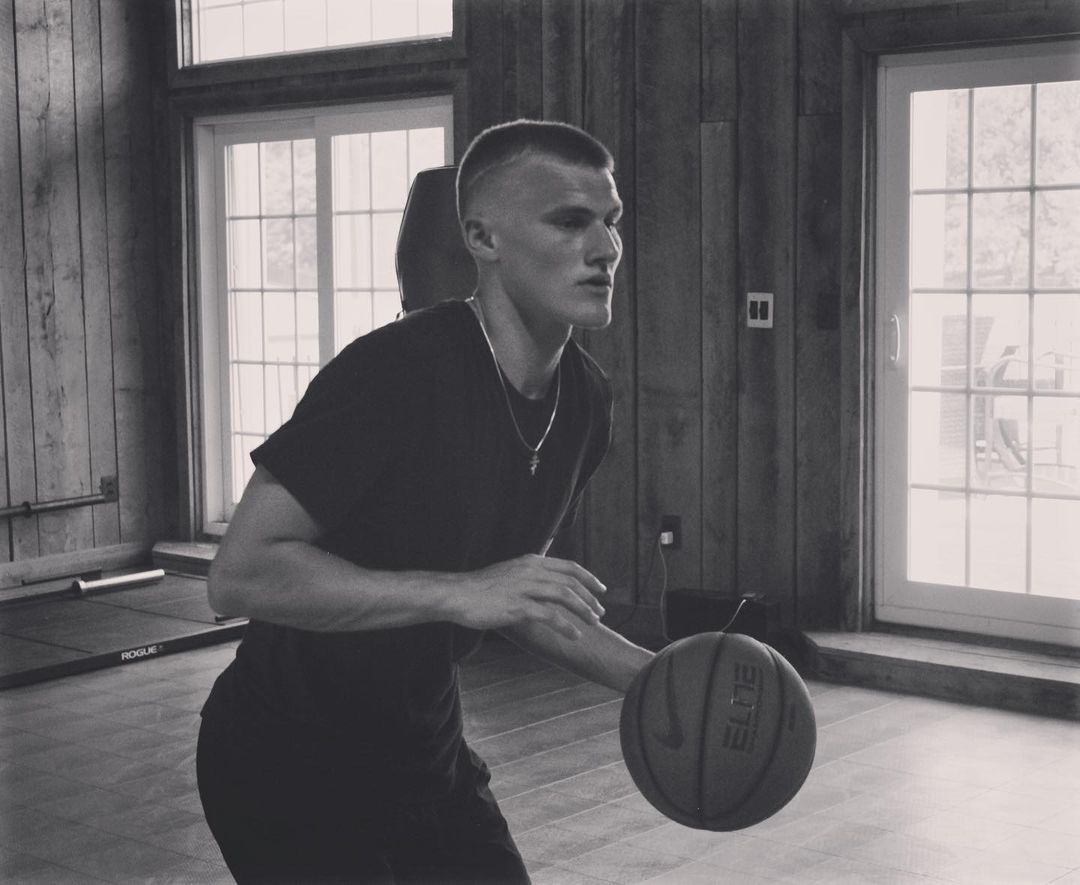 Chris's father, Justin, made his mark in wrestling during his time at Clarion.
His oldest brother, Daniel, showcased his soccer skills at Charlotte and currently serves as a goalkeeper for the Charleston Battery in the United Soccer League Championship.
Meanwhile, his older brother, Nicky, had just finished his redshirt junior year of football at Furman University, where he excelled as a linebacker.
As for his younger sister, Kate, she is a promising high school soccer player, demonstrating her own talents on the field.
Chris Kuzemka And Trinity Rodman Relationship Timeline
On February 8, 2023, Trinity shared a picture of her and Chris on her Instagram handle. However, they didn't openly address their relationship in public.
After her one post, fans began searching about the relationship status, but their curiosity was put to rest when Chris made their relationship public.
He shared a photo of them kissing in February and referred to Trinity as his Valentine, confirming their romantic involvement.
With an adoring caption, "Happy V-dayyyyyy, love you FOREVER and ALWAYS," Trinity responded with overwhelming love, saying, "Omg, I could cry. I love you so much."
It is unclear when exactly their relationship began, but there is speculation that they started dating in 2022.
Trinity Rodman Parents
Rodman was born on May 20, 2002, in Newport Beach, California, to Michelle Moyer and Dennis Rodman.
Her father, Dennis Rodman, was a notable professional basketball player renowned for his defensive and rebounding skills.
Trinity and her brother DJ Rodman were mostly raised by their mother while growing up in southern California. Alexis Rodman is Trinity's half-sister.