Dennis Rodman is a name that echoes through the halls of basketball history with his impressive skills and infamous antics.
Known for his unmatched rebounding abilities and fierce defensive tactics, Dennis played for several NBA teams, including the Detroit Pistons, San Antonio Spurs, Chicago Bulls, Los Angeles Lakers, and Dallas Mavericks.
But his legacy goes beyond the court, with his high-profile relationships and colorful personal style. This included dying his hair in vibrant colors and sporting numerous tattoos and piercings.
In this article, we'll look at the life and career of the enigmatic Dennis Rodman, exploring his journey from a troubled childhood to becoming one of the most iconic and controversial players in NBA history.
Quick Facts
| | |
| --- | --- |
| Full Name | Dennis Keith Rodman |
| Birthdate | May 13, 1961 |
| Age | 62 Years Old |
| Birthplace | Trenton, New Jersey, USA |
| High School | South Oak Cliff High School |
| University | Southeastern Oklahoma State University |
| Degree | Business Administration |
| Position | Forward |
| NBA Debut | 1986 |
| NBA Teams | Detroit Pistons, San Antonio Spurs, Chicago Bulls, Los Angeles Lakers, Dallas Mavericks |
| NBA Championships | 5 (1991, 1992, 1993, 1996, 1997) |
| NBA All-Star Selections | 2 (1990, 1992) |
| NBA All-Defensive First Team Selections | 7 (1989-1993, 1995-1996) |
| NBA Defensive Player of the Year | 199, 1991 |
| Rebounds per game | 13.1 (career average) |
| Retired | 2000 |
| Nicknames | "The Worm" |
| Spouse | Carmen Electra (m. 1998; div. 1999) |
| Children | 3 (Alexis, D.J., Trinity) |
| Height | 6 ft 7 in/2.01 m/201 cm |
| Weight | 228 lb/103 kg |
| Shoe Size | 15 (US) |
| Net Worth | $500,000 |
| Social Media | Instagram, Twitter |
| Last Update | May 2023 |
Early Life & Family
Dennis Rodman was born on May 13, 1961, in Trenton, New Jersey, to Shirley and Philander Rodman Jr.
His father worked for the Air Force and fought in the Vietnam War, and he left his family when Dennis was young and settled in the Philippines.
The player's mother took up several jobs to support Dennis and his two sisters, Debra and Kim, both talented basketball players.
Dennis grew up in the Oak Cliff section of Dallas, Texas, where he attended South Oak Cliff High School. The player was shy and introverted as a child and was not very good at sports until he had a growth spurt in his late teens.
Education
Dennis Rodman did not do well in his studies. He was not a good student and did not excel at sports in high school. He graduated from South Oak Cliff High School in Dallas, Texas, but received no college scholarships.
The player worked as a janitor at the Dallas-Fort Worth Airport for a while before enrolling at Cooke County Junior College in 1982. He only played one semester of basketball there before flunking out
Dennis then had a growth spurt and grew to 2.01 m tall. A basketball coach from Southeastern Oklahoma State University, an NAIA school, noticed him and offered him a scholarship.
He transferred there in 1983 and played for three years, becoming a three-time NAIA All-American and leading the NAIA in rebounding twice.
Rodman graduated from Southeastern Oklahoma State University in 1986 with a degree in business administration.
NBA Career
Dennis Rodman had a remarkable NBA career that spanned 14 seasons and five championships. He was drafted by the Detroit Pistons in 1986 as the 27th overall pick and played for them until 1993.
The player was part of the "Bad Boys" Pistons team that won back-to-back titles in 1989 and 1990 and earned a reputation as a fierce defender and rebounder.
Likewise, he also won two NBA Defensive Player of the Year awards and made two All-Star appearances with the Pistons.
In 1993, Dennis was traded to the San Antonio Spurs, where he played for two seasons. He led the league in rebounding in both years and made the All-NBA Third Team in 1995.
However, the player also clashed with his coaches and teammates and became known for his eccentric behavior and appearance.
In 1995, Dennis was traded again to the Chicago Bulls, where he joined Michael Jordan and Scottie Pippen to form one of the greatest teams in NBA history.
The player helped the Bulls win three consecutive championships from 1996 to 1998, leading the league in rebounding each year and making the All-Defensive First Team twice.
Moreover, Dennis also became a global celebrity and a media sensation for his antics on and off the court.
After the Bulls dynasty ended, Dennis played briefly for the Los Angeles Lakers in 1999 and the Dallas Mavericks in 2000 but had little success or impact.
The player retired from the NBA in 2000 with career averages of 7.3 points, 13.1 rebounds, and 1.8 assists per game.
Dennis holds the record for the most consecutive seasons leading the league in rebounding with seven.
Controversies
The NBA legend is known not only for his achievements on the basketball court but also for his numerous controversies and eccentricities.
The player gained media attention in 1996 when he married himself in a publicity stunt to promote his autobiography.
Similarly, in 1997, he kicked a cameraman in the groin, resulting in an 11-game suspension and a $200,000 settlement.
Rodman also had high-profile relationships with celebrities like Madonna and Carmen Electra, whom he married briefly.
He expanded his career outside of basketball by joining professional wrestling in 1997 and 1998, teaming up with Hulk Hogan and feuding with Karl Malone. However, he caused controversy by making racially insensitive remarks about Larry Bird in 1987.
Dennis Rodman's friendship with North Korean leader Kim Jong-un, which began in 2013, has also sparked significant criticism and controversy.
Moreover, Rodman's personal life has been marred by legal troubles, including six arrests since 1999 for various offenses, such as domestic violence, drunk driving, and obstructing police.
The player has struggled with alcohol addiction and attempted suicide in 1993. Additionally, he has been to rehab several times throughout his life.
Age, Body Measurements, & More!
Dennis Rodman was born in the year 1961. Hence, he is currently 62 years old.
Regarding his body measurements, Dennis is a tall man with a height of 2.01 m tall.
Likewise, he weighs 220 pounds, which is approximately 100 kilograms. His shoe size is 15 in the US. Additionally, Dennis has dark brown eyes and black hair.
Besides his impressive physical measurements, Dennis was known for his unique fashion sense. He often dyed his hair in various colors, wore piercings and tattoos, and dressed in drag on several occasions.
Wife & Kids
The basketball player has been married three times and has three children from two marriages.
Rodman's first wife was Annie Bakes, a model whom he married in 1992 and divorced in 1994. They have a daughter named Alexis Rodman, who was born in 1988. Alexis is a businesswoman and a mother of two sons.
Likewise, his second wife was Carmen Electra, an actress and singer whom he married in 1998 and divorced in 1999. They did not have any children together.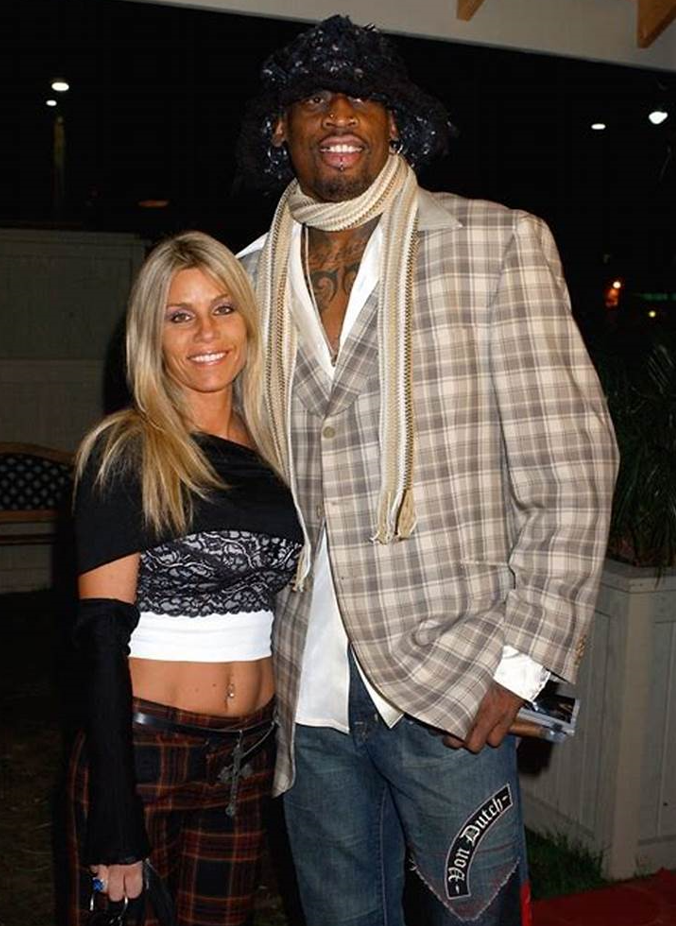 His third wife was Michelle Moyer, whom he married in 2003 and divorced in 2012. They have two children together: a son named Dennis Rodman Jr., born in 2000, and a daughter named Trinity Rodman, born in 2001.
Dennis Rodman Jr. is following in his father's footsteps and pursuing a basketball career. He currently plays for Washington State University.
On the other hand, Trinity Rodman is an athlete in her own right and has chosen soccer as her sport. She plays for the Washington Spirit and has also played for the U.S. women's national team.
Net Worth
Dennis Rodman's net worth is estimated at around $500,000 as of May 2023.
This is a relatively low amount for a former NBA star who earned $27 million in salary during his 14-year career.
Dennis's peak earning season was 1996-97; he made $9 million from the Chicago Bulls. However, the player also spent a lot of money on his lavish lifestyle, legal troubles, and failed businesses.
Moreover, he had to pay child support and alimony to his ex-wives and faced tax issues with the IRS.
Unknown Facts
Dennis has 28 half-siblings from his father, who left his family when he was young and moved to the Philippines.
He has appeared in several movies and TV shows like Double Team, The Apprentice, and Celebrity Big Brother.
Rodman attempted suicide in 1993 by sitting in a truck with a rifle but changed his mind after listening to Pearl Jam's music.
Frequently Asked Questions (FAQS)
What are Dennis Rodman's current income sources?
Dennis Rodman does not have a steady source of income now, as he is retired from basketball and wrestling. He occasionally makes money from his appearances on TV shows, documentaries, podcasts, endorsement deals, and commercials. He also designs his line of streetwear tees.
Are Dennis Rodman and Madonna still friends?
Despite being apart for more than 20 years, Rodman still considers Madonna really cool. And he even said that they are friends with each other.