"Your life is your story, and you are the author of it"- Tyus Jones.
Tyus Robert Jones Sr. or you may know as "Tyus Stones," is an American professional basketball player playing as the point guard for the Memphis Grizzlies with the start of the 2019-20 season.
Tyus Jones has already made a big name for himself in the NBA, playing for Minnesota Timberwolves and Memphis Grizzlies for the past six years.
His former high school coach had once mentioned during an interview, "Wherever we played, there were stands packed just because people wanted a chance to see him play."
"He was very used to a big crowd ever since middle school. The bigger the crowd, the better he played."
The 2015 NCAA Most Outstanding Player earned him the name of "Tyus Stones," which was even mentioned by then-President Barack Obama in September 2015.
What would be the bigger flex than this?
Well, with his Grizzlies team, Tyus is going strong for the 2021-22 season NBA Championship ring. So, without further ado, let's tune into his quick facts.
Quick Facts
Full Name
Tyus Jones
Birth Date
May 10, 1996
Birth Place
Burnsville, Minnesota USA
Nick Name
Tyus Stones
Nationality
American
Ethnicity
Multi-racial
High-School
Apple Valley High School
University
Duke University
Horoscope
Taurus
Father's Name
Rob Jones
Mother's Name
Debbie Jones
Siblings
Reggie Bunch, Jadee Jones, Tre Jones
Age
27 years old
Weight
196 lbs (89 kg)
Height
188 cm (6'2″ feet)
Build
Athletic
Marital Status
Married (2021)
Wife
Carrie Yeakey
Children
Tyus Robert Jones Jr.
Profession
Professional Basketball Player
Position
Point Guard
League
National Basketball Association (NBA) of USA
NBA Teams

Minnesota Timberwolves
Memphis Grizzlies

Jersey Number
1/21
NBA Draft
2015/ Round: 1/ Pick: 24th overall
Experience
6 seasons
Salary (Projected)

$8,376,286
Net Worth (2021)
$1.63 million
Active Status
2015-present
Social Media
Instagram, Twitter, Facebook
Merch
Notebook, Cards
Last Update
December 2023
Tyus Jones: Past Relation and Love Life
Generally speaking, it is believed that "high school sweethearts don't last after high school." Well, it might be true for some people but not for everybody.
Unfortunately, it came true for Jones. While still in high school, he dated a volleyball player, Alyssa Goehner. They are said to have spent beautiful moments while together but called it quits after some time.
But love did knock his heart the second time hard and strong. The point guard is now married to his beautiful wife, Carrie Yeaky, a graduate in communication and media studies from the Twin Cities, University of Minnesota.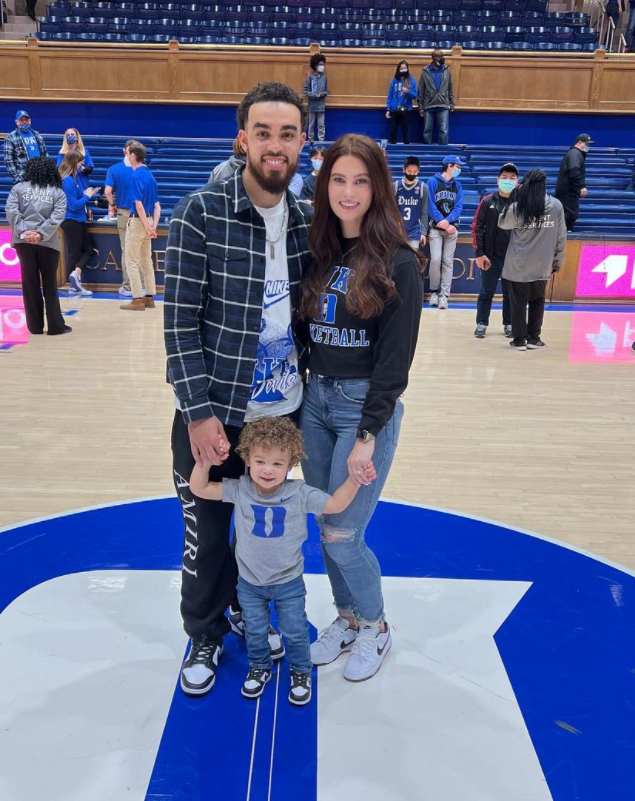 While they were dating, Jones was not shy to flaunt his girlfriend all over his Instagram.
After dating her for some time, Jones married Carrie in September of 2021, and after a year, their baby boy, Tyus Jones Jr., was born.
Currently, he is living in Minnesota with his wife, son, and his beautiful dog, Duke Stone Jones.
Tyus Jones | "Hoops Headed" Family
Born to Rob Jones and Debbie Jones, Tyus has one biological brother, Tre Jones, and two half brothers- Jadee Jones and Reggie Bunch.
A true basketball genius, father Rob Jones also played basketball throughout college and high school. He also competed at the Division III level for Wisconsin-Parkside during the 80s.
Also, his mother, Debbie Jones, was a high school point guard and led Devils Lake to a North Dakota High School Championship.
Jadee and Reggie also played basketball in their college, while Tre was selected for the 2020 NBA draft, overall 41st pick, and plays for the Austin Spurs.
Make sure to check out the Bio of Luke Kornet: Career & Net Worth.
So, Tyus Jones grew up in an environment where basketball was important to the family.
Along with his family members, Jones's aunt and a cousin have also played basketball, earning several titles for their team.
Jones's Basketball Career
As he reached his last year of the middle school journey Jones earned the role of a varsity starter for Apple Valley in the 2009-10 season.
All about: Al-Farouq Aminu: Career, Injury & Controversy
In Apple Valley High
Tyus Jones attended skills camps hosted by LeBron James and Chris Paul in the summer of freshman year.
The same year, he got invited to try out the 12-men FIBA Americas Under-16 Championship by USA Basketball to the United States Olympic Training Center in Colorado Springs.
Furthermore, he got to play for Team USA at the 2012 FIBA Under-17 World Championship as well.
But, the junior season came with a neck-to-neck comparison with Jahlil Okafor and Rashad Vaughan, the aces of neighboring high school basketball teams.
Moreover, Jones and Okafor were also named as one of the 10 USA Today preseason All-USA selections with Kasey Hill, Aaron Gordon, and others.
According to Star Tribune, the matchup between Rashad Vaughan and Tyus Jones was described as "arguably the best individual matchup in Minnesota High school history" in 2013, January 5.
Prior to senior year, USA Today has listed Jones to its 10-man preseason All-Team USA with Mudiay, Okafor, D'Angelo Russell, and others.
Duke University
There is so much to write about Tyus Jones. The expertise he showed as a young 13-year-old had led him to be one of the most efficient and competent players in the NBA.
On November 14, he played his debut game against Presbyterian Blue House with 1 point and 7 assists. His first double-double and first season-high were with Army Black Knights with 10 assists with 16 points.
Tyus posted a season-high and game-high, tying 22 points on his first-ever Carolina-Duke rivalry matchup, collecting 8 assists.
For all his contributions, the mayor of his hometown Apple Valley stated April 22 as "Tyus Jones Day" in 2015.
NBA Career
Jones seems to like the letter 'M' connected with his birth month, the first NBA team Minnesota Timberwolves, and now Memphis Grizzlies. But, we can't deny "M" isn't going too well for him.
Initially, in the course with Idaho as a flexible assignment rule Jones made 24.7 points, 3.9 rebounds, .0 assists, and 1. steal in six starts in the D-League.
On December 22, Timberwolves recalled Jones, and a day after, he made his first NBA field goals against the San Antonio Spurs, scoring points in 20 minutes.
In the 2018-19 seasons, Jones posted his first NBA career double-double of 10 points and 10 assists against the Sacramento Kings.
Overall, Jones finished off the season with 6.96 with an NBA-record-setting single-season assist to turnover ratio.
And during the summer of 2019, Jones worked hard to put up with the team's overall skilled plays. In addition, he practiced efficiency on his shot which is praiseworthy.
Again, Grizzlies acquired Jones in 2019 with a $26.4 million deal for three years.
International Career
Jones's national career is surely a hot topic. During the 2011-FIBA Under-16 Championship, his 28 assists over 5 games led the team to win gold, following the 2012-FIBA Under-17 World Championship with another gold.
For the 2014 FIBA Americas Under-18 Championship, Jones led the team as a caption after being selected as the 12-member USA national team bagging the 12-man roster and eventually winning the game.
Age, Height, and Weight
Jones is currently 27 years old. Moreover, he is leading a great life as a point guard in his mid-twenties.
Showing attractiveness with a body of an athlete at 6 feet 2, Jones creates sharpness in the plays. His brown hair and eyes don't disappoint, showing his clear facial features complimenting his lean body weighing 196 lbs.
Read the article about the former NBA player Glen Davis: Younger Days, Scandals, Net Worth & More.
Likewise, with the adaptive ability and a curated body, Jones has top-notch creativity to play defensive and offensive games.
Jones's Net Worth
Tyus's net worth comes mainly from his basketball career, which is about $1.8 million, and he has a projected salary of $8.3 million.
Hence, Jones has collectively earned $29,923,670 in the form of salary from 2015 to date along with the incentives of $2,486,329, making his overall career earnings about $32,409,999.
While spending his earnings on himself and his family, he is using them for the welfare of society as well.
Charities Aid Foundation
Write Your Own Story
The beliefs in one's life help guide the path and motivate one to move on despite the circumstances.
Similarly, Jones's family and faith helped him follow his dreams and empower himself to accept fate regardless of success or failure.
Besides, when a person reaches a certain level of independence in their life, it drives them to give something back to the community. And that is how Tyus Jones's "Write Your Own Story" came to life.
With this purpose, he is working to provide a competitive and supportive environment for each athlete through Team Tyus programs and various teams.
On the other hand, Tyus also feels proud of being the first Ambassador for the United Heroes League organization that works for the welfare of military families.
Initiatives for the Lab
Helps in the renovation and rehabilitation of computer labs in schools

The second installment in Excel Academy (Brooklyn Park, MN) and Westview Elementary (Apple Valley, MN)

Empowers youngsters to learn their passion, discover interests and be a role model to look up to

Provide motivational speeches and share his knowledge
Why the Phrase "Write Your Own Story"?
We often hear, "you should be the one to make decisions for yourself. So don't let other people detect and influence you negatively."
The phrase was what he often heard during his younger days, getting him stuck in a chord.
So, it is about controlling the things you can control in your life and working to be the best at whatever you choose.
Check about the young player Damian Jones: Early Life, NBA & Net Worth
Thus, Jones believes in inspiring kids to help them learn and chase their dreams, no matter how big or small.
Tyus also hosts his summer basketball camp for the youth in Minnesota and the surrounding states.
Social Media Presence
Jones has always been open about his life with his followers. Although there are about 70 posts in his Instagram profile at the beginning of March 2022, it is clear that family and basketball are one valuable part of his being through his posts.
FAQs
Does Tyus Jones own any pets?
He has a beautiful Husky Pomeranian Mix breed 5 years old dog. A spoiled one Jones mentioned. The dog has its own Instagram account, @dukestonesjones.
Has Tyus Jones and Tre Jones faced each other in any NBA games?
It's has happened once during the 2020-21 season. Both the brothers are said to have the same techniques and gameplay with a difference in portraying their emotions.
Who was the first person to teach Tyus the basics of basketball?
His half-brother Jadee Jones was the first to teach young Tyus about all the important techniques and skills to develop as a good basketball player.
Who is Tyus Jones named after?
His father named him after Tyus Dwayne Edway Sr., an American professional basketball player. So we can see Tyus has been able to honor the great player through his undoubted performances.