Glen Davis was a prominent player in his whole career. So, it is not new to brag about how great a power forward he was.
A nickname of Big Baby for a 6'9″ man is undoubtedly a charm. He was probably one of the tallest and biggest players in the NBA. But, even at a young age, he could play for the senior team thanks to his big build-up.
Along with his large body, his basketball career is also something he can be proud of. Davis helped Boston Celtics win the 2008 NBA Championship ring during his rookie season.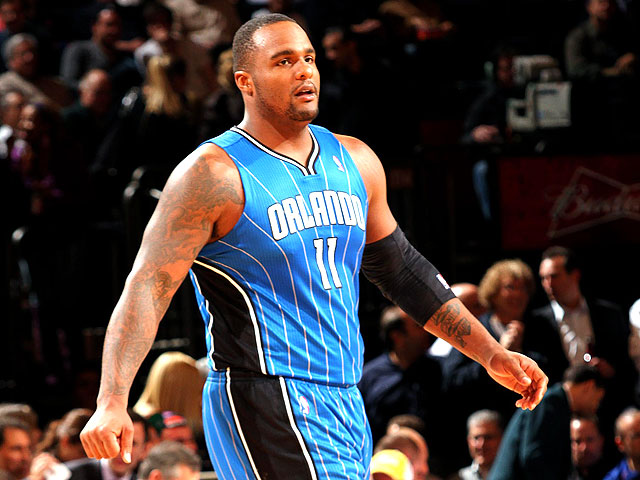 He has played in his home country and gathered experience from the various teams in foreign countries.
Davis's eight seasons in the NBA were some of the best years for a basketball fan to watch. He scored and learned while advancing to be a better player.
What to not like about quicks facts. Here are some of Big Baby.
Davis | Quick Facts
Full Name
Ronald Glen Davis
Birth Date
January 1, 1986
Birth Place
Baton Rouge, Louisiana, USA
Nick Name
Big Baby
Nationality
American
High-School
Louisiana State University Laboratory School, Baton Rouge
University
LSU
Horoscope
Capricorn
Father's Name
Donald Robertson
Mother's Name
Tonya Davis
Siblings
N/A
Age
37 years old
Weight
320 lbs (145 kg)
Height
206 cm (6'9″ feet)
Build
Athletic
Marital Status
Divorced
Wife
Ex- Jenna Gomez
Children
Amari Davis
Profession
Professional Basketball Player
Position
Power Forward/Center
League
National Basketball Association (NBA) of USA
NBA Teams

Boston Celtics
Orlando Magic
Los Angeles Clippers

Jersey Number
3/ 12/ 1
NBA Draft
2007 (2/35)
Experience
8 seasons
Net Worth
$10-15 million
Active Status
2007- 2019
Social Media
Instagram, Twitter, Facebook
Merch
Cards
Last Update
March, 2023
Personal Life of Davis
Davis was born to Donald Robertson and Tonya Davis with his two sisters.
But, he didn't get to meet his paternal Father till his sophomore year. So, he surely was absent in his life. Finally, his mother brought up Davis and his sisters with many sacrifices.
Despite a promising modeling career, his mother, Tonya, got caught in drugs. Davis had to live in a foster home with his two sisters when Tonya Davis got imprisoned. So, he didn't get to live with his mother for long.
He played basketball in the backyard, getting inclined to it along the way.
In 2013, he married his long-time sweetheart Jenna Gomez with whom he had a baby daughter. Unfortunately, the marriage didn't last long, eventually lasting two years.
His daughter Amari is already a big girl.
Davis then started dating model Jasmin Jaye. He kept his dating life very private onwards.
Young Davis
He was introduced to Shaquille O'Neal at LSU at 15. Seeing a young boy with a large body O' Neal wanted to evaluate young Glen.
Accepting the player's request for a quick slam-bam, Davis showed what he got and slammed the 7'1″ O'Neal on the ground with great composure and technique. He got impressed by Davis.
The first meeting led them to be team members soon in Boston Celtics. O'Neal introduced Glen Davis to coaches at Louisiana State University as well.
As a kid of 8-9, Glen was already training with senior guys.
His nickname, 'Big Baby, ' first came the moment he was born. The newborn was 14 pounds. So, the name stuck with him throughout his career as well.
Careers
High School Career
Glen attended Louisiana State University Laboratory School in Baton Rouge, Louisiana. At the age of 18, Glen was already ranked as the 13th-best player in the nation.
In 2004, he was among the best three forward in the USA.
Here's about: Jalen Mcdaniel's Bio: Basketball Career, Brother & Salary
College Career
During 2006 his sophomore year, he managed the LSU Tigers to enter the national semifinals. David helped the team to have their first Final Fours appearance after 20 years.
He scored 17 points during the game against UCLA, but the difference was already big to hope for a comeback.
Davis was honored with the SEC Player of The Year trophy in 2006 per the votes of the Southeastern Conference's coaches. He was also named to All-SEC's first team.
Professional Career
Boston Celtics (4 seasons)
Big Baby got to play for the Celtics in the 2007 Summer league team when Seattle Supersonics drafted him as the 35th overall pick.
He had hired an agent to represent him for the draft while continuing his study at LSU.
Davis expected much playing time during his rookie season as many players had left the Celtics. Instead, he got to play a backup center even if his position was forward in the regular season.
His debut game was against the Sacramento Kings, where he made 16.0 points and 9.0 rebounds, giving the Celtics a 90-78 win.
In January 2008, the game with Detroit Pistons was a breakthrough when he scored 16 of 20 points in the fourth quarter. Celtics lifted the 2008 NBA Finals Trophy defeating Los Angeles Clippers.
Davis already got to hold the Championship ring in his rookie season. He scored 24 points in a game with Memphis, giving a 105- 87 victory.
In-Game Focus of the 2009 Eastern Conference Semifinals, Celtics won over by 95-94 after Glen scored two key points in the last minute.
He joined Celtics for two more seasons with a $6.1 million contract. He suffered a severe concussion during the 2010 Eastern Conference finals match against Orlando Magic.
The Celtics and Lakers faced each other at the NBA finals again. However, that year Lakers swiped the title. Davis scored 18 points and 5 rebounds in the match.
Orlando Magic (3 seasons)
Glen was traded to Magic at the end of December 2011. He broke his record by setting 31 points to his new career high in a game with Detroit Pistons.
He made his latest new high in 2013 with Philadelphia 76 ers, scoring 35.0 points with 3.0 rebounds and 3.0 assists.
Los Angeles Clippers (1 season)
Due to unfair treatment by his teammate, Davis couldn't play against the Houston Bolts. His coach talked to him about the incident in his locker room.
Get on- Adam Morrison Bio: Family, Basketball Career, Retirement & Kids
In 2014, Davis re-signed a one-year deal with the Clippers.
He became an unrestricted free agent following left ankle surgery in August of the following season.
Big Baby couldn't play for eight to twelve due to the injury. It made him take a rest for a while.
St. John's Edge (1 season)
It was announced that Davis would join the Croatian League and the ABA League in 2018.
A disagreement with the club management led Glen to leave before signing a contract.
For the 2018-19 season, he played for St. John's Edge of the National Basketball League of Canada. He was honored in the All N.B.C. Third team.
In the final season of his long career, Glen made an average of 17.3 points, 7.4 rebounds, and 3.0 assists per game.
Davis | Achievements & Awards
NBA champion (2008)
Second-team All-American- SN (2006)
Third-team All-American – AP (2006)
SEC Player of the Year (2006)
SEC Rookie of the Year (2005)
McDonald's All-American (2004)
First-team Parade All-American (2004)
Louisiana Mr. Basketball (2004)
Glen Davis's List of Scandals over the Years
2018
With 126 grams of marijuana and a briefcase containing $92000 cash, Glen Davis was arrested for drug possession and drug distribution, from his hotel room, in Maryland.
He paid a fine of $15,000 to the State of Maryland legal stet docket to put an end to the case.
2021
The Southern District of New York found out about the wire fraud and defrauding of NBA's healthcare and benefit plan of $4 million.
Davis and 18 others were charged with showing fraudulent documents over the years to get the reimbursement.
Other players include Will Bynum, Tony Allen, and so on.
BIG3
Big3 is a 3-on-3 basketball league in New York. The 3-on-3 is a basketball variation played three-a-side with one backboard and in a half-court setup.
Hip-hop musician and actor Ice Cube founded it with entertainment Executive Jeff Kwatinetz in 2017.
Big3 consists of 12 teams with former NBA players and international players.
Davis is a part of BIG3. He helped his team, Power, to win the championship in the 2018 season.
Social Media
He likes posting on his social sites. His Instagram consists of his daily activities. His tours, promotions, basketball highlights, and quality time with her daughter.
You can follow him on Instagram, Twitter as well as on Facebook.
Davis | Net Worth
Davis lives a luxurious life with a net worth of $10-15 million.
He has a yearly salary of $500 k contracts with big teams, brand endorsements, and promotions.
Get on- Bol Bol Bio: Career, Education, Net Worth, NBA & Parents
Glen Davis's net worth grows by 7-8% every year, even after ending his basketball career.
Favorites of Glen Davis
Actor: Robert Downer Jr.
Singer: Michael Jackson
App: Instagram
Sportsperson: Neymar
Cricketer: Rohit Sharma
Hobbies: Driving
(Frequently Asked Questions) FAQs
What happened to Glen Davis?
Davis held his basketball career to try out film production for two years in 2016. Also, his 2018 drug allegations played quite a role too.
What are Glen Davis's estimated career earnings?
For the first four seasons, he earned $6,138,680, second 4 seasons $24,470,732 and last 2 seasons about $1,566,579.