There is a rising curiosity among fans about the ethnicity and religion of widely projected player Victor Wembanyama.
French basketball player Victor Wembanyama is considered the most prominent prospect in NBA history.
Victor started his professional career with Nanterre 92 in 2019 and joined ASVEL two years later. He opted out of the agreement with ASVEL and signed a contract with his current team Metropolitans 92, in 2022.
His exceptional performance has earned him LNB All-Star, All-Star game MVP, and LNB Pro A Best Young Player award.
Standing at 7 foot 3 inches, Wembanyama plays for the French national basketball team. In the 2021 FIBA U19 Basketball World Cup, he helped the team to reach the finals, where he successfully set the FIBA record for most blocks per game.
Coming from an athletic background, Victor has been able to gain recognition at an early age. The 19 year-old is widely expected to be the first-overall pick in the 2023 NBA Draft.
Victor Wembanyama Ethnicity
Regarding Victor's ethnicity, he is of mixed ethnic background. His father is of Congolese descent, whereas his mother is of French descent.
With that, we can say that Victor belongs to the Congolese-French ethnicity. Because the player was born in Le Chesnay, France, his nationality is French.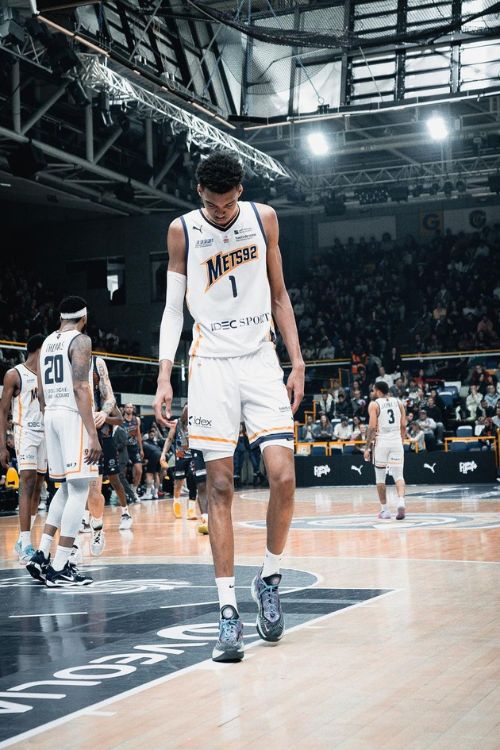 Regarding his religion, Victor has not made any public statements. He has not spoken on this topic on any media platforms.
Moreover, his parents follow the Christian faith and are great devotees of the Lord Jesus Christ. Likewise, the majority of people in his native country follow Christianity.
So, it would not be untrue to say that Victor has faith in Christianity and has attributed his success to his faith in God.
Victor Wembanyama Family
The French star player, Victor Wembanyama, was born on January 4, 2004, to his father, Felix, and mother, Elodie de Fautereau.
Victor hails from an athletic family. His father was a track and field athlete who excelled in the high, long, and triple jump. Standing 1.98 m tall, he has a triple jump record of 15.56m, a long jump of 7.41m, and ran 100m in just 11 seconds.
His mother is also a pro athlete who is a former basketball player and currently works as a basketball coach. Standing 1.91m tall, she gave a tough competition and played in the French Women's national team.
Likewise, his grandfather, Michel de Fautereau, played professional basketball, and his grandmother, Marie Christine, also played sports.
Victor grew up alongside his two siblings- an older sister named Eve and a younger brother, Oscar.
Just like his family members, his siblings also play sports. Eve is a professional basketball player, whereas Oscar has played youth-level basketball and handball.
Victor Wembanyama Injuries
The generational player Victor Wembanyama has suffered from few injuries throughout his career.
In 2021, he suffered from a fracture which caused him to miss nearly one month of gameplay. On November 10, ASVEL announced that he would miss 2-3 weeks due to a minor finger fracture.
Similarly, on 20 December 2021, he suffered a bone bruise on his right shoulder in a match against Zenit Saint Petersburg. He missed pivotal games due to the injury.
On 3 June 2022, he sustained a psoas muscle injury during a semifinal game against JDA Dijon.
Despite several injuries, the emerging player Victor never missed a chance to give his best shot in every match.