Viktor Axelsen is a Danish badminton player who has won the World Championship twice and the European Championship three times. He bagged gold at the 2023 Malaysia Open, defeating Kodai Naraoka.
A person with amazing looks, incredible talent, and hard work is a rarity these days.
Well, Viktor Axelsen is one of those few personalities who has all three of those qualities. Axelsen is a professional tennis player from Denmark. Moreover, he is loved by Chinese fans as he can speak Mandarin perfectly.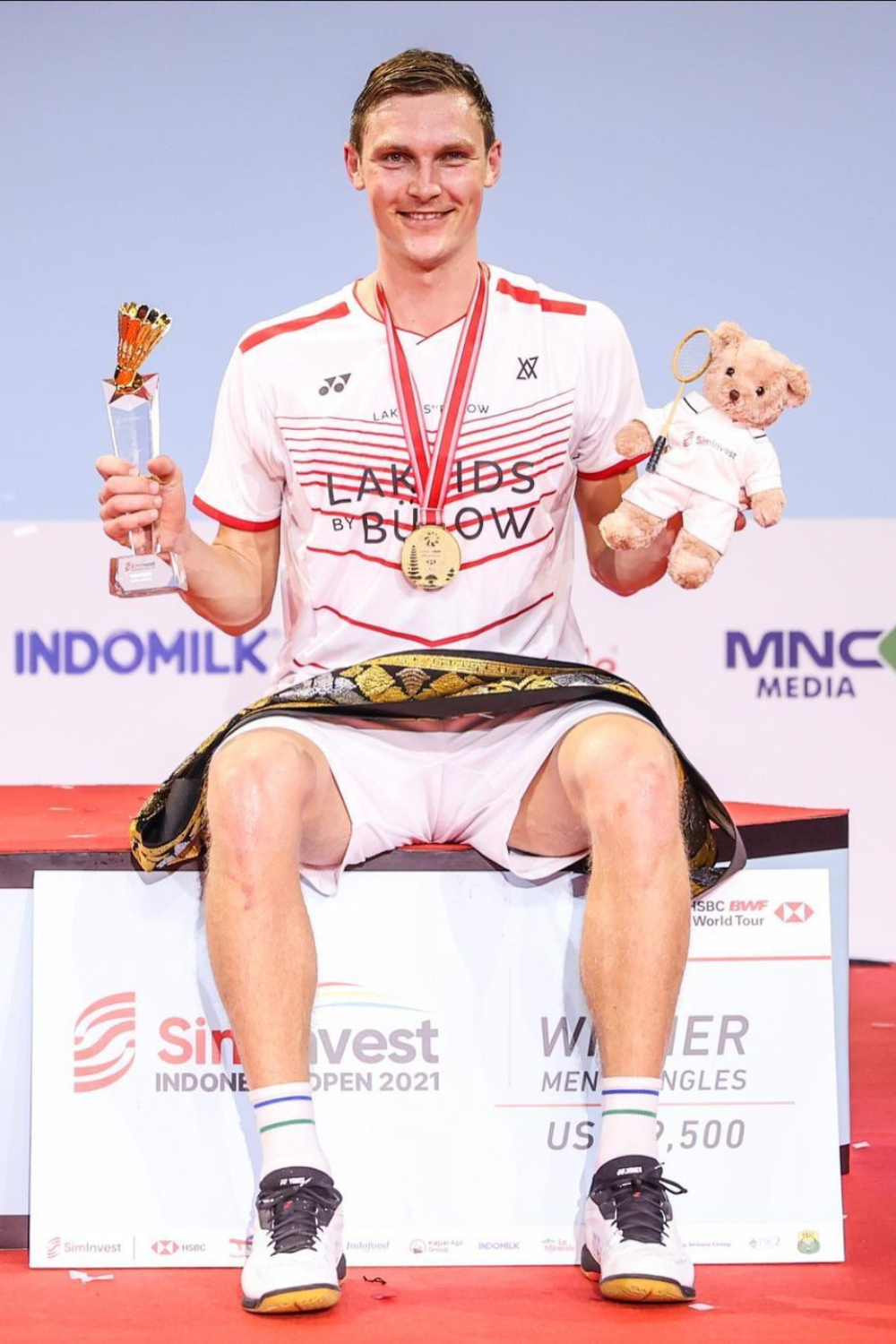 The Danish badminton player has defeated former men's world number one badminton player Lin Dan.
As of January 2023, he ranks as the number 1 badminton player in the world.
He is in a long-term relationship with his fabulous girlfriend, Natalia Koch Rohde. Currently, he lives in Valby, Copenhagen, with his beautiful wife and adorable daughter.
As we head on to learn about the career, net worth, and other aspects of Viktor's life, let's take a look at some quick facts before proceeding further.
Quick Facts
Full Name
Viktor Axelsen
Birth Date
4 January 1994
Birth Place
Odense, Denmark
Age
29years old
Nickname
Axelsen
Religion
Unknown
Nationality
Danish
Education
Unknown
Horoscope
Capricorn
Father's Name
Henrik Axelsen
Mother's Name
Gitte Lundager
Siblings
One sister: Johanne Axelsen
Height
6'4″/1.94 m/194 cm
Weight
88 kg/194 lb.
Build
Lean & Athletic
Shoe Size
47
Eye Color
Light Blue
Hair Color
Light Brown
Relationship Status
In a relationship
Girlfriend
Natalia Koch Rohde
Children
Vega Axelsen
Profession
Professional Badminton Player
Highest Ranking
1st
Current Ranking
1st (January 2023)
Handedness
Right-handed
Coach
Thomas Stavangaard

Kenneth Jonassen (former)

Net Worth
$1 to $5 million
Awards and Achievements
2016 Rio De Janeiro – Bronze Medal

2017 & 2022 World Championships – Gold Medal

2016 Thomas Cup – Gold Medal

Social Media
Instagram, Facebook, Twitter, YouTube, Weibo
Merch
Racquet
Last Update
April, 2023
Early Life, Family & Education
Viktor Axelsen was born on 4 January 1994 in Odense, Denmark, to his parents, Henrik Axelsen (father) and Gitte Lundager (mother.)
He has a younger sister, Johanne Axelsen, who is two years younger than him.
Axelsen's father used to run a small advertising agency. However, he is now his son's manager and manages his son's badminton and other affairs.
Similarly, his mother owns a shop in central Odense. Her shop specializes in woman's beauty items and services.
Early Steps Into Badminton
Axelsen's talent with the bat was obvious from a very young age. His kindergarten teachers have revealed that Axelsen was extremely skillful.
So, how did Viktor Axelsen first got introduced to badminton?
When Viktor was 6, his father introduced him to badminton and enrolled him in the Odense badminton club.
At only 10 years of age, the Odense badminton club named him the 2004 Player of the Year. This feat at such a young age shows Axelsen's incredible talent.
Later on, Viktor's parents divorced and got separated. Axelsen continued living with his father.
However, to bolster his badminton career, Axelsen began living all by himself in Copenhagen. He made the big move at 17 and joined the national team.
After moving to Copenhagen, he received a lot of opportunities.
Age, Height & Physical Appearance
Viktor Axelsen is currently 29 years old. As Axelsen was born on the 4th of January, his zodiac sign is Capricorn.
A person with Capricorn as their zodiac sign is known to be extremely adaptable, charming, and hardworking.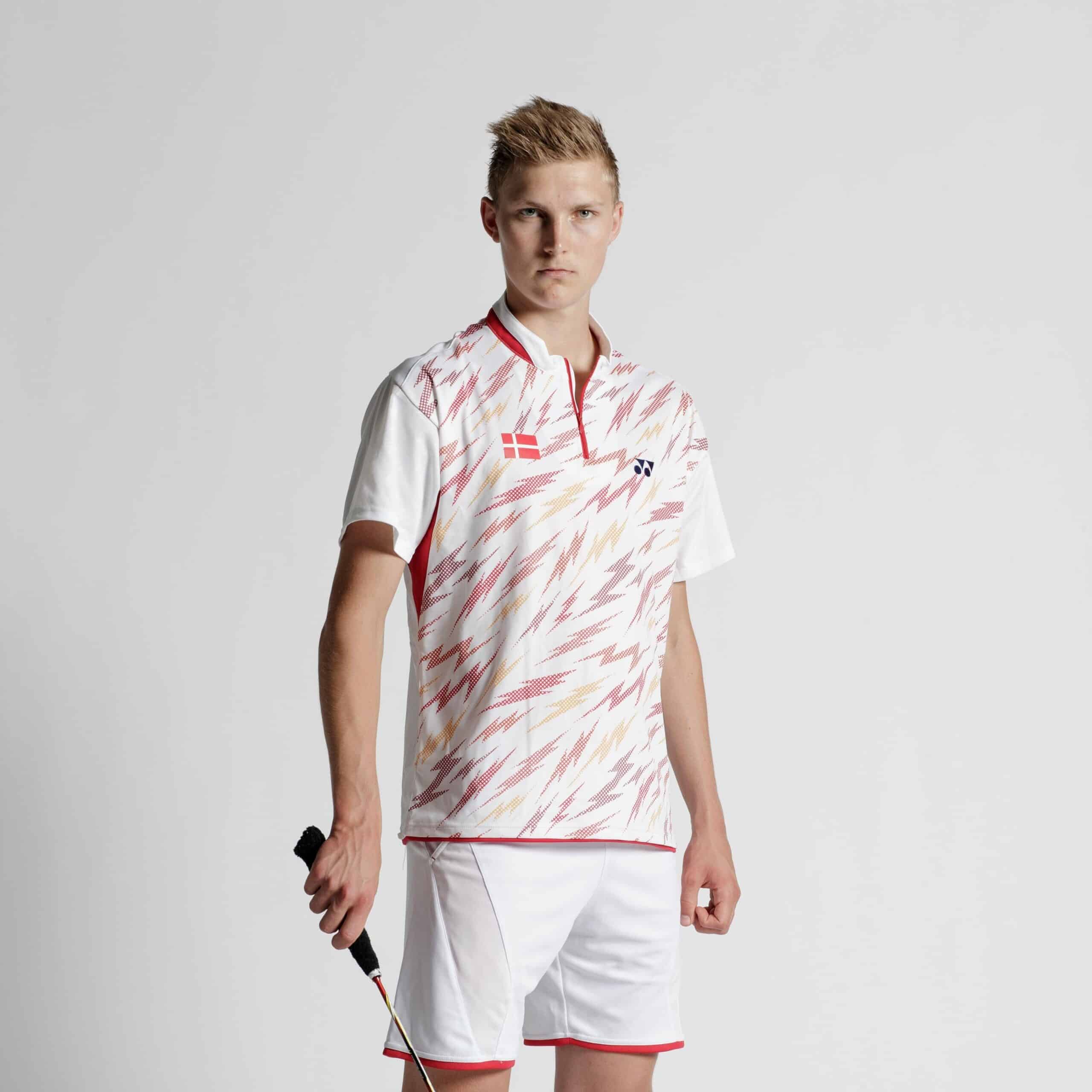 With regards to Axelsen's height, he has a spectacular height of 6 feet 4 inches (1.94 meters), which gives him an advantage on the badminton court.
Axelsen is athletic and weighs around 88 kg (194 pounds).
Early Career
During his junior years, Axelsen won the national junior event. He was also victorious in the boys' singles and doubles events in 2006 and 2008.
The Danish player successfully bagged the gold medal at the 2009 German Junior and debuted for the Danish national team in 2009.
He played in the Denmark Open and was only 16 at the time of his debut. The Dane made a big move to Valby, Copenhagen, in 2012.
His reason for the move was to train in the Brondby elite center and improve his playing skills and abilities.
Axelsen's first Grand Prix title came in 2014 at the Swiss Open, beating China's Tian Houwei.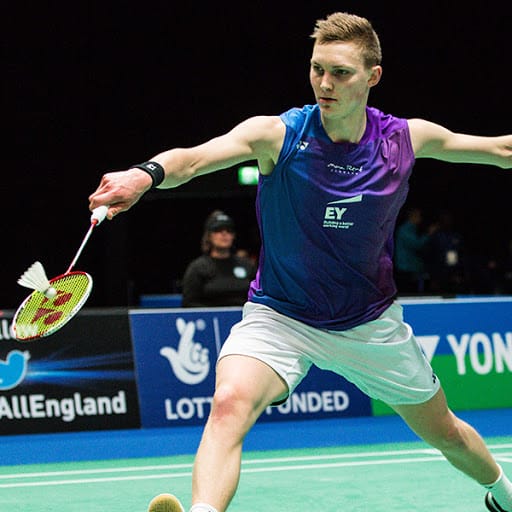 Similarly, the 2014 year ended for Axelsen with bronze medals at the 2014 BWF World Championships and 2014 European Badminton Championships.
Career Victories
Axelsen's professional career went uphill after 2014. He was a part of Denmark's winning team at the European Mixed Team Championship.
The right-handed badminton player got his first European Championship in 2016 by beating Jan Jorgensen in La Roche-sur-Yon, France.
Furthermore, Axelsen was included in the Danish team and contributed, winning five of his six matches, to win their first Thomas Cup title in 2016.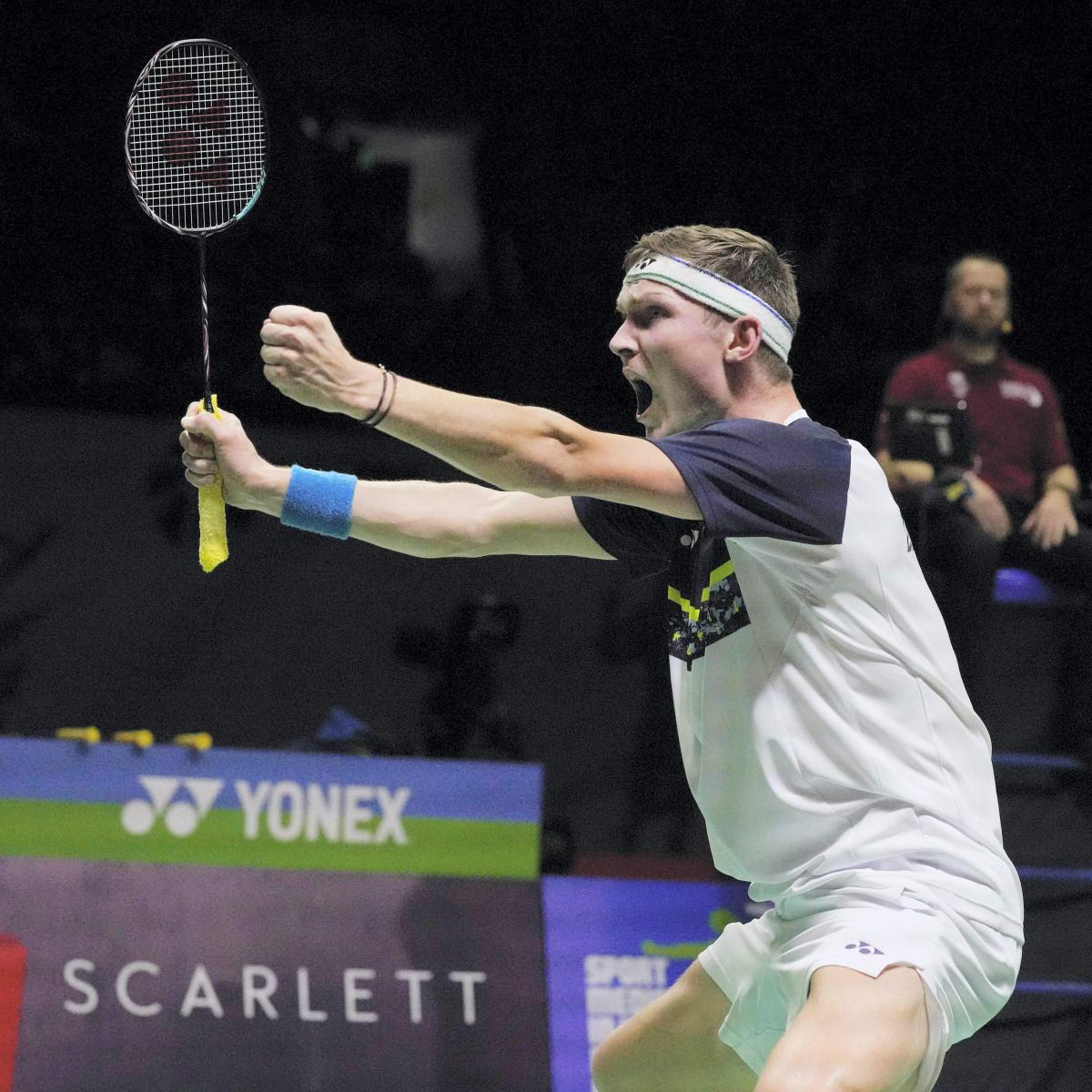 Axelsen also reached the semi-finals of the 2016 Olympics in Rio de Janeiro by beating British badminton player Rajiv Ouseph. However, a defeat to Chen Long led Axelsen to compete for the bronze medal.
Nevertheless, Axelsen showed his qualities in the match against Lin Dan, who is considered one of the best badminton players alongside Lee Chong Wei, and bagged the bronze medal.
In 2017, He put his name at the top of the BWF World Rankings after registering back-to-back wins at the World Championships in Glasgow and Japan Open in Tokyo.
Axelsen won gold in the European Men's and Women's Team Badminton Championships in 2018, despite suffering from a foot injury.
He made yet another history by winning the All England Open and becoming the first European and Dane to lift the men's singles trophy since 1999.
Axelsen was named BWF Male Player of the Year after helping his team win gold at the European Mixed Team Championships and winning the Denmark Open title in October 2021.
The year 2022 was definitely for him as he went on to win several titles, including the All England Open, Malaysia Open, World Championships, and French Open.
His domination continued in 2023. In the first tournament of the year, in Malaysia Open, he defended his championship after defeating Rasmus Gemke, Liew Daren, Kenta Nishimoto, and Kodai Naraoka.
Awards & Achievements
Olympics Games (Gold – 2020, Bronze – 2016)
World Championships (Gold – 2017, 2022, Bronze – 2014)
Sudirman Cup (Bronze – 2013)
Thomas Cup (Gold – 2016, Bronze – 2012, 2018, 2020, 2022)
European Championships (Gold – 2016, 2018, 2022, Silver – 2021, Bronze – 2012, 2014, 2017)
European Mixed Team Championships (Gold – 2015, 2017, 2019, 2021, Silver – 2013)
European Men's Team Championships (Gold – 2012, 2014, 2016, 2018, 2020)
World Junior Championships (Gold – 2010, Silver – 2011)
European Junior Championships (Gold – 2011, Bronze – 2011)
In his overall career, Axelsen has had 468 wins and 140 losses.
Equipment
The badminton equipment and accessories play a great role in providing a good experience for any badminton player. So, what equipment does Axelsen use?
Viktor Axelsen currently uses the Yonex Duora Z Strike. He is also the front face ambassador of this racket. Doura Z Strike delivers great power and is definitely much faster.
Previously, the Danish player used Yonex Arcsaber 11 3UG4 (2014-2016), Adidas AdiPower Pro (2013-2014), Yonex Voltric Z Force (2012-2013), and Yonex Voltric 80 as his primary racket.
Mental Coach B.S Christiansen
Bjarne Slot 'BS' Christiansen, a former professional army soldier, has been working as Viktor's mental coach since 2020.
B.S Christiansen is a mental coach, TV host, author, expedition leader, speaker, electrician, diver, pilot, and photographer.
Christiansen has helped Axelsen improve mentally and become the best version of himself. Viktor credits Christiansen for his on-the-field and off-the-field achievements and developments.
Personal Life
Multi-lingual Axelsen
Did you know Axelsen can speak three languages? Besides speaking Danish, Axelsen is a fluent speaker of English and Mandarin.
Axelsen's Mandarin comes to great use in communicating with Chinese players like Chen Long and Lin Dan.
Moreover, after beating Lin Dan in the 2016 OLYMPIC bronze medal match, Axelsen gave China Central Television an interview in perfect Mandarin.
The interview made him an overnight sensation in China. He successfully won the hearts of millions of Chinese fans.
His reason for learning Mandarin was to communicate with the Chinese players on the court, and he wanted to learn something from them.
Likewise, his acquisition of the language has helped him bag some sponsorship and event deals.
Viktor Axelsen Collection
Axelsen is a popular figure in the world of badminton. As a result, thousands of fans crave to wear merchandise or buy memorabilia of his name.
Due to the high demand for his merchandise, Axelsen released his own online shop, Viktor Axelsen Collection.
His fans can buy clothing items, accessories, toys, cycles, and toys. Likewise, his fans can also buy his yearbook, biography, and autobiography.
Net Worth & Salary
Viktor Axelsen has accumulated his net worth through his playing career. Furthermore, he has won prize money by winning several tournaments and awards.
Per the reports, he bagged a hefty sum of $87,500 from his win at Malaysia Open 2023.
According to online sources, Viktor Axelsen has a net worth between $1 to $5 million.
Besides badminton, he has gathered a big chunk of his net worth through the online store. He sells his personal merchandise, including clothing items, accessories, books, cycles, and caps.
Who Is Viktor Axelsen's wife? Girlfriend & Kids?
Axelsen has a family of his own. So, who is his wife? Let's find out.
Viktor Axelsen is in a relationship with his long-time girlfriend, Natalia Koch Rohde. She is also a professional Danish badminton player. Together, they have two beautiful daughters; Vega Axelsen, born on April 24, 2020, and Aya Rohde Axelsen, born on July 10, 2022.
Natalia Koch Rohde was born on 1 August 1995 in Gentofte Municipality. Her height of 5 feet 11 inches (1.80 meters) perfectly complements her appearance.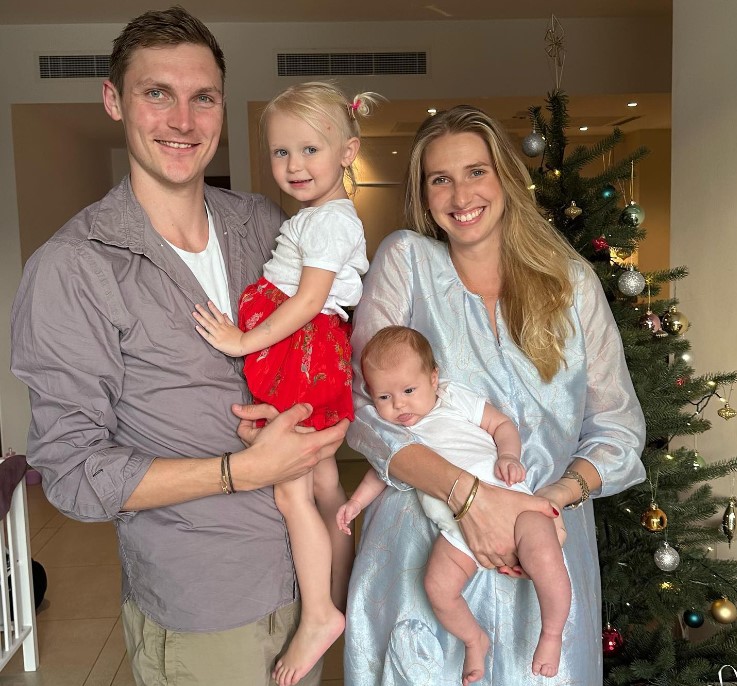 Furthermore, Natalia has represented the national team on numerous occasions. She has faced world champions like Carolina Manin and Olga Kanon.
Likewise, her highest ranking is 35. She achieved the ranking on 15 June 2017.
After making her debut in 2010, Natalia has won several trophies and prizes. She is the winner of the 2016 Czech International, 2015 Italian International, 2015 Eurasia Bulgaria International, and 2015 Orleans International.
Furthermore, she also played for the Danish women's badminton team. As a Dane, she won the 2017 Lubin, 2018 Kazan, and 2016 Kazan in the mixed team and woman's team formats.
You can find the latest news, results, live scores, fixtures, draws, and next-match details of Viktor Axelsen on the Flashscore website.
Social Media Presence
Yes, Viktor Axelsen uses social media. He is a popular personality on social media and boasts a large following.
You can find him on Instagram under the handle @viktoraxelsen, Twitter @ViktorAxelsen, and Facebook @Viktor Axelsen. Axelsen loves posting pictures of himself and his family on his social media.
His Instagram feed is filled with pictures of his matches, wife, daughters, training, and other trips.
Furthermore, Axelsen tweets a lot about badminton. He loves sharing his views and opinions on various topics.
As Axelsen is a big fan of the Mandarin language and loves Chinese culture, he also uses the China micro-blogging website Weibo, the biggest Chinese social media, with the username 'A Sai Long.' This nickname was given to him by a Chinese user.
Besides, Axelsen is also a YouTuber (Viktor Axelsen). He posts vlogs, exercise tutorials, commentary, questions/answers, and several other types of videos.
You can follow him on his social media accounts from the following links.
Instagram: 784k followers
View this post on Instagram
Twitter: 133.6k followers
Facebook: 246k followers
YouTube: 177k subscribers
Weibo: 1.21m followers
Popularity
Starting his badminton journey at 6 and now #1 on the BWF World Ranking, he certainly has come a long way. Along this fascinating journey, he has gained millions of fans worldwide.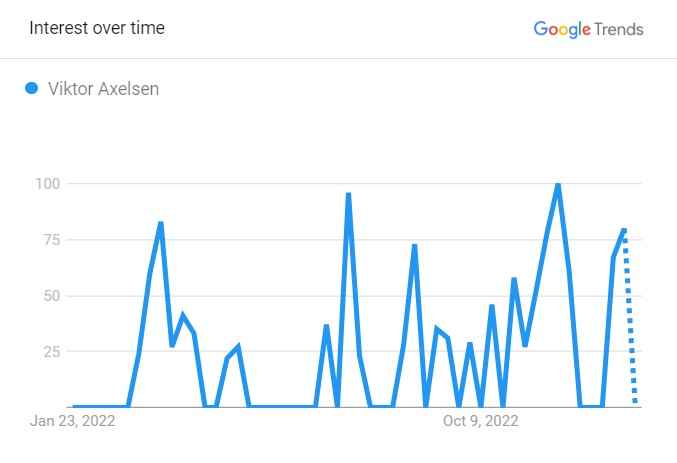 The above graph gives brief information about the popularity of the professional Danish badminton player based on Google searches in the United States over a year.
Frequently Asked Questions
What is Viktor Axelsen's fastest badminton smash?
Viktor Axelsen fastest badminton smash is 404 kmph (251 mph).
Who is the coach Viktor Axelsen?
Viktor was coached by Kenneth Jonassen before, but in August 2022, Jonassen's assistant, Thomas Stavangaard, became the head coach of the Danish player.
Is Viktor Axelsen Chinese?
Despite knowing Mandarin excellently, Axelsen is not Chinese. His fluency in Mandarin comes from his passion for learning the language and his love for Chinese culture.
Who won a bronze medal in Badminton Men's singles at the 2016 Olympics?
Viktor Axelsen won a bronze medal in Badminton Men's singles at the 2016 Rio Olympics.
Who is Viktor Axelsen's wife?
Viktor Axelsen is not married yet. However, he is in a relationship with his girlfriend, Natalia Koch Rohde.
What is Viktor Axelsen's highest ranking?
Viktor Axelsen is ranked #1 at the BWF as of January 2023.
Was Viktor Axelsen in the 2020 Tokyo Olympics?
Viktor Axelsen competed at the 2020 Tokyo Olympics in Badminton Men's singles and won gold.
Did Viktor Axelsen win the All England Open 2020?
Yes, Viktor Axelsen won the prestigious All England Open 2020 tournament in March 2020. By winning the title, he also made history as the first European and Danish to lift the men's singles trophy since 1999.