Chen is a retired Chinese badminton player who was named number one in the men's single category on 24 December 2014. He won his first professional title in the Philippines in 2009 and the Grand Prix gold events.
To date, Chen has bagged 20 gold medals in different international tournaments.
With a successful and clinical ability to perform on the badminton court, Chen long gathered lots of respect and love from his Chinese fan. He has been successful in gathering 75,128 ranking points for his nation China as of April 2019.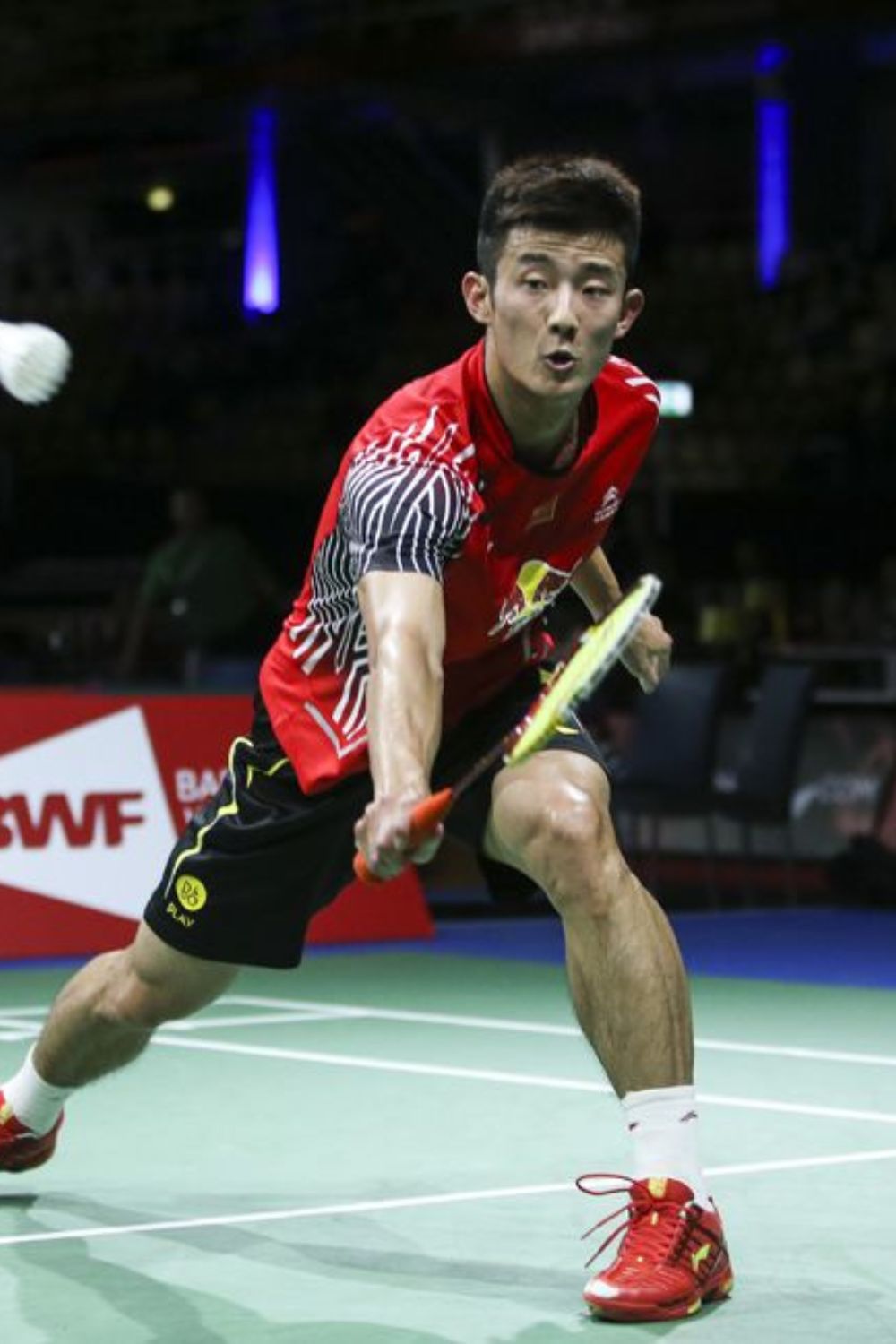 Overall, he is one of the finest Chinese badminton players who can exemplify the court's most exemplary performance.
As of 2022, Chen is retired and not playing anymore instead is spending all his time with his family.
Now, let's check the quick facts about the Chinese professional badminton player Chen long Before going through his biography.
Quick Facts | Chen Long
| | |
| --- | --- |
| Full Name | Chen Long (谌龙) |
| Birth Date | 18 January 1989 |
| Birth Place | Shashi District, Jingzhou, Hubei, China |
| Religion | Unknown |
| Nationality | Chinese |
| Sexuality | Straight |
| Ethnicity | Asian-Chinese |
| Education | Unknown |
| Horoscope | Capricorn |
| Father's Name | Chen Hua |
| Mother's Name | Zhang Yuxia |
| Siblings | Unknown |
| Age | 34 years old |
| Height | 1.87 m/6'2″ |
| Weight | 75 kg/165 lb |
| Hair Color | Black |
| Eye Color | Black |
| Marital status | Married |
| Wife | Wang Shixian |
| Profession | Professional Badminton Player |
| Net Worth | Estimated $1- $5 Million |
| Coach | Li Mao |
| Career History | Olympic Games, World Championships, Sudirman Cup, Thomas Cup, Asian Games, Asian Championships, East Asian Games, World Junior Championships, Asian Junior Championships |
| Years Active | 2007-Present |
| Dominant Hand | Right |
| Social Media | Instagram |
| Last Update | June, 2023 |
Chen Long | Early Life, Education & Family
The former number 1, Long, was born on born January 18, 1989, to his father, Chen Hua, and Zhang Yuxia. Furthermore, he was raised in Shashi District, Jingzhou, in China.
However, there are no more facts or information about Chen's family and his early life.
But, it is a fact that he was fond of badminton since his childhood days and started playing badminton at the age of 7 back in 1996.
There is no information regarding his education and academic qualification. Also, the information regarding his siblings is unconfirmed.
Chen Long | Age, Body Measurements & Nationality
As Chen was born in 1989, he is 34 years old. According to his birth chart, his horoscope is Capricorn.
Capricorns are known for being inventive, creative, highly motivated, and career-oriented.
As an athlete, Long stands at an ideal height of 1.88 m and a weight of 165 lbs. Meanwhile, in terms of nationality, he is Chinese by birth, while his ethnicity happens to be Asian.
Chen Long | Early Career
Chen enrolled in Jingzhou's Sports School and successfully demonstrated his potential and talent as a badminton player. At just the age of seven, he set up his foundation to be the world champion in the future.
In 1996, Chen Long entered the sports academy at Jingzhou to further his young-age skills.
Meanwhile, he was selected to the national youth team in 2005 and the second national youth team in 2006.
Similarly, in 2007, Chen grabbed the title of Asian junior championship and world junior championship.
Also, he helped his country to win Suhandinata Cup in the same year.
The success in his junior career within the year awarded Chen to step into the platform in the Chinese first team. He got selected as the national first-team player in 2008.
Career Statistics
Following the year in January 2010, Chen made it up to the semifinals in the Korea Open Super Series and got defeated by Danish player Peter Gade.
Meanwhile, in the super series event Swiss open, Chen gave outstanding results in the final and ended the journey as runner-up.
Likewise, in the 2010 Thomas cup in Kuala Lumpur, he was a team member while lifting the gold medal trophy.
In 2010 again, Chen won his second gold for China at the Asian Games hosted in Guangzhou. He added to his success two weeks later by winning the China Open Super Series.
In winning back-to-back Super Series Title, Chen faced defeat in the semifinal match against Olympic champion Taufik Hidayat in Hongkong open.
Chen's good performance propelled him to his career record of third place in the world rankings, instantly making him the top-ranked Chinese badminton player.
Medal Records
Let's take a look at his medal records representing China.
Olympic Games
Gold

2016 Rio de Janeiro

Men's singles
Bronze

2012 London

Men's singles
World Championships
Gold

2014 Copenhagen

Men's singles
Gold

2015 Jakarta

Men's singles
Bronze

2017 Glasgow

Men's singles
Bronze

2018 Nanjing

Men's singles
Sudirman Cup
Gold

2009 Guangzhou

Mixed team
Gold

2011 Qingdao

Mixed team
Gold

2013 Kuala Lumpur

Mixed team
Gold

2015 Dongguan

Mixed team
Gold

2019 Nanning

Mixed team
Bronze

2017 Gold Coast

Mixed team
Thomas Cup
Gold

2010 Kuala Lumpur

Men's team
Gold

2012 Wuhan

Men's team
Gold

2018 Bangkok

Men's team
Bronze

2014 New Delhi

Men's team
Asian Games
Gold

2010 Guangzhou

Men's team
Gold

2018 Jakarta–Palembang

Men's team
Silver

2014 Incheon

Men's singles
Bronze

2014 Incheon

Men's team
Asian Championships
Gold

2017 Wuhan

Men's singles
Silver

2009 Suwon

Men's singles
Silver

2013 Taipei

Men's singles
Silver

2016 Wuhan

Men's singles
Silver

2018 Wuhan

Men's singles
Bronze

2011 Chengdu

Men's singles
Bronze

2012 Qingdao

Men's singles
Bronze

2015 Wuhan

Men's singles
East Asian Games
Gold

2009 Hong Kong

Men's team
Gold

2013 Tianjin

Men's team
World Junior Championships
Gold

2007 Waitakere City

Boys' singles
Gold

2007 Waitakere City

Mixed team
Asian Junior Championships
Gold

2007 Kuala Lumpur

Boys' singles
Silver

2007 Kuala Lumpur

Mixed team
International Career
In Chen's career in 2012, he faced defeat in the pre-quarterfinals of the Indonesia Open against Indian player Parupalli Kashyap and the semifinals of the 2012 summer Olympics against Malaysian player Lee Chong Wei.
However, after his loss in the semifinal in the 2012 Summer Olympics, he managed to grab bronze in the championship defeating Lee Hyun-il in the bronze medal match.
Chen's bad luck kept going as the Chinese team lost in the semifinals of the Thomas Cup against Japan, and the media blamed Chen Long entirely.
Furthermore, his losing streak continued with his elimination from the Japan Open against Hu Yun of Hong Kong and the Indonesia Open to Danish player Jan Ø. Jørgensen.
However, on August 31, 2014, his fortune supported him as he defeated Lee Chong Wei in the finals of the 2014 World Championship game in Copenhagen, winning his first World Championship title.
Chen then went on to win more tournaments, concluding in the 2014 BWF Super Series Masters Finals, where he excluded Lee Chong Wei to become the world's No. 1 badminton player.
"It doesn't matter if you are number 1 or number 2, you have to prepare for everything"
To know Other Player Too, Go To The Link Kento Momota: Wife, Accident, Ranking & Net Worth>>
Tokyo Olympics
In the Tokyo 2020 Olympics, Chen had a tremendous start and managed to reach the finals in the men's singles category. However, he failed to bring the gold home after losing to Danish Badminton Player Viktor Axelsen.
Following the loss, he received a lot of hate and backlash from Chinese fans, who called him "useless" and a "disgrace." Nevertheless, none of them knew the real truth behind his underperformance.
The Badminton player sustained an injury that involved the formation of two big blisters on the sole of his foot. As a result, his movement was quite limited.
Chinese Badminton Association's head coach expressed that he was touched by Chen's fighting spirit. Despite the injury, the Chinese player took responsibility for the loss and apologized to the Chinese fans and citizens.
Chen Long And Lin Dan
With the tag of the world no.1, Chen Long started his 2015 season, winning his second All-England title against Jan O Jorgensen. In addition, his win streak continued in the 2015 Malaysia Super Series Premier, where he defeated Lin Dan.
Again, in the 2015 Jakarta World Championship, Chen quickly reached the final and successfully won against Lee Chong Wei to defend the title.
Furthermore, he won the 8th super series trophy with victory in the 2015 Korea Open Super Series by defeating Ajay Jayaram in the final.
In the 2016 summer Olympics, Riocentro, Brazil, on August 20, 2016, Chen Long successfully grabbed his first Olympic goal medal. He defeated Malaysian player Lee Chong Wei in the men's singles finals.
Similarly, Chen competed in the 2018 Thomas Cup but was defeated in the final match by Kento Momota, the 2018 World Champion.
Heidi Andersson | Personal Life, Wife, And Child
Even though a Chinese badminton player exudes youthfulness, Chen is married to Wang Shixian, a former Chinese world No. 1 in women's singles. Chen and Wang have been in a relationship since 2007.
Likewise, the couple met each other when they were on the Chinese junior team. Also, they held their relationship private until 2013, when they finally revealed their relationship details.
View this post on Instagram
After that, the two were loved by the public and fans of the player. Finally, the two got married on November 28, 2017.
The couple has a 3 years old son now.
Pronunciation Issue
Well, there were some issues regarding Chen Long's surname. His surname had to be actually pronounced in some way, but it was pronounced on some other day during the early days of his career.
When he joined China's athlete system, his surname was registered inappropriately as Chen. He tried rectifying errors but finally had to leave it that way.
Chen Long Is On His Way To Owning Back-To-Back Olympic Titles
The ruling Olympic badminton champion Chen Long says that his 3 years old son is too young to understand what a record-holder player he is.
Chen adds that his kid just knows that he is a badminton player but does not understand how far he has come winning most of the titles to his name. But maybe from now, he will be cheering me as long as I compete.
Chen vanquished Estonia's Raul Must on Sunday (25 July) at the Musashino Forest Sport Plaza during a Men's Singles Group N match on day two of the Tokyo 2020 Olympic Games.
Chen is surely looking forward to holding onto his men's singles title at Tokyo 2020 and having his profile filled with back-to-back Olympic titles, prosperity that Lin Dan only achieves.
Chen's next match is against Pablo Albian (Team Spain). He is not pressurizing himself at the moment, but he is surely not letting anything distract him. He just wants to be there and compete to the fullest.
Chen Long's Tool Cum Badminton Racket
Let's talk about his tool, the badminton racket! To every warrior going for the battle on the field, the thing that mostly counts is his weapon, a shield that aids him in defending and fastness.
Similarly, Chen Long especially takes care of his racket and changes it only once in a while, and currently, he has been using the Li Ning 3D Calibar 900 (the black gold version).
The 3D caliber series is outlined by a geometric edgy frame design which is made to lessen air resistance while swinging the racket.
Chen Long also does not change his shoe model often.
Chen Long | Net Worth, Salary, And Income
According to various sources, Long's net worth is somewhere between $1 and $5 million. His badminton profession and achievement have contributed to his acquired success.
Since he earns mostly on a prize money basis, he does not have a fixed salary. He made US $298,413 in 2015 and US $69,325 in 2016.
However, having said that, there are not many details and information regarding his income.
2022 Update
BWF World Championships
Chen Long has reportedly withdrawn from the upcoming BWF World Championships in Tokyo, which will take place from August 22 to August 28. The competition will be held in Tokyo, Japan.
The former Olympic and world champion is said to have written a letter of resignation from the Chinese national team in addition to withdrawing from the Championships.
Chen Long's decision to retire from international badminton is based on the one-year postponement of the 2022 Asian Games in Hangzhou, which were originally scheduled to take place in September of this year.
In 2022, Chen is retired now and spending most of his time with his family in places
View this post on Instagram
As he keeps his Instagram updated by uploading pictures with his wife and kid.
Social Media Presence
Chen is available on Instagram @chenlong_118 and has 50.8 K Followers.
View this post on Instagram
Popularity Graph
The search graph illustrated in this picture shows the popularity of Chen and how much people search for him,
Although he is now retired his fans still search for him.
Chen Long | FAQs
Who is Chen Long's Coach?
As per Long's career history available on the sources, Chinese coach Li Mao coaches Chen Long.
Do Wang Shixian and Chen Long have a child?
Yes, they have a son and he is 3 years old now. Chen keeps posting about him on his Instagram.
Who was Chen long's rival?
A Malaysian professional, Lee Chong Wei, is considered the rival of Chen Long.
Is Chen Long retired?
Yes, the athlete recently announced his retirement in April 2022. He revealed that his appearance at the Shaanxi National Games would be the last game of his career.
Long said that he wished to spend more time with his wife and son following his retirement.
What is the vital factor of Chen Long?
Chen Long's defense and fast reflexes are his greatest assets. "Playing against Chen Long is like playing against a wall," several players, including Lin Dan, have said.
In addition, his body allows him to reach for shots more effectively than many other players.
To Know About More Players Navigate This Link Nozomi Okuhara: Husband, Olympics & Net Worth>>