Vivianne Miedema is a Dutch professional footballer who wears her vibe like a crown. She is a forwarder for the FA WSL club Arsenal and the Netherlands women's national football team. Also, Vivianne is well-known as the greatest striker in modern women's football.
Equally important, Miedema has been known for her enigmatic aura and overwhelming intensity that in her native Netherlands, she has been turned into a comic book heroine.
In real life, she has been titled as the all-time leading scorer in the WSL. Truly, she has scored more goals for her Netherlands, hen any men or women players have at the international level.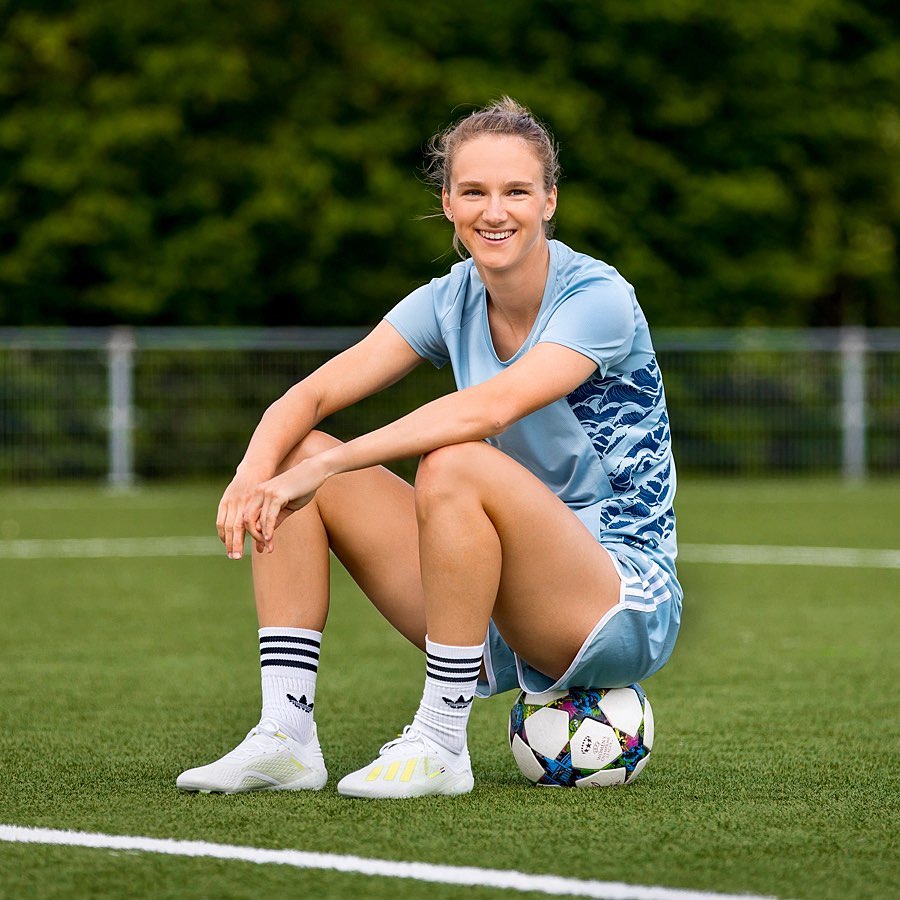 Before just diving into her life steps, let's have a quick look at the facts.
Quick Facts about Vivianne Miedema
Full Name
Anna Margaretha Marina Astrid Miedema

Popularly known as Vivianne Miedema

Date of Birth
15 July 1996
Birth Place
Hoogeveen, Netherlands
Nick Name
GOAT
Religion
Christian
Nationality
Dutch
Ethnicity
White
Horoscope
Cancer
Age
26 Years Old
Height
1.75 m (5 ft 9 in)
Weight
65 kg (143.3 lb)
Hair Color
Blonde
Eye Color
Deep Blue
Build
Athletic
Father's Name
Rene Miedema
Mother's Name
Carolien Miedema
Siblings
A younger brother, Lars Miedema
Marital Status
Unmarried
Girlfriend
Lisa Evans
Education
Not Available
Profession
Football player
Position
Forward
Affiliations
Arsenal
Active Years
2011-present
Net Worth
$1 million
Social Media
Instagram, Twitter
Merch
Paperback, Autographed Poster
Last Update
January, 2023
Vivianne Miedema | Physical Attributes
Miedema is a supergirl who flaunts in both converse and heels. She is a pretty girl with a fair complexion and tall stature.
Vivianne has gorgeous deep blue eyes and blonde, medium hair. She stands tall at 1.75 m (5 ft 9 in), weighing 65 kg (143.3 lb), and portraying her athletic body.
Vivianne Miedema | Pronunciation
Vivianne Miedema's full official name is Anna Margaretha Marina Astrid Miedema. It is pronounced as, ɑnaː mɑrɣaːˈreːtaː maːˈrinaː ˈʔɑstrɪt ˈmidəmaː.
Likewise, Vivianne Miedema is pronounced as vi-vee-ehn me-di-mah. You can hear the pronunciation in this video:
Vivianne Miedema | Early life & Family (Beginning of Football)
Vivianne was born on 15 July 1996 to René Miedema and Caroline Miedema. She grew up in Hoogeveen, the Netherlands, along with her younger brother, Lars Miedema.
Her father used to be a football player who used to play at No 10, while her mother was a hockey player with an avid love for football.
Unlike any other athletes, Miedema found love for football at a very young age. At the age of five, she would run around kicking balls all around the house to anything.
Hence, she grew up watching her father play and started playing on her own with her brother.
Furthermore, when she was just four and a half years, she started playing in the HZVV club.
She played for 8 years and then shifted to VV de Weide at the age of 13. Back in times, VV de Weide was in a higher division in Holland, and they had a match against FC Groningen, a first division club in Holland.
Consequently, she had seven scores in the game and claimed the boys' victory with 7-5. Hence, she was used to playing with the boys and defeating them.
Thereafter, when she was 14, she had to make a life-changing choice of whether to stay on the boy's team or go to the top women's league.
Vivianne Miedema | Professional Career
Club Career
Vivianne had her foremost contract with SC Heerenveen when she was 14. However, she was way young to sign it; hence, her parents sign it for her.
She was the youngest player and regularly had to keep up with 30-year-old women at the highest Dutch football level.
Miedema's big level-up came with her first home game when they were down to 1-0, and she has been benched. Right after it, as she entered the field, she scored two goals; thus, making her team win 2-1.
In the meantime, she won the top scorer's title with her 39 goals for Heerenveen in the 2013–14 BeNe League.
Following it, she made her senior debut at 15, becoming the youngest ever player in the Eredivisie Vrouwen.
A year after it, in June 2014, she signed a contract with Bayern Munich. In her 2014-15 season, she was part of a young Bayern team and later helped Munich bag the title for the first time since 1976.
The Year 2017
In May 2017, Vivianne moved to English club Arsenal, and on October 29, she scored her first goal in England for Arsenal in the match with Everton in the 23rd minute.
The Year 2018
Vivianne commenced her 2018 season with a hat-trick as Arsenal defeated Liverpool, 5–0, in the first match. Following it, she had a victory with Arsenal with 4-0 in Bristol City from when her goals were tallied in double digits.
She closed the season as the WSL top scorer with 22 goals and was named PFA Player of the Year.
Here's a clip of Miedema celebrating being named PFA Player of the Year alongside Dutch footballer Virgil van Dijk.
The Year 2019
On October 16, Vivianne scored four goals for the Arsenal winning against Slavia Praha with 5-2 in the Women's Champion's League.
Therefore, on 8 October, she scored a hat-trick in a 6–1 win against Tottenham Hotspur. Thus, she surpassed Nikita Parris, becoming the first player to score 50 WSL goals.
Next, on October 21, she was shortlisted for the Ballon d'Or Féminin. Afterward, on 1 December 2019, Vivianne was titled as the influential figure in the largest victory in the history of the WSL.
Out of Arsenal's total 11 scores against Bristol City, she had direct six goals, and four scores were set up by her as the only one goal wasn't related to her.
International Career
The Year 2013
Firstly, Miedema stepped to the international platform on 26 September 2013. She debuted in the senior Netherlands women's national football team with the help of her coach Roger Reijners. She had her win against Albania with a score of 4-0.
The Year 2014
Miedema partook in the 2014 UEFA Women's Under-19 Championship, where she scored six goals, making her the vital point for the Netherlands' victory. She was not titled the tournament's top scorer and was awarded the Golden Player Award.
Similarly, in the Netherlands' World Cup qualification play-off in October 2014, she contributed to Scotland's victory.
During the gameplay at Tynecastle Stadium, Vivianne had a rasping drive against the palms of Gemma Fay, and Lieke Martins made it home.
Likewise, as Vivianne tried to shrug off burly center-half Jennifer Beattie, but Frankie Brown stood up. In the second leg in Rotterdam, Manon Melis dispatched the resultant penalty.
The Year 2015
Miedema helped the Netherlands to advance in the 2015 FIFA Women's Cup. She had scored all of the Dutch goals against Italy as the Netherlands won 3–2 on aggregate.
Therefore, Vivianne finished the qualification campaign with 16 goals as the overall top scorer. Despite being a teenager, she was titled "the most gifted striker in Europe" ahead of the Netherlands' first-ever FIFA Women's World Cup appearance.
The Year 2017
Miedema scored the winning goal in the semi-final against England in the 2017 UEFA Women's European Championship.
Additionally, with her killer instinct, she scored two goals in the final against Denmark. This made her the first-ever Dutch to get a Euro title.
In the end, the whole team was honored by Prime Minister Mark Rutte and Minister of Sport Edith Schippers and made Knights of the Order of Orange-Nassau.
The Year 2019
In the opening of her 2019, Vivianne was selected for the 2019 FIFA Women's World Cup in France.
As she participated in it, she made her 60th score in a 3–1 win against Cameroon, which bagged her the all-time top scorer of the Netherlands women's national football team.
Miedema had surpassed the record of Manon Melis and, moving forward, the men's team-leading scorer, Robin van Persie.
In the gameplay, she led the Dutch to the finals after claiming the 2–0 quarter-final win against Italy. However, in the finals, they fell in front of the champion United States with a score of 2-0.
Vivianne Miedema | Best Goals
Miedema on the football field is a treat to watch. If we have to talk about her best goals, the following can be considered:
Miedema's goal in Tottenham Hotspur, March 2021, where she guided the ball with full precision into the beck of the net. Here's a clip of it:
Vivianne Miedema take a bow 👏

Catch the star striker's incredible volley 👇#NorthLondonDerby pic.twitter.com/O24Lt9dB83

— GiveMeSportW (@GiveMeSportW) March 27, 2021
When Miedema recorded her first goal for Arsenal against Everton in October 2017, is considered one of her best. She received the ball from Danielle Van de Donk in the penalty box.
She then calmly twisted the ball and turned to find space, and then powered a shot into the top left-hand corner of the goal.
When Arsenal had 4-0 victory against Brighton at the Amex Stadium in April 2019, Miedema demonstrated a stunning performance.
She scored the opener, and won possession 25 yards out, directing a shot towards the goal. The ball traveled through the hands Marie Hourihan from Brighton before it richoteded off the underside of the bar and over the line.
Arsenal derrotó por 4-0 al Brighton y se consagró campeón de la #FAWSL: Vivianne Miedema (nombrada jugadora del año) y Beth Mead se destacaron con estos dos golazos. ¿Con cuál te quedás? pic.twitter.com/E805tnNWdL

— SportsCenter (@SC_ESPN) April 30, 2019
Miedema recorded a thunderbolt against the Reading in September 2020. She took the ball outside of the penalty box and blasted it into the top left-hand corner of the goal.
Miedema's goal against Bristol City in December 2019 also stunned the audience. Shewas indulged in 10 out of the 11 goals, where Arsenal had a 11-1 victory.
She scored six and grabbed four assists. Her composed finish from inside the penalty box, her technique, and poise was praise-worthy.
Vivianne Miedema | Jersey, Style of Play
All her life, Vivianne wanted to play has played with Jersey no 11 in the Arsenal and Jersey no 9 in the Netherlands women's national football.
Also, she always wanted to wear Jersey no 10 as her father was a no 10, and she got to number 10 for Bayern Munich.
Additionally, Miedema is a huge Feyenoord supporter and modeled her game on Robin van Persie. She has been compared and even nicknamed Arjen Robben.
According to the author of a book about Dutch football, journalist David Winner, her playstyle is a mix of Marco van Basten and Dennis Bergkamp.
Vivianne Miedema | Football Idol
Miedema grew up watching tons of men's football as she had no idea about women's football, and Robin van Persie was her football idol.
Although they didn't have many English games in Holland, she would watch them all through the internet. She watched Robin van Persie play for Arsenal and then Manchester United as well.
Vivianne was amazed by Robin, and for her, he was the most influential striker. Alongside this, she would watch other Dutch players, like Ruud van Nistelrooy and Dirk Kuyt, who were big players.
Vivianne Miedema | Overlooked?
Miedema has an impressive stat of 20 goals over just 834 minutes of play in FA WSL and Champions League, whereas six (6) goals, four (4) assists in her weekly performance. She is a striker along with the best playmaker in England.
According to StatsBomb, Vivianne's xG + xA per 90 minutes of 1.43 is more than double that of the second-best player, Reading's Fara Williams. At first, she started as a central attacking midfielder and shifted professionally to a full-time striker.
However, Miedema was kept behind Alex Morgan and Ada Hegerberg in FIFA Best and Ballon d'Or voting.
For the response, Miedema said, "I think we all know it's all about popularity and I don't post much on Instagram or Twitter, so that's probably what went wrong," She also added with Arseblog's Tim Stillman, "I don't really care about individual awards, to be honest, but I think it's a joke."
Vivianne Meidema | FWA Awards
Miedema is one of the current most intelligent football players. She is an overwhelming athlete with an honest personality due to which has earned her a loyal fan base.
For her impressive gameplay, she was awarded the Football Writer's Association Award. Vivianne surpassed Chelsea's Bethany England by one vote to win the award.
Also, the Chair of the FWA committee, Jen O'Neill, regarded her to have an "all-around ability and football intelligence."
Hence, Vivianne had 16 goals in 14 appearances for the 2019/20 season. She has also been nicknamed GOAT for her goal-scoring ability, her assists, and her passing.
Vivianne Miedema | Contract
Miedema signed a contract with Arsenal in December 2018, and she has it valid up until the next season. According to her boss Joe Montemurro, they would start reviewing their contract from November and hope for the long-term.
"We're already starting to look at where we're heading with the direction of next year and years to come, but obviously Viv will be on top of that list, and we'll do everything we can to make sure Viv remains a part of the group."
Vivianne Miedema | Net Worth, Salary, and Contract
Vivianne Miedema leads a luxurious life and is seen traveling to exotic places.
Miedema is estimated to have a net worth over $ 1 million.
She has an average earning of around $100,000 from her professional career.
As per the source, the players' basic salary at the FA WSL league is expected to be around $30,000. However, the players in the United Kingdom also earn an additional amount through image rights.
Besides, Vivianne is also endorsing brands like Addidas, of which the income is disclosed. Therefore, she has good revenue.
Furthermore, her Arsenal contract is coming to an end, and only has a year left. So, a hefty contract for the exceptional player can be expected.
You may be interested in Lucy Bronze.
Vivianne Miedema | Injuries
In November 2020, Miedema suffered from a hip injury. She missed Netherland's match against the United States because of very injury.
Likewise, an ankle injury stopped her from moving on the pitch for most of the 2014-15 Frauen-Bundesliga season.
Vivianne Miedema | Love Life
Miedema is currently in a relationship with a Scottish player and Arsenal teammate, Lisa Evans.
She met Evans back in 2015 as a teammate for Bayern Munich, and they started dating in 2016. Today, they both live together, just 30 minutes north of London.
Vivianne Miedema | War Child
The striker for Arsenal and the Netherlands women's national football team is the new ambassador of War Child.
She is currently working to support children affected by violence and armed conflict by, among other things, taking the lead in our sports fundraising activities.
With the help of sports and physical activities, children are provided emotional support and a much-needed sense of stability. This sort of workout helps in resilience, thus reducing the development of long-term psychosocial issues in children.
"If I hadn't chosen to play professional soccer, I would have ended up working with children."
-Vivianne Miedema
Vivianne Miedema | Social Media Presence
Vivianne Miedema is not very active on social media platforms. However, she updates people from time to time about what is going on with her life. We have provided the social accounts of Vivianne below.
Vivianne Miedema | FAQs
What is Vivianne Miedema's first memory of football?
Vivianne Miedema's first memory of football is when she was at the age of 8 or 9. She used to play football, and one time, while striking a goal, she collapsed with the goalkeeper and had her two teeth fallen.
What does Vivianne Miedema hate?
Vivianne Miedema hates dumb players. As for her, the player who doesn't see the game is not a good football player.