Formerly known as the monster on the ice, Wade Belak was equally entertaining with his undeniable humor. During his career, he stood as Toronto's fan-favorite defenseman ever since his professional debut in 1994.
He nearly spent two decades of his life with the National Hockey League (NHL).
Moreover, the athlete had played for teams like the Colorado Avalanche, Calgary Flames, Toronto Maple Leafs, Coventry Blaze, Florida Panthers, and the Nashville Predators.
As a matter of fact, Belak is someone who denies losing. Like every athlete, he had the fiery determination for success; however, his career feat is something to think about.
Quick Facts
Full Name
Wade William Belak
Date of Birth
July 3, 1976
Birth Place
Saskatoon, Saskatchewan, Canada
Nick Name
The Intimidator
Religion
Christianity
Nationality
Canadian
Ethnicity
White
Zodiac Sign
Cancer
Death Date
August 31, 2011 (aged 35)
Death Place
Toronto, Ontario, Canada
Listed Height
6'5″ (196 cm)
Listed Weight
223 lb (101 kg)
Build
Athletic
Father's Name
Lionel Aadland (Biological father)
Barry Belak
Mother's Name
Lorraine Belak
Siblings
A younger brother, Graham Belak
Education
St Vital's Catholic School
Battleford Junior High
North Battleford Comprehensive High School
Marital Status
Unmarried
Wife
Jennifer Jordan Russell (m. 2002)
Kids
Two daughters; Andie and Alex
Profession
Ice hockey player
Position
Right Wing/Defenceman
Affiliations
Colorado Avalanche
Calgary Flames
Toronto Maple Leafs
Coventry Blaze
Florida Panthers
Nashville Predators
Active Years
1996–2011
Shot
Right
Net Worth
Career earnings of $8.6 million
Merch
Autographed Hockey Card, Autographed Rookie Card
Last Update
June, 2023
Wade Balek | Early Life, Family, and Education
Wade William Belak was born on July 3, 1976, under Scorpio's sun sign. According to the sources, the NHL star was born in Saskatoon, Saskatchewan, Canada, at St. Paul's Hospital.
Furthermore, Wade was born to Lorraine and Lionel Aadland. However, his mother later married Barry Balek, and then he used his surname.
Wade was just a four-year-old when his mother, Lorraine, re-married.
After two years of his mother's marriage, they moved to Battleford. In the meantime, Balek attended St Vital's Catholic School at the age of six.
Following it, he enrolled in Battleford Junior High and North Battleford Comprehensive High School.
Additionally, Wade has a younger brother named Graham Belak (born on ). His brother is also an ice hockey player who the Colorado Avalanche first drafted.
As the second-round pick in the 1997 draft, he has only played for several lower-tier leagues. In 2006, Graham ended his career to be a police officer in the Royal Canadian Mounted Police.
Read more about Connor Clifton Bio: NHL Career, Family, Girlfriend, Net Worth>>>
Wade Balek | Hockey Career
Balek commenced his career early in 1992 as a 16-year-old. Initially, he played in the Western Hockey League for the Saskatoon Blades. Balek was a part-time player for the first season games and made no points at all.
However, he became a full-time player in the 1993-1994 season, where he first started scoring.
He played 16 playoff games and 69 regular games in his second season. During his tenure, he posted four goals and 17 points.
Likewise, Wade entered the 1994 NHL Draft, where the Quebec Nordiques first drafted him.
Colorado Avalanche (
Quebec Nordiques
)
Colorado Avalanche is the same team as Quebec Nordiques after relocating to Denver, Colorado. As Wade was the 12th overall pick, he debuted in the American Hockey League's playoff games.
For the 1994–95 season, he featured in 11 playoff games and only appeared in the regular games in the 1995–96 season. Similarly, his NHL debut only came in over the Toronto Maple Leafs.
Likewise, Wade earned his foremost NHL point during the match against the Washington Capitals. Alongside his play with Colorado, Wade also played for the Hershey, where he played 28 games.
Calgary Flames
On February 28, 1999, Colorado traded Wade to the Calgary Flames. He was traded alongside Rene Corbet and Robyn Regehr in exchange for Theoren Fleury and Chris Dingman.
First, wade appeared for the team's AHL affiliate, the Saint John Flames, as he played 12 games. On March 27, 1999, Wade played his debut game for the Calgary Flames against the Phoenix Coyotes.
Following it, his first score for the team was again over the same team, the Phoenix Coyotes. Then, he retired to the Saint John Flames for the playoff games.
Toronto Maple Leafs
After Belak was waived off after the 2000 season, he joined the Toronto Maple Leafs on February 16, 2001. The next day, Wade made his debut for the team against his former team, the Colorado Avalanche.
On February 25, 2001, Wade posted his foremost score against the match with the Chicago Blackhawks.
Likewise, he made his playoff debut only the next season in April while he made the goal for the game ten days later against the Islanders.
Additionally, the 2002-03 season was tagged as his most productive one as he made three goals in 55 games overall. Advancing on, Wade commenced the play for the Elite Ice Hockey League (EIHL) with the Coventry Blaze.
During his tenure in the league, he bagged the EIHL Second All-Star Team. Furthermore, he broke his scoreless drought at the 143 games on December 4, 2007, against the Predators.
Click to learn about Charlie Coyle Bio: Contract, Stats, NHL, Trade, Girlfriend, Net Worth>>>
Florida Panthers
After seven seasons with the Leafs, they traded Wade to the Florida Panthers on February 26, 2008.
Alongside the Panthers, Wade only starred for two seasons in the team, where he played 27 games in total.
In his debut match with the team, Wade played against his former team, Toronto Maple Leafs, and for the whole two seasons, he couldn't score a point.
Nashville Predators
Later, Wade entered the Nashville Predators in exchange for Nick Tarnasky on November 27, 2008. Right after it, he posted his foremost play for the team on November 28 against the Atlanta Thrashers.
On December 8, Wade maintained his foremost goal for the team over his former team, the Colorado Avalanche. After a few years on the line, Wade was placed on the waived list on February 25, 2011.
However, not a single team claimed him, and thus, he was with the Predators for the games. Following it, they assigned Wade to the Milwaukee Admirals of the AHL.
On March 8, 2011, Wade Belak retired as a player after 14 years of his NHL career due to arthritis in the pelvis. Even with it, Wade stayed with the Predators as a part of the organization.
Injuries and Suspension
As an athlete, Wade, like everyone, didn't have a smooth transitional journey. He had his share of injuries and downs that stood as a boulder in his way.
In 2003, Belak faced an abdominal injury during his match against the Edmonton Oilers. Right after it, on January 6, 2004, he struggled with a knee injury during the game against the Nashville Predators.
Apart from injuries, Belak has also been out of the Stanley Cup Playoffs due to his careless stick manner.
Back in March 2004, Wade was suspended for eight games by the NHL when during the game, he struck defenceman Ossi Vaananen directly on the visor with a wild, two-handed slash.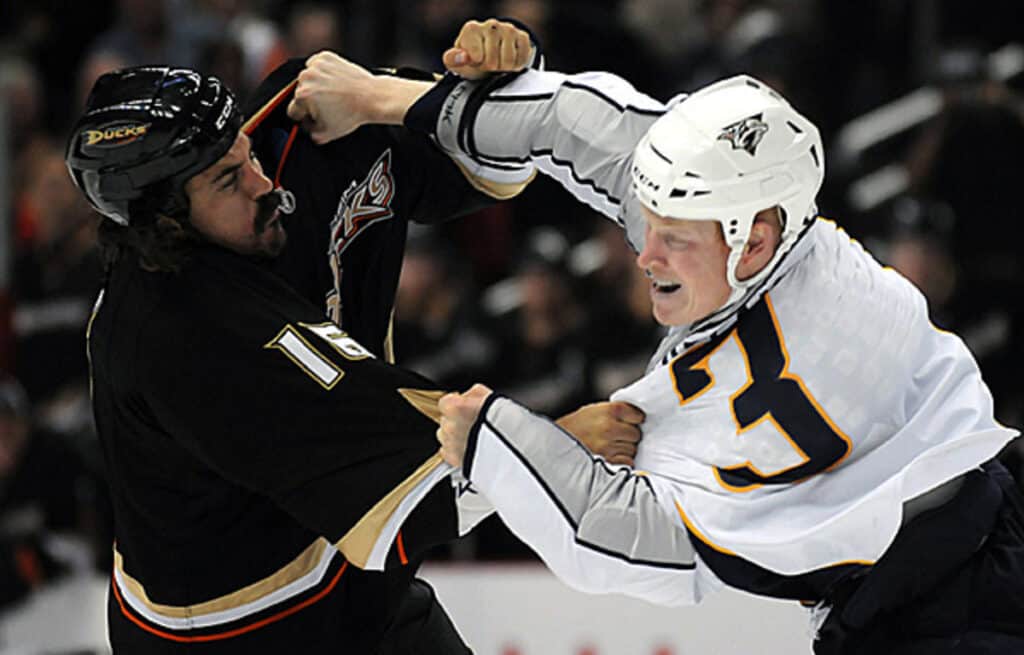 As NHL stated their opinion and the punishment for Belak, Wade stated that he was off-balance.
"I think the timing of it never gave me a fair chance. I was off-balance. We need to be responsible for our sticks; I understand that part. But in no way was I trying to hurt him. Comparing me to Bertuzzi is kind of unfair."
-Wade Belak
NHL Stats
| | | | | |
| --- | --- | --- | --- | --- |
| Year | GP | G | PIM | +/- |
| Career | 15 | 0 | 18 | -1 |
Wade Belak | Death
Sports is such an industry that has fame and success lined alongside the constant mental and physical pain.
According to the sources, on August 31, 2011, Wade took his life in a condo at the One King Street West hotel in Toronto. Many believed it to be an accidental death, but the Toronto police stated that the cause of his death was suicide.
Additionally, Wade's family stated that he suffered from depression for a long time. Before his death, Wade was reported to have a bright day and had even planned to hang out with his friends.
However, after the plan, he was found dead three hours later, at approximately 1:33 p.m.
While he was alive, no one could find his unseen battles inside, and thus, they settled with him, known as a happy man.
But who knew that the carefree hockey fighter was in distress. As many say, Wade had suffered the miseries of his trade.
CTE Diagnosis
Moreover, his wife, Jennifer, had opened up, stating that Wade suffered from chronic traumatic encephalopathy (CTE).
Also, she noticed the shift in her husband's behavior during the last years with the Nashville Predators as he would no longer handle his children's noises.
Furthermore, he also started having declined in his memory, thus, needing him to make notes of everything.
Not to mention, even Michael Landsberg (Canadian sports journalist) stated that during his interview with Wade before his death, he had admitted to taking happy pills (anti-depressant).
Indeed, he had been using it for four to five years back then.
Besides, Michael revealed Wade was also working to reveal his condition to the public. Following it, P.J Stock suggested his death to be accidental and might not be a suicide, which Belak's parents also agreed on.
However, Stock took back his words stating he didn't know any other information about his death.
Overall, Wade's death was the third suicide death among the sudden deaths of NHL enforcers.
Before him, Derek Boogaard, 28, and Rick Rypien, 27, had taken their lives. Indeed, all those deaths impacted a lot in the NHL.
You might be interested in Brandon Saad's Bio: Stats, Contract, Trade, NHL, Elite, Married, Net Worth>>>
Funeral Service and Tributes
They held Wade's funeral service in a private ceremony at Woodmont Christian Church on a rainy Sunday. It was held in the presence of his friends, family, and former teammates in Nashville.
"He was really, really good. He had perspective and broke the game down. Indeed, he explained it in a way that somebody who wasn't a hockey fan still knew what was going on."
-Jeremy Bennefield
"Wade became one of us. He became a Blaze player, and he was very proud of that. Even though he was a superstar who was playing for one of the biggest clubs in the world when he came over, you'd never have known. He was a larger-than-life character. We all kept in touch with him, and we're all so sad that he's gone."
-Blaze Chairman Andy Buxton
"It's so sad. He always saw the bigger picture, and he was so happy to be retired. He was happy to be moving on because he had played for so long, and now he was going to be able to relax and enjoy it."
-Nashville defenseman Ryan Suter
Wade Belak | Net Worth and Salary
Although the net worth of Wade Belak is unknown, he had career earnings of $8.6 million. Furthermore, his average salary was $575,000 in 2010.
Wade Belak | Personal Life, Wife, and Kids
Belak was married to his wife, Jennifer Jordan Russell, on July 20, 2002. Not much is known about his personal life and their love story. As per Jennifer, Wade was a devoted man and a loving father.
The duo shared two daughters; Andie, born in 2004, and Alex, born in 2006. They were both born in Toronto. Indeed, Wade's death took a deep toll on Jennifer's life.
Apparently, she heard the news of her husband's death through his agent while picking up her kids from school.
<<<Paul Kariya Bio: Mighty Ducks, NHL, Jersey, Contract, Retired, Wife, Net Worth>>>
Wade Belak | FAQs
What are the statistics of Wade Belak?
Wade Belak played 442 games during his NHL career and has 131 fighting majors, 1108 penalty minutes, and only 29 points. Additionally, he has eight goals.
What medication was Wade Belak on?
Unlike others, Wade showed no sign of depression, drug abuse, or anything in that manner. In fact, the hockey player was famous for his contagious smile and jokester demeanor.
However, Michael Landsberg, a close friend of late Wade Belak, stated how the former player confessed to him he had been on "happy pills" for four whole years. But no one knows what he really meant to this date.