Like father like son, the former American football quarterback Jarrett Payton is the son of legendary Chicago Bears alumnus Walter Payton. Walter Payton is widely regarded as one of the greatest football players of all time.
He was elected into the Mississippi Sports Hall of Fame in 1993 and the College Football Hall of Fame in 1996.
Not many people can say this, but Jarrett gave the speech at his father's induction to the Pro Football Hall of Fame at the age of 12. How crazy is that?
However, being the son of a legend comes with many responsibilities and that one fear of getting overshadowed by the father's legacy.
In fact, in his appearance at REShow on 15 September 2022, Jarrett told Rich what it was like growing up Walter Payton's son with his father hanging out with the likes of Michael Jordan, Magic Johnson, and Tom Cruise.
Moving on, Jarrett played in the NFL for two years with Tennessee Titans and later with Amsterdam Admirals in NFL Europe.
Jarrett left football in 2010 and currently hosts his own internet radio show, the Jarrett Payton Show, on ChicagolandSportsRadio.com.
To learn more about Jarrett, read the whole article.
In this article, we will talk about Jarrett's life, football career, net worth, and many more.
Before we get to the details, please check out some facts on the former quarterback.
Walter Payton Son | Quick Facts
Birth Name
Jarrett Walter Payton
Known As
Jarrett Payton
Date of Birth
December 26, 1980
Birthplace
Arlington Heights , Illinois, Chicago, United States
Religion
Catholic
Sexual Orientation
Straight
Father Name
Walter Jerry Payton (July 25, 1953 – November 1, 1999)
Mother Name
Connie Norwood
Gender
Male
Age
42 Years Old
Profession
Former Professional NFL Player & Radio Host
Famous As
Son of Walter Payton & Former NFL Player
Nationality
American
Education
St. Viator High School, University of Miami
Height
6 ft. 0 in/1.83 m/183 cm
Weight
220 lbs./100 kg
Eye Color
Brown
Hair Color
Mostly Bald
Body Type
Athletic
Favorite Sports
Football & Soccer
Marital Status
Married
Spouse/Wife
Trisha George (m. 2009-Present)
Children
Jaden Payton (son), Madison Payton (daughter)
Siblings
Brittney Payton
Zodiac Sign
Capricorn
Played For
Tennessee Titans (2005), Amsterdam Admirals (2005), Montreal Alouettes (2007), Toronto Argonauts (2009)
Position
Running Back
Football Statics
Rushing Yards: 105
Yards Per Carry: 3.2
Rushing Touchdowns: 2
Net Worth
$1-$5 Million
Career Highlights & Awards
World Bowl Champion (XIII)
All-NFL Europe League (2005)
National Champion (2001)
Orange Bowl Champion (2004)
Orange Bowl MVP (2004)
Social Media
Instagram, Twitter
Merch
Jarrett Payton Signed Photo, Walter Payton Photo
Last Update
June 2023
Walter Payton Son | Early Life & Education
Jarrett Payton was born Jarrett Walter Payton on December 26, 1980, in Arlington Height, Illinois, Chicago, United States.
His father, Water Payton, was well-known football running back who played for 13 seasons with the Chicago Bears of the National Football Association.
Unfortunately, Walter died ON November 1, 1999, because of a rare liver disease known as primary sclerosing cholangitis and, ultimately, a bile duct cancer.
His mother, Connie, was married to his father, Walter, for 18 years before divorcing, which was never made official.
Jarrett grew up along with his sister Brittney Payton in South Barrington, Illinois.
Similarly, he went to St. Viator High School in Arlington Heights, Illinois, where he played soccer and football.
Likewise, he played colligate football at the University of Miami, finishing his freshman year with 262 yards rushing on 53 carries for a 4.9 average.
Walter Payton Son | Age, Height & Weight
Born on December 26, 1980, Jarrett Payton is 42 years old as of 2023.
Similarly, his sun sign is Capricorn, known for their ambitious, hardworking, and enterprising traits.
Jarrett stands 1.83 m (6 ft. 0 in) tall and weighs around 220 lbs. (100 kg).
Walter Payton Son | Career
College Career
As mentioned before, Jarrett played soccer and football in his high school. In his first two years in school, he played soccer and earned All-State player honors.
In his senior year, he played quarterback and wide receiver and recorded impressive stats.
As a matter of fact, PrepStar named him the No.5 athlete in Midwest Region.
For his colligate football, Jarrett played for Miami Hurricanes football at THE University of Miami.
As a tailback, he played for eight games during the regular season in his third-year sophomore.
Similarly, Jarrett was named the MVP of the 2004 Orange Bowl.
Professional Career
Jarrett Payton signed with the Tennessee Titans as an undrafted free agent in 2005 and then moved to Amsterdam Admirals of the NFL Europe.
He helped the team win World Bowl XIII.
He was released by the Titans prior to the 2006 season.
The following year, Jarrett signed a one-year contract with the Montreal Alouettes of the Canadian Football League.
And after two seasons with the Alouettes, Payton switched to Toronto Argonauts.
Argonauts released him at his request on September 9, 2009.
He left football in 2010 and currently hosts his own radio show Jarrett Payton Show on ChicagolandSportsRadio.com.
Moreover, on May 8, 2015, WGN-TV hired Payton as a sports reporter. He serves as a host of the show on Chicagoland Television.
Over the course of his football career, Payton wore jersey numbers 4, 33 for Titans, and 34 for Miami.
He chose number 34 for Titans because that number was retired in honor of Earl Campbell.
Walter Payton Son | Personal Life and Social Works
Personal Life
Jarrett married Trisha George on 4 March 2009 in Florida.
The reception was held at Soldier Field in Chicago on March 7.
The lovely couple shares two children together; son Jaden Payton and daughter Madison Payton.
Aside from his professional career, Jarrett spends his free time recording music, vacationing with his family, and of course, watching football.
Social Work
Jarrett has dedicated his life to charity and social work. He has been involved in several charitable initiatives and fundraisers since the beginning of his professional career.
As a matter of fact, he established Jarrett Payton Foundation in 2011, which strives to positively influence youths in and around Chicago.
The foundation helps youths with its two core programs; the anti-bullying program PROJECT: NO BULL and the youth football camp.
Also, Read About Deshaun Watson's Father Bio: Wife, Kids, NFL & Family
About Walter Payton
Over the course of his career, Walter claimed his birthdate to be July 25, 1954, but upon extensive research, it was discovered that his actual birthdate was July 25, 1953.
He was born to Peter Payton and Alyne Payton in Columbia, Mississippi.
He grew up along with his two siblings, Eddie and Pam Payton.
His factory worker and semi-professional baseball player father, Peter Payton, died in jail just a few hours after being wrongfully accused of DUI.
Walter attended John J. Jefferson High School and participated track team, played drums in the marching band, and sang in the choir.
The nine-time Prow-Bowl selectee, Walter, spent his entire playing career with the Chicago Bears of the NFL.
Moreover, his legacy includes being the namesake of the Walter Payton Award and Walter Payton Man of the Year Award.
Similarly, Mike Dikta, fellow Hall of Famer and coach, described Walter as the greatest football player he had ever seen.
Walter Payton made his demise in November 1999 at the age of 46.
Amongst 1,000 mourners were Illinois Governor George Ryan, former football player John Madden, Chicago's mayor Richard M. Daley and former teammates.
Walter Payton Son | Net Worth
The former NFL player and radio show host Jarrett Payton is believed to have a net worth of $1-$5 Million as of June 2023.
His earnings can be attributed to his football career and career as a sportscaster.
Payton's annual salary sits between $40,000 and $110,000.
Similarly, Jarrett's father, Walter Payton's net worth was $3 million at the time of his death.
Walter essentially earned from his NFL salaries and incentives.
In 1983, he inked the highest deal in NFL history with a staggering $240,000 lifetime annuity.
He was the highest-paid player in football in 1984.
Also, Read About Jared Goff's Father: Jerry Goff Bio, Career & Family
Father Son's Relationship
His love for his father can be seen in his posts on his social media platforms. As a matter of fact, his Instagram bio reads son of Walter Payton.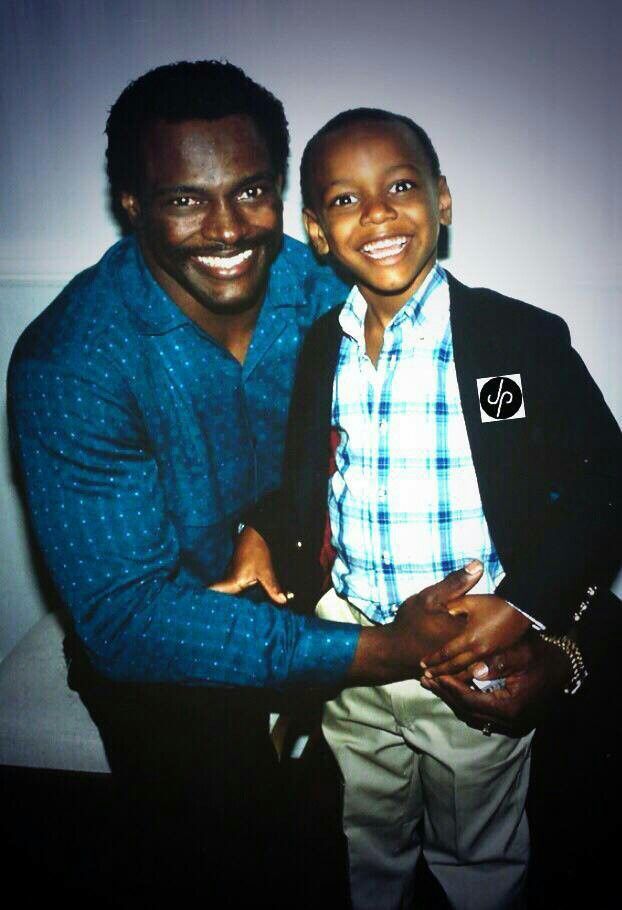 Jarrett gave the speech at his father's induction to the Pro Football Hall of Fame at the age of 12.
Social Media Presence
Walter Payton's son Jarrett Payton is quite famous among football enthusiasts. He has sizable followers on his social media.
As of this writing, Jarrett has 45.2k followers on Instagram and over 89.1k followers on Twitter.
View this post on Instagram
Payton particularly shares his professional and personal life updates on social media.
Similarly, Walter Payton's Instagram has over 18.2k followers.
Unknown Facts About Walter Payton
Walter Payton was drafted fourth overall by Chicago Bears in the 1975 NFL Draft.
He helped Chicago Bears win Super Bowl XX in 1985.
Walter rushed with 20 carries for 134 yards during the final game of Chicago Bears against New Orleans Saints. It was considered the best performance of, Payton.
Walter's nickname "Sweetness" contradicted his physical toughness. He was known for being a ruthless runner who was rarely brought down on first contact.
Walter Payton's Son Jarrett Payton's Popularity Over The Years
Frequently Asked Question (FAQS)
What is Jarrett Payton doing now?
The former running back has laid his hands on a bunch of pursuits. He is a fill-in sports anchor for WGN's Morning Show.
Similarly, he is the co-host of WGN Radio's program The Beat.
He also hosts his own internet radio show, the Jarrett Payton Show, on ChicagolandSportsRadio.com.
What records does Walter Payton still hold?
Walter retired as the career leader in receptions for a running back with 492 for over 4,500 yards. He still holds the career record for a running back, with 8 touchdown passes.
Did Walter Payton ever miss a game?
Walter Payton was extremely consistent and durable. He missed one game in his rookie campaign and then played 186 consecutive games.
You Might Also Want To Read About LeBron James's Father: Anthony McClelland Bio