Every success story started with a dream; so is the life story of the Olympian record-holder Wayde van Niekerk, who calls himself a dreamer.
Wayde van Niekerk is a South African track and field athlete who competes in the 200 and 400 meters race. Moreover, he is also the first South African world sprint champion.
With several prestigious titles, the athlete has brought immense joy and pride to his country. However, even after the heights of success he has attained, he doesn't seem to stop any time soon.
Wayde is the current Olympian and world record holder for 400 meters and the world's best time-holder for 300 meters. Moreover, the athlete is also the 2-times gold medalist for African Championship and 1-time silver medalist for World Championship.
As a world-class athlete, his fans are constantly updated about his accomplishments and prosperous endeavors, so we must think that not many of his fans may know about his personal life and family.
Hence, here we bring some interesting and unknown facts about the athlete.
Wayde van Niekerk: Quick Facts
Full Name
Wayde van Niekerk
Common Name
Wayde van Niekerk
Birthdate
July 15, 1992
Age
30 Years Old
Religion
Christian
Mother's Name
Odessa Swarts
Father's Name
Wayne van Niekerk
Siblings
a brother, and a sister
Birthplace
Kraaifontein, Western Cape, South Africa
Home Town
Kraaifontein
Citizenship
South African
Residence
Bloemfontein, South Africa
School
Bellville Primary, Simonberg Primary
College
The University of Free State
Education
Bachelors in Marketing
Height
183 cm (6 feet)
Weight
70 kg (154 lb)
Eye Colour
Black
Hair Colour
Black
Martial Status
Married
Partner
Chesney Van Niekerk

née Campbell

Married
October 29, 2017
Children
Expecting
Sport
Track and Field, Event- Sprints
Debut
2010 World Junior Championships (International)
Olympics Wins
1 Gold
World Championships
2 Gold
Status
Active
Current Club
South Africa, Adidas
Current Coach
Lance Brauman
Past Coach
Tannie Anna Botha
Hobbies
Travelling, Sports
Net Worth
$3 million
Affiliated Brands
Adidas, Richard Mille, Audi
Social Media
Instagram, Facebook, Twitter
Website
www.waydevanniekerk.com
Merch
Road to Glory
Last-Update
May, 2023
Wayde van Niekerk: Family and Early Life
Wayde van Niekerk is 30 years of age. He celebrates his birthday on July 15.
The athlete was born to Odessa Swarts and Wayne van Niekerk, but his birth had not been easy. Wayde was born prematurely at 29 weeks and weighed just 1.9 kg.
Odessa recalls the doctors telling her he wouldn't survive as the newborn baby was only skin and bones. However, Wayde was born a fighter, and he stayed through it to make history in the future.
After that, he spent 12 years of his early life in Cape Town, but due to his parent's separation, he left for Bloemfontein with his mother. His mother then remarried Steven Swarts.
Growing up, Wayde had always been an athletic child, thanks to his significant genes. Both his father and mother were incredible athletes back in the day.
His father was also a sprinter and did both high jump and rugby. Likewise, his mother too sprinted and did high jumps before she had to stop due to her pregnancy.
Moreover, he is also a far cousin to Cheslin Kolbe, the famous South African rugby league player. Similarly, his aunt and godmother, Alisha van Niekerk, was also a high jumper.
Wayde van Niekerk: Education
Living in Cape Town, Wayde van Niekerk studied at Simonsberg Primary School, where he tapped the surface of his outstanding athletic abilities.
He had participated in his first race and played rugby with his cousin. The two amazing athletes used to play for the same team, and the teacher used to reward the duo with pocket money for every try they scored.
Following his parent's separation, he moved to Bloemfontein, where he studied at Bellville Primary school. Later, he was offered a scholarship to the prestigious Grey College High School for his extraordinary athletic abilities.
Wayde then enrolled in the University of Free State in 2012, where he met his former coach, Tannie Anna Botha.
She had been instrumental in Wayde's decision to specialize in the one-lap sprint as he formerly wanted to be a high jumper and sprinted in 100m-200m races only. So it was after joining Tannie Anna Botha; that he began running 400 meters.
Better known as Ans Botha, his former coach was an athletics coach in her mid-70s. It was her who immensely helped to develop Wayde's career with fierce training and encouragement.
Talking about his education, Wayde van Niekerk got a marketing degree from the university.
You may also like Tori Bowie: Early Life, Career, Retired & Husband.
Wayde van Niekerk: Career
Wayde van Niekerk's career in athletics started when he first joined the school. His parents foresaw his bright future when he ran his first race.
Growing up in a family with rich athletic roots, Wayde always dreamed of continuing his parents' legacy, and he was also granted the gift of outstanding athletic ability.
The athlete made his international debut at the 2020 World Junior Championships in Athletics. He was placed fourth in 200 meters race and thus began realizing his potential.
Following that, his breakthrough came when he earned the gold in 200 meters at the 2011 South African Athletics Championships. Moreover, in 2012, his talent for 400 meters began showing.
His newly found talent soon began forging his career as he set new personal and world records after that. In addition, Wayde won in the 2015 World Championships 400 meters race.
A truly historic moment was when he brought gold for his country in the 2016 Olympic Games men's 400 meters with a new record time of 43.03 seconds at 24 years and 30 days.
He had beaten the record of Micheal Johnson, 43.18 seconds, set in the 1999 World Championship in Athletics.
Wayde found his fortune in the 400m, but the irony is that he hates the event.
Moreover, in 2016, the athlete also became the first to run 100 meters, 200 meters, and 400 meters under 10 seconds, 20 seconds, and 44 seconds respectively.
Similarly, Wayde is the only athlete to run sub-10, sub-20, sub-31, and sub-44 performances at 100m, 200m, 300m, and 400m, respectively.
Wayde van Niekerk: Knee Injury
Wayde van Niekerk faced a significant setback in his career after he sustained a severe knee injury during a celebrity touch rugby game.
The athlete was at the top of his game back then; he had made world records, married his lover, and was even acknowledged by Usain Bolt, the world-famous runner known as the fastest man on the planet, as his heir apparent.
Unfortunately, the knee injury had him off the track from the 2018 Commonwealth games, and he had to spend six months in rehabilitation.
According to the athlete, he sustained medial and lateral tears of the meniscus and tore his anterior cruciate ligament, but he suffered more mentally than physically.
Furthermore, Wayde also revealed that a few fantastic athletes who sustained unfortunate major injuries reached out to him, talked, and motivated him.
Read about: Nozomi Okuhara: Husband, Olympics & Net Worth
Wayde van Niekerk: Comeback
In the 2016 Rio Olympics, Wayde van Niekerk had broken the world record that Micheal Johnson had set for 17 years, despite being placed in the eight-lane, known as the most challenging and outermost lane.
After sustaining that injury, he, like many others, was doubtful, but fortunately, he never lost hope. On the contrary, he disclosed that he had come to peace with everything that happened and is ready to be back more vital than ever.
Since then, he has worked harder than ever and participated in the Tokyo Olympics 2021.
Honorable Mentions:
African Championships Silver medallist x 1
Olympic Games finalist x 1
World Championships finalist x 3
Diamond League meeting winner x 6
Current World Record holder – 400m x 1
Current African Record holder – 400m x 1
World Records in career x 1
Wayde van Niekerk: Personal Life
As someone who has once conquered his career, Wayde is as successful in his personal life. Wayde van Niekerk is married to Chesney Campbell.
The duo met while studying at the University of Free State and have been dating since then.
The beautiful pair got engaged in December 2016, with the athlete delightfully informing his fans on social media.
Since they started dating, Chesney has always been with Wayde and vowed to love each other forever during their wedding in October 2017.
Before the pandemic, we saw couples enjoying their vacations and traveling worldwide.
Furthermore, in early July 2021, the athlete gleefully announced that he would be a father on his social media. The excited couple is expecting and is happier than ever, together as they promised.
Wayde van Niekerk: Net worth
Niekerk leads a luxurious life as a worldwide known athlete and record holder. Wayde van Niekerk's net worth is estimated to be $3 million.
The talented Olympian reached the heights of his career at such a young age and brought his name, fame, and wealth to himself.
Right now, there is no information on his real estate and properties, but from his social media, we assume that the athlete lives quite a lavish life.
Moreover, he has also got various sponsorships and endorsements like Audi cars and Addidas. As a result, the athlete is often seen riding different cars of his partner brand time and again.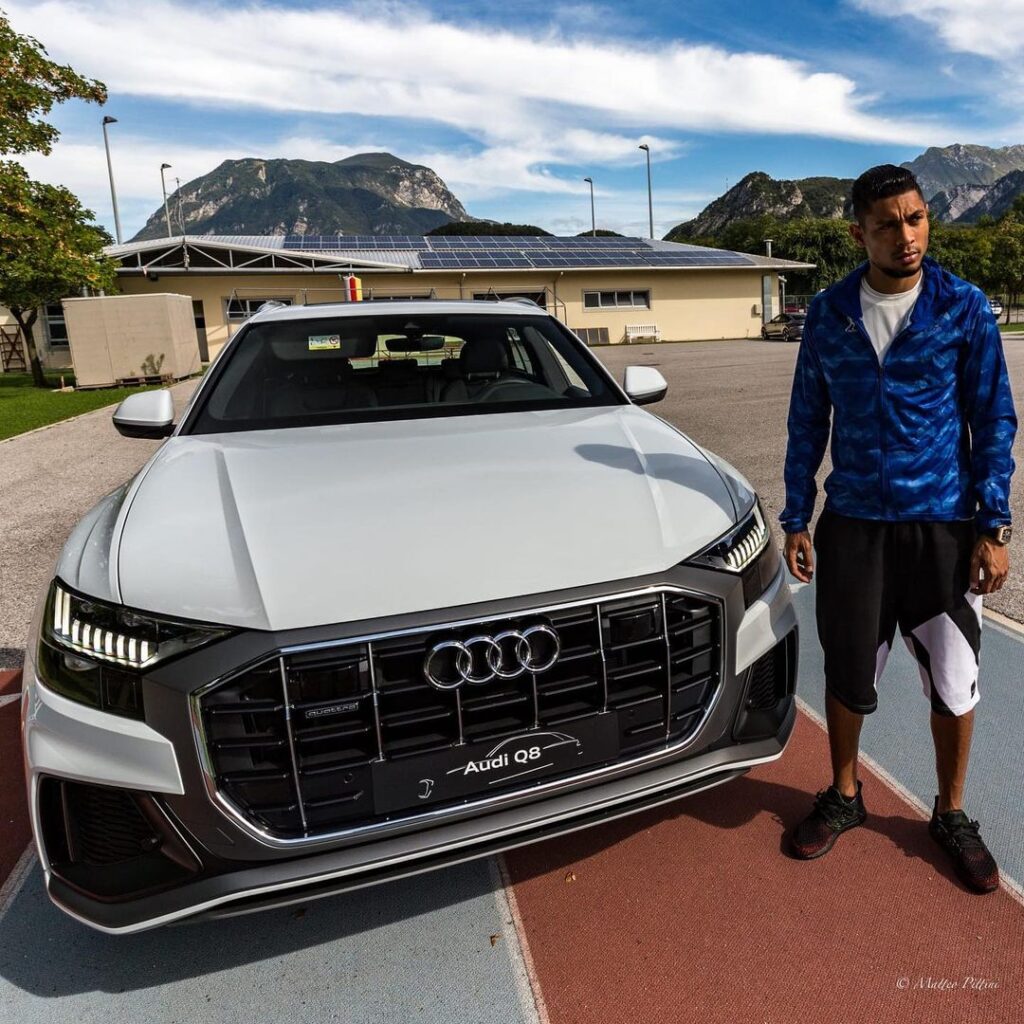 Likewise, his sponsorship with Addidas is estimated to be around $350 000 to $500 000.
Furthermore, he also has his line of merch which is popular among his fans and athletics enthusiasts. The items are available on Amazon and the official site of Addidas.
Wayde van Niekerk: Social Media
There might be hardly a few people who are not involved in social media in this era; similarly, the Olympian Wayde is also active on various social media platforms.
The athlete shares much of his personal and professional life via his social media; hence, his fans are continually updated with whatever is going on in his life. Thanks to social media, we can glimpse the athlete's daily life. Link down below:
Leah Smith Bio | Family, Career, Olympics & Net Worth
Wayde van Niekerk: FAQs
Is Wayde van Niekerk a Christian?
Wayde van Niekerk follows Christianity and is a devout Christian. When he broke the 400 meters world record, he tweeted "Jesus Did It" and "GOD DID IT," showing his faith in the almighty.
When did Wayde van Niekerk get injured?
Unfortunately, in October 2017, just some days after his wedding, a tragic injury to his knee put him out of commission for more than six months. It not only brought physical pain but also got mentally disturbed.