Nozomi Okuhara is a Japanese badminton player best known for her speed, agility, and endurance. She withdrew from the 2022 World Badminton Championship after a right femoral stress fracture and right adductor muscle tear.
When we talk about badminton and the Olympics, a few names have made memorable Olympics journeys.
One such athlete is Nozomi Okuhara, from Omachi, Japan, an outstanding badminton player who has achieved several titles with her effort.
Okuhara was the former World's No.1 in BWF rankings for women's singles.
Her major achievements include a bronze medal at the 2016 Summer Olympics and a gold medal at the 2017 World Championships.
We will learn more about the Japanese player as we proceed with the article. But first, let's look at the quick facts table;
Nozomi Okuhara | Quick Facts
| | |
| --- | --- |
| Full name | Nozomi Okuhara (奥原 希望) |
| Nickname | Unknown |
| Birthdate | 13 March 1995 |
| Birthplace | Omachi, Nagano, Japan |
| Nationality | Japanese |
| Ethnicity | Japanese |
| Religion | Unknown |
| Zodiac Sign | Pisces |
| Age | 28 years old |
| Father's name | Unknown |
| Mother's name | Unknown |
| Sibling | Unknown |
| High School | Unknown |
| Marital status | Not Married |
| Ex-Boyfriend | Unknown |
| Weight | 51 kg/112 lb. |
| Height | 5'1″/1.56 m/156 cm |
| Eye Color | Black |
| Hair Color | Brown |
| Profession | Athlete |
| Country | Japan |
| Sports | Badminton Player |
| Handedness | Right |
| Career Record | |
| Highest Ranking | 1 on 29 October 2019 |
| Current World Ranking | 13 (as of January 2023) |
| Salary | Unknown |
| Net worth | $1 -$5 million |
| Food Habits | Unknown |
| Tattoo | Unknown |
| Social Media | Twitter, Instagram, YouTube |
| Merch | Badminton Equipments |
| Last Update | March, 2023 |
Nozomi Okuhara | Early Life
Nozomi Okuhara was born into a humble Japanese household in Nagano's Omachi city.
At the young age of six, Okuhara picked up an interest in badminton. Later, keeping her interest alive, she joined a badminton academy in her hometown and received her first training.
While focusing on her academics in elementary school, Okuhara began performing well in junior-level badminton.
After showcasing outstanding performance at 14 in 2012, she was chosen for the Japanese national team to represent her country internationally.
Okuhara made her international debut in the 2010 Osaka International Challenge while representing her country.
Nozomi Okuhara | Career
The Rise of Young Nozomi Okuhara (2010 – 2012 seasons)
Just at 16, Okuhara had reached the finale of Lao International. However, she was defeated by Nitchaon Jindapol.
In 2011, Okuhara became the youngest women's singles champion ever at the Japanese National Championships.
She defeated her fellow countrywomen Mayu Sekiya, leading her to win the Austrian championship. The same year, she also won a bronze medal at the World Junior Championships.
With the runner-up title in the Asian Junior Championships, she contributed to her team to gain the victory of the mixed team title.
Despite her young age, Okuhara won her maiden Grand Prix title at the Canada Open in July 2012.
The Japanese badminton player finished third at the 2011 BWF World Junior Championships. However, she won the gold at the 2012 World Junior Championship a year later.
The 2013 – 2014 Seasons
At the beginning of the 2013 season, Nozomi Okuhara suffered a severe knee injury in the third game of her quarterfinal match against Saina Nehwal at the Malaysia Open.
For almost a year, Okuhara remained out of the international circuit due to the injury.
Finally, in November, she bounced back in the competition as she participated in her first tournament since her previous appearance in the China Premier tournament in January 2013.
Okuhara made up for her loss in the previous season by winning New Zealand Open in 2014 by defeating Kana Ito in the final.
Similarly, she also won the Vietnam Open and Korean Grand Prix titles.
In Hong Kong Open, she made her first Superseries' final appearance after defeating reigning world champion Carolins Marn in two very one-sided games in the semifinals.
However, she lost in the final contest against Tai Tzu-Ying.
The Progress In The 2015 season
At the beginning of the 2015 season, Nozomi Okuhara swept away two Grand Prix titles in Malaysia and United States.
She defeated her fellow countrywomen Sakaya Takahashi and Sayaka Sato on both occasions. Similarly, she also secured victory in the China International Challenge event.
During the Malaysian Superseries quarterfinals, she played against Wang Shixian for the longest Women's singles match in history. As both players refused to face defeat, they continued to compete for 111 minutes.
Despite the tough endurance during the game, Okuhara faced the loss and was severely cramped.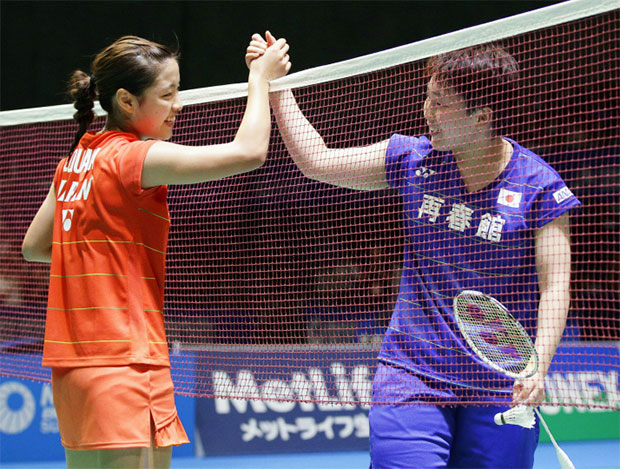 Later, in 2015, she won her first-ever Superseries title in the final at Japan Open. With a score of 21–18, 21–12, she beat Akane Yamaguchi.
Okuhara was seeded 9th in the World Championships in Jakarta. However, she could not go beyond Thai Porntip Buranaprasertsuk in the first round, despite beating her twice previously.
Like her previous season's result, she once again reached the final of the Hong Kong Open. Later, she was defeated by Carolins Marn in a three-game match with a razor-thin margin.
Nozomi Okuhara won the Dubai World Superseries final at the end of the 2015 BWF season. She overcame all her opponents, including Saina Nehwal, and Tai Tzu-Ying, on her way to the finals without dropping a single game.
She defeated Marin twice in both the preliminary round and semifinals with very one-sided scores.
In the finals, she defeated Wang Yihan 22-20, 21-18.
The 2016 Season
On her birthday, Okuhara won the prestigious All-England Open after defeating Wang Shixian. She won the match with scores 21-11, 16-21, and 21-19, becoming the first Japanese women's singles player to hold the title.
Nozomi Okuhara was seeded sixth for the 2016 Olympic Games in Rio de Janeiro. In the quarterfinals, she defeated her opponent, Akane Yamaguchi, 11-21, 21-17, and 21-10 to advance to the semis.
Then, she competed with then-No.9 seed P.V. Sindhu in the semifinal. Okuhara had no answers for India's aggressive style and lost two games in a row, 19–21 and 10–21.
In her bronze medal match against Li Xuerui of China, she was given a walkover as her opponent was injured and could not play.
Nozomi became the first Japanese woman to win an Olympic medal in badminton singles.
Okuhara experienced shoulder difficulties at the China Superseries in November. The injury forced her to retire from the Hong Kong Open, which ruined her chances of defending her Dubai Superseries Finals title.
The 2017 Season
After retiring for a while, Nozomi Okuhara came back stronger than ever in the 2017 season. She won over Akane Yamaguchi and claimed her first-ever Australian Open title.
Later, she competed at the World Championship, seeded seventh, continuing her strong form. She defeated Marin, the two-time champion, in an hour and 33 mins battle.
Okuhara also won a hard-fought semi-final match against Saina Nehwal after losing the opening game. Similarly, in the final, she went up against P.V. Sindhu. This time, Okuhara booked a victory against her with scores 21-19, 20-22, and 22-20.
With both players not wanting to lose, the match stretched for 1 hour and 50 minutes, making it the second-longest match in Women's singles badminton ever.
With her triumph, Okuhara became the first Japanese woman to win the World Championships since 1977.
Following her victory on the world stage, she advanced to the Korean Open Premier Superseries final, where P.V. Sindhu took the win over Okuhara.
However, she later had a knee injury, and as a result, her performance worsened. She thought it would be wise not to compete in the Dubai Superseries Finals to avoid aggravating her knee concerns.
2018 Season
At the beginning of the 2018 season, Nozomi Okuhara led Japan to victory in the Uber Cup after 37 years. In the final, Japan defeated Thailand by a 3-0 difference, and Okuhara remained undefeated in all the matches.
She reached the World Championships in Nanjing as the reigning champion. However, she lost in the quarterfinals against P.V. Sindhu, the player she beat in the 2017 final.
Later, Okuhara won the Thailand Open Super 500, making it her first-ever World Tour Title. Then, she won the Thailand Open by defeating P.V. Sindhu.
She also advanced to five additional finals, winning two of them in Korea and Hong Kong, both Super 500 tournaments.
Okuhara made it to the final of the Singapore Open. However, he was defeated by Tai Tzu-Ying.
She also advanced to the Australia Open and Japan Open finals but lost to Chen Yufei and Akane Yamaguchi, respectively.
Okuhara was seeded third in the World Championships. She overcame He Bingjiao and Ratchanok Intanon on her way to the finals of the event, where she faced P.V. Sindhu. She was defeated 7-21, 7-21 by the Indian player, and had to settle for silver.
The Achievements In The 2019 – 2021 season
On October 29, 2019, she achieved the Tai Tzu-Ying Ranking 1 position.
After losing to Chen Yufei in the Fuzhou China Open with the scores 21–9, 12–21, and 18–21, she finished second for the sixth time in a row.
Later, she competed in the World Tour Finals in Guangzhou, where she had the best start, beating her group-stage opponents. However, she was defeated in the semi-finals by Tai Tzu-Ying.
Nozomi Okuhara won the 2020 Denmark Open after defeating Carolina Marin.
She hadn't won a World Tour Title in over two years, having previously won at the Hong Kong Open in 2018.
Early Exit From The 2020 Tokyo Olympics
After joining compatriot Kento Momota in an early exit from the Olympics, Japanese badminton ace Nozomi Okuhara expressed optimism that her country's younger generation might learn from her mistakes.
Okuhara, the then-third seed in the women's singles, was knocked out in the quarterfinals by Chinese then-eight seed, He Bingiao, losing 12-21, 21-13, 21-14.
The former world number one & world champion, a heartbroken Okuhara, advised Japan's future players to be cautious during the 2024 Paris Olympics.
2021 – 2022
After winning in 2016, Okuhara won her second England Open title in 2021 by defeating Pornpawee Chochuwong.
The Japanese badminton player did not participate in the 2022 World Badminton Championship.
The Nippon Badminton Association (NBA) made the announcement on August 19 that the 2017 women's singles World Champion had suffered a right femoral stress fracture and right adductor muscle tear and will not be able to participate in the championship.
However, the chief coach for the Japanese badminton team was disappointed with the withdrawal of Okuhara.
Nozomi participated in the 2022 Denmark Open, where she booked a win in the round of 32 against Lianne Tan and lost her round of 16 game against Pai Yu Po.
Nozomi Okuhara | Relationship
The 28-years-old champion, Nozomi Okuhara, is not dating anyone. At present, the Olympian is single and focusing on herself.
Similarly, regarding her past relationships, there has not been any information.
Thus, it comes to light that our outstanding champion has not been linked in any romantic relationships so far.
Nozomi Okuhara | Net Worth
The young badminton champion's net worth has grown significantly in recent years.
The badminton star is seen advertising for a Japanese sports equipment and sportswear company, Mizuno Corporation.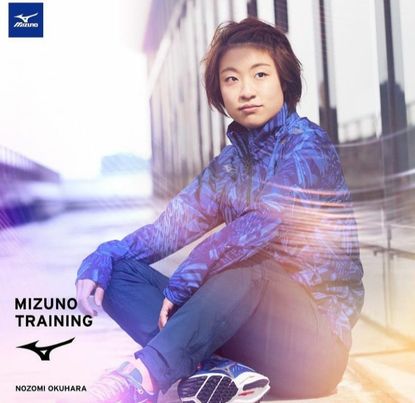 Nozomi Okuhara is estimated to be have an net worth of around $1 million to $5 million. Likewise, she makes the most of her money from different endorsement deals.
Nozomi Okuhara | Social Media Presence
The athlete is active on her social media like Instagram and Twitter. She frequently posts pictures of her games, practices, and some endorsement posts.
You can follow her on Instagram @okuharanozomi and Twitter @nozomi_o11. She also has a YouTube channel named -nozomiokuhara-channel1956, where she posts her vlogs.
Instagram: 200k followers
View this post on Instagram
Twitter: 171.7k followers
YouTube: 78.1k subscribers
Nozomi Okuhara | Popularity
Nozomi, being a former world's number 1 in the BWF rankings, has inspired millions of aspiring badminton players and gained a huge number of fans worldwide.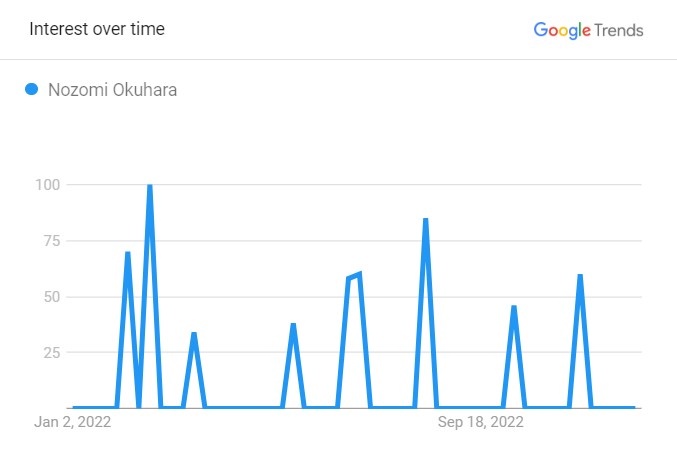 The above image gives brief information regarding the popularity of the Japanese badminton player based on Google searches over a year in the United States.
Nozomi Okuhara | FAQs
Which racket does Nozomi Okuhara use?
Since the Sudirman Cup in May 2019, Nozomi Okuhara has utilized the newest model, "ALTIUS 01 FEEL."
Is Nozomi Okuhara injured?
Nozomi had a right femoral stress fracture and right adductor muscle tear, due to which, she had to withdraw from the 2022 World Badminton Championships.