Wayne Gretzky Brother Keith, Brent, and Glen, have all made significant contributions to the world of hockey in their own unique ways.
Wayne Gretzky, born January 26, 1961, is a former professional ice hockey player and head coach from Canada. His stamina and comprehension of the game make him stand out from others.
Gretzky played 20 seasons in the NHL, from 1979 to 1999. Similarly, his coaching career spanned from 2005 to 2009. When the athlete retired, he held 61 NHL records, most of which still stand today.
The ice-hockey GOAT has a whopping net worth of about $250 million as of 2023.
Gretzky tallied 894 goals in the NHL and WHA and scored an additional 26 goals in international tournaments. As the center and team captain, he led the Oilers to four Stanley Cup victories. This is just a glimpse of his non-exhaustive list of achievements.
Gretzky's impact extends beyond his playing career. His coaching career spanned from 2005 to 2009. As a minority owner and head coach of the Phoenix Coyotes, he has solidified his status as an ice hockey icon.
His outstanding skills, strategic proficiency, and enthusiasm for the game have left a permanent impression on the history of hockey. It has cemented his legacy as one of the greatest ice-hockey players of all time.
Wayne Gretzky Brother
Wayne Gretzky, the iconic figure in the world of ice hockey, has three brothers: Keith, Brent, and Glen. They have made their own contributions to the sport and beyond.
Wayne also has a sister named Kim, who has pursued a career in healthcare.
Keith Gretzky, born on February 16, 1967, pursued a career in hockey as both a player and an executive.
Keith had a successful career in the Ontario Hockey League (OHL). He played with teams like the Brantford Alexanders, Windsor Spitfires, Belleville Bulls, and Hamilton Steelhawks.
After retiring as a player, Keith ventured into coaching and scouting.
Later, he also became an executive in the hockey industry, where he served as the interim general manager for the Edmonton Oilers in 2019. He also held positions with teams like the Tri-City Americans, Phoenix Coyotes, and Boston Bruins.
Brent Gretzky
Brent Gretzky, born on February 20, 1972, had a short-lived but notable NHL career. Although he didn't achieve the same level of success as his older brother Wayne, Brent had his moments on the ice.
He appeared in 13 NHL games, mostly with the Tampa Bay Lightning.
His time in the NHL was brief; however, Brent excelled in the United Hockey League (UHL). He played with teams such as the Asheville Smoke and Motor City Mechanics, accumulating impressive statistics and showcasing his skills.
Glen Gretzky
Glen Gretzky, the youngest of the Gretzky brothers, faced physical challenges since childhood. It prevented him from pursuing a career in competitive hockey.
Born with a club foot, Glen was unable to skate without experiencing significant pain. However, his determination and love for the sport never wavered.
Despite not playing professionally, Glen has made valuable contributions to the hockey community. He is actively involved in the Wayne Gretzky Foundation, a foundation that aims to support youth in various areas like health and education.
Family Tree
The Gretzky family tree showcases a rich lineage of talent and accomplishment across multiple generations.
Wayne Gretzky is the son of Walter Gretzky and Phyllis Leone Hockin. He married Janet Jones on July 6, 1988, and they have five children: Paulina, Ty Robert, Trevor Douglas, Tristan Wayne, and Emma Marie.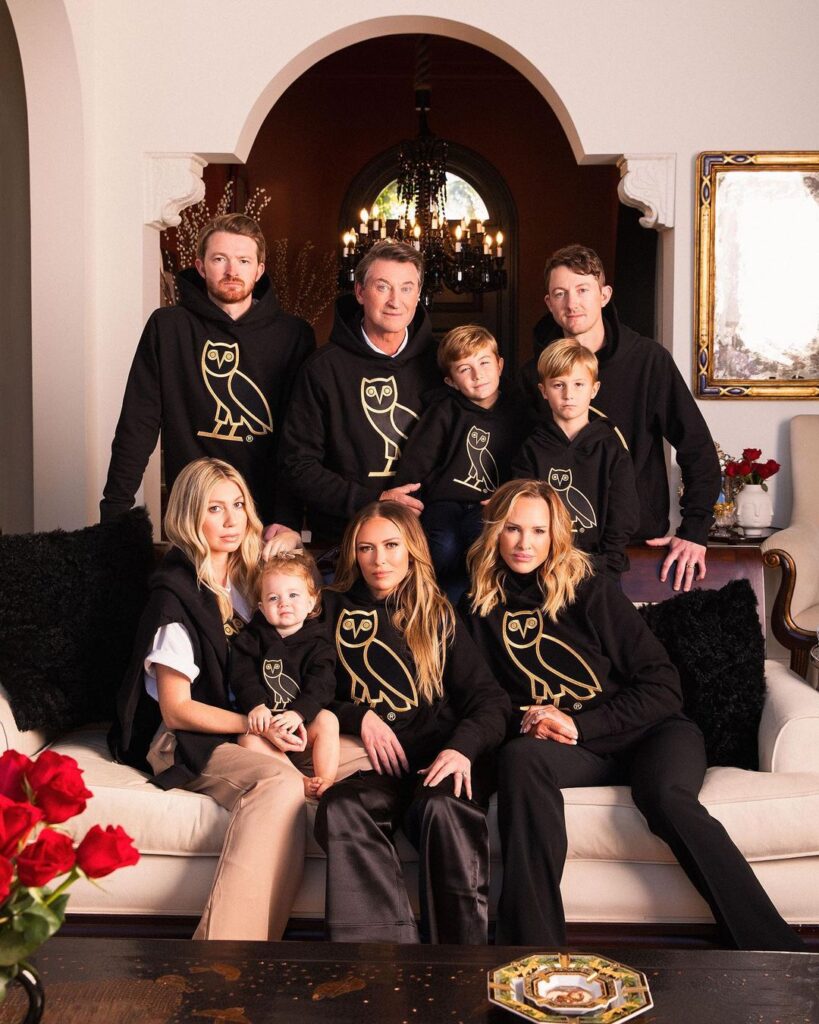 Wayne's family tree extends further as he is the grandson of Anton Gretzky and Mary Purnis, as well as Joseph Hockin and Ethel Bertha Henderson.
Wayne is also a grandfather to Tatum Gretzky Johnson and River Gretzky Johnson. They were born to Paulina and her husband, golfer Dustin Johnson.
Additionally, Wayne is the grandfather of Sicily Gretzky, the daughter of Ty, and his wife, Sara.
With a strong family foundation, Wayne Gretzky's legacy continues to grow as his children and grandchildren carve their own paths in various fields, including acting, golfing, and entrepreneurship.