Chuck Hellebuyck and Erin Hellebuyck are the father and mother of Connor Hellebuyck. His mother is a writer of children's books, while his father, Chuck, works in the field of technical training engineering.
Connor Charles Hellebuyck is an American professional ice hockey goaltender who currently plays for the Winnipeg Jets of the NHL.
He was drafted 130 overall in the fifth round of the 2012 NHL Entry Draft by the Jets.
Hellebuyck signed a three-year, entry-level deal with the Jets on April 5, 2014, and he decided to forego his remaining two years of NCAA eligibility.
He had a record of 26-19-4 in 56 games during his debut season as a starter.
Connor Hellebuyck Parents
Connor Hellebuyck was born on May 19, 1993, in Commerce Township, Michigan, U.S., to his parents, Chuck Hellebuyck and Erin Hellebuyck. His full name is Connor Charles Hellebuyck.
Conor was raised with his two elder brothers throughout his youth.
His father is a technical training manager at Microchip Technology Inc. He also posts stuff related to technology and 3D printing on his own YouTube channel and other social media handles.
His mother is a writer with a specialty in children's books. She is best known for writing the small book that illustrates Harry Potter's Hogwarts home.
Connor is the middle kid. Growing up, the siblings in this family had vastly different interests and pursuits.
Chris, the eldest son, found his passion in the world of gaming and electronics.
At just 14 months older than his younger brother, he had already started his own business, Gamers Option, where he created custom-designed Xbox controllers and even hula hoops that lit up with vibrant colors.
Meanwhile, Brittany, Connor's sister, had set her sights on a career in engineering, with a focus on biomedical engineering.
Connor Hellebuyck Wife & Kids
Meet Andrea Fanciullo, the pretty wife of NHL player Connor Hellebuyck. She is the daughter of Diane Eatherton and Joseph Fanciullo.
Ms. Fanciullo competed in the long jump competitions while she was a UMass Lowell Cross Country/Track & Field team member.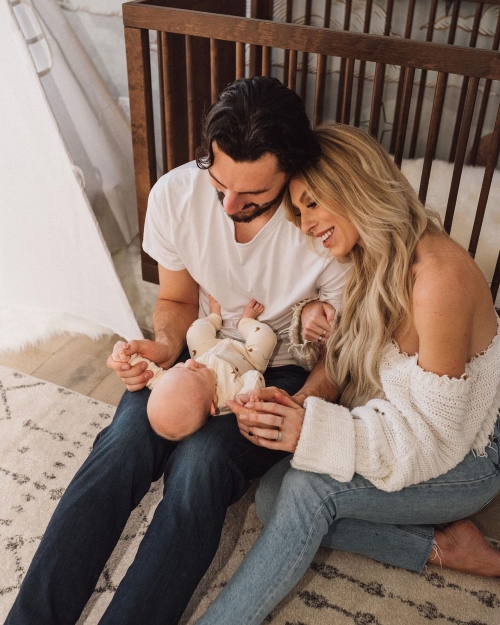 Andrea, a former long jumper and sprinter for UMass Lowell, attended North Middlesex Regional High School and North Middlesex Regional.
Hellebuyck and his wife Andrea gave birth to a baby boy on Nov 2, 2021. Similarly, as of this writing, Andrea is in her second pregnancy. She is due in July. On February 24, she shared an Instagram post with the caption, "~Baby Girl joining us in July~ 🌸🤍."
Career
Hellebuyck participated in one season as a junior hockey player for the Odessa Jackalopes, a team that had previously been a minor league affiliate of the New York Islanders.
While playing in Odessa, Hellebuyck progressed from being a relatively unknown to a top prospect, and after his season there, he was selected in the first round by the Winnipeg Jets.
In his freshman season, he appeared in the Frozen Four and won the Hockey East Championship.
On February 4, 2021, as the Jets defeated the Calgary Flames 4-1, Hellebuyck won his 153rd NHL game, shattering the Jets/Thrashers team record for most victories by a goalkeeper.
Hellebuyck participated in his 380th game as a Winnipeg Jets on April 24, 2022, when he achieved his 200th career triumph.