Randy Johnson Girlfriend: The 2002 Triple Crown winner Randy Johnson often gets queries if his significant other, Lisa Johnson, is his girlfriend or wife.
Johnson, a former MLB pitcher, has been enjoying a marital life of 30 with his wife Lisa. The couple share four children.
Randy also has an estranged daughter from his previous relationship, which makes him a father of five biological kids.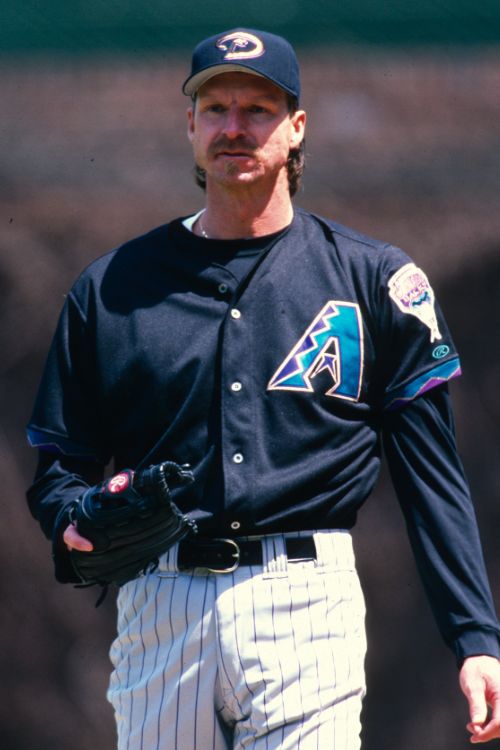 The three-time World Series champ played 22 seasons (1988- 2009) in the MLB for six teams, primarily with the Mariners and the Diamondbacks.
At 46, on January 5, 2010, he retired from the MLB and pursued his passion as a photographer. He has studied photojournalism at the University of Southern California.
He concluded his MLB career with a win-loss record of 303–166, an ERA of 3.29, and 4,875 strikeouts. In 2001, he and Curt Schilling became the World Series Most Valuable Players.
Johnson ranks all-time #2 to have the most strikeouts. He is among one of four baseball stars to have 4000+ strikeouts: Nolan Ryan (#1), Roger Clemens (#3), and Steve Carlton (#4).
In 2015, he was elected to the Baseball of Fame, joining the likes of Pedro Martínez, John Smoltz, and Craig Biggio.
Randy Johnson Girlfriend Or Wife: Who Is Lisa Johnson?
Lisa Johnson is the wife of the retired MLB player Randall David Johnson. Her birth name is Lisa Wiehoff.
Born in June 1964, she is only eight months younger than her husband and is 59 years old as of 2023.
They've been married for three decades since they exchanged vows on November 6, 1993, following Randy's sixth season in the MLB.
The wedding was a double celebration for him as it recorded his then-career best 308 strikeouts and was second in Cy Young voting.
As reported, Randy and his wife met at a charity golf event, though the details of their courtship remained under wraps.
At that time, the 1985 MLB draft pick played for the Seattle Mariners while his future spouse, Lisa, was a Photoshop manager.
But after, she quit her job to start a family with Johnson.
Johnson And His Wife Share Four Children
Together, Randy and Lisa are parents of four children (three daughters and a son), who are now grown-ups.
Their children are Samantha (b. December 28, 1994), Tanner (b. April 5, 1996), Willow (b. April 23, 1998), and Alexandria (b. December 4, 1999).
Johnson's only son, Tanner, aka TJ, was the San Francisco Giants bat boy when his father won his 300th game. He is an alumnus of the University of Arizona and is now a police officer.
Tanner is married to Jazmine Johnson and shares a child with his wife.
Randy's third child (second-youngest), Willow, played volleyball at Notre Dame Preparatory (2012-16) and the University of Oregon (2016-20).
According to her LinkedIn, she works as a server at Pitch Pizzeria (January 2023- now).
A graduate with a BS in Art and Technology, she was a part-time volleyball coach at Victorium from April 2021 to November 2021.
Then, she worked part-time at The Henry before becoming a customer experience manager at GTN Technical Staffing and Consulting (November 2021- January 2023).
The details on the other two daughters (Samantha and Alexandria) of the retired MLB player are not out.
Randy Johnson's Estranged Daughter From Ex-Girlfriend
Johnson, the 5-time Cy Young Award winner, is the father of a daughter, Heather Renee Roszell (b. September 4, 1989), with his ex-girlfriend Lauren Roszell.
However, the retired MLB player is estranged from his "love child," Heather, who lives in Langley, Washington.
Randy and his then-girlfriend, Lauren, began dating in 1988 when the latter was working at the Lawrence Livermore National Laboratory in California.
They broke up when she was pregnant with their daughter. The baseball star has seen his daughter only once but provided financial expenses.
According to court documents, he agreed to pay $5,000 per month in child support for Heather and another $750 in monthly daycare expenses in 1997.
In a 2006 interview with the New York Post, Heather stated that she used to write letters to her father, but he coldly responded.
"I would get cards back from him with just his signature."
So, she stopped writing him and later confirmed that she 'didn't have a relationship with him.'