Many people had no idea, but the late professional football player DJ Hayden had been dating his girlfriend, Sky Bianca, for some time. Unfortunately, their relationship has ended in a way the couple had never imagined.
Hayden lost his life recently, alongside his five friends, in an accident on November 11, 2023. He was just thirty-three. With this, the football fans are mourning the loss of one of their favorite athletes and offering sympathies to his loved ones.
This article will cover in detail about his love life and kids. Please read it to the end to explore more about the late athlete's life.
Derek Sherrard Hayden Jr., better known as DJ Hayden, began his NFL career in 2013. In the draft, the Houston-born cornerback was chosen as the 12th overall pick by the Oakland Raiders.
Following his selection, DJ appeared in nine NFL seasons for four teams, including the Raiders. Throughout his professional career, he played 92 games, with four interceptions and 328 tackles.
Before his NFL debut, he played collegiate football for Navarro College and Houston Cougars.
Even though he was not associated with any NFL team, Hayden had not announced his retirement yet.
Who Is Sky Bianca? DJ Hayden Girlfriend Or Wife
As mentioned earlier, Sky Bianca was the girlfriend of the late American professional football player DJ Hayden.
In fact, her relationship with the famous NFL player was also a secret, as they both wanted to keep it a low profile.
As far as we know, DJ and Sky had been in a relationship for over two years and raised three kids together.
She first posted a picture of her with DJ in September 2021, captioning, "Hate to see y'all frown, but I'd rather see him smile."
Before he was with Sky, DJ was in a relationship with Keera Battin, with whom he had two daughters- Dylan and Demi. After separation, the pair co-parented their kids so that both Dylan and Demi grow in the presence of both their parents.
Also, DJ and Keera's kids enjoy spending time with his girlfriend, Sky, and her son, Zeaux, from her previous relationship.
Little On DJ's Previous Partner, Keera Battin
DJ Hayden was previously in a relationship with Keera Battin, a professional physical trainer.
Originally from Texas, she attended Hightower High School in Missouri City. She later pursued her undergraduate degree at Prairie View A&M University.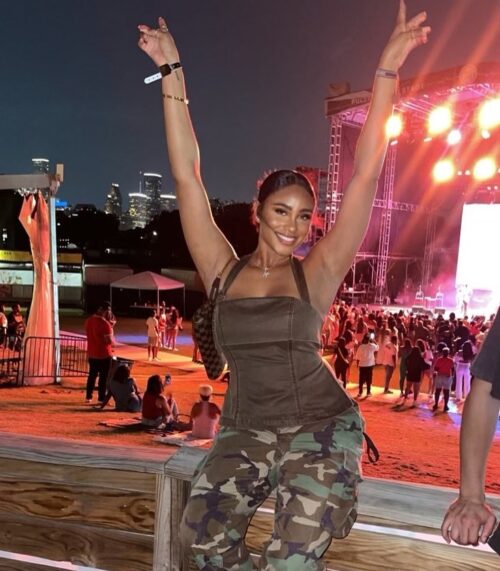 As per her social media bio, she is involved in several businesses besides having her fitness center, KB Fit Zone. Based in Houston, Texas, she also works as a real estate agent.
Speaking of her relationship with DJ, it is unclear when they met, but they hailed from the same place.
In 2019, Keera made news headlines after Hayden reportedly bought her a new Range Rover soon after he signed a three-year contract worth millions with the Jacksonville Jaguars.
Although the two never married, they later became the parents of their two daughters- Dylan and Demi.