Payton Pritchard comes from a family with a strong athletic background that undoubtedly played a big part in his own sports career.
His father, Terry Pritchard, has a wealth of coaching experience, having served as the former Head Coach at Basketball Sports Training for eighteen years.
Terry himself was previously a football player at Oklahoma, while Payton's mother, Melissa, actively participated in the Sooners' gymnastics team.
Payton Pritchard, born on January 28, 1998, is an American professional basketball player for the Boston Celtics of the National Basketball Association (NBA).
During his high school career at West Linn High School, he secured four consecutive state titles and earned several awards.
Later, he chose to play at the University of Oregon Ducks over Oklahoma, where his father, Terry, played football.
In 2020, Pritchard's professional career took off when he was chosen as the 26th pick in the first round of the NBA draft by the Boston Celtics.
Moreover, he signed a four-year, $10.5 million rookie contract with the Celtics and debuted for the team against the Philadelphia 76ers on December 15, 2020.
Who Is Terry Pritchard? Payton Pritchard Dad
Payton Pritchard's sports journey was significantly influenced by his parents, Terry and Melissa.
Terry, who played football at Oklahoma, and Melissa, who competed in gymnastics for the Sooners, created a sports-oriented environment for Payton.
Since he was young, Payton was trained by his father, who was a basketball coach. Despite being a former college football player, he became a basketball coach.
During his college years, Payton's father encouraged him to involve his teammates in the offensive front, which developed his skills.
Reflecting on his father's perspective, Payton once shared, "My dad always told me he'd almost be mad at me if I scored 50 points or anywhere near 45 and up."
He added, "Honestly, if you are scoring that in a high school game in only 32 minutes, your other teammates aren't touching the ball enough, and you're not getting other guys' shots."
Moreover, Terry found a new passion and works as the New Business Development Manager National at Bieri Brokerage.
Payton Pritchard's Siblings
Payton Pritchard comes from a loving family that includes two sisters, each with their own connection to basketball.
His older sister, Taylor Forward, tied the knot to Robert Forward and has two sons, Jagger and Brooks.
Both Taylor and Payton share a passion for basketball. Meanwhile, the youngest sibling, Lexie, is also a basketball enthusiast.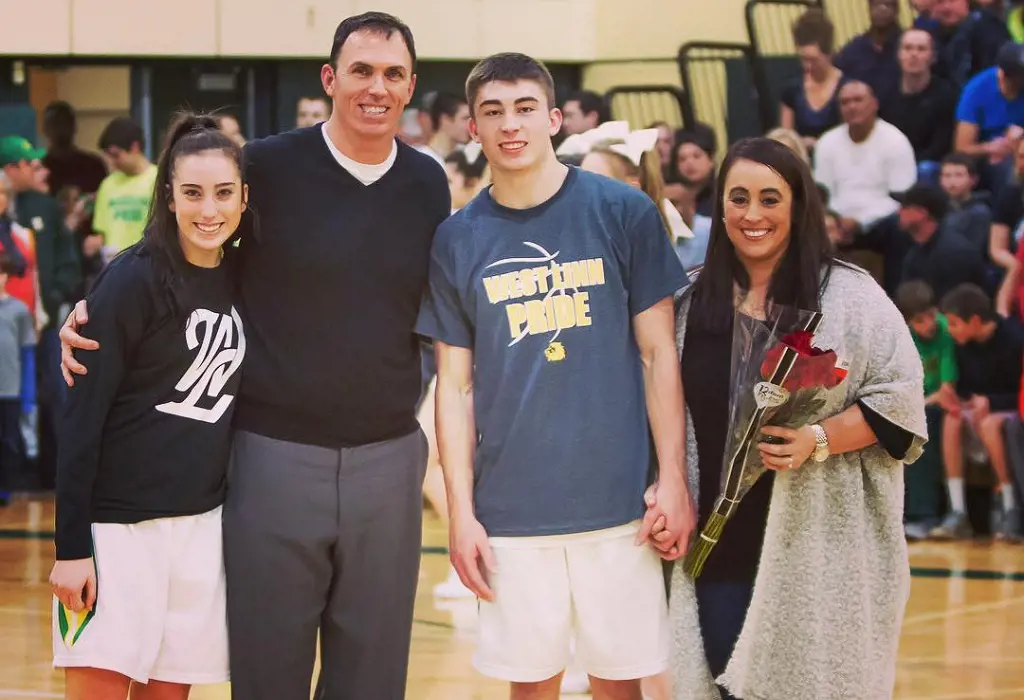 She attended West Linn High School and played as a guard at Santa Clara University from 2018 to 2022.
Despite the physical distance, Payton maintains a strong and meaningful bond with both of his sisters.