The comedian Tom Grossi was nominated as the 2023 Packers NFL Fan of the Year.
Since Grossi was 6, he has been a Packers fan, and growing up in New York, there wasn't much Packers fan around.
It was in a 2002 game, where the Packers defeated the New York Giants that he saw Packers fans in person.
He was one of the few people in his location to support the Green Bay team and the only one in his college to support the Packers.
A well-deserved award, we must say. Let's learn more about this crazy Packers fan.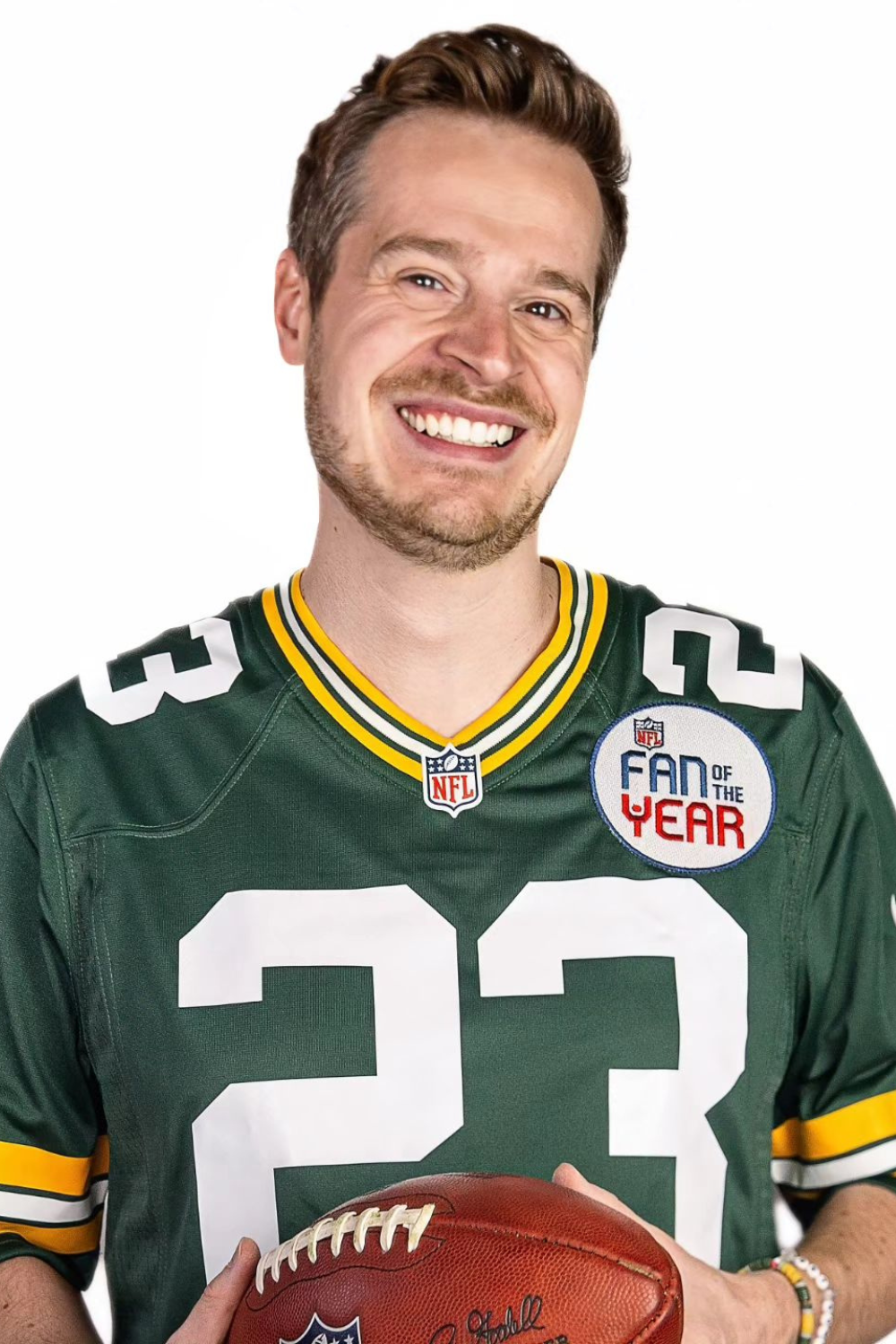 Tom Grossipossee, born on September 16, 1990, is an American YouTube content creator and comedian.
He wasn't always the Packers fan; he grew up as a Dallas Cowboys fan but later turned into a die-hard Packers fan.
The Master's Degree holder is a former K-12 educator who taught a variety of political science and history disciplines.
Simultaneously, Tom started a YouTube channel where he creates NFL content. Additionally, in 2018, he released his debut comedy album "Allergic to Fun."
Moreover, in 2015, the Packer Fan of the Year started Packast, an NFL podcast from the perspective of a comedian.
Tom Grossi Raised over $500k In Fundraiser
Comedian/Podcaster/YouTube Tom Grossi, who impersonates fans of different teams, was awarded the Green Bay Packers Fan of the Year for 2023.
Grossi concluded his remarkable "30 in 30" project, which involved visiting 30 NFL stadiums in 30 days, with the aim of raising $100,000.
All the proceedings were promised to be donated to St. Jude Children's Research Hospital.
This noble cause exceeded its financial goals but also etched an enduring chapter in football history. The project garnered tremendous support, ultimately raising over $300,000.
The 33-year-old content creator initiated this ambitious plan on April 27, coinciding with the start of the NFL Draft.
Grossi marked the end of his journey at SoFi Stadium in Inglewood and raised over $500,000, more than expected.
The YouTuber with a heart of gold had only one intention behind this initiative: to do something impactful.
It all began with a seemingly random thought on Valentine's Day, which led him on this extraordinary journey.
Tom Grossi Pockast
Following the heartbreaking loss to the Seahawks in the 2014 NFC Championship, Tom Grossi transitioned his previously audio-only podcast to YouTube.
Expanding his reach and influence, he utilized his platform for various acts of philanthropy, notably in 2021, 2022, and 2023, where he raised funds.
A distinctive feature of his podcast, Packast, is the live-streamed reactions to Green Bay Packers games, with Tom Grossi providing real-time commentary.
In mid-2021, this coverage extended to the NBA Finals, especially as the Milwaukee Bucks played and ultimately emerged as champions.
Some of the notable guests on Packast have included prominent figures such as Packers President and CEO Mark Murphy, Super Bowl Champion and former Packers running back Ryan Grant, former Green Bay Packers Tight End Jace Sternberger, and Green Bay Packers Running Back AJ Dillon.