Matheus Cunha tattoo tells a unique story, reflecting Cunha's unwavering faith, indomitable determination, and relentless pursuit of victory.
From expressions of gratitude to displays of inner strength, Cunha's tattoos offer a glimpse into his personal journey both on and off the soccer pitch.
Matheus Santos Carneiro Cunha is a renowned Brazilian professional soccer player recognized by his commonly known name – Matheus Cunha.
He currently plays as a forward for Wolverhampton Wanderers, a Premier League club, on loan from Atlético Madrid, a La Liga club.
Similarly, Cunha has also represented the Brazil national team in international competitions alongside Brazilian star player Neymar Jr.
Wolves: How Many Tattoos Does Matheus Cunha Have? Their Meaning And Design
In addition to his remarkable skills on the field, Matheus Cunha is also renowned for the meaningful tattoos that adorn his body.
From expressions of faith to messages of determination, Cunha's tattoos tell a story of his beliefs and values.
One of his prominent tattoos is located on his neck and reads "abencoado por deus", which translates to "blessed by God" in English.
This tattoo reflects Cunha's deep religious beliefs and is a constant reminder of the higher power he acknowledges in his life.
Cunha's faith is further displayed through a cross tattoo on his neck. Moreover, the cross tattoo is a visible expression of his religiousness, symbolizing his unwavering faith.
In addition to his neck tattoos, Cunha also has meaningful inscriptions on his thighs.
Written in Portuguese, the tattoos say "Viver" and "Vencer," which mean "life" and "victory," respectively.
These tattoos are visible during training sessions, encapsulating Cunha's determination to live life to the fullest and strive for victory in all his endeavors.
Cunha uses tattoos as a form of self-expression, allowing him to convey his beliefs, values, and personal experiences.
Tattoos have become a popular form of expression for athletes, allowing them to convey their beliefs, values, and personal experiences.
For Cunha, his tattoos are not just ink on his skin, but meaningful messages that hold deep significance for him.
From Underdog to Top dog: The Rise of Cunha
Cunha started his soccer career in Brazil, playing in the youth academy of Coritiba.
At the age of 18, he moved to Europe and joined the Swiss club Sion. He later played for Bundesliga clubs RB Leipzig and Hertha BSC before transferring to Atlético Madrid in August 2021.
In September 2020, Matheus Cunha received a coveted call-up to join the senior Brazil squad for the 2022 FIFA World Cup qualification matches against Bolivia and Peru, slated for October 9th and 13th, respectively.
Cunha made his much-anticipated debut for the senior national team on September 2, 2021, during a World Cup qualifier match against Chile.
The game ended in a thrilling 1-0 away victory for Brazil, with Cunha taking the field as a substitute, replacing Gabriel Barbosa in the 78th minute.
This landmark moment marked Cunha's official entry into the senior national team, underscoring his talent and potential as a rising star in the world of soccer.
Matheus Cunha Family
Matheus Cunha is engaged to his longtime partner Gabriela Nogueira, marking a joyous milestone in their relationship.
Hailing from Rio de Janeiro, Brazil, Gabriela has been by Matheus' side, supporting him in his soccer career.
In 2020, the couple's love story took a beautiful new turn with the arrival of their adorable son Levi into the world.
Since becoming parents, they have generously shared glimpses of their parenthood journey on social media.
Their heartwarming pictures showcase precious family moments that resonate with their fans.
Furthermore, Gabriela often attends her fiancé's game with their son by her side. She is his biggest cheerleader as he pursues his soccer career.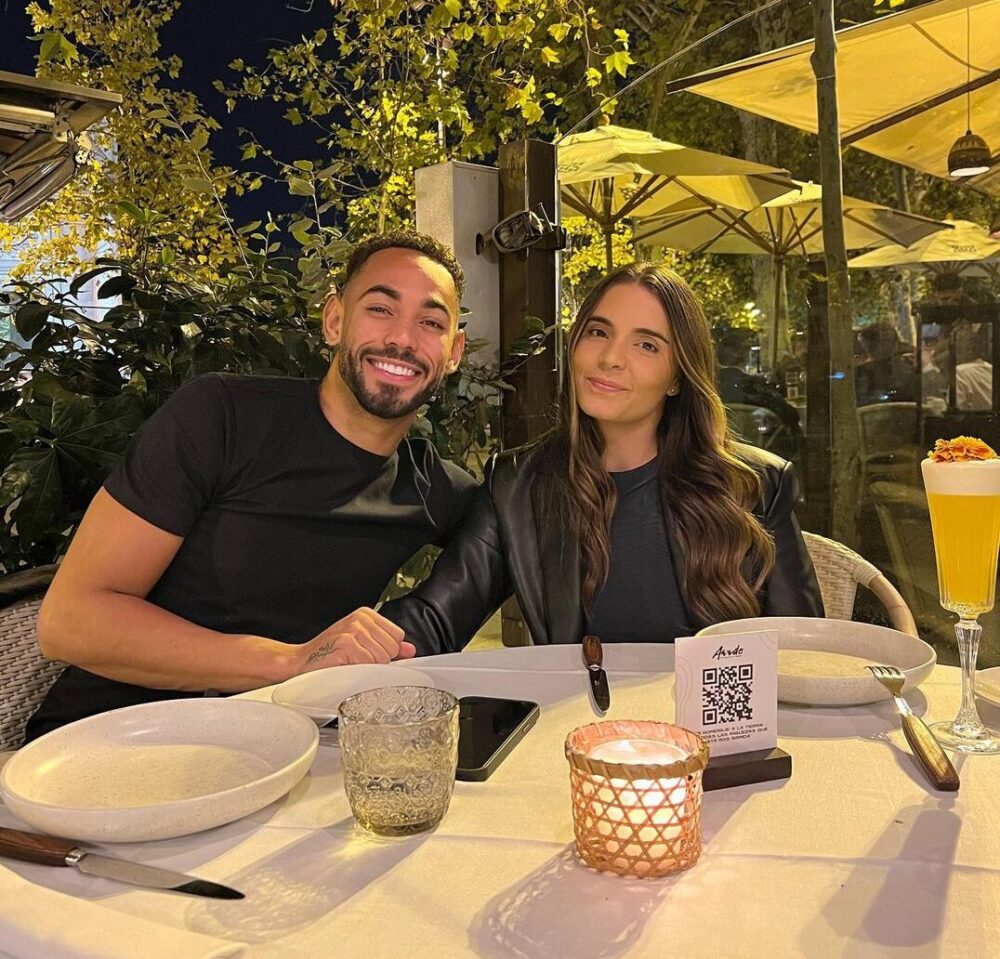 Apart from their family life, Matheus Cunha and Gabriela Nogueira's love for travel is evident from their social media posts.
From romantic getaways to breathtaking destinations, the couple has been exploring the world together, creating cherished memories.
Gabriela fills her Instagram account with stunning photos of the couple's adventures. It includes their trips and city escapades, showcasing their love for adventure and each other.