What is the foremost thing that pops into your mind when someone utters the word 'Golf?' Donald Trump? Tiger Woods? or Xander Schauffele?
Frankly, Xander Schauffele is one of the most common and reputed names who ranks as the No. 5 player globally and earns the year award's rookie for the 2017 season.
Born in a reputed Schauffele family, Xander currently plays on the PGA Tour and the European tour.
His professional golf career started in 2015, and might we add, his performance has been robust ever since.
Likewise, Xander's successful wins and pretty face have awarded him millions of fans who are intrigued to know about his whereabouts.
Therefore, here is everything about Xander Schauffele, including his net worth, earnings, personal life, and many more.
But before jumping to the myriad of information, we've laid out quick facts about him as an appetizer.
Quick Facts
| | |
| --- | --- |
| Full Name | Alexander Victor Schauffele |
| Date of Birth | October 25, 1993 |
| Birth Place | San Diego, California |
| Nick Name | Xander Schauffele |
| Nationality | American |
| Ethnicity | German/French & Taiwanese |
| Zodiac Sign | Scorpio |
| Age | 29 years old |
| Height | 5'10" (1.78 m) |
| Weight | 79 kg (175 lb) |
| Hair Color | Black-brown |
| Eye Color | Black |
| Build | Athletic |
| Father's Name | Stefan Schauffele |
| Mother's Name | Ping-Yi Chen |
| Siblings | Brother, Nico Schauffele |
| College | California State University Long Beach |
| Marital Status | Married |
| Spouse | Maya Lowe |
| Children | N/A |
| Profession | Professional Golfer |
| Active Years | 2015- present |
| Current Tour | PGA Tour (2016) |
| Former Tour | European/ Web.com Tour |
| Professional Wins | 5 |
| Net Worth | $19 million |
| Social Media | Instagram, Twitter |
| Website | Xander Schauffele |
| Merch | Golf Digest Magazine(May Issue), Autographed Golf Ball, Rookie Card |
| Last Update | June, 2023 |
Early Life, Education & Family
Aforementioned, Xander Scahufelle is an emerging golf star who has been professionally playing since 2015. With impressive career wins, Xander hails from an exceptional family background.
Furthermore, Schauffele was born to a German/French naturalized immigrant father, Stefan Schauffele, and his mother. Similarly, his father, Stefan, has always been supportive of his career as a pro golfer.
In fact, Xander Schauffele's father, Stefan Schauffele, has been his only swing coach throughout his career.
According to PGA Tour, Schauffele admits that his family has always been his most extensive support system.
Furthermore, his father acts as his swing coach; he also serves as co-manager, mental coach, and many more.
Besides being a solid foundation of Xander Schauffele's career, his father is also at Bella's helm, ball markers with Swarovski Crystals.
Also Read About Ousmane Dembele's Net Worth, Career & Early Life >>
During an interview, Xander also reveals that he wasn't an enormous sports enthusiast.
Xander further said, "My dad wouldn't let me come play with him until I carry my own bag." He continued, "I didn't take golf seriously until I was 15 when I threw all my eggs in one basket."
Although Xander's mother stays off social media, for the most part, he still shares her pictures on special occasions like mother's Day and birthdays.
Besides his private nature, Schauffele's mother is still the strongest supportive pillar for him.
Likewise, the professional golfer also maintains an excellent relationship with his siblings, Nico Schauffele.
Moreover, the Schauffele brother often accompanies one another's important events and show their support openly.
Age, Height, and Appearance
Aforementioned, pro golfer Xander Schauffele was born to a German/French neutralized immigrant, and a Taiwanese neutralized immigrant.
The reddish complexion compliments his light complexion pretty well. Likewise, the 5ft 10 inches tall golfer, Xander, has beautiful dark eyes and a smug smile that shows his perfect teeth.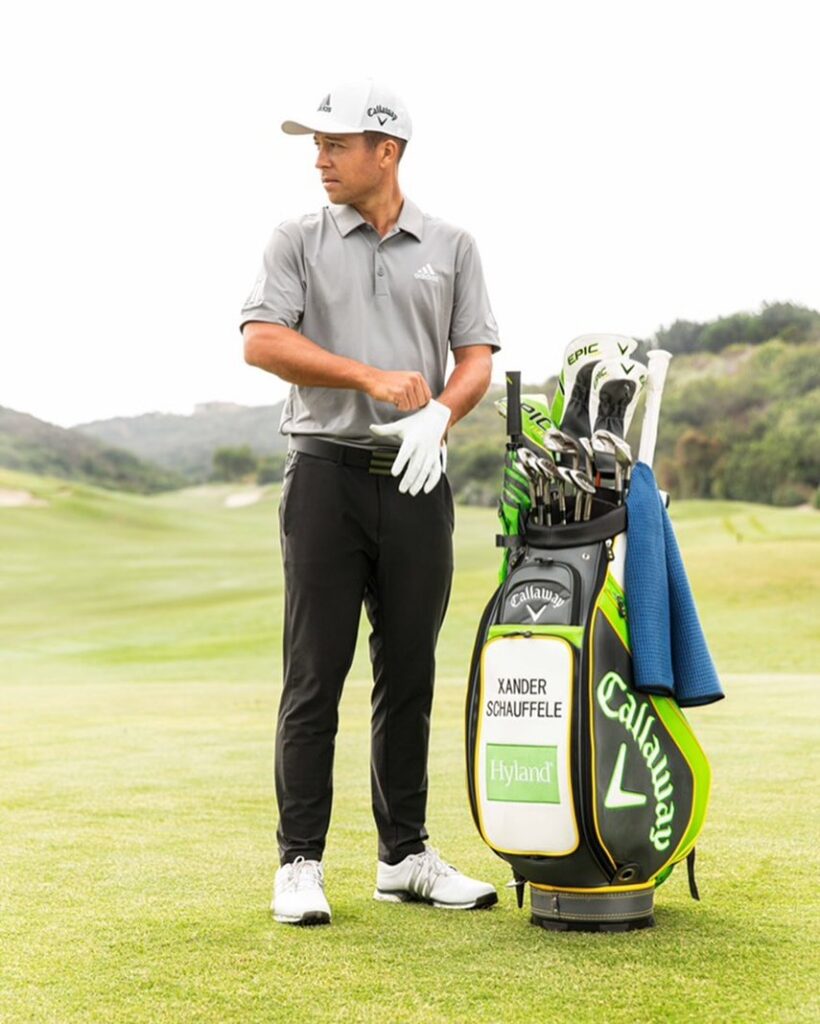 Likewise, Xander's athletic body also helps polish his posture and allows him to perform immaculately.
Overall, the professional golfer Xander Schauffele is a good-looking man with a phenomenal career that deserves some of our undivided attention.
Thus, let's look into how Xander's journey as a pro golfer started.
Xander Schauffele's Career
As mentioned earlier, Xander Schauffele's career is impressive and cannot be unnoticed.
Aforementioned, Schauffele inherited his interest in sports pretty late in his teen after following his father in the golf yard.
Although he started late, Xander was sure and fast enough to catch up with his father and the lessons he taught pretty swiftly.
You Could Also Read About Former NFL Player Rod Gardner >>
As of now, Xander's career has escalated quite significantly and earned him several awards for his dedication.
Amateur Career & Wins
It wouldn't be a hassle to repeat that the pro golfer Xander Schauffele entered the golfing world because of his father.
Furthermore, the Schauffele teaching philosophy relies massively on basic flight laws and golf club mechanics.
Thus, Xander's first win would be the 2011 California State High School Championship. He played for the Scripps Ranch High School and played his freshman year at Long Beach State University.
During Xander's freshman year at Long Beach, he accumulated the 2012 Big West Conference Freshman of the Year and bagged the 2012 First Team All-Big West awards.
Furthermore, throughout Xander's college tenure at San Diego University, he was awarded the Mountain West Conference All-Academic Team Award twice.
Throughout Xander Schauffele's college career, he faced defeats & accumulated a collegiate record of 2 wins, four runner-ups, 19 top 5, etc., in a total of 50 tournaments.
Thus, the ups and downs in Schauffele's venture helped him grow as a person and a professional.
Also, he was ranked in the top 10 of the World Amateur Golf Ranking by the time he turned pro in 2015.
Professional Career and Wins
After an impressive college career, Xander entered the pro world proudly as runner-up in the first stage at Southern Dunes FC in 2015.
Xander also won the second stage at Oak Valley GC in Beaumont, California, and ultimately earned his Web.com Tour card in Florida's finals.
On Web.com Tour, Schauffele finished 26th in the regular-season money list missing the PGA Tour card. However, he earned the Web.com Tour Finals by finishing 15th on the Finals money list.
Schauffele finally earned his PGA Tour card and made his debut at the Career Builder Challenge in California.
He recorded a bogey-free 6-under-par 66 in his debut, making him the only 15 players ever to reach ten under par at the U.S. Open.
Weeks later, Xander bagged his first PGA Tour victory at the Greenbrier Classic and earned exemptions into the Open Championship, the PGA Championship, and the 2018 Masters Tournament.
By the 2017 Tour Championship, Schauffele's win marked the first time a rookie won any Schauffele to third place in the final FedEx Cup standings.
By 2018, Xander had completed his season with 27 events in 17 new venues. Similarly, he finished T2 at the 2018 Players Championship at TPC Sawgrass.
Likewise, Schauffele tied for second with a score of six-under-par at the 2018 Championship at Carnoustie Golf Links.
After an impressive career run, he ultimately finished T7 at the 2018 Tour Championship while placing 15th in the season-long FedEx-Cup.
He also won the WGC-HSBC Champions, and by early January 2019, he had already bagged the Sentry Tournament of Champions at Maui, Hawaii.
Schauffele exhibited an outstanding performance in 2019, and by December 2019, he played on the U.S team at the 2019 Presidents Cup in Australia.
He further went on to win his Sunday singles match against International team star and veteran Adam Scott.
Well, Xander Schauffele's impressive career also showed a spectacular growth in his income.
Likewise, the professional golf player recorded a final round of 67 to win the Olympic gold medal. With this, he became the first American 1900 to win an Olympic gold medal in golf.
Similarly, he played on the U.S. team in the 2021 Ryder Cup at Whistling Straits in Kohler, Wisconsin.
Xander Schauffele's Net Worth
Aforementioned, Xander Schauffele is a generous human being who invested most of his youth in his career.
Also, it is well known that Schauffele's professional journey started at age 15, and he has experienced a lot of wins and defeats throughout his career.
Therefore, Xander Schauffele's net worth must have increased significantly. Thus, let's scrutinize his wealth and earnings from his career and other ventures.
Earings As A Pro Golfer
As stated earlier, Xander Schauffele is an outstanding professional golfer who made his pro debut at age 15. Since then, his wealth has seen a significant rise.
According to CBS Golf, Xander Schauffele's earnings from PGA tours are pretty impressive. He bagged $4,312,674 with two wins and 96 rounds in 2017.
Similarly, Schauffele earned $4,047,539 in 2018 during 27 events and 93 rounds. Likewise, his total raised to $5,609,456 within 21 events and two wins overall in 2019.
However, 2020 was pretty insignificant as Xander's earnings fell to $3,813,636 during 18 events. And 2021 would be no different, averaging 12 events reaching $3,536,501.
Hence Xander Schauffele's career earnings sum up at $21,319,806 until 2021.
Before making considerable amounts from PGA, he ranked at $14,421 897 in career earnings per Yahoo Sports.
Furthermore, he won $193,514 in the 25 events on the qualifying circuit and has tallied $13,969,668 since then.
Here's a more accessible breakdown of Xander Schauffele's earnings as he won matches.
2017 The Greenbrier Classic: $1.278 million
Tour Championship: $1.58 million
2019 World Golf Championships-HSBC Championships: $1.7 million
Sentry Tournament of Championships: $1.3 million
Well, Schauffele's massive prizes in his career have come through his four PGA Tour wins and 16 top-ten finishes. Thus, it must have aided in multiplying several zeros in his bank account significantly.
Besides golf, Xander also makes impressive money from brand endorsements and sponsorships. Hence, it only makes sense that he made a multimillion within a few years after turning pro.
Also, golf seems to be more than just a cash flow for Xander was unaware of the lucrative new bonus plan, i.e., $40 million.
When asked for a comment, he admitted that they (Xander and Patric Cantley) were apparently told about it in January when in Hawaii and must have forgotten about it.
Along with his exceptional career earnings, Xander Schauffele's assets are also assisted by sponsorships.
Some of the major sports brands, including Adidas, Callaway, AON, and Hyland, endorse him and might pay some hefty amount alongside PR packages.
Net Worth of Xander Schauffele in Different Currencies
Here is the net worth of Xander Schauffele in different currencies, including the Euro and Pound Sterling:
Currency
Net Worth
Euro
€

16,414,100

Pound Sterling
£

13,924,435

Australian Dollar
A$

25,769,700

Canadian Dollar
C$

23,649,110

Indian Rupee
₹

1,430,649,650

BitCoin
฿

334
Xander Schauffele's Wife & Personal Life
With such a fantastic career, the golf player Xander has accumulated an impressive sum until 2021. Besides his career, he is also blessed with a beautiful partner, Maya Lowe.
Xander and Maya reportedly started dating in 2014 and are practically inseparable.
Moreover, Xander and Maya do not shy away from sharing their love via social media, and Xander often posts about his love on his social media handle and vice versa.
Also, Read More About Professional Baseball Player Ron Roenicke >>
Xander Schauffele's girlfriend Maya Lowe graduated from the University of California in 2017. She is currently pursuing a Master's in Health Care Administration at the University of Maryland.
Moreover, the pro golfer's partner speaks Japanese fluently. Maya often accompanies her boyfriend at tournaments and caddied for him in the par-3 contest at Augusta.
After several years of relationship, Xander and Maya are in no hurry to walk down the aisle. Instead, they welcomed a new member of the family, a fur baby, in October 2019.
Although Xander Schauffle's partner seems to be taking a break from her social media, he uploads many of their photos together.
While going through his Instagram, they have traveled to quite a few exotic places together and look the cutest wherever they go.
Schauffele's Driver Was Deemed Illegal For Competition
Xander Schauffelle managed to stay out of controversies for most of his career but got into trouble when his driver failed to meet CT test requirements by the R&A at the Open Championship in July 2019.
Consequently, he had to look for a replacement driver, and it turns out the problem wasn't just the execution.
As a result, the R&A had randomly tested drivers on the practice range to see that they conformed for the second straight year.
Furthermore, Schauffele was one of 30 players who had their club tested and became the first player to admit that his driver was deemed illegal publicly.
Although Xander did not have a problem changing the settings, he was seemingly upset and called it 'unfair' as not every player in the field was tested.
Also, Read About Former American Basketball Player Bob Pettit >>
Golf Digest later confirmed that Schauffele wasn't the only player who had to replace his driver, and R&A assured him that his driver was flagged.
They released the statement claiming Xander's driver had failed. R&A's spokesperson also confirmed that he had a range of conforming drivers the following week.
Well, problems do arise and are almost inevitable. However, making things right is all that matters in the end.
Hence, Xander Schauffele learned from his career mistakes and can become the finest golfer in the world.
Social Media Presence
Instagram: 149k followers
Twitter: 60.1k followers
Watch Xander Schauffele's iron golf swing! Click to follow!
FAQs
Who caddies for Xander Schauffele?
Currently, Xander Schauffele's bag/caddies are carried by Austin Kaiser. The pair reportedly have known for several years.
Similarly, Kaiser has been responsible for his bags for about five years now, and they've been on the same collegiate golf team, the San Diego State Aztecs.
What shaft does Xander Schauffele Use?
Xander has a Callaway Jaws MD 5 gap wedge with 52°. Likewise, his accompanying sand wedge and lob wedge are a Titleist Vokey SM6 and Titleist Vokey SM8 WedgeWorjs prototype.
What Putter does Xander Schauffele use? What grip does Xander Schauffele use?
The professional golfer uses Armlock Putter.
Xander uses an interlocking grip style for woods and irons, which is a very good choice for golfers with small hands. He uses a neutral hand position grip to help prevent too much golf ball sidespin.
Did Xander Schauffele's Caddie get a gold medal?
The American professional golf player won the Olympic gold medal in the men's individual golf event of the 2020 Summer Olympics.
What happened to Xander at the Open?
Schauffele was beaten in sudden death again by
Justin Thomas
at the Sentry Tournament of Champions in January 2020.