A rough childhood turned to a millionaire's luxury- American NFL player Yannick Ngakoue credits his single mother, Marlene, for his success. And now, it seems Ngakoue also has another lady to share the perks & love with- his girlfriend, Maria Perez.
Yannick Ngakoue's girlfriend, Maria Perez, is an entrepreneur & TV host. Their dating story came forth officially in 2022.
There is no denying her charisma is something that makes everyone admire her. And now, after Perez's relationship with the 2017 Pro Bowl, her media demand is upscaling.
With her alluring looks & TV anchoring skills, the 2-time Emmy winner already had a sizable internet fan base on Instagram.
Perez's NFL star boyfriend, Yannick, currently plays for the Indianapolis Colts, which he joined before the 2022 season (his 7th NFL season). He played for Jacksonville Jaguars, Minnesota Vikings, Baltimore Ravens, and Las Vegas Raiders earlier.
Indeed, many of us are already more than eager to know about Yannick Ngakoue's girlfriend. In this article, we have detailed information on the relationship, career & family of Maria Perez.
Yannick Ngakoue Girlfriend | Quick Facts
| | |
| --- | --- |
| Full Name | Maria Imelda Perez |
| Date of Birth | July 20, 1993 |
| Birth Place | Mission, Texas |
| Nick Name | Maria |
| Religion | Christian |
| Age | 30 Years Old |
| Nationality | American |
| Ancestry | Mexican |
| University | University of Texas Rio Grande Valley |
| Hair Color | Blonde |
| Mother's Name | Marucha Perez |
| Brother's name | Armando Perez |
| Eye color | Brown |
| Marital Status | Not married |
| Boyfriend | Yannick Ngakoue |
| Kids | None |
| Pets | Dog |
| Tattoos | None |
| Profession | Weather Anchor/Entrepreneur |
| Founder of | Malux Wear (clothing store) |
| Zodiac Sign | Cancer |
| Ethnicity | White |
| Chinese Zodiac | Rooster |
| Net Worth | Under review |
| Boyfriend's net worth | $6 Million |
| Online Presence | Instagram, Youtube |
| Last Update | November 2023 |
Yannick Ngakoue Girlfriend | Maria Perez's Family
Born Maria Imelda Perez on July 20, 1993, the American weather anchor comes from Mexican roots.
She grew up in her hometown, Mission, Texas, with her brother Armando Perez.
She is the daughter of Marucha Perez, a native of Santa Rosalía, a village in Tamaulipas, Mexico. However, the details of her father remained under cover.
But Maria often shares pictures of her parents on her Instagram. Reportedly, her father and mother currently reside in Texas.
Maria Perez often takes time to thank her mother for providing everything she could think of. On May 10, 2018, on the occasion of her mother Marucha's birthday, Maria wrote on Instagram:
"For the most beautiful person that can exist, the one who woke up every morning to feed me, to care for me and caress me, without asking for anything in return. Happy birthday my mother! Your examples from life are a rewarding lesson to learn. I feel proud to be your daughter because without your teachings and advice I would not be the woman I am today. Many days of these queen ♥️"
There is no denying that she is a family person.
Maria Perez (Yannick Ngakoue's Girlfriend) | Education
From 2011 to 2012, Maria Perez attended South Texas College. She obtained a certificate in nurse assisting and an associate degree in patient care.
Aside from nursing, Perez was interested in journalism too.
So for her higher studies, she enrolled at the University of Texas Rio Grande Valley in 2012 & graduated with an associate's degree in broadcast journalism in 2016.
Maria Perez Is A Weather Anchor & Entrepreneur
Maria Perez, who specializes as a bilingual weather anchor, is proficient in English and Spanish.
Thanks to those skills, the 2-time Emmy Award winner continues to work as a bilingual weather anchor at Entravision Communications since 2015- at KNVO (Fox) and KTFV-CA(Univision).
Having worked at Telemundo's KTLM McAllen, Texas as a weather forecaster from 2018 to 2021, Perez relocated to Las Vegas, Nevada, in 2021. There she joined the Noticiero Telemundo Las Vegas as its weekend weather anchor.
View this post on Instagram
Moreover, as per her LinkedIn profile, she works as a weather forecaster at NBCUniversal (August 2021- Now).
Besides anchoring, Maria Perez runs a business of her own. She is the ecstatic owner of the size-inclusive online store Malux Wear.
Yannick Ngakoue Girlfriend | Maria Perez's Age, Height & Body Measurement
Born in 1993, Maria Perez is 30 years old.
Perez was born in the Rooster year, according to the Chinese Calander. Her zodiac sign is Cancer.
She has a charming smile & personality.
Talking about Maria's physical features, she has a well-maintained body with blonde hair and brown eyes. Her actual height & body measurement remains unknown- her boyfriend, Yannick, has a height of 6 feet 2 inches (1.88 m).
Maria Perez And Yannick Ngakoue | Dating Details!
As an NFL star, the curiosity about Yannick Ngakoue's love life & his rumored relationship comes as no surprise. Although a few persons were romantically linked to him, none of these relationships had official confirmation.
Currently, Yannick is in a relationship with TV weather anchor Maria Perez.
The couple went Instagram official about their relationship on April 2, 2022. In the picture featuring Ngakoue and Perez, the NFL player wrote:
"I waited patiently in God's blessing and he sent you. 💖 @yannickngakoue91"
Before that, in March 2022, the two were seemingly commenting on each other's Instagram posts.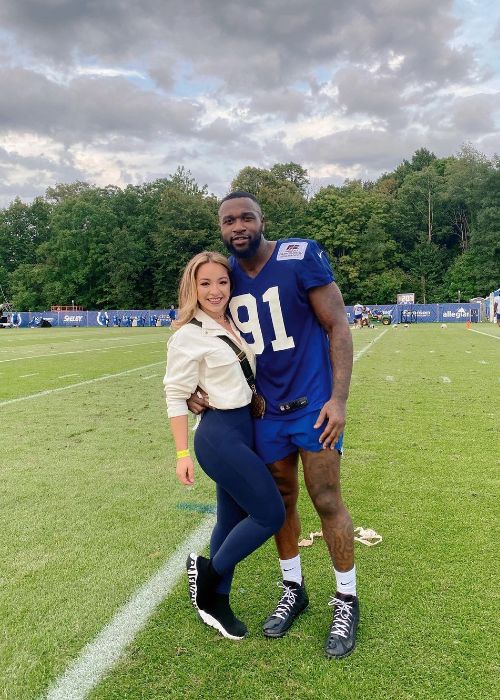 It is unclear how the former Jaguars player and his girlfriend Maria began dating- though they seem very much in love.
But fans believe it was after the defensive end inked a contract with the Las Vegas Raiders in March 2021. Well, Perez works in Las Vegas-based NBCUniversal as a weather forecaster.
Even more, Maria Perez shares pictures with Yannick's mother, Marlene Chantelly, on her Instagram.
Brief About Yannick Ngakoue | Family & Career
Yannick Nicolas Ngakoue, an American football defensive end, was born on March 31, 1995. The Maryland University alumnus grew up with his brother older brother, William.
Their single mother, Marlene Chantelly, raised them as their father (a security guard), a native of Cameroon, never looked upon them.
In May 2022 interview with Go Lond, Yannick said that his father was abusive & provided them with no food- let alone a good shelter. This traumatic upbringing gave him PTSD.
So, his mother, Marlene, a military nurse at Walter Reed, moved with her sons to Prince George's County, Maryland. She would work double shifts to meet the month's end; at that time, Ngakoue was one & his brother William was four years old.
While as a freshman at Maryland, Yannick would spend per diem money on his mother.
The NFL player also said that his father tried to reunite with the family when he became an NFL prospect in 2015 fall. But Ngakoue later cut off all ties with his for good.
NFL Career & Accolades
After the trade from Las Vegas Raiders in 2021 in exchange for Rock Ya-Sin (CB), Ngakoue plays for Indianapolis Colts (2022- Present) with jersey number #91.
Yannick, an attendee of Friendship Collegiate Academy Public Charter School, had 17 sacks as a senior, which earned him the title of Washington D.C.'s Gatorade Football Player of the Year.
In 2013, the player committed to the University of Maryland, College Park. After his junior year, he declared for the NFL Draft. His college career stats record 83 tackles (57 solo tackles), 26 assists & 21 sacks.
Yannick Nagkoue became the Round 3-69th overall pick of the Jacksonville Jaguars in the 2016 NFL Draft. He became one of three NFL drafts from Maryland, along with Sean Davis & Quinton Jefferson.
After four seasons (2016-19) with the Jaguars, he played for Minnesota Vikings & Baltimore Ravens in 2020.
Then, he joined Las Vegas Raiders in the 2021-22 season, playing with Marcus Mariota, Clelin Ferrell, Derek Carr, Peyton Barber, Jackson Barton, & others.
The major career highlights of Yannick include:
2017 Pro Bowl
2017 NFL forced fumbles leader
2016 PFWA All-Rookie Team
Yannick Ngakoue's Girlfriend | Net Worth
The exact net worth of Yannick Ngakoue's girlfriend, Maria Perez, is under review. Though allegedly, she owns $1 million as of November, 2023.
As an experienced weather anchor, she earns a salary in the hefty 5-digit figure. The average annual salary of a weather anchor in the United States is $67,471.
Moreover, Perez also runs her online clothing store, which generates an additional sum.
As for her boyfriend, Yannick Ngakoue, with 7 NFL seasons (including the 2022-23 season), he owns a $6 million net worth. All the credits go to his lucrative contracts:
A 4 year $3.48 million contract with Jaguars (on June 22, 2016)
One year $17.788 million franchise tag by Jaguars (on March 13, 2020)
A restructured contract worth $12 million for a year with the Vikings (on August 30, 2020)
Two-Year $26 million contract with Las Vegas Raiders (on March 15, 2021). \
When Yannick moved to Indianapolis Colts ahead of the 2022 season, the team converted his $12 million salary into a bonus.
Frequently Asked Questions (FAQS)
Does Maria Perez have pets?
Maria Perez is also an animal advocate. On her Instagram posts, she features her boyfriend Yannick's pet dog Malinois (a German Shepherd).
What jersey number is Yannick Ngakoue?
Yannick wears Jersey no. 91 playing for the Indianapolis Colts of the NFL.
Are Yannick Ngakoue and his girlfriend Maria married?
No, the NFL player & his weather anchor girlfriend, Maria Perez are not married. They confirmed their relationship in April 2022 via Instagram.