Yolmer Carlos Javier Sanchez, famous as Yolmer Sanchez, is a professional baseball player from Venezuela. He was claimed off waivers by the New York Mets on August 18, 2022.
Interestingly, Yolmer was demoted to the Minors by the New York Mets on August 27, 2022.
Even though he was born in the Venezuelan city of Maracay, Yolmer began his professional career in the Dominican Republic in 2009.
His first stint was with the DSL White Sox of the Dominican Summer League, an affiliate club of the Chicago White Sox.
After playing in the minor league for around six years, Sanchez finally made his MLB debut for the Chicago White Sox in 2014.
In 2017, Sanchez became the first player with the name "Yolmer" to play in the MLB.
While many people may find this uninteresting, it has great significance for the player, as he had already played over 200 MLB matches with the Sox as Carlos Sanchez.
So, when he changed his official short name to Yolmer Sanchez, he felt like he had become a new person.
Yolmer later stated that he eventually realized the uniqueness of his first name and did what he thought was right.
Now let's discuss many other exciting things about Yolmer's life, his career, personal life, net worth, and much more in the article below.
But first, let's look at some quick facts.
Yolmer Sanchez | Quick Facts
Full Name
Yolmer Carlos Javier Sanchez
Known as
Yolmer Sanchez
Birth Date
June 29, 1992
Birth Place
Maracay, Venezuela
Nick Name
Noah Alan, Carlito
Religion
Christianity
Nationality
Venezuelan
Ethnicity
Latin American
Education
Miguel Jose Sanz High School (Maracay, Venezuela)
Zodiac sign
Cancer
Father's Name
Carlos Sanchez
Mother's Name
Not available
Siblings
Not available
Age

30

Years Old
Height
1.80 m/5 feet 11 inches/185 cm
Weight
95 kg/210 lbs.
MLB debut
July 13, 2014
Hair Color
Brownish Black
Eye Color
Dark Brown
Playstyle
Bats: Switch, Throws: Right
Build
Athlete
Marital Status
Married
Wife's Name
Moralis de Sanchez Liendo
Kids
Two (Noah and Alan)
Position
Infielder
Profession
Baseball Player
Net Worth
$5 Million
Salary
$700,000
Currently Plays for
Boston Red Sox
League
Major League Baseball (MLB)
Active Since
2014
Social Media
Twitter
Merch
Baseball Card
Last Update

March 2023
Yolmer Sanchez | Early Life, Family & Education
Yolmer Carlos Javier Sanchez, popularly known as Yolmer Sanchez, was born on June 29, 1992, in Maracay, Venezuela. He is the son of Carlos Sanchez.
Sanchez grew up in Maracay, where people enjoy baseball more than any other sport.
He developed his liking for the game even before he learned to walk. He once stated that he had begun playing baseball when he was three.
His father's name was Carlos, so his family and other people around his house called him Carlito, meaning Little Carlos.
The yard of his house was his practice ground, and his parents let him do whatever he liked.
Furthermore, Carlos was not so good at his studies.
He initially attended the Miguel Jose Sanz High School in Ayacucho, Maracay, but left his education and decided to pursue a professional baseball career.
Yolmer Sanchez | Baseball Career
Minor Leagues Career
After signing a contract with the Chicago White Sox in 2009, Yolmer moved to the Dominican Republic to play in the DSL for the Dominican affiliate club of the Chicago White Sox.
Although Yolmer became a popular infielder in his MLB career later, he primarily played as the shortstop and third baseman during his two-year career in the DSL.
In 2011, Sanchez moved to the United States, where he played for two teams: Bristol White Sox of the Rookie-level league and the Kannapolis Intimidators of the Class A League.
Two years later, in 2013, MLB.com ranked him as the number four White Sox prospect.
Although he spent the entire 2013 season with the Triple-A League team, Charlotte Knights, the White Sox included him in their 40-man roster in November that year.
Eventually, the team promoted Yolmer to the MLB roster on July 13, 2014.
MLB Career
Yolmer Sanchez debuted in the MLB the same day the White Sox promoted him to their MLB roster.
However, the team sent him back to Charlotte following his debut match, so he had to wait until the Sox traded Gordon Beckham in August to make another appearance in the MLB.
He played 28 matches in his rookie season with a batting average of .250 and 5 RBIs.
Sanchez's second season with the White Sox was successful in terms of the matches he played, but his performance was not as good as expected.
Consequently, the team allowed him to play very few games in the third season.
Returning with rejuvenated enthusiasm and a new first name, Yolmer achieved a batting average of .267 and a career-high 12 home runs and 59 RBIs in 2017.
Despite his inconsistent performances with Chicago in the next few seasons, his on-base percentage stat was commendable.
Unfortunately, Yolmer Sanchez had to return to the minor leagues in 2020 to improve his game. Although he was back in the White Sox for a while that same year, his stay was very brief.
He played for around two years in the MiLB for different teams, such as Baltimore Orioles and Atlanta Braves, until he signed for a minor league with the Boston Red Sox in 2022.
He was claimed off waivers by the New York Mets on August 18, 2022, and was demoted to the Minors on August 27, 2022.
Domingo German Polanco, referred to as Domingo German, is a Dominican professional baseball pitcher currently playing league games for the New York Yankees of the MLB. Learn about his exciting career journey here!
Career Accolades & Awards
Some of his awards and achievements are:
Gold Glove Awards (2019)
MiLB All-Star (2013)
The White Sox Heart and Hustle Award winner (2018)
Yolmer Sanchez | Net Worth, Contract & Salary
One of the most popular Latin American players in the United States, Yolmer Sanchez, has a net worth of $5 million. However, it is just an estimated number as the information has not been officially revealed.
Yolmer has already collected more than $9 million in his nine-year playing career.
It might seem less to many people, but seeing his career trajectory, Yolmer earned precisely the amount he deserves.
When Yolmer signed a one-year contract with the Chicago White Sox in 2014, the team agreed to pay him $500k for his first MLB season even though he played significantly fewer matches.
Over the years, the team increased his base salary to some extent, but his performance never met expectations. Despite his average performance, Chicago paid him around $2.35 million for the 2018 season.
Following that season, Sanchez received over $4.5 million for his games in 2019.
Jose Trevino is a young professional baseball player from Texas, gradually making his mark in the top-tier American baseball league, MLB. He plays as a catcher for the Yankees. Read his bio here!
Yolmer Sanchez | Age & External Features
As of 2023, Yolmer Sanchez is 30 years old.
About his physical stats, Yolmer is quite tall for a Latin American and stands at 1.80 meters (5 feet 11 inches). In addition, he weighs around 210 lbs.
The player is also fond of tattoos, so he has inked tattoos on his right arm and chest. While his arm has a tattoo of some angel related to the Christian faith, he has a large wing-like design on his chest.
Similarly, regarding his facial features, Yolmer has dark brown eyes and mostly keeps his hair brownish-black. However, he often colors his hair and prefers keeping a short beard over a clean shave.
Yolmer Sanchez | Wife & Children
About his personal life, Yolmer Sanchez is a married man. He has been in a marital relationship with his longtime girlfriend, Moralis de Sanchez Liendo, for nearly a decade.
Moralis de Sanchez Liendo was born on March 11, 1992. Like her husband, Yolmer, Moralis is originally from Venezuela, but they live together with their kids in Worchester, America.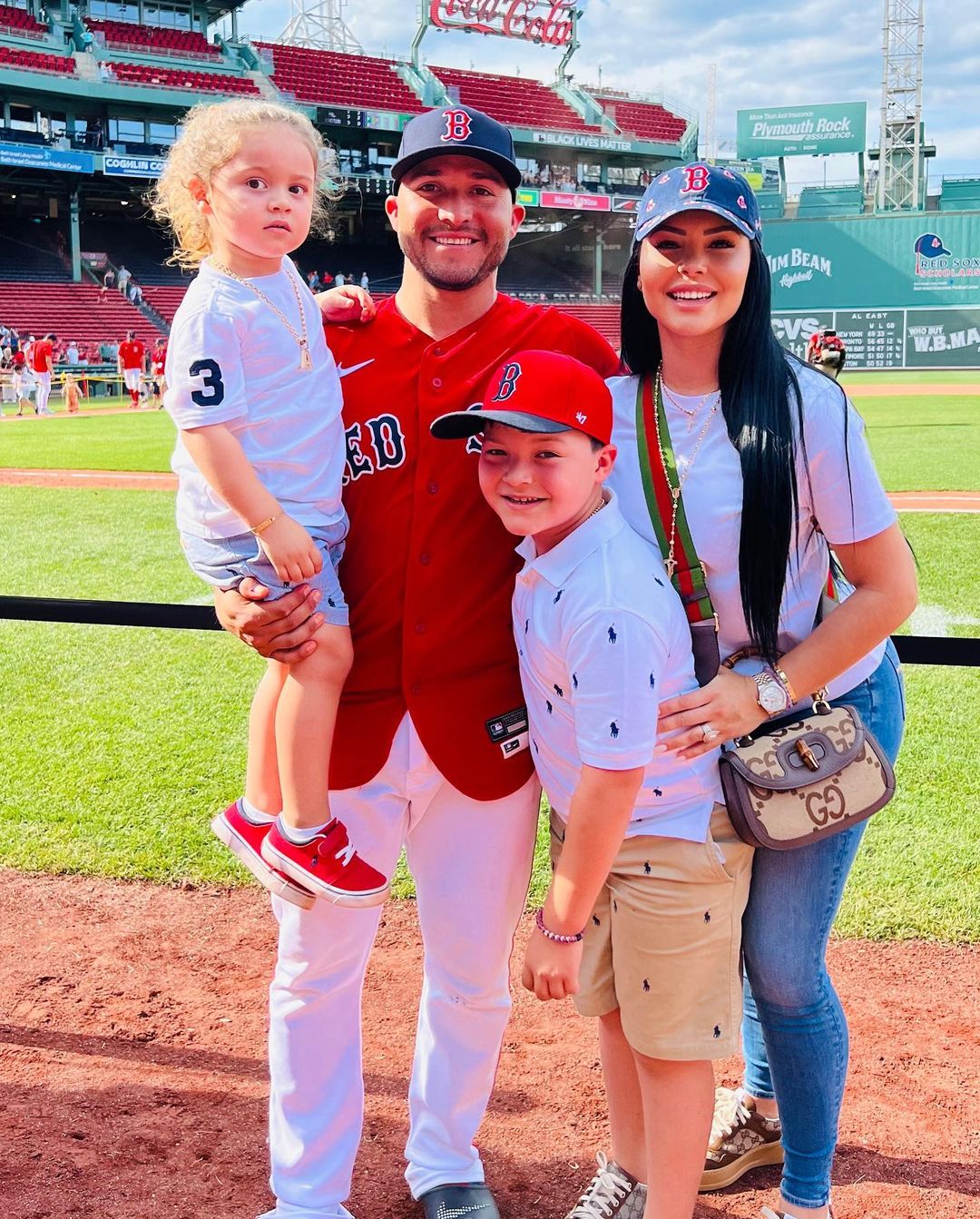 Liendo is a dentist by profession. However, she is very passionate about modeling and is quite popular among baseball fans on Instagram.
She regularly posts pictures of her family vacations and Yolmer's matches.
Yolmer often admits that he feels lucky to have a life partner like Moralis. She knows everything about his game and has been his constant supporter plus critic for a long time.
Moreover, the happy couple has been blessed with two sons. Their first son, Noah, was born on September 25, 2014. Similarly, their second son, Alan, was born five years later, on May 30, 2019.
Social Media Presence
The 2019 Gold Glove winner Yolmer is active on Twitter, with about 16.7k followers as of this writing.
— Yolmer Sanchez (@CarlosSan29) December 2, 2021
Twitter: @CarlosSan29
Popularity Graph
Frequently Asked Questions
What jersey number does Yolmer Sanchez wear?
Yolmer Sanchez wears jersey number 47.
Where is Yolmer Sanchez now?
Yolmer was claimed off waivers by the New York Mets on August 18, 2022. He was demoted to the Minors by the team on August 27, 2022.
Click here to learn about Madison Bumgarner, a baseball pitcher from North Carolina. He started his MLB career as the tenth overall pick in 2007 and is arguably one of the best baseball pitchers worldwide!