The American professional football player Zach Wilson's mother, Lisa Neeleman Wilson, is the matron of six children, but her youthful energy and ambitions are ever-increasing. When her son, Zach, made it into the NFL in 2021, many people confused her for his girlfriend, after which she became an Internet sensation in no time.
As of this writing, the mother of an emerging NFL star has over 100k followers on her Instagram. With that, her identity has not been limited to just being the mother of Zach.
Aside from being a home chef, Lisa is a social media influencer and an aspiring entrepreneur.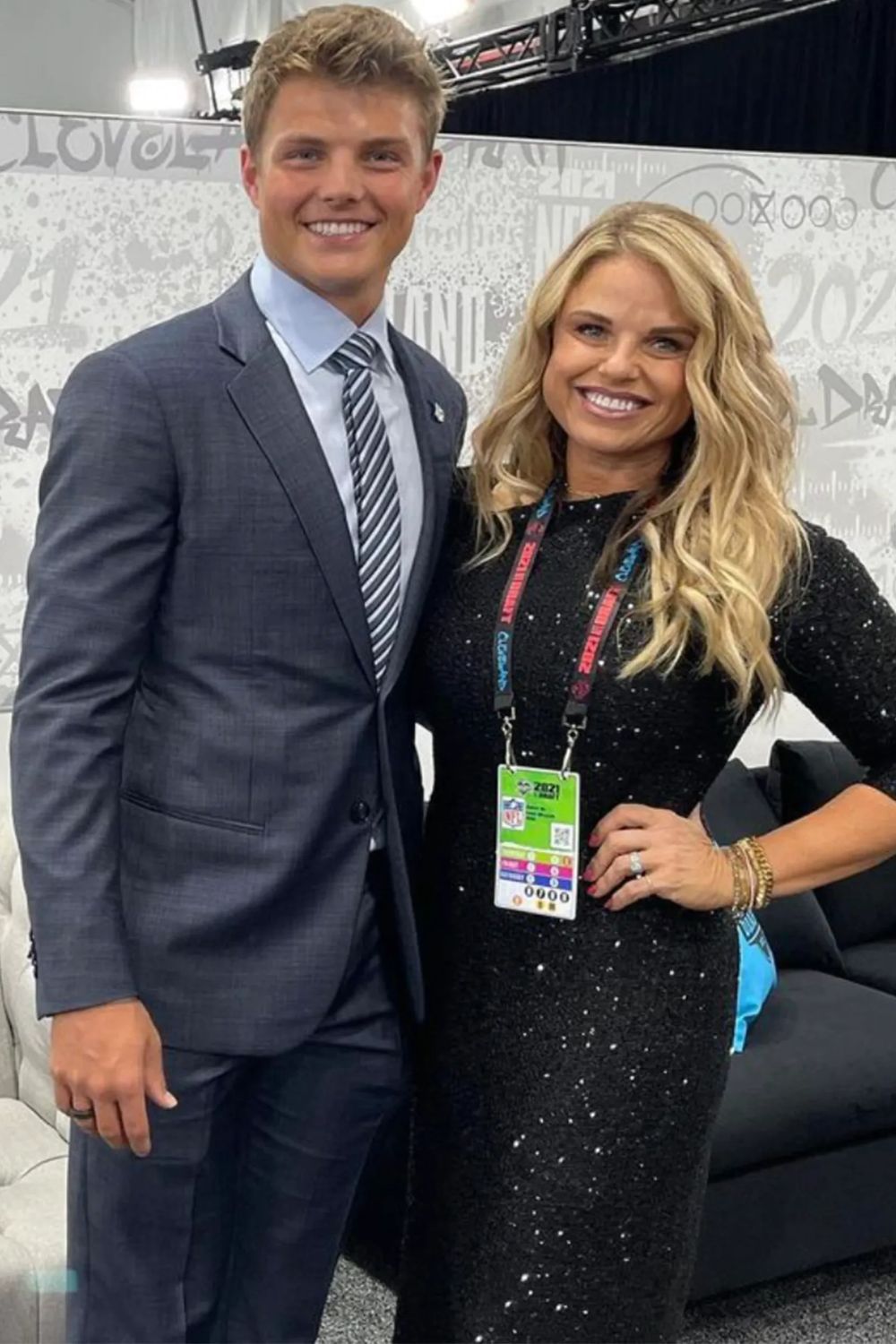 Zach has been playing for the New York Jets after the team picked him in the 2021 NFL Draft as one of the top picks. Unfortunately, his performance in the recent match against the New England Patriots garnered him heavy criticism.
After that, he did not appear in a match against the Chicago Bears on November 23, 2022.
However, this article is more about his mom than about Zach himself.
If you want to learn more about his mother, Lisa, in detail, please read this article to the end. But before we continue further, here are some quick facts you should check out about Lisa Neeleman Wilson.
Zach Wilson Mother | Quick Facts
Full Name
Lisa Neeleman Wilson
Known As
Lisa Wilson
Age
49 Years Old
Date of Birth
August 8, 1973
Birthplace
Salt Lake City, Utah, United States
Zodiac Sign
Not Available
Residence
Salt Lake City, Utah, United States
Mother's Name
Rose Neeleman
Father's Name
Gary Neeleman
Siblings
Six (John, Julie, David, Pamela, Stephen, and Mark)
Nationality
American
Religion
Christianity
Husband
Michael "Mike" Wilson
Children
Six
Education
• Hillcrest High School (Midvale, Utah)

• University of Utah (Salt Lake City, Utah)

Height
1.67 m/5 feet 6 inches/167 cm
Weight
Not Available
Eye Color
Blue
Hair Color
Blonde
Profession
NFL Player's Mother, Entrepreneur, Fitness Instructor, & Cook
Popular for
Zach Wilson's Mom
Marital Status
Married
Ethnicity
White American
Social Media
Instagram
Merch of Zach Wilson
Signed Helmet, Signed Jersey
Last Update

June 2023
Zach Wilson Mother | Early Life & Education
Lisa Neeleman Wilson was born to her parents, Gary and Rose Neeleman, on August 8, 1973, in Salt Lake City, Utah, United States. Aside from her parents, she had six siblings in the family.
Neeleman's parents raised her and her siblings in Salt Lake City, Utah.
Her father, Gary, is a former international journalist who spent most of his youth in Brazil.
He initially worked there as a church missionary before turning a correspondent for the United Press International (UPI).
Besides, Gary worked for nearly 18 years as an honorary consul.
His wife, Rose, gave birth to their three children in the Latin American nation. They lived in Brazil together for seven years before returning to their hometown in Utah.
Speaking of Lisa's educational background, Lisa attended Hillcrest High School nearby her residence in Midvale.
After graduating in 1990, she went to the University of Utah in Salt Lake City for further studies.
Click Here to Read About Mike Evans's Wife: Ashli Dotson's Bio & Career
Zach Wilson Mother | Career
Lisa Neeleman worked part-time in a mini-mart owned by her family while she was at college. However, after graduation, she became engaged in different economic activities.
Lisa teaches exercise classes at Draper gym and is a certified personal trainer. In addition, she is a group fitness instructor at the Treehouse Athletic Club in the same town.
Similarly, she has an apparel business, which primarily sells T-shirts and sweatshirts. According to the website, Lisa is planning to launch her YouTube channel and podcast show pretty soon.
Zach Wilson Mother | Marriage & Kids
Lisa Neeleman met the Hawaiian resident, Michael Wilson, while she was a student at the University of Utah. The two fell in love, dated during college, and eventually settled in Utah after marriage.
Mike came from a much poorer family than Lisa's, and life for him during his childhood was tough. His father was an alcoholic, so he always caused trouble for his mother. Because of this, his parents divorced when he was a boy.
He lived on the Hawaiian island with his mother till he was seventeen. He later graduated with a degree in Sociology and successfully became a businessman in Utah.
Mike was also interested in a professional football career as a student-athlete. He played for two seasons for Utah until 1995. Sadly, he had to abandon playing because of frequent knee injuries.
He owns several gas stations and department stores in Salt Lake City. Mike and Lisa tied the knot on March 8, 1997.
Kids
Mike and Lisa have six children, two daughters, and four sons.
The eldest is their daughter, Whitney, who is an accomplished dancer. She often travels to different places for her performances, sometimes even abroad, and her parents are proud of her.
Similarly, Zach's younger brothers, Josh, Micah, and Isaac, are football players. While Josh plays as a linebacker for BYU, Micah and Isaac still play football at the school level.
They have the youngest daughter named Sophie Wilson.
Also, Meet Rachel Glandorf McCoy – Wife of Colt McCoy & Net Worth
Zach Wilson's Short Bio
The second eldest kid of Mike and Lisa Wilson, Zach, was born on August 3, 1999, in Draper, Utah, United States.
Mike learned ball games, mainly basketball and football, from his former athlete dad at an early age. He had many siblings to hang around with, so he had a great childhood.
In addition, his parents had already made a good fortune by the time he was at school, so he did not have much trouble growing up. Zach attended Corner Canyon High school in Draper, where he excelled as a football quarterback.
After graduation, he played college football for the BYU Cougars.
Everyone in the family was sure that Zach would get his spot in the NFL after college. However, it happened sooner than expected.
After having an incredible junior season, Zach dropped out of college and enlisted for the 2021 NFL Draft. To his delight, the New York Jets picked him as the 2nd overall pick in the draft.
He played 12 matches in his rookie season and finished with nine passing touchdowns and four rushing touchdowns, covering about 2,334 passing yards.
He is still with the Jets for the 2022 season.
Did Zach Wilson Sleep With His Mom's Friend?
In July 2022, the NFL world discovered a shocking revelation about Zach. His former girlfriend, Abbey Gile, accused Zach of cheating on her with his mom's best friend while they were in a relationship.
A fan of Zach commented "homie hopper" on Gile's Insta post after she confirmed that she was recently dating Zach's college homie and roommate, Dax Milne.
The enraged Abbey replied by saying that Zach was the real homie hopper as she discovered Zach "was sleeping with his mom's best friend." However, she did not reveal anything besides that.
Later, when the reporter approached Zach for his response, he did not want to discuss the matter. Soon after, Zach's mom, Lisa, came on Instagram live to discuss the vices of social media platforms.
Zach's former girlfriend deleted her Insta account after the NFL star's fans began trolling her on the Internet.
Zach had been dating Abbey since high school, but they broke up earlier this year.
Also Read About All About James Johnson's Wife: Diana Issa
Zach Wilson Mother | Social Media Presence
Despite being critical of social media platforms, Lisa is highly active on the Internet.
Lisa has around 129k followers on her Instagram.
View this post on Instagram
Although she used to post her homemade dishes pictures initially, Lisa later started uploading her family photos on her Insta handle.
In addition to giving fitness tips to her followers, she also promotes her clothing business and various products she prefers.
Frequently Asked Questions (FAQS)
What is Zach Wilson's salary?
Zach Wilson's base salary for his 2022 season with the New York Jets is about $2.2 million. In addition, he will receive nearly $5.8 million as a signing bonus this year.
Is Zach Wilson a Mormon?
Yes, Zach Wilson is a Mormon. Everyone in his family is a member of the Latter Day Saints (LDS) Church. Like most Mormons, Zach attended Brigham Young University, sponsored by the church, for his undergraduate degree.
You May Also Like to Read About Patrick Kane's Girlfriend: Amanda Grahovec Bio!