A well-renowned name in the NFL (National Football League), Zack Martin is not only the one that people talk about in the Martin family. Zack Martin's brother, Nick Martin, is equally talented, and it hasn't been long since he started playing professionally on the field.
Currently, Nick Martin is the football center for the Las Vegas Raiders of the National Football League (NFL).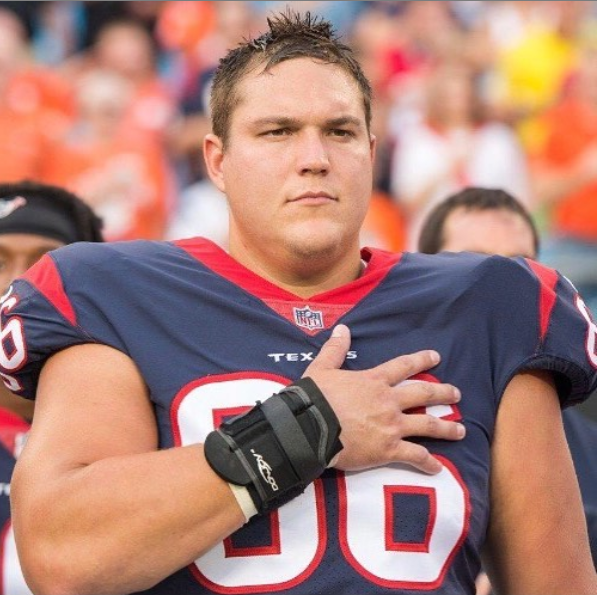 Today, as we discuss his deeds and gameplay, we will dive deeper into his everyday life and family.
Before the deep plunge, let's get a quick dose of facts about him.
Quick Facts
Full Name
Nicholas Jacob Martin
Date of Birth
April 29, 1993
Birth Place
Indianapolis, Indiana
Nick Name
Nick, The Butcher
Religion
Catholic
Nationality
American
Ethnicity
White
Zodiac Sign
Taurus
Age
30 Years Old
Height
(193 cm) or (6 feet and 4 inches)
Weight
295 lb (134 kg)
Hair Color
Dark Brown
Eye Color
Dark Brown
Build
Athletic
Father's Name
Keith Martin
Mother's Name
Pam Martin
Siblings
Two brothers, Zack Martin and Josh Martin
Education
Saint Matthew Catholic Grade School
Bishop Chatard High School
Notre Dame
Marital Status
Married
Wife
Kathleen Patterson
Kids
None
Profession
Football player
Position
Center
NFL Draft
2016 NFL Draft (2nd round 50th overall pick)
Affiliations
Houston Texans (2016–2020)
Las Vegas Raiders (2021–present)
Roster Status
Active
Net Worth
$1-$5 million
Social Media
Instagram
Merch of Zack Martin
Rookie
Last Update
May, 2023
Zack Martin's Brother, Nick: Body Measurements and Workouts
Nick Martin is a healthy guy with dark brown hair and eyes of a similar color. This guy has a towering height of 6 feet and 4 inches (1.93 meters) while weighing 295 lb (134 kg). Furthermore, he has an arm length of 321⁄2 inches (0.83 meters).
Indeed, being a football player, Nick is quite conscious of his health issues and hence, has his workout routines.
Nick bought some workout equipment from the team's workout studio before the NFL closed all team facilities to maintain fitness during the pandemic.
He had taken the sled he kept in his front yard and commenced training. In addition, he had covered all the conditioning workouts with it.
Later, he did reveal that he got some looks from his neighbors for the same reason.
Follow the detail on Desmond Howard's bio, career, net worth, and parties.
The Martin Family
Packaged with talent, the Martin Family has always been into football games. Starting from their parents, his father, Keith Martin, used to play as a defensive tackle at the University of Kentucky.
It was also that time when Keith met his wife, Pam Martin. In the meantime, Pam was a student trainer taking care of offensive linemen while at Kentucky. Hence, we can say that the passion fruits from an early age by their parents.
The oldest of all the Martin brothers is Josh Martin. We all know that Josh is private with his life and isn't active and going in public. Also, we do respect his privacy.
Zack Martin
Zack is the middle child of the family who has made a well-renowned mark on the NFL. He is the offensive guard for the Dallas Cowboys of the National Football League (NFL).
After the 2014 NFL Draft, he commenced his journey as the 16th overall pick in the first round. He stands with six Pro Bowls today and has been selected to six All-Pro teams.
As for his private life, he married his wife Morgan in July 2016, and today, they are blessed with a son and a daughter.
Nick Martin | Early Life
Nick Martin (fully named Nicholas Jacob Martin) was born on April 29, 1993, under the star sign of Taurus in Indianapolis, Indiana. He was taken to Pam Martin and Keith Martin and had two brothers named Zack Martin and Josh Martin.
Ever since his early days, Nick indulged in football. He, alongside his brother Zack, was a part of the Catholic Youth Organization (CYO) football program from the third to eighth grade.
As for his educational background, Nick attended the Saint Matthew Catholic grade school, located in Indianapolis, Indiana. He grew up from kindergarten to eighth grade and later enrolled in the Bishop Chatard High School in Indianapolis, Indiana.
During his tenure, Nick became part of his high school football team and assisted in leading Bishop Chatard to the 2010 Indiana Class 3A state title. By the end of his high school days, he stood as a three-star recruit.
Nick's initial college choice was the University of Kentucky as his father. However, he joined Notre Dame college later and started the first two seasons as a reserve.
Following it, he also played alongside his brother Zack on the offensive line. During the end year, Nick maintained 207.6 yards per game which was the highest point since 1998.
Lastly, Nick played basketball during his sophomore and junior years and was known for his aggressive gameplay style. It was then that he got his nickname "The Butcher."
Click to read about Daniel Jones and his career, family, statistics, and many more.
Professional Career of Zack Martin's Brother
Nick Martin stepped onto the professional arena back in 2016. The Houston Texans drafted him in the 2016 NFL Draft as the 50th overall pick in the second round.
Houston Texans
Nick Martin initially signed a four-year, $4.77 million rookie contract with the Texans on May 13, 2016. This contract came with $2.33 million guaranteed and a signing bonus of $1.67 million.
In 2019, he again extended his contract with the Texans for three years worth $33 million with $18.5 million guaranteed. Recently, he ended his journey with the Texans on February 26, 2021.
Las Vegas Raiders
After falling out from the Houston Texans, Nick Martin signed in with the Las Vegas Raiders on March 24, 2021. He has played 62 games and started for all of them.
Achievements
2010 Indiana Class 3A state title
First-team Indiana all-state pick on the Associated Press Class 3A team
3× First-team All-Independent (2013, 2014, and 2015)
Nick Martin | Injury
In November 2013, Nick Martin was suspended for a knee injury during the match against BYU. Unfortunately, this injury kept him away from the Bowl Games; hence, he missed the rest of the season.
In 2014, Nick again struggled with a hand injury. His ankle surgery followed it on August 25, 2016. Five days later, he stood on the injured list and missed out on the rest of the season's game.
On December 19, 2017, Nick Martin suffered an ankle injury in Week 15 and was placed on the injured reserve.
Follow more on Chris Leak, his journey, statistics, and gameplay in depth.
Net Worth: How much does Zack Martin's Brother Earn?
Nick Martin maintains a net worth of around $1-$5 million and has a base salary of $1,000,000.
Also, he has a salary cap charge of $1,750,000 with a cash payout of $1,250,000.
Nick Martin | Personal Life
Our talented and upfront athlete, Nick Martin, is a married man who leads his own beautiful family. Nick Martin is married to Kathleen Patterson, and together, they have a son and a daughter.
Well, the duo tied knots at Our Lady of Lourdes in Indianapolis. The groom was adorned in a dark blue tuxedo with navy suspenders, a white shirt, and a black bow tie, while the bride was donned in a V-shaped gown.
Her figure-hugging and short gown had an elaborate veil with a pearl bracelet. Altogether, their wedding theme had a "rustic chic" look and a mix of decor, floral details, and stationery accents.
Lastly, their wedding cake was a two-tier vegan cake as Patterson is allergic to dairy. To elaborate, the cake was simple and white with eucalyptus and white flowers added, and beside it, they also had 500 mini cupcakes.
Initially, the duo met in 2015 when Patterson was working the Pro Bowl in Arizona. After a few weeks of talking, they dated each other, and it has been going strong.
The duo took vows in front of 300 guests and even danced to Michael Buble's "Everything."
Social Media
If you are interested in learning more about his detail, check out his social media sites. He is on Instagram as Nick Martin (@ndmartin72) with 11.6k followers.
You might be interested in reading more about Sam Darnold's journey, bio, games, and more!
Nick Martin | Frequently Asked Questions (FAQs)
Which jersey number does Nick Martin wear? What is his branch press number?
Nick Martin wears jersey number 66 for the Las Vegas Raiders. He maintains a bench press of 28 reps.
What is Nick's 40-yard dash time and 20-yard shuttle time?
Zack Martin's brother, Nick Martin's 40-yard dash time is 5.22 seconds, and the 20-yard shuttle time is 4.72 seconds.