Zhang Zhilei, known as a "Giant man from China," is making a name for himself in the world of boxing as a heavyweight champion. He is an Olympic silver medalist, multiple World, and Asian Championship medalist, and is known for his fierce fists and strong determination.
The Chinese boxer has an estimated net worth of $1-$5 million as of 2023. His combination of speed, power, and technical skill, makes him a fierce competitor and warrior in the ring.
He gives his all every time he steps into the ring and is determined to take on the heavyweight division and make history as the first Chinese Heavyweight Champion.
But his story is more than just punches and knockouts, it's a tale of determination, hard work, and the pursuit of greatness.
This article will look deeper into Zhang Zhilei's early life, financial worth, professional career, and personal life.
Before starting the discussion, let's have a look at some quick facts.
Quick Facts
| | |
| --- | --- |
| Full Name | Zhang Zhilei |
| Chinese Name | 张志磊 |
| Nick Name | Ling Lang, Big Bang, The Giant man from China |
| Date of Birth | May 2, 1983 |
| Age | 40 Years Old |
| Birth Place | Zhoukou, Henan, China |
| Nationality | Chinese |
| Ethnicity | Asian |
| Zodiac Sign | Gemini |
| Height | 1.98 m/ 6 ft. 6 in/ 198cm |
| Weight | 116 kg/ 256 lbs. |
| Hair Color | Black |
| Eye Color | Black |
| Father's Name | Not available |
| Mother's Name | Not available |
| Siblings | Not available |
| Education | Not available |
| Marital Status | Unknown |
| Wife Name | Unknown |
| Children | Unknown |
| Profession | Professional boxer |
| Stance | South Paw |
| Weight | Heavy Weight |
| Tournaments | Olympic Games, World Championship, Asian Games, Asian Championship |
| Debut Year | 2003 |
| Social Media | Instagram, Facebook |
| Net Worth | $1-$5 Million |
| Merch | Boxing Gloves |
| Last Update | June, 2023 |
Early Life
Boxing champion Zhang Zhilei was born on May 2, 1983, in the bustling city of Zhoukou, Henan, China. He currently resides in Bloomfield, New Jersey. There is very little information available on his parents' whereabouts.
Though his early life was shrouded in mystery, one thing was certain, Zhang had a burning passion for boxing from a young age. He initiated his career in boxing at the age of twenty.
But, then, boxing was not the first option for him. He was initially a canoeist. To those who don't know; a canoeist is someone who travels in a small boat pointed on both sides.
But, since he was big in his childhood, people thought he looked like a boxer. That's how he knew about boxing, and upon practice, he fell in love with the sport.
Regarding education, there are no exact details for the High school or University he attended.
Age, Height & Weight
Since Zhilei was born in 1983, he is years old as of 2023.
Also, Zhang is 1.98 meters tall and weighs around 256 lbs. He is considered as one of the best heavyweights in the world, and was ranked 11th in August 2022.
Career
Zhilei began his professional career in 2011 and quickly established himself as a top contender in the Heavyweight division.
As an amateur, he competed in the Beijing Olympics in 2008 and brought home a silver medal in the super heavyweight division, solidifying himself as a top contender in the world of boxing.
He also won gold medals at the 2007 and 2009 National Games of China. These accomplishments established him as one of the top amateur boxers in China, and he decided to turn professional in 2011.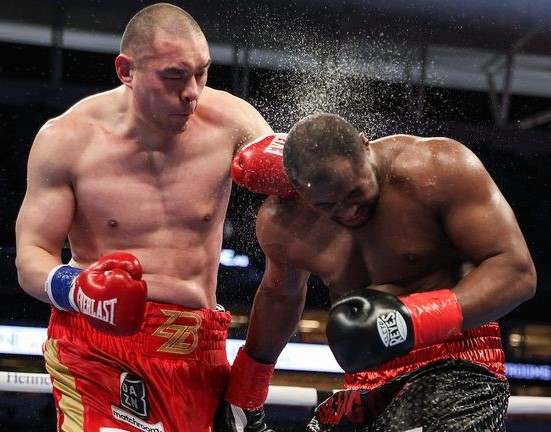 His impressive combination of speed, power, and technical skill has led to many victories and notable wins over opponents such as Joey Dawejko, Jerry Forrest, and Devin Vargas.
In 2020, Zhang signed with American promoter Top Rank, which helped him to get more exposure and match him against quality opponents.
He has since made his American debut on ESPN and is considered one of the top Heavyweight prospects in the world.
Wins and Achievements
Zhang Zhilei's accomplishments are truly impressive! Here are some wins and achievements of Zhang Zhilei:
Silver Medalist at the 2008 Beijing Olympics in the super heavyweight division.
Gold Medalist at the 2007 and 2009 National Games of China.
Bronze medalist at the 2007 Chicago World Championships
Bronze medalist at the 2009 Milan World Championships
Gold medalist at the 2010 Guangzhou Asian Games
Gold medalist at the 2009 Zhuhai Asian Championships
Silver medalist at the 2007 Ulan Bator Asian Championships
Bronze medalist at the 2004 Puerto Princesa Asian Championships
Bronze medalist at the 2011 Incheon Asian Championships
Won his professional debut on August 8, 2014, by knocking out Curtis Tate in the first 17 seconds of round one.
Ranked as the 11th-best heavyweight by The Ring in August 2022.
Considered one of the top Heavyweight prospects in the world.
Dream
Zhang Zhilei aims to become the first Chinese Heavyweight champion in history. Boxing is not regarded as the top sport in China, and he wants to be an inspiration for any Chinese who wants to make a career in boxing.
Zhang had limited scope in China as a boxer which is why he had to move to the U.S. with unlimited opportunity and show the world his potential.
In an interview, he said,
For me personally, that's my dream come true (to be the first Chinese Heavyweight champion). Not just for me but for the country of China and its sports industry overall. I'm carrying everybody's dream here, so if I make that dream come true everybody in China's dream also comes true.
Zhilei is well known in the west as a heavyweight boxer and soon through his determination and effort, he will, sure, be dubbed the first Chinese heavyweight champion in history.
Wife and Children
Zhang is a private person when it comes to his personal life. He's all about his work and doesn't share much about his family or relationships.
However, there are gossips that he is married and has a son in China. But, we have no information if it is a fact or just a rumor.
Social Media Presence
Zhang regularly posts on Instagram, where thousands of followers eagerly wait for his next update. He's also active on Facebook, so you can get a complete picture of his life.
View this post on Instagram
From sharing his personal opinions to showcasing his achievements, you'll get an inside look into his world.
He also uses social media as a way to connect with his fans and loved ones, you can join the conversation too and be a part of his community. Give him a follow and join the fun!
Net Worth & Income
The net worth of Zhang Zhilei is estimated to be anywhere between $1 million to $5 million. His primary source of income is his profession as a wrestler.
Popularity Graph
Frequently Asked Questions (FAQS)
What are the overall Boxing statistics of Zhang Zhilei?
Zhilei Zhang's record currently stands at 24 wins, 1 loss, and 1 draw. He has played a total of 26 fights and won 19 games with KO.
What is the name of Zhang's trainer?
Zhang Zhilei's trainer's name is Shaun George, a well-known American boxer in the Light Heavyweight division.