Zlatan Ibrahimovic is a famous personality and a professional footballer who was born on October 3, 1981. He plays as a striker for Serie A club A.C. Milan.
He was regarded as one of the perfect strikers of his age group. His high dedication towards football had made him the most decorated active footballer in the world. Altogether, he won 31 trophies in his career.
His career began professionally in 2001 when he signed for Ajax. He gained a unique reputation as the most promising forwards in Europe but signed for Juventus later.
He has also won the Capocannoniere from 2008 to 2009. In 2009, he transferred to Barcelona and won another Serie A title in the 2010 to 2011 season. These are not only the title he won, but he has also won numerous trophies like Ligue 1 titles.
Similarly, he became PSG's all-time leading goal scorer at the time in 2015, and in 2016, he linked with Manchester United on a free transfer.
He won FA Community Shield, Football League Cup, and UEFA Europa League in the first season. He intended to join American Club LA Galaxy and did that in 2018, but he rejoined Milan after two years.
Zlatan Ibrahimovic is a person having high confidence in everything. He inspires most of his fans by presenting attractive words and sayings in the interviews after games.
He used to give a powerful message, and that motivated most of you to believe in yourself.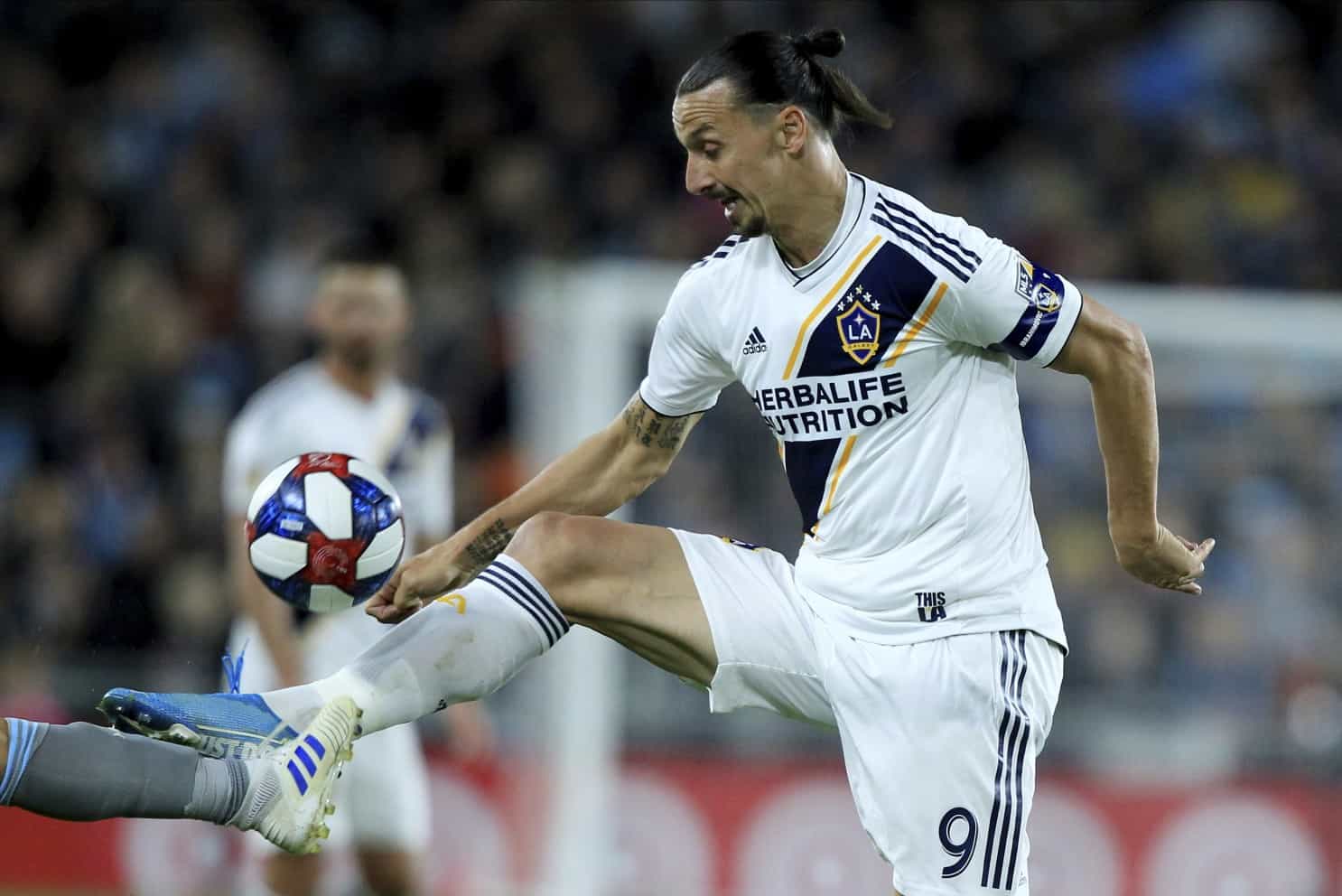 In this article, you will know some of his motivating quotes that will help you.
"I do not need a trophy to tell myself that I am the best."― Zlatan Ibrahimovic
"If anything, the children of Paris should be giving me even more money for having the privilege of being in the same city as my incredible quality. And so should David Beckham. Call it a Zlaritable donation."― Zlatan Ibrahimovic
"Never judge a person if you don't know him."― Zlatan Ibrahimovic
"Every player needs a little time to adjust to new teammates and the mentality of the coach when you change clubs."― Zlatan Ibrahimovic
"Anything that happens in your life was meant to happen. It is your destiny. I was destined to have the life I have now, and I can't have any regrets."― Zlatan Ibrahimovic
"I did many stupid things. I made many mistakes, but I learnt from everything. I still make mistakes; I still learn from them. Nobody is perfect."― Zlatan Ibrahimovic
"Some things is made by destiny, yes, other things by hard work, but quality you don't learn. Quality you are born with."― Zlatan Ibrahimovic
"I know I'm good enough. I don't need to show it to you. Either you know who I am, or you don't."― Zlatan Ibrahimovic
"I want to be remembered as the football player I was. The private person is nobody's business."― Zlatan Ibrahimovic
"I always want to become better. If never being satisfied is a problem, then I have it. At least it's a good problem."― Zlatan Ibrahimovic
"When you buy me, you are buying a Ferrari. If you drive a Ferrari, you put premium petrol in the tank, you hit the motorway, and you step on the gas."― Zlatan Ibrahimovic
"Whenever life's at a standstill, I need some action."― Zlatan Ibrahimovic
13th of 72 Zlatan Ibrahimovic Quotes
"I always drive like a madman."― Zlatan Ibrahimovic
"When I started to play football, when I was around 15, 16, I remember the players that played on the national team and noticed that it was only typically Swedish guys."― Zlatan Ibrahimovic
"I can't help but laugh at how perfect I am."― Zlatan Ibrahimovic
"Nothing is written in stone, as a career is an unpredictable journey."― Zlatan Ibrahimovic
"I read all the time that people think I'm arrogant. They say I am cocky, a bad character. I had that from a young age. But when they meet me, they say, 'That image doesn't fit you.'"― Zlatan Ibrahimovic
"I am a guy who likes those who drive through red lights."― Zlatan Ibrahimovic
"Arsene Wenger asked me to have a trial with Arsenal when I was 17. I turned it down. Zlatan doesn't do auditions."― Zlatan Ibrahimovic
"Do you know what I love about hunting? That I am no one in the woods, no one at all. I thought the animals might recognize me, but they didn't. They did not even ask me for any autographs."― Zlatan Ibrahimovic
"If I had an ego as big as the Eiffel Tower, would I have won this many collective trophies? I know people like to talk about it. And O.K., I am not going to answer every story. But maybe I will let my collective trophies speak for themselves. I don't know many other footballers who have won as much. Do you?"― Zlatan Ibrahimovic
"When people criticize me, instead of putting my head down, it gives me energy to do even more."― Zlatan Ibrahimovic
23rd of 72 Zlatan Ibrahimovic Quotes
"You never forget where you come from."― Zlatan Ibrahimovic
"I wish anyone in this world could go to his fridge and pick whatever he wants. Because the day you open your fridge and there is nothing in it, it is difficult."― Zlatan Ibrahimovic
"It is nice to know that even David Beckham doesn't have good taste in everything."― Zlatan Ibrahimovic
"People trash talk me."― Zlatan Ibrahimovic
"When I took my shirt off against Caen, everybody asked what these new tattoos were. I had 15 removable tattoos on my body; they are the names of real people who are suffering from hunger in the world."― Zlatan Ibrahimovic
"One thing is for sure: a World Cup without me is nothing to watch."― Zlatan Ibrahimovic
"Everybody tries to score a great goal, and I am lucky I have netted a few."― Zlatan Ibrahimovic
"An injured Zlatan is a pretty serious thing for any team."― Zlatan Ibrahimovic
"Jose Mourinho is a big star… he's cool."― Zlatan Ibrahimovic
99 motivating Max Holloway Quotes
"The way that I opened the door for the young people that come from where I come from and that have a different background, that is what I want to be remembered for."― Zlatan Ibrahimovic
"I think I am difficult to satisfy, because when I win something, I'm already thinking about the next step, and that is maybe a problem for me. I'm not enjoying the moment. I'm already on the mission to win the next trophy."― Zlatan Ibrahimovic
"Best player I ever played against? I mean, I played against many, many good players, so I don't know who to keep. I would say Ronaldo the Fenomeno."― Zlatan Ibrahimovic
"If you are too nice, you will just get eaten alive. The football world is not always a nice place."― Zlatan Ibrahimovic
81 Broad and Famous Megan Rapinoe Quotes
"I'm not difficult to work with, trust me."― Zlatan Ibrahimovic
"I think I'm like wine. The older I get, the better I get."― Zlatan Ibrahimovic
38th of 72 Zlatan Ibrahimovic Quotes
"When you are the invisible man to the head coach, the only option is to head for the exit."― Zlatan Ibrahimovic
"I'm a guy of 92kg. I haven't got the physique of someone who can work back and then sprint up front again throughout a match!"― Zlatan Ibrahimovic
"I always put myself second – I like to make others happy."― Zlatan Ibrahimovic
"I have a big heart."― Zlatan Ibrahimovic
"I got a bike when I was little, a BMX. I called it 'Fido Dido' after the tough little cartoon guy with spiked hair. I thought he was the coolest thing ever."― Zlatan Ibrahimovic
"You were born as the one you are."― Zlatan Ibrahimovic
"I still feel I need to do things 10 times better than other players. Just to be accepted and to improve myself."― Zlatan Ibrahimovic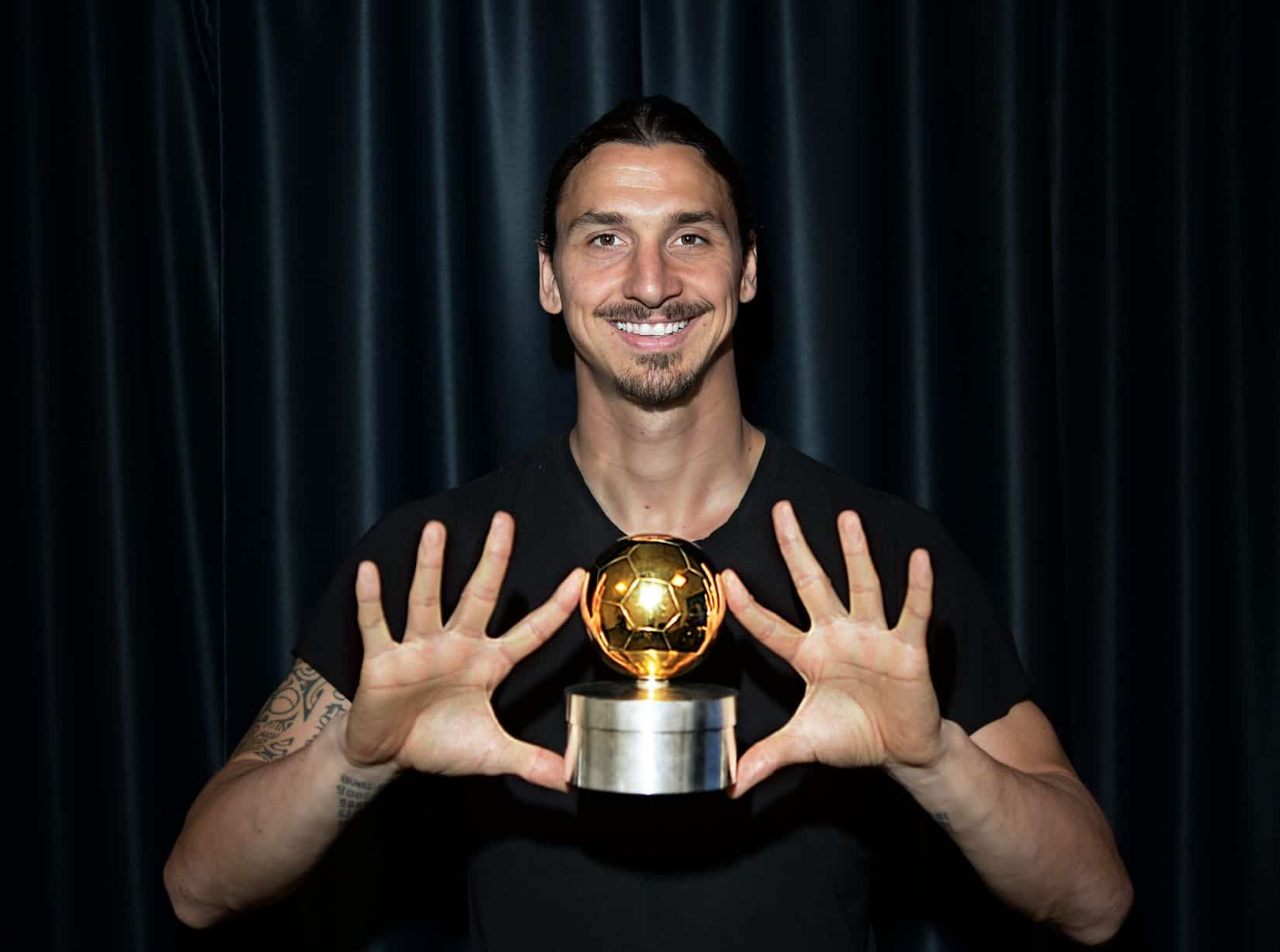 "I'm used to having a camera in my face but not a camera following me."― Zlatan Ibrahimovic
"I had time with my mother, but I really lived with my father. One time he gave all his salary so I could travel to a training camp. He couldn't pay the rent, but he did that."― Zlatan Ibrahimovic
"If you are different, or you have minimum possibilities, you can still succeed. I am living proof of that."― Zlatan Ibrahimovic
48th of 72 Zlatan Ibrahimovic Quotes
"One time I got dressed in all black, Rambo-style, and took a massive pair of bolt-cutters and nicked a military bike."― Zlatan Ibrahimovic
"Some coaches prefer players who will just do whatever he tells them to. It's like, if you're at school with a load of 10-year-old boys and you tell them to jump, everyone will start to jump. But the intelligent boy will ask, 'Why should I jump? Why?' That can be difficult for a lot of coaches, and I understand that."― Zlatan Ibrahimovic
"I would love to play alongside Wayne Rooney. He does the running of two or three players and makes a lot of space. We would be the perfect combination."― Zlatan Ibrahimovic
"When I went to Juventus, I was young, but in training, I had legends like Fabio Cannavaro and Lilian Thuram marking me. I had to work hard to get my respect."― Zlatan Ibrahimovic
"Wherever I go, people recognize me, call my name, cheer me."― Zlatan Ibrahimovic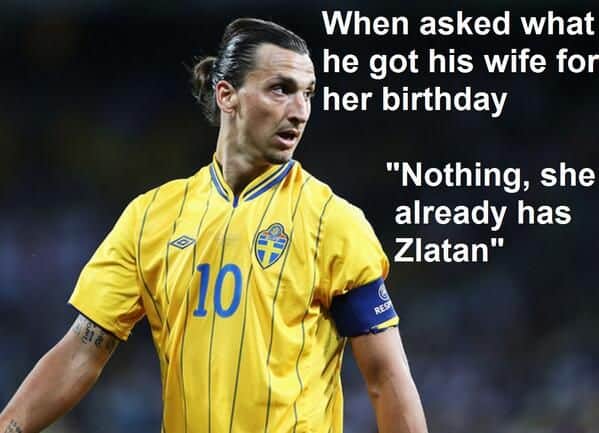 "When you have my confidence, I will do 200% for you."― Zlatan Ibrahimovic
"At Barca, players were banned from driving their sports cars to training."― Zlatan Ibrahimovic
"I don't like to talk about myself."― Zlatan Ibrahimovic
"I'm not someone who feels settled."― Zlatan Ibrahimovic
"My father is from Bosnia, and my mother is from Croatia, but I was born in Sweden."― Zlatan Ibrahimovic
"If I'd gone into taekwondo, I'd probably have won several Olympic medals."― Zlatan Ibrahimovic
"Who is most deserving of all of the money that I, Zlatan, am paid? The answer is Zlatan."― Zlatan Ibrahimovic
"My confidence can come back very quickly."― Zlatan Ibrahimovic
"I do love cars."― Zlatan Ibrahimovic
"Lionel Messi is awesome."― Zlatan Ibrahimovic
"When I arrived at Barcelona, I was following a dream, but I now realize sometimes it's better to be content with what you have rather than follow a dream which nearly kills you."― Zlatan Ibrahimovic
"I am happy in Paris."― Zlatan Ibrahimovic
"I respect the Premier League."― Zlatan Ibrahimovic
"I will not look back and say, 'I should have played in England.'"― Zlatan Ibrahimovic
"The day I leave Paris is the day I go down a level or quit football."― Zlatan Ibrahimovic
68th of 72 Zlatan Ibrahimovic Quotes
"That's my hunger. If I start to relax, and I lose that, then I had better stop my football. I need that hunger. I still feel I need to do things 10 times better than other players. Just to be accepted and to improve myself."― Zlatan Ibrahimovic
"I'm like the wine. The older I get, the better I get."― Zlatan Ibrahimovic
"I decide my future. I decide what I want to do. Nobody else. If I decide this will be my last year, maybe it is. If I decide it will be my last contract, I decide that. Nobody else. So I will decide when the moment is there."― Zlatan Ibrahimovic
"People are very curious and have written a lot of things about me. Right or not. I never comment on those things, because it's not much of my thing to comment on everything that's written about me."― Zlatan Ibrahimovic
"People often write after they finish their career, or they don't play anymore, or they are not anymore active. So I say, why do that? And let's do it differently."― Zlatan Ibrahimovic