It still baffles us how boxing decisions are made, considering the number of faulty decisions made soo frequently. The sport's history is filled with some of the most controversial boxing decisions that were ever made.
However, only big-money boxing matches seem to gain a lot of attention.
And, due to the game's popularity, even a slight amount of details get captured by the fans in those big games. Thereby bringing the air of the controversial decisions that follow.
Therefore, today we will be ranking some of the top ten most controversial decisions ever made in boxing. This list includes matches of some of the big names in boxing, so make sure to read through because this will be interesting.
10 Most Controversial Boxing Decisions
We were able to rank these controversial boxing decisions with the help of information provided by Wonder List.
Here's a quick look into the ranking.
| | | |
| --- | --- | --- |
| Rank | Match between | Year |
| 10 | Manny Pacquiao vs Juan Manuel Marquez | 2004 |
| 9 | Floyd Mayweather vs. Jose Luis Castillo | 2002 |
| 8 | Sugar Ray Leonard vs. Tommy Hearns | 1989 |
| 7 | Tito Trinidad vs Oscar De La Hoya | 1999 |
| 6 | Pernell Whitaker vs. Julio Cesar Chavez | 1993 |
| 5 | Juan Manuel Marquez vs Manny Pacquiao | 2008 |
| 4 | Timothy Bradley vs. Manny Pacquiao | 2012 |
| 3 | Oscar Dela Hoya vs. Felix Sturm | 2004 |
| 2 | James Toney vs. Dave Tiberi | 1992 |
| 1 | Park Si Hun vs. Roy Jones Jr. | 1988 |
10. Manny Pacquiao vs Juan Manuel Marquez
Juan Manuel Marquez and Manny Pacquiao never engaged in a dull bout. When the Filipino powerhouse faced Marquez for the first bout, he had just defeated Marco Antonio Barrera via KO.
Boxing fans saw the beginning of an epic rivalry that would last for ten years when Manny Pacquiao and Juan Manuel Marquez first fought in 2004. There were moments for both combatants.
Pacquiao would take Marquez to the ground three times in the opening round, but the bout would conclude in a draw.
You may counter that Marquez had his moments in a 12-round bout. Besides, a judge's error in his scorecard is what places this fight on our list of the top 10 controversial boxing decisions.
9. Floyd Mayweather vs. Jose Luis Castillo
He originally showed his speed and athleticism in the smaller weight classes before becoming Money Mayweather. However, his fight with Jose Luis Castillo in 2002 was one of his most contentious boxing contests.
The way the judges judged the bout is what earned this contest a spot on our list of the top 10 contentious boxing matches.
In this match, Mayweather was subjected to a number of body blows and had a point deducted from his score, but the judges still gave Mayweather a clear victory.
Click here to see the 120 inspiring Floyd Mayweather Jr. Quotes>>>
During his fight with Castillo, Floyd Mayweather said in interviews that he injured his hands, making it necessary for him to pull back on some strikes.
8. Sugar Ray Leonard vs. Tommy Hearns
The biggest boxing contests of the 1980s were between welterweights. At that time, Marvin Hagler, Tommy Hearns, Sugar Ray Leonard, and Roberto Duran were known as the "four horsemen."
The lanky Tommy Hearns and Sugar Ray Leonard engaged in a thrilling 12-round battle in 1989.
Sugar Ray Leonard was knocked out twice in this fight with Tommy Hearns. In round 7, he was virtually finished. However, he received a second opportunity and stunned Tommy Hearns in the fifth round. In the previous round, he, too, had his moments.
The outcome of this match was a draw. The decision of one of the judges to award Sugar Ray Leonard a 10-8 victory in the last round despite there being no knockdown makes this bout even more controversial.
7. Tito Trinidad vs Oscar De La Hoya
One of the biggest fights from the late 1990s to the beginning of the 2000s was Tito Trinidad vs. Oscar Dela Hoya. They were both unbeaten at the time.
One of the biggest attractions in boxing was Oscar Dela Hoya. Tito Trinidad and Oscar Dela Hoya gambled on Mexico and Puerto Rico's historic rivalry.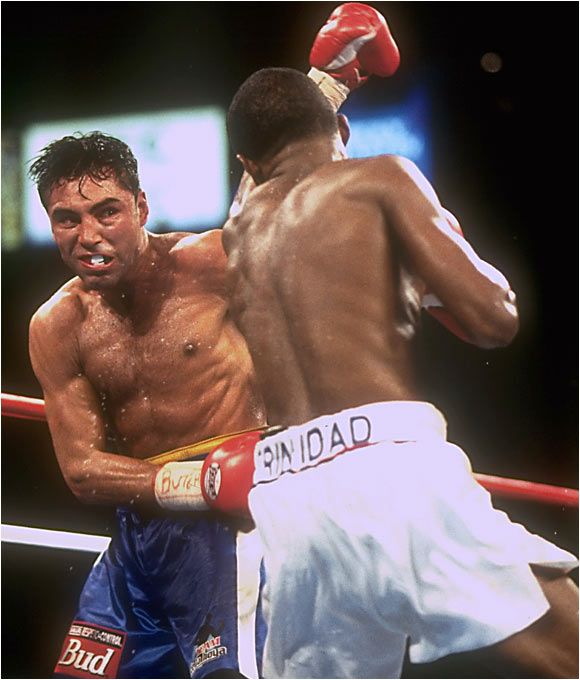 From rounds one through nine, Tito Trinidad was outboxed by Oscar Dela Hoya. Oscar Dela Hoya relaxed and took a break by just dancing around the boxing ring for the following three rounds. In the end, Tito Trinidad was the one who had the final say.
Want to learn more about other boxers? Here's an article about Cosmo Alexandre, an MMA fighter but also a kickboxer and boxer>>>
Oscar hardly ever landed a blow during the previous round. He triumphed, nevertheless, according to one judge's scoring.
Many boxing experts have seen it as an effort to at least make the bout appear close on their scorecards.
6. Pernell Whitaker vs. Julio Cesar Chavez
Whitaker was regarded as a skilled boxer. He demonstrated the essence of stick and moved boxing against Julio Cesar Chavez of Mexico.
With quick movements around the ring and bursts of combination, Whitaker could outlast the Mexican great and win rounds.
At this time, Julio Cesar Chavez appears beaten compared to the sleek Whitaker. The fact that Chavez went on to remain unbeaten following this night.
This is what makes this fight the sixth most controversial boxing decision ever. Despite the overwhelming performance, the fight was declared a draw by a large margin.
5. Juan Manuel Marquez vs Manny Pacquiao
Okay, this is the second time these two legend's match has entered today's list. But given the controversial decision it follows, we cannot ignore it.
So, the second meeting between Manny Pacquiao and Marquez took place in 2008. Fans were pleased with what they saw, much as in the previous match.
While Juan Manuel Marquez timed his counterpunches to the Filipino slugger, Manny Pacquiao was working his hammer of blows.
Manny Pacquiao and Juan Manuel Marquez would then have to contend with another contentious judgment from the judges, much like their first fight.
In the third round, after engaging Marquez in a back-and-forth battle, Manny Pacquiao could knock him out and exert pressure.
However, in the end, Manny Pacquiao was the victor. In this match, Pacquiao connected with 172 of his 511 punches. In contrast, Marquez connected on 157 of his 619 punches.
4. Timothy Bradley vs. Manny Pacquiao
Timothy Bradley and Manny Pacquiao squared up in 2012. During this time, Manny Pacquiao was considered the best pound-for-pound fighter.
However, despite everyone's prediction and hopes for our Filipino champ, the match didn't go as planned.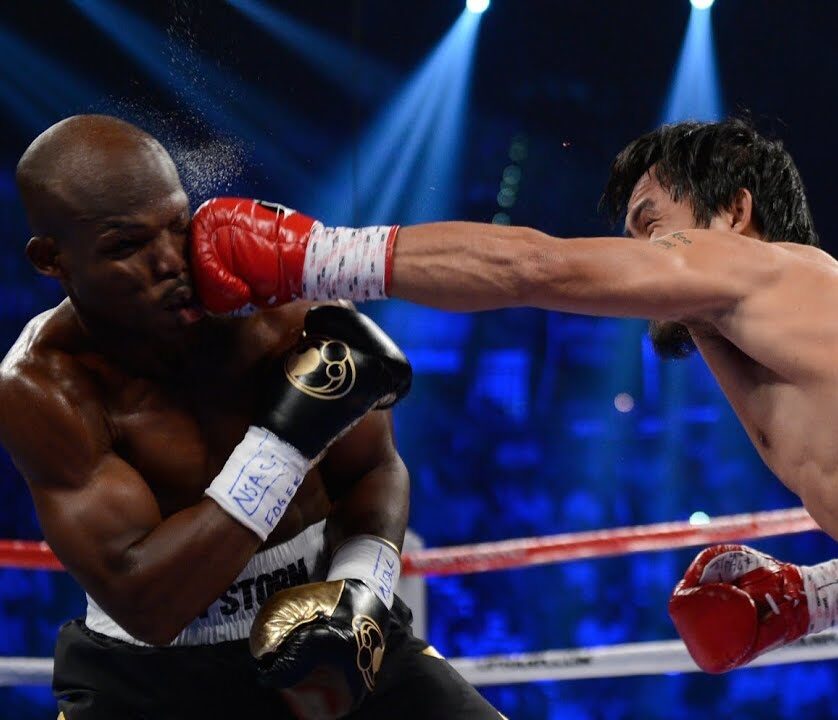 To everyone's surprise, Tim Bradley defeated Manny Pacquiao and won. The split decision went against Pacquiao despite his more potent punches versus Bradley.
Click here to learn more about the Top 16 Hot Boxers in the boxing world>>>
Later, they would square off against one another again, with Manny Pacquiao easily defeating Bradley on both occasions.
3. Oscar Dela Hoya vs. Felix Sturm
It wasn't going right for Oscar Dela Hoya after being defeated by Tito Trinidad and Shane Mosley. However, the Golden Boy kept pushing and went on to challenge more well-known opponents.
Nevertheless, Bernard Hopkins was the next person on his hit list. But Oscar Dela Hoya would have to put on some weight in middleweight to take on Hopkins.
Similarly, Oscar Dela Hoya fought Felix Sturm, who was comparatively unheard of. This was to help him adjust to the weight class.
In the opening round, Dela Hoya was harmed by the heavier Sturm. Against Dela Hoya's 188 punches, Sturm was successful with 234 of them. Sturm was defeated in the decision by a unanimous vote.
2. James Toney vs. Dave Tiberi
Toney vs. Tiberi in 1992 is easily one of the most controversial boxing decisions in the world. James Toney is recognized for his smooth boxing technique.
Moreover, James Toney was well-known for having a sweet tooth and having quick reactions in the ring. However, this chap was also infamous for eating even while training. As a result, Toney found himself in the heavyweight class category.
According to the multiple award-winning trainers, James Toney was the most talented student Freddie Roach ever instructed.
James Toney and Dave Tiberi squared off in 1992. However, James Toney had to reduce his weight before their match drastically.
After all 12 rounds, Dave Tiberi pounded the exhausted James Toney with 439 punches, 290 of which were successful. Despite delivering more blows overall, James Toney was awarded a split decision that evening.
Hence, this match is considered the second most controversial boxing decision ever made.
1. Park Si Hun vs. Roy Jones Jr.
Roy Jones Jr. originally gained popularity in the amateur circuits before switching to professional boxing. Jones squared up against Park Si Hun in 1988.
In this match, the 19-year-old Jones put on a dominant performance, but he was the victim of one of the worst and most contentious decisions in boxing.
The fact that the officials and judges had dinner together the night before the bout is what elevated this judgment to the top spot on our list of the ten most controversial boxing decisions.
Following this occurrence, the judges were terminated. However, the International Olympic Committee did not change its mind about the match's result.
You may say that sweet science cannot be measured with precision. There are, however, certain games that are clearly lopsided.
Conclusion
So what do you think about our today's ranking? And, do you think these might be the only times poor and controversial decisions were made?
You might also be interested in checking the Top 13 Rude Tennis Players of All Time>>>
Well, we can't be sure about that either because there will be more contentious choices made within the sport, given the unpredictable nature of the sport and its judges. However, we can only hope that no boxers get treated with unfair judgment in the future.