Aaron Rodgers' Wife?? Aaron Rodgers is one of the famous National Football League football players, and his relationships have always been the center of attraction for both media and the public.
He had quite a few relationships and has been linked with several other high-profile celebrities down his career path.
So, what is his marital status now? Is Aaron dating a girlfriend, or is he married? Who is Aaron Rodgers' Wife?
Contrary to his long and successful NFL career, his love life isn't quite relatable to that scale.
Although he had been in long-term relationships with his past girlfriends, none of them stayed with him to the point of hearing wedding bells chime.
The NFL star, in the past, has been linked with different girls, from models to race car drivers and reporters. This article covers every aspect of Aron's relationships, from his past flings and alleged rumors to his current connection.
So, let's know more about the quarterback's love life history.
Blu of Earth
After Rodgers broke up with Shailene Woodley, he was reportedly dating someone new. The NFL quarterback was rumored to be linked with Blu in June 2022.
Charlotte Brereton, aka Blu of Earth, is an American social media influencer, motivational speaker, and podcast host. Take a look at the quick facts table;
Quick Facts
| | |
| --- | --- |
| Full Name | Charlotte Brereton |
| Date of Birth | November 9, 1990 |
| Birth Place | USA |
| Nick Name | Blu of Earth |
| Religion | Christianity |
| Nationality | American |
| Ethnicity | White |
| Zodiac Sign | Scorpio |
| Age | 32 Years Old |
| Height | 5'9″/1.75 m/175 cm |
| Weight | 59 kg/130 lb. |
| Hair Color | Dark Brown |
| Eye Color | Brown |
| Relationship | Dating |
| Boyfriend | Aaron Rodgers |
| Profession | Podcast Host, Artist, Author, Motivational Speaker |
| Social Media | Instagram |
| Last Updated | March 2023 |
The duo was first caught together in June 2022, and some fans saw Rodger's tattoo matching Blu's. Afterward, Woodley, Rodger's ex-girlfriend, also made some comments which were directed to Blu.
There is not much known about the new girlfriend of the Packers quarterback. Charlotte hosts a podcast, "Deja Blu," and is also the co-founder of "Florescence Earth," a modern mystery school for women.
Shailene Woodley (2020 – 2022)
Aaron Rodgers was in a relationship with Shailene Woodley and got engaged in February 2021. However, their engagement ended a year later.
They revealed their relationship in February 2021 as Aaron thanked his ex-fiancée while accepting the MVP award at the NFL Honors.
Speaking about the announcement, Shailene stated:
"When we announced that we were engaged, we wanted to do that only because we didn't want someone else to do it before we did."
Later, it came to light that the duo had started dating in 2020 during the COVID-19 pandemic.
The couple jumped headfirst into their relationship, removing the sticky bits at an early stage.
They had known each other for a long time and quickly moved in together to avoid their long-distance relationship.
However, they parted ways as Woodley felt neglected, and they were not spending much time together, per sources.
Before we jump into further details about the American actress. Here are some quick facts about Shailene Woodley;
Quick Facts
Full Name
Shailene Diann Woodley
Date of Birth
November 15, 1991
Birth Place
San Bernardino, California, U.S.
Nick Name
Unknown
Religion
Christianity
Nationality
American
Ethnicity
White
Zodiac Sign
Scorpio
Age
31 years old
Height
5'8″/1.73 m/173 cm
Weight
60 kg/132 lb.
Hair Color
Dark Brown
Eye Color
Green
Father's Name
Lonnie Woodley
Mother's Name
Lori (née Victor) Woodley
Siblings
A brother; Tanner Woodley
Education
Simi Valley High School
Young Actors Space
Marital Status
Unmarried
Ex-Fiancee
Aaron Rodgers
Kids
None
Profession
Actress
Active Years
1999-present
Net Worth
$12 million
Aaron's Merch
Books, Poster & Jersey
Social Media
Twitter, Instagram
Last Update

March 2023
Who Is Shailene Woodley?
Shailene Woodley is an American Actress and activist raised in Simi Valley, Woodley. She commenced modeling at four and began acting professionally in minor television roles.
Initially, Woodley starred in the 2011 picture, 'The Descendants.' Among all her works, she came into the limelight through the ABC Family Drama series 'The Secret Life of the American Teenager.'
Before dating Aaron Rodgers, Woodley was dating Australian-Fijian rugby union playecamen Volavola in 2018. However, they ended their relationship in 2020.
Shailene Woodley – Aaron Rodgers Wedding And Kids Plans?
Aaron Rodger's wedding with the beautiful Divergent star Shailene Woodley was expected to be one of the grandest ceremonies in the sports and entertainment sectors.
Although the couple had been hush-hush about not spilling too many beans on their grand wedding plans, some of the entails slowly came into the light.
It was anticipated that Shailene Woodley, who is also an environmental activist and a partner with Greenpeace (the most significant ecological NGO in the world), would choose the sustainability theme for the wedding.
Furthermore, it was even envisioned as a potential sustainable event of the year.
On the other hand, Aaron Rodgers' wedding with Shailene Woodley was also expected to feature a charity component as both like-minded stars are two of the most charitable people.
And, if there had been Shailene Woodley and Aaron Rodgers' wedding, it would have been one of the most significant events of the year. The ceremony would have been attended by Hollywood's A-listers, including NFL stars and legends.
The former couple did not have any kids while they were together. Now that they have called it quits, their wedding is also off the list.
Aaron Rodgers' Girlfriends (Past Relationships)
The NFL star has been in a fair number of relationships from the start of his career. Here we will discuss Aaron Rodgers' girlfriends and his popular relationships.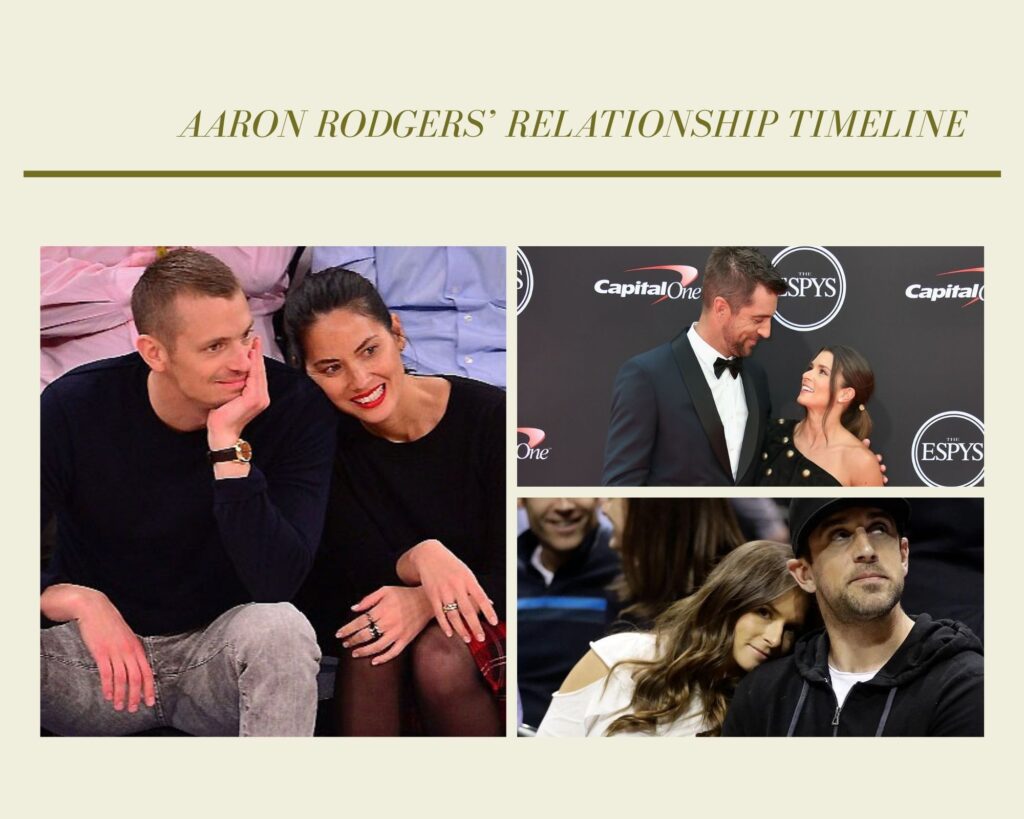 Aaron Rodgers' Relationship Timeline
| | |
| --- | --- |
| Relationship | Date |
| Danica Patrick | (2018-2020) |
| Olivia Munn | (2014-2017) |
| Jessica Szohr (Rumors) | (2011-2014) |
| Erin Andrews (Rumors) | 2010 |
| Julie Henderson (Rumors) | 2009 |
| Hillary Scott (Rumors) | 2009 |
Danica Patrick
Aaron was dating Danica Patrick in January 2018. Moreover, Aaron confessed to the public about his new relationship through Artful magazine.
Danica is a former professional racing driver. She is regarded as the woman with the highest success in American open-wheel racing.
The couple broke up in July 2020. They had been together for a couple of years. Let's cover some exciting details about Patrick's career and personal life.
No doubt, we will be providing a glimpse of her relationship with the NFL star and the reason for separation.
Early Life, Family, And Education
Danica was born to working-class parents, Beverly Ann Flaten and Terry Joseph Patrick Jr. She also has a younger sister named Brooke, a pediatric physical therapist.
The former professional racing driver joined Hononegah Community High School, where she was a cheerleader.
Also, she used to babysit in her earlier days. Eventually, she dropped out of high school.
Early Career
Danica joined karting at Sugar River Raceway in Wisconsin. Her parents were very supportive of her racing career and she wanted to become the best in the business.
Unfortunately, she crashed in her debut race but sustained no injuries. Later on, she went on to win ten regional karting titles.
The former racing driver bagged the World Karting Association Grand National Championship.
Patrick obtained a certificate from General Educational Development. Then she moved to England to pursue a career in racing. She was backed economically by Ford Motor Company.
There she raced in Formula Vauxhall and Formula Ford.
IndyCar And NASCAR
Later, Patrick raced in the Indianapolis 500. Remarkably, she finished fourth, which was the highest ever by a female driver.
Besides, she lost to Ashley Force in the Hottest Athlete poll by AOL Sports.
The former racing driver raced for JR Motorsports in the 2011 NASCAR Nationwide Series. She became the first woman to win a pole position in a Sprint Cup race at the Daytona 500.
Patrick raced her last NASCAR at the 2018 Daytona 500 as she ended up crashing her car after losing control going into turn two on Lap 68.
Besides her career in racing sports, she also served as a television host and television series actor. She even got the opportunity to feature on the cover of Sports Illustrated.
Moreover, she had a cameo in the action-comedy Charlie's Angels (2019).
Patrick Intended To Be Aaron Rodgers' Wife?
Speculations said that Aaron Rodgers met Danica at the 2012 ESPYS Awards. But it was in January 2018 that the couple revealed that they were dating each other.
In February 2018, the couple appeared together at the Daytona 500. Rodgers was seen kissing Patrick before her last NASCAR race.
In Jimmy Kimmel Live, Patrick opened up about their relationship. There she explained how she became a Packers fan.
Aaron made a public confession about his love in Artful magazine. Similarly, the couple went to Paris on Patrick's birthday in 2019.
Likewise, the former couple bought a lavish mansion in Malibu in December 2019.
In interviews, the beautiful former drag racer talked about her intentions of becoming Aaron Rodgers' wife. However, around July 2020, the couple separated.
Net Worth
According to sources, Danica Patrick's net worth as of 2023 is $80 million. The most successful woman racer had earned $10 million each year at the peak of her career.
Besides, she endorses brands like Chevrolet, Coca-Cola, and Tissot.
Social Media
Danica has got an enormous fan following on social media.
Facebook: 1.4 million followers (@Danica Patrick)
Twitter: 1.7 million followers (@DanicaPatrick)
Instagram: 906k followers (@danicapatrick)
Olivia Munn
Rodgers was in an intimate relationship with actress Olivia Munn between 2014 and 2017. Besides, Olivia is a former television show host.
She had the leading role in the series 'Beyond the Break' between 2006 and 2009.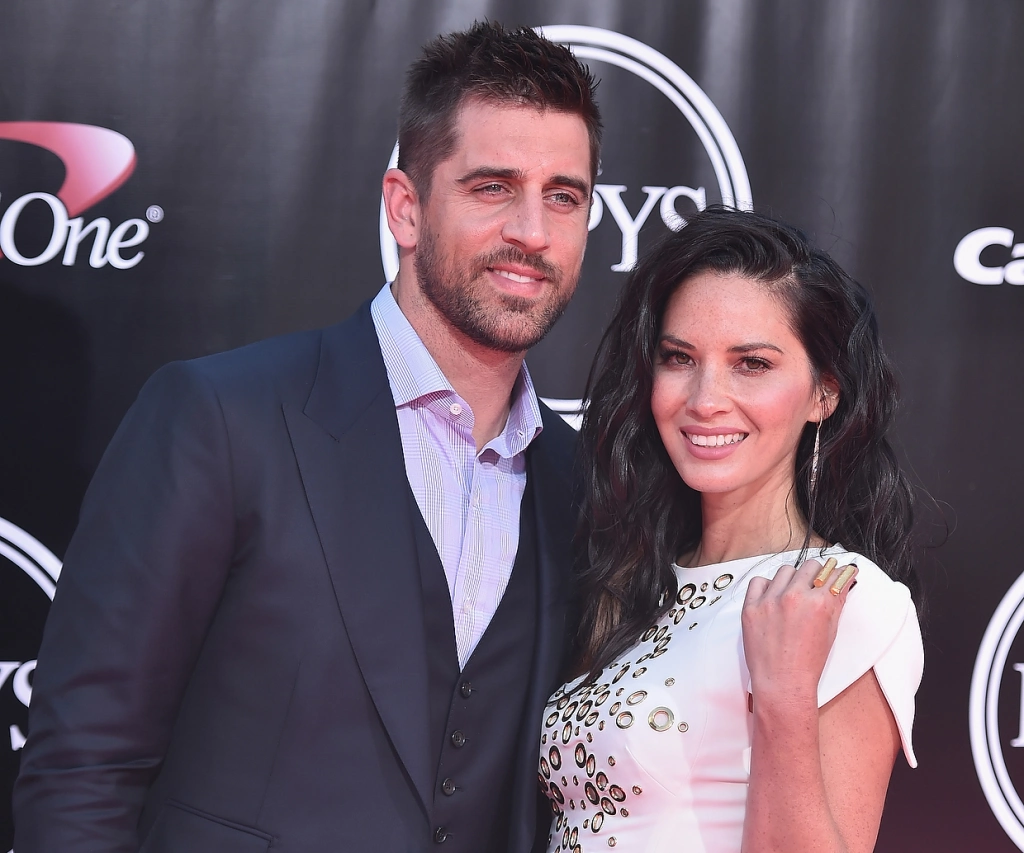 Moreover, she has also appeared in films like 2010's Date Night, 2007's Big Stan, 2010's Iron Man 2, and 2012's Magic Mike.
Here is a summary of her career and relationship with Aaron.
Early Days
Olivia was born to Kimberly Nguyen and Winston Barret Munn in Oklahoma City, Oklahoma.
She belongs to mixed ethnicity, as her father is of German, Irish, and English ancestry, while her mother is Vietnamese with Chinese ancestry.
Besides, Munn grew up with 4 siblings; two brothers and two sisters.
Olivia Munn's Career
Munn started her career as an intern at the NBC affiliate and later at the Fox Sports Networks.
With the Fox Sports Network, she was a sideline reporter for college football and women's basketball.
Munn later moved to Los Angeles and made her movie debut in the horror film 'Scarecrow Gone Wild' in a small role.
The American actress appeared as a lead in the television drama 'Beyond the Break' for two seasons. Then, she co-hosted 'Attack of the Show!' on the G4 network.
She was also featured in a supporting role in the superhero movie 'Iron Man 2' in 2010. Her performance was praised by the film's lead, Robert Downy Jr.
Besides that, she served as a correspondent on 'The Daily Show' on Comedy Central.
Munn appeared in 'Magic Mike' in 2012 and had a lead role in 'The Babymakers.' Notably, she gained the spotlight from HBO's 'The Newsroom.' She also appeared as Sloan Sabbith in a series for three seasons.
Also, she was cast as one of Apocalypse's Four Horsemen in 'X-Men: Apocalypse' and gave a notable performance as the lead actor in the comedy film 'Office Christmas Party' (2016) and 'Love Wedding Repeat' (2020).
Munn Nearly Became Aaron Rodgers' Wife?
Aaron and Munn started dating in 2014. The couple remained together for three years and eventually broke up in 2017.
Moreover, there was a rumor that the couple was engaged before they separated.
Munn was accused of being the reason behind the split between the NFL star and the actress. However, Munn denied the rumors on a SiriusXM radio show.
Aaron's family thought that The Predator star was controlling Aaron. Also, they suspected that she was not with him for good reasons.
Reportedly, Rodgers' mother opposed the engagement with Munn, and his family did not like his relationship with the actress.
Thus, the relationship that was going well allegedly drifted apart due to the lack of Aaron's family support, and Olivia missed the chance of becoming Aaron Rodgers' wife.
The quarterback reportedly stopped speaking to his siblings and parents after the breakup.
After their breakup, Olivia started dating John Mulaney and gave birth to a son on November 24, 2021.
Besides, Munn was linked with several actors, including Jamie Foxx, Matthew Morrison, and Chris Pine.
Net Worth & Salary
Some of Munn's films had massive success at the box office. 'X-Men: Apocalypse' earned over $500 million worldwide. 'Iron Man 2' was an even better hit, earning around $624 million.
Working for some of the best-earning Hollywood movies, the American actress has amassed quite a fortune and is estimated to have a net worth of around $15 million as of 2023.
Besides, she also earns from endorsement and advertisement deals and owns luxurious houses in Los Angeles and New York.
During her career, she has appeared in marketing campaigns for brands like Nike, Pepsi, McDonald's, and many others.
Social Media Presence
You can find Olivia Munn's media platforms like Twitter and Instagram.
Instagram: 2.8 million followers (@oliviamunn)
Twitter: 806.2k followers (@oliviamunn)
Aaron Rodgers' Rumored Girlfriends (Alleged Relationships)
Rodgers was ranked sixth on the NFL Top 100 Players of 2016. Tom Brady was one of those before him.
With this level of success, getting linked with a few beauties down the line is inevitable.
Julie Henderson
In 2009, Rodgers was linked with Julie Henderson for a short time. Julie is a model famous for her appearances in the Sports Illustrated Swimsuit Issue. However, neither of the parties confirmed the relationship.
Erin Andrews
In 2010, there were rumors that Rodgers was having an alleged affair with Erin Andrews. Andrews is a sportscaster and television personality. She was voted America's Sexiest Sportscaster in 2008.
Aaron and Erin reportedly were together when Aaron was playing his first Super Bowl.
Hillary Scott
Aaron was rumored to be linked with Hillary Scott in 2009. Scott is the lead singer of Lady A or Lady Antebellum.
In a picture published by TMZ Sports, they were seen together at a club in Las Vegas. Also, an ESPN crew claimed to have seen Aaron at Scott's concert.
Jessica Szohr
Aaron was rumored to have dated Jessica Szohr in 2011, but it ended shortly. She is an American Actress widely known for her notable performance in CSI: Miami, What About Brian, including The Orville, and many more.
Later, in 2014, they got back together. However, their relationship did not last a year.
Frequently Asked Questions
Who is Aaron Rodgers' new wife?
Aaron Rodgers is rumored to have a relationship with Charlotte Brereton (aka Blu). Previously, Rodgers was engaged with Shailene Woodley. However, they called it quits.
Are Aaron Rodgers and Shailene Woodley still together?
Sadly, the NFL quarterback and the American actress broke up in 2022. Per Shailene, Rodgers was not giving her proper time.
What do Aaron Rodgers, Sidney Crosby, and Jeremy Lin have in common?
Sidney Crosby and Jeremy Lin, alongside Aaron, have been subjected to the bounty, also known as the bounty gate; the athletes are paid bonuses for injuring opponent team members.