Aleix Espargaró's wife, Laura Montero, is a digital creator with a sizable following on Instagram. The couple tied the knot in 2014 and are parents to twins.
The Spanish motorcycle racer, Aleix, has been with his partner for more than a decade. His supportive wife, Aleix, is seen in many of his races, and tagging along with her are their twins.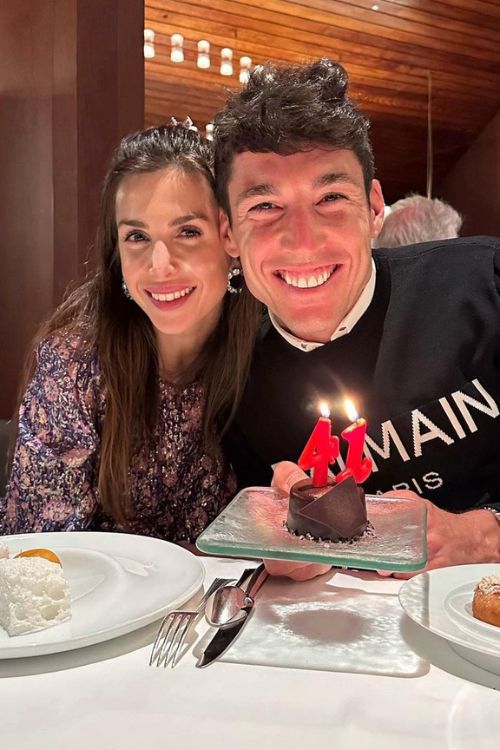 The veteran racer currently stands at 11th position and is yet to get a podium finish this season.
In the recent France Grand Prix, Espargaró came in fifth, with Marco Bezzecchi and Jorge Martin taking first and second positions.
The 33-year-old recently suffered injuries while cycling at Mugello. The Aprilia rider crashed his bicycle while using his mobile, but that didn't stop him from getting Q2 for Italian Grand Prix.
Aleix Espargaró Wife, Laura Montero
Aleix Espargaró's wife, Laura Montero, is a social media influencer and founder of Cookkids Club.
A quick look at Laura's Instagram handle shows she has similar interests to her husband. Laura's love for fitness is well documented on her handle.
From hiking with friends to cycling with her family, the mother of two loves to keep herself in shape. She has also previously demonstrated her pilates skills.
Laura established Cookkids with her friend and dietitian-nutritionist, Lara Lombarte. Their company CookKids is geared toward parents with little kids.
Many short and easy-to-quick recipes are available on their website. One needs to pay either €53.9 or €129.9 annually to receive the services from CookKids.
One of the other companies Laura supports is Ringana. It is a company that manufactures healthcare products, including those beneficial for your body and your skin.
Previously, giving a glimpse of her love for cooking, Laura has shared a few recipes with her Instagram followers. Along with prioritizing fitness and work, family time also clearly matters to Laura.
She has shared several posts of her enjoying downtime with her kids as they travel the world. But being a mom of two also means you have to take care of a lot of mess in the house.
In her recently shared TikTok video, Laura had her hands to her face with the mess her kids had made. But she also included fun bits of her cooking with her twin babies.
Aleix And Laura Are Parents To Twins
The racing couple, Aleix and Laura, are proud parents to twin babies. Looking at their social media handle, it seems like Aleix and Laura have struck a perfect balance between their family and work life.
One of the couple's first photographs on Instagram dates back to 2012. Laura has been attending Aleix's races since his early days at MotoGP.
In one of the photos shared by Laura in 2013, the future wife of Aleix is seen holding an umbrella over for him while getting ready for his race.
A year later, the couple tied the knot on August 25, with Laura sharing the picture of them walking down the aisle. The couple then traveled to Italy to celebrate their honeymoon.
Welcoming The Twins
2018 started with a huge announcement for Laura and Aleix. Sharing a photo of Aleix holding her baby bump and their two pet dogs on the side, Laura announced she and Aleix were welcoming twins.
In the coming months, Laura continued showing her growing baby bump but continued traveling with Aleix and their pups.
Laura gave birth to the twins on June 6, 2018, and recently celebrated their fifth birthday with a family portrait.
The twins, Mia and Max, are seen attending their father's races with their mom and have been seen joining their parents for cycling.
Little Max has also been seen doing pilates with his mom. So, Laura and Aleix have already instilled the importance of fitness in their kids.