When it comes to young talent in the NBA, Aleksej Pokusevski is a name that's quickly rising to the top. The Serbian-born basketball player is a power forward for the Oklahoma City Thunder (2020- now).
At only 13 years old, Pokusevski went to Greece to pursue his basketball career & saw himself in Euroleague with Olympiacos, where he played for a season (2019-20).
After that, he set sail to the NBA after being the first-round (17th overall pick) of Minnesota Timberwolves in the 2020 NBA draft.
Subsequently, Aleksej was traded to the City Thunder & signed a four-year contract with options for the last two years.
In October 2022, he agreed on an option deal for the 2023-24 season with the City Thunder.
However, his promising start hit a setback when he suffered a left leg fracture on December 27, 2022.
After nearly three months of rest, he returned to the court to practice with the OKC Blue in the NBA G League in March 2023.
Fans eagerly anticipate his return to the major league & what he'll bring to the Oklahoma City Thunder!
In this article, we'll dive into the career of this exciting young player and explore what makes him a rising star in the NBA.
Quick Facts
Full Name
Aleksej Pokusevski
Nick Name
Poku
Date of Birth
December 26, 2001
Age
21 Years Old
Birth Place
Belgrade, Serbia
Nationality
Serbian
Height
7 feet 0 inches / 2.13 m/ 213 cm
Weight
190 lbs/ 86 kg
Father's name
Saša Pokuševski
Mother's name
Nada Kovacevic Pokusevski
Siblings
Older Brother (Onjegin Pokusevski)
Relationship Status
Dating
Girlfriend's Name
Ioanna Laou
Children
None
Zodiac Sign
Capricorn
Eye Color
Brown
Hair Color
Black
Professional Career
Basketball player
League

Euroleague (2019-20)
NBA (2020- now)

NBA Draft
2020, 1st round, 17th overall pick (selected by the Timberwolves)
Position
Power Forward / Center
Current Team
Oklahoma City Thunder (2020- present)
Jersey Number
17
Net Worth
$1-$3 Million
Social Media
Twitter, Instagram
Merch
Signed card
Last Update
June 2023
Family Background & Early Life
Pokusevski was born on December 26, 2001, in Belgrade, Serbia, as the youngest of two children.
His father Saša Pokuševski, is a former basketball player-turned-coach, while his mother's name is Nada Kovacevic Pokusevski. They have been married since March 1998.
Aleksej's dad is currently staff at the Greek basketball club Olympiacos B.C., having worked as a coach for KK Novi Sad earlier. During his playing career, he played for KK Priština.
The NBA player has an older brother named Onjegin Pokusevski, who is also a basketball player.
The family roots of the basketball player can be traced back to Galicia, which was then part of Austria-Hungary and is now modern-day Ukraine.
As reported, before Aleksej was born, his parents lived in Pristina, Kosovo. But after the Kosovo War in 1999, they fled to Podgorica (of Montenegro), where his older brother Onjegin was born.
Afterward, his family moved to Belgrade, Serbia, before settling in Novi Sad.
Age, Height & Body Measurement
Aleksej Pokusevski, the NBA power forward, is 21 years old as of 2023.
He has a height of 7 feet (2.13 m), a wingspan of 7 feet and 5 inches (2.26 m), and weighs 190 lbs (86 kg).
Additionally, he has a standing reach of 9 feet and 4 inches, which allows him to reach higher than many other players.
Start Of Basketball Career
While in Serbia, Pokusevski played basketball at youth basketball for his hometown's local clubs: KK Kadet, KK NS Stars, and Vojvodina.
At 13, the future NBA player moved to Greece with his family & joined the youth academy of Olympiacos in 2015.
On March 19, 2019, he made his EuroLeague debut with Olympiacos B.C. in a win over Bayern Munich. At 17 years & 83 days, he became the then-youngest player to play in EuroLeague.
Later, Aleksej declared for the NBA draft & left Olympiacos despite the fact that his deal with the former lasted through the end of the 2023–24 season.
Professional Career As An NBA Player
Pokusevski became the 17th overall pick in the 2020 NBA draft by the Minnesota Timberwolves on November 18, 2020.
But two days later, he was traded to Oklahoma City Thunder with James Johnson and a right for the 2024 2nd-round pick in exchange for Ricky Rubio & Jaden McDaniels.
Aleksej Pokusevski made his NBA debut on December 26, 2020, against the Charlotte Hornets.
On May 16, 2021, he scored his career-high 29 points in a victory over the Los Angeles Clippers.
He was the youngest active NBA player in his rookie season (the 2020-21 season) & averaged 8.2 points, 4.7 rebounds, and 2.2 assists per game in 45 games.
In his second NBA season (2021-22 season), Pokusevski recorded his first-ever triple-doubles with 17 points, 10 rebounds, and 12 assists on April 3, 2022, winning the Suns by 117-96.
The player's 2021-22 season concluded with 8.1 points, 5.6 rebounds, and 2.9 assists per game.
Games With National Team
In 2015, at the early age of 13, Aleksej moved to Greece after signing a contract with Olympiacos, where he started playing in Greek competitions and was considered a domestic player.
Despite having the opportunity to represent either Serbia or Greece, Aleksej chose to represent his home country.
Aleksej Pokusevski has represented Serbia in various levels of basketball competitions. He played for the under-17 team in the 2018 FIBA Under-17 World Cup held in Argentina.
Likewise, he was also a part of the under-18 team that competed in the 2019 FIBA Under-18 European Championship held in Volos, Greece.
Injury Status, What Happened To Aleksej Pokusevski?
During a game against the San Antonio Spurs on December 27, 2022, Aleksej Pokusevski suffered a non-displaced tibial plateau fracture in his left leg.
He was expected to be re-evaluated in six to eight weeks following the injury, which meant he could return to the court sometime in February or March 2023.
On February 14, 2023, Pokusevski resumed some light shooting on the court, but there was no clear update on his recovery progress or timetable.
On March 11, 2023, he was assigned to the City Thunder's G League team OKC Blue for practice. The NBA player played 15 minutes in a loss against the Ontario Clippers on March 15.
Despite the uncertainty, fans hope & are eager to see Aleksej's return to the NBA.
Relationship & Girlfriend
Aleksej Pokusevski is in a relationship with Ioanna Laou, who is from Greece and resides in the United States.
It is unclear how the couple met, but some speculate that they may have crossed paths while Aleksej was playing basketball in Greece.
Ioanna Laou is a political science graduate and reportedly studies criminal psychology.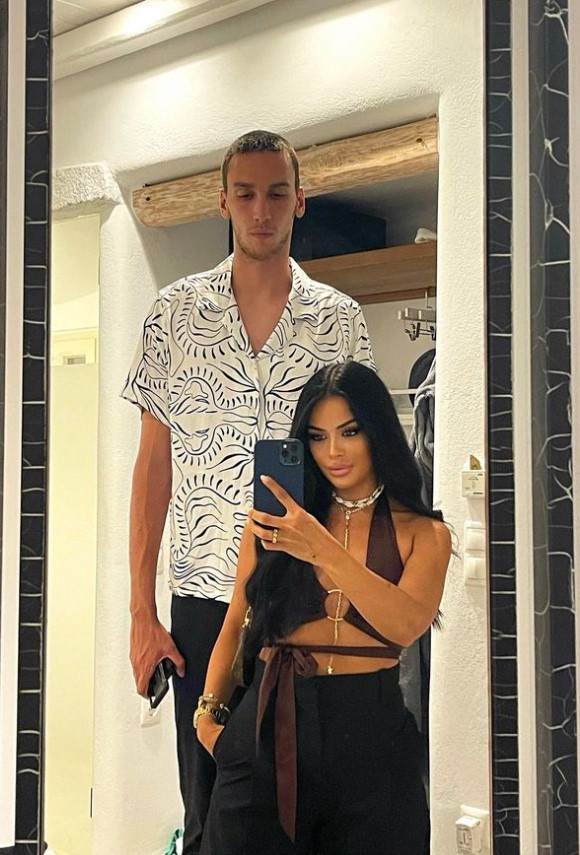 She is also a proud Greek and has a following of over 17k on her Instagram account, where she frequently shares pictures of herself and her travels.
The couple shares many pictures together on their respective social media accounts, showcasing their love for each other.
Net Worth & Contract
As of 2023, Aleksej Pokusevski has a net worth in the range of $1-$3 million.
Without a doubt, these earnings came through his basketball career- majorly from his NBA contracts.
A first-round 17th overall pick of the 2020 NBA draft, Pokusevski signed a fully guaranteed four-year $14.35 million contract with the Oklahoma City Thunder on December 1, 2020.
The contract, with an average annual salary of $3.58 million, also included an option deal.
As a rookie, Pokusevski earned $2.964 million in the 2020-21 season, which rose to $3.11 million in the 2021-22 season.
In the 2022-23 season, Aleksej Pokusevski's salary stood at $3.261 million- thanks to the club-exercised option.
Moreover, on October 15, 2022, the basketball star signed another option deal worth $5 million for the 2023-24 season.
Pokusevski's contract expires in 2024, making him a restricted free agent with a qualifying offer of $7.07 million.
Frequently Asked Questions
What languages does Aleksej speak?
Aleksej Pokusevski speaks Serbian, Greek, and English. He learned Greek when he moved to Greece with his family, and he learned English by watching movies and TV shows. The player mentioned that he likes to learn new languages and cultures.
What number is Aleksej Pokusevski?
Aleksej Pokusevski wears jersey number #17 with the Oklahoma City Thunder. He plays as a power forward/small forward. He also wore this number when he played for Olympiacos B.C. in Greece.
Is Aleksej Pokusevski injured?
After suffering a non-displaced tibial plateau fracture in his left leg, he is yet to make any NBA appearance since December 27, 2022. In March 2023, he was assigned to the G League's Oklahoma City Blue for rehab. The exact date of his return is not fixed yet.