Many people are presented here in the field of sports with a variety of nicknames. But, this man is summoned differently.
We are talking about none other than Alex Avila, nicknamed "The Titanium Catcher" in the baseball world.
He is a professional catcher in MLB. He recently is not officially linked to any team; else, we can say he is now a free agent.
Moreover, he has also played for teams like the Detroit Tigers, Chicago White Sox, Chicago Cubs, Arizona Diamondbacks, and Minnesota Twins.
Not to mention, Avila was an All-Star in 2014 and won a Silver Slugger Award in 2011. There is a lot more to explore about him except for this. So, scroll down a little bit and stay tuned to this page.
And, below here is the two-columned table that lists all the go-getter quick facts about this catcher, "Alex Avila."
Alex Avila | Quick Facts
| | |
| --- | --- |
| Full Name | Alexander Thomas Avila |
| Birth Date | January 29, 1987 |
| Birth Place | Hialeah, Florida, United States |
| Nick Name | The Titanium Catcher |
| Religion | Not Known |
| Nationality | American |
| Ethnicity | Mix |
| Education | De La Salle Collegiate, The University of Alabama, Archbishop McCarthy High School |
| Horoscope | Aquarius |
| Father'sName | Al Avila |
| Mother'sName | Yamile Avila |
| Siblings | Alan Avila |
| Age | 36 years old |
| Height | 1.8 m (5 feet 9 inches) |
| Weight | 95 kg (209 lb) |
| Jersey No. | 16 |
| Hair Color | Dark Brown |
| Eye Color | Black |
| Playstyle | Bats: Left, Throws: Right |
| Build | Athlete |
| Marital Status | Married to Kristina Perez Avila in 2010 |
| Children | Avery Noelle and Zoey Gabrielle |
| Position | Catcher |
| Profession | MLB player |
| Net Worth | $8 million |
| Salary | around $4,250,000 base salary |
| Current Team | None (Free agent) |
| League | MLB |
| Active Since | 2009-present |
| Social Media | Instagram |
| Merch | Book, Autographed Items |
| Last Update | September, 2023 |
Alex Avila | Early Life
Starting with some basic details. Avila was born on January 29, 1987, to his parents, Tigers GM Al Avila and Yamile Avila, in Hialeah, Florida, United States. He belongs to a mixed tribe and has American nationality.
Talking about his mother, Yamile Avila, who was previously the Tejas, nothing has been mentioned about her occupation on the internet, but yes, his father, Al, holds a great title.
Al serves as the general manager and executive vice president of the club, Detroit Tigers. And when this happened, Alex was in the 10th standard of high school.
To add on, his father used to be a coach at St. Thomas University, the same university from where Al became a master's graduate in sports administration.
With his father's post in Detroit, he, along with his family, had to shift to Metro Detroit, where he was admitted to De La Salle Collegiate High School in Warren, Michigan.
He studied there only for a year, and after that, to complete the rest of the high school degree, and he shifted back to his birthplace, Florida.
Alex always learned baseball skills from his father, who remained very supportive of him.
Family-circle
Speaking of his near and dear ones, Alan Avila, his younger brother, was picked for the Detroit Tigers' 2008 MLB draft in the 47th round.
But instead of playing for the Tigers, he opted to play college baseball at Nova Southeastern University.
He is not into playing, but yes, he is currently employed as a Relationship Manager/ Assistant Counsellor for the tigers.
Nick Avila, who is said to be his cousin, was selected in the 2011 Major League Baseball Draft with the 37th round pick. And currently, he serves as the coach for the Gulf Coast Tigers.
Ralph, who is Alex's grandfather, remained a vice president for the Dodgers.
Tommy Lasorda, whom Alex calls his godfather, is very close to Ralph. They are like brothers from different mothers. And his parents got his middle name " Thomas" after him, Tommy.
High School and College Career summed up.
Avila played amateur baseball for Archbishop McCarthy High School in Fort Lauderdale, Florida, to garnish his playing skills.
Following that, we know whether it was a deliberate intention or it just happened, but the Detroit Tigers drafted him with the 34th round pick in the 2005 Major League Baseball Draft.
Even though he was selected for the MLB's, he opted to go to the University of Alabama and play collegiate baseball there.
After his spectacular performance in his games, he was chosen for The Southeastern Conference.
Following that, Avila joined the Harwich Mariners, which belongs to the Cape Cod Baseball League, in 2007.
He played with the team until Detroit Tigers selected him for the 2008 MLB draft with the fifth-round pick.
Also, read about another player, footballer turned baseballer, Christian Heckenberg.
Alex Avila | Professional Career
Detroit Tigers
A milestone was achieved when Detroits Tigers drafted him with the fifth-round pick in the 2008 Major League Baseball Draft.
He was placed against the Baltimore Orioles, where he knocked off Anthony Ray Swarzak.
Surprisingly he inaugurated roster day in 2010, where he shared space with Gerald Laird.
He was the sixth-best player in Detroit's, according to Baseball America. Very soon, he was named the starting catcher for the Tigers.
He showed remarkable growth as per performance that led him to the All-Star list in 2011 for the American League.
He won a major victory against superficial players like Russell Martin and Justin Verlander from the strongest teams.
Talking about his accomplishments, he also won the Silver Slugger award for the Tigers after Ivan Rodriguez.
He kept playing game after game relentlessly for six consecutive seasons until 2015 where he faced a knee injury, and unfortunately, he had to leave his games for a certain time.
However, at the end of the year, Avila was a free agent then. And the same year, his father Al Avila took the post of general manager for the Tigers.
Alex did make a comeback to the Tigers in 2016, but the Tigers' second stint did not last long.
Chicago White Sox
Alex inked a one-year contract with Chicago Cox worth $2.5 million in 2015, where he only could appear for 57 games with the highest strikeouts.
Chicago Cubs
Alex opted for Chicago Cubs in replacement of Jeimer Candelario, Isaac Paredes. He played exceptionally well for the team, appearing in 112 games (combined with Tigers)
Arizona Diamondbacks
This was the fourth squad in his career, where he agreed to play for two years and remarkably had the highest strikeout percentage.
Minnesota Twins
Alex agreed to a contract with the Twins in December 2019 for a year at least.
Alex Avila | Personal Life
Talking about his personal life, first of all, he is a Cuban-American. And second of all, Avila is a married man. As per reports, he married his long-time partner Kristina Perez on December 10, 2010.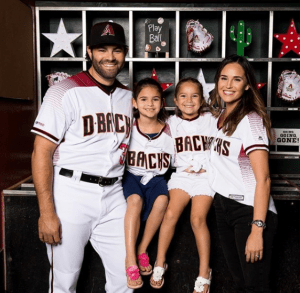 Alex and Kristina have been dating since their high school days as they were together in high school. Moreover, Avila is a benefactress; she is into Philanthropy.
His wife has initiated a project with the Salvation Army force. She also runs a charity, Race for a Cure, and is also involved in Detroit's greening.
Together, the pair shares two lovely daughters, namely Avery Noelle and Zoey Gabrielle. Avery is an elder who was born on April 7, 2013. and Zoey was born on March 4, 2015.
Interesting Facts
Okay, let's list some merely interesting facts about Alex that will make you go in awe of his kind and responsible gesture as a husband and son.
Alex took a paternal leave when his wife was expecting their second baby to comfort her at the time of need.
Alex had a Mohawk hairdo in early 2010, but he tends to shave his hair just because Kristina, his wife, didn't like it, and he had to be there for a public event.
Yes, fathers are always supportive and caring for their children. But for Alex, there was a different level of attainment when his father called him a Scout instead of Son.
Besides his love life, Alex is a very fun-loving and adventurous person. He really seems to be having a thing for fishing, as he has mentioned the link @offseasonfishingteam in his bio on Instagram.
Alex Avila | Age, Horoscope, and Body Measurement
Alex Avila was brought to this world on January 29, 1987, and is 34 years old as of 2021. He comes under the zodiac sign of Aquarius, which relevantly matches his lifestyle and personality.
As they say, "Every Aquarian is a rebel at heart." This gets implicated in Avila's case too. He is a free soul who likes to configure things on his own. He believes in working hard and partying hard.
And people who fall under this sign are friendly and aloof at the same time. It isn't easy to read their mind. They require their own space at times.
Alex is a tall guy with 5 feet 11 inches and weighs around 210 pounds with a hunk personality.
Alex Avila | Justification after critics
One day after suggesting the White Sox don't have the Royals' desire to win, Jose Abreu softened his critique, saying he was talking about himself.
"What we talked about yesterday was about me," Abreu said through a team interpreter. "I don't have anything more to add. That's it."
Sox manager Robin Ventura met with Abreu after Fans published the comments.
And said he doesn't think the first baseman was calling out his teammates but rather addressing the overall challenges of grinding through another losing season.
At least one of Abreu's teammates took no exception with what he originally said.
Sox catcher Alex Avila said before Tuesday's game against the Phillies that it is acceptable to question desire when a team expected to win comes up short.
"That's something that should always come up on a team that doesn't perform to expectations," Avila said.
"We've had spurts where it seems like things could come together, but obviously, over the course of the whole season, we haven't played to that type of expectation. …
"Execution and preparation before a game, but also talent on a team, desire that (goes) into preparation, all those have to be looked at on a team that is expected to win but doesn't.
If it's not, there's something wrong there. That's not a story or an issue. That's just reality."
Additionally
After the Sox lost their 14th game of the season to the Royals on Monday, Abreu pointed to the Royals' "hunger to win games" as a key to their dominance.
When asked if the Sox had the same desire to win, he said no, adding that the way to change that "begins with me."
If Abreu or Ventura worried about the comments rubbing Sox players, coaches, or executives the wrong way, Avila saw in them a player who rightfully is frustrated with how the season has gone.
"To be honest, it's probably how most guys feel when you're on a team that right now is out of contention," Avila said.
"It's not surprising. He's upset we didn't play better, and that's probably the same for most guys."
Ventura said Abreu's work ethic demonstrates his desire to win.
"He's frustrated (when) we don't play well or don't score enough runs, and he takes it personally," Ventura said.
"That's his way of explaining it, that he would like to have more impact in those games."
Moreover
"But does he show up and not care and not play hard? That's not the case, nor is it for anybody else. (The Royals) have our number.
They beat us. Sometimes, you have to tip your hat that they're better, but they have more desire by no means. I know guys come in here prepared and ready to play."
Sox outfielder Adam Eaton said he backed Abreu and agreed the Royals' recent success likely had fueled a winning atmosphere.
He said he hopes the Sox can create an atmosphere in which "we're going to reach our destination in any way, shape or form, it doesn't matter what type of circumstances or players are here."
But he also said he feels the desire to win.
"I'm in a tough position here because I love Jose to death, and I respect him and his remarks, and I have to back him," Eaton said. "I have the desire to win. … But it takes a collective 25 all pulling in the same direction, and that can be difficult at times."
Alex Avila | Net Worth
He has played with the best teams in the league and grabbed two of the most significant awards- All-Star 2011 and Silver Slugger Award.
Where many players get knocked out easily, he has struggled hard to make it till here. No doubt, he must be living a well-off life with his beautiful wife.
According to Spotrac, Alex has inked a one-year contract worth $4,250,000 with the Minnesota Twins, which also beneficiates him with bonuses like roster bonus, restrictive bonus, workout bonus, incentive bonus.
That sounds really great for a player who has only thought of making a decent amount of earning through his passion, baseball.
Besides that,
"Not yet sure but Alex Avila has an accumulated net worth of $8 million as of 2020."
And that's a huge addition to his net worth because, as per the data briefed on site payerswiki.com, Alex used to have a net worth of $2 million in 2017.
Alex Avila | Contract
Avila endorsed a one-year, $1.5 million deal with the Nationals on Thursday, Ken Rosenthal of The Athletic reports.
Avila filled the 2020 season with the Twins, slashing .184/.355/.286 with one home run and two RBI over 62 plate appearances while appearing in 23 games.
While Yan Gomes was exacted to receive the majority of playing time behind the dish in 2021, Avila will provide a left-handed bat at the position and resembles being in line to serve as the team's primary reserve.
Alex Avila | Social Media Presence
We can find Alex on Instagram, whereas, on the other hand, clearly, we cannot find him on Twitter or Facebook. But yes, he is fairly active on his Instagram Handles.
His last post on Instagram was two weeks ago and merely had 6,643 followers. Also, there is no doubt that his fan following is growing better and bigger.
He often keeps posting about his adorable daughters, beautiful wife, travel, and tour stories. He also does not miss posting about his baseball tournaments.
Give him a follow if you haven't still followed him yet. The link to his Instagram profile is listed below.
Instagram- @reelalexavilla
Also, give this article a read, " Harold Reynolds Bio: Baseball, MLB, Broadcasting Career & Wiki."
Alex Avila | FAQs
What is Alex Avila's career statistic like?
At present, Alex Avila maintains a career statistic of 105 home runs, 395 runs batted in, and a batting average of .233.
Is Alex Avila going to retire?
According to the sources, Alex Avila will retire at the end of the 2021 season. To date, he has been best known for his skill to prevent stolen bases and as a solid pitch-framer. Well, this end of the season will mark as his 13th MLB season.