While some athletes play for spiritual satisfaction without thinking of the result, some play for the result.
After all, no matter what you go through, ain't it the end product that counts in the world? Likewise, Alexander Volkov has a hunger look for his career, his rank, or his place.
The Russian professional mixed martial artist Alexander Volkov stars in the UFC's Heavyweight division. Ever since his debut commencement in the fight area, Volkov has been an all-rounder looking every way to get up step-by-step.
Additionally, Volkov is a former heavyweight champion in both M-1 Global promotion, as well as Bellator MMA.
Thus, with many games on the line, he had few downfalls where he licked his wound, reflect on works, and get up for going.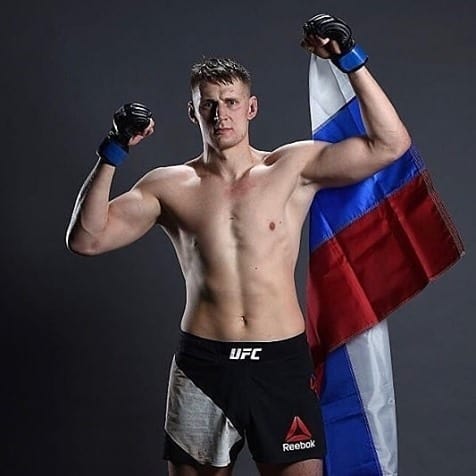 Overall, Volkov is #6 in the UFC heavyweight rankings who speaks as the ground reality.
"You're either a champion, or you're not; the rest is just numbers and statistics. In any case, it's not that easy to become one among the Top 10 heavyweights in the world."
-Alexander Volkov
Quick Facts
| | |
| --- | --- |
| Full Name | Alexander Yevgenievich Volkov |
| Date of Birth | October 24, 1988 |
| Birth Place | Moscow, Russian SFSR, Soviet Union |
| Nick Name | Drago |
| Religion | Christianity |
| Nationality | Russian |
| Ethnicity | White |
| Zodiac Sign | Scorpio |
| Age | 34 Years Old |
| Height | 6 ft 7 in (201 cm) |
| Weight | 265 lb (120 kg) |
| Hair Color | Light Brown |
| Eye Color | Light Blue |
| Build | Athletic |
| Father's Name | Yevgeniy Volkov |
| Mother's Name | Not Available |
| Siblings | Unknown |
| Education | Bauman Moscow State Technical University (Engineer's diploma) |
| Marital Status | Married |
| Wife | Vita Volkov |
| Kids | A baby boy (name unknown) |
| Profession | Mixed Martial Artist |
| Division | Heavyweight |
| Affiliations | Strela Team |
| Active Years | 2009-present |
| Net Worth | $750,000 |
| Social Media | Instagram, Twitter |
| Last Update | March, 2023 |
Body Measurements
Alexander Volkov is neither heavily built nor lean and thin. Hence, he is just a medium-built man standing at 6 ft 7 in (201 cm) while weighing 265 lb (120 kg). Furthermore, he is a fair-skinned guy with a rectangle-shaped face who has dreamy blue eyes.
As for his hair, he has it light brown with a faint tone of yellow. Not to mention, Volkov flaunts a giant tattoo on his back. To illustrate, he got that giant tribal manta ray tattoo before his preparation for UFC 254.
All in all, the tattoo took him two weeks to complete, which consists of daily tattooing and the pain it flooded along.
"Every day, he was making a tattoo, and it was so painful. First, for five days it was OK because it takes all day. But the next week it was really terrible. I was whining and crying, but I wanted to finish this. I wanted to go to my next fight with a full-made tattoo. But it was a tough challenge in my life. I don't want to do a tattoo more."
-Alexander Volkov
Alexander Volkov | Early Life and Education
Volkov was born on October 24, 1988, under Scorpio's sun sign to his parent Yevgeniy Volkov and was raised in Moscow, Russian SFSR, Soviet Union. Although not much is known about Volkov's childhood, however, it is known that he started early in the field.
As per the sources, Alexander had already earned his first karate belt when he was nine years old, which got him started in this field.
Furthermore, during his amateur days, Volkov has bagged the title of Ashihara Karate Champion of Moscow. Besides, he was also the three-time Pankration Champion of Moscow.
As we jump to his academic area, Volkov graduated from the Bauman Moscow State Technical University in 2011 with an engineer's diploma. However, before MMA, Volkov was a complete full-time student with no jobs.
Skills
At present, Volkov is considered one of the top fighters in the UFC and all thanks to his training and skills.
According to reports, Volkov's workout schedule goes as cardio training and sparring in the morning, followed by weight or strength training sessions in the evening.
Overall, he commenced his learning in Tsu Shin Gen (current belt – black belt), Kyokushin Karate (current belt – brown belt), and Brazilian Jiu-Jitsu (current belt – purple belt).
As we go onto his favorite part, Volkov's triangle choke is his best grappling technique. At the same time, he loves high kick as the striking technique.
Alexander Volkov | Mixed Martial Art Career
M-1 Global
Volkov commenced his professional career of MMA with M-1 Global making his debut in April 2009. Fortunately, his foremost debut was a success just within 80 seconds into the octagon as he had defeated Nikolay Pleshakov by TKO (punches).
Following it, his defeating time grew shorter as he claimed the victory over Adam Alikhanov in just 20 seconds.
After a few good matches down the road came his foremost loss in the career. Volkov lost against Akhmed Sultanov in the second round after tapping to an armbar.
Nevermind! After all, in just a few times, he was up, licking wounds and going for other victories via TKO. To talk about his breakthrough, Volkov bagged the title of M-1 Global ring as he was labeled "reward for exceptional performance."
To illustrate the game, Volkov won by unanimous decision, standing against Ibragim Magomedov at M-1 Challenge 20 – 2009 Finals.
Following his wins against Denis Smoldarev (via triangle choke submission) and former Bellator light heavyweight champion Attila Végh (via knockout in the first round).
M-1 Eastern European Tournament
With just a year into his career, Volkov had moved from M-1 Global to M-1 Eastern European Tournament as he further advanced to M-1 Selection 2010 – Eastern Europe Finals.
Taking in many wins along the road, Volkov was in the M-1 Global Heavyweight title's brim. Unfortunately, his loss against Maxim Grishin at the 2010 M-1 Challenge Season events eliminated him at the early round.
Moreover, as the M-1 Eastern European Tournament ended, he fought Eldar Yagudin, giving Eldar's debut loss via TKO (punches).
Besides, Volkov partook in the League-70 Russia vs. Brazil, held in Sochi, Russia. During that event, Volkov had his big win as he bagged victory over Bulgarian Nedyalko Karadzhov through knockout in the opening round.
Bellator MMA
After the 2012 announcement to participate in the Bellator season seven heavyweight tournament, Volkov made his debut with Brett Rogers at Bellator 75. The very first game came as a win through a unanimous decision.
After it, Volkov took another victory at Bellator 80 against Vinicius Queiroz via TKO in the second round.
All in all, Volkov took the Bellator Season 7 Heavyweight Tournament Final and Bellator Heavyweight Championship. For that, he won over Richard Hale in a 5 round fight through a unanimous decision.
The very next year, in November 2013, Volkov lost his title to Vitaly Minakov in the co-main event at Bellator 108 through TKO.
Before Volkov's loss against Tony Johnson at Bellator 136 vis split decision, he had few wins over time. First, Volkov had victory over Mark Holata at Bellator 111 in Heavyweight Tournament (via TKO in the first round).
Second, he took over Mighty Mo in the semifinals at Bellator 116 (via knockout in the first round). Then came his fight against Blagoy Ivanov in the finals at Bellator 120 (via submission in the second round).
On June 26, 2015, Volkov was out of Bellator MMA after losing the fight against Cheick Kongo through a unanimous decision.
Ultimate Fighting Championship (UFC)
In September 2016, Volkov signed to UFC and made his debut performance against Timothy Johnson in November at UFC Fight Night 99. His foremost debut was a successful win through the split decision.
Below are organized matches of Volkov through his journey in the UFC.
UFC on Fox 24 against Roy Nelson: win via unanimous decision.
UFC Fight Night: Alexander Volkov vs. Stefan Struve: win via TKO in the third round. (Fight of the Night bonus award)
UFC Fight Night 127 facing Fabrício Werdum: win by knockout in the fourth round. (Performance of the Night bonus award)
UFC on ESPN+ 21 over Junior Dos Santos (replaced by Greg Hardy): win through a unanimous decision.
UFC on ESPN: Curtis Blaydes vs. Alexander Volkov: loss by unanimous decision.
UFC 254 against Walt Harris: win by technical knockout in the second round.
Throughout the time, Volkov had to pull out once against Alistair Overeem on April 20, 2019, at UFC Fight Night 149 for undisclosed stuff.
As for his recent fight, Volkov faced Alistair Overeem on February 6, 2021, at UFC Fight Night 187. Indeed, Volkov took the fight and ended it at just 2 minutes, 6 seconds of the second round in the main event of UFC Fight Night in Las Vegas.
Additionally, this very fight is also known as one of his best fights in the UFC and he claimed the one-sided victory perfectly. During the first round, Alistair took the domination, however, Volkov dominated in the next round.
Furthermore, it was the first fight in the United States after the pandemic which was taken under protocols.
Besides, Alexander Volkov is soon to face Jon Jones. Apparently, the dates aren't fixed however, Volkov just can't help but get excited.
"Jon Jones is a legendary fighter, he is one of the best fighters in the UFC. The thing is that Jones comes to heavyweight and makes our division much more interesting. All of us can challenge him in the future, of course, I will be excited to challenge him in the future too."
-Alexander Volkov
Alexander Volkov | Championships and Stats
Bellator Fighting Championships
(One time) Bellator Heavyweight World Championship
Bellator Season Ten Heavyweight Tournament Championship
Season Seven Heavyweight Tournament Championship
M-1 Global
(One time) M-1 Global Heavyweight Championship
M-1 Eastern European Tournament Runner-Up
Ultimate Fighting Championship
Fight of the Night (One time)
Performance of the Night (One time)
Total games
Wins (33)
Loss (8)
Knockout
Submission
Decision
Knockout
Submission
Decision
41
22
3
8
2
2
4
Net Worth
At present, Volkov is reported to have a net worth of $750,000 with $85,000 addition in every fight he appears. Furthermore, with the bonus award, he does get extra bonuses during the game.
Advancing on, Volkov has a base salary of $832,500 with a signing bonus of $92,500. As of 2021, he has total career earnings of $1,045,500 USD.
You might be interested in Zubaira Tukhugov Bio: Wife, UFC, McGregor & Next Fight >>>
Alexander Volkov | Love Life and Social Media
Volkov is a family man who is married to Vita Volkov. Although there is no detailed information about the duo, Volkov's Instagram suggests that they were together in 2013 and tied the knot in August 2016.
Besides, Vita Volkov used to work for the Humanitarian convoy of goodness and is the co-founder of the brand Dental VOLK Technologies dentalvolk.com. Altogether, after the duo had their child, she stays at home to take care of the baby.
As far as the information goes, the duo lives a happy life and is blessed with a baby boy. However, the details and the baby's name are unknown.
All in all, though the information is not available, Volkov loves to share his cute family's photos on social media platforms.
Alexander Volkov | Common Questions
What does the surname "Volkov" mean in Alexander Volkov?
"Volkov" in Alexander Volkov is derived from a Russian word волк (Volk), which means wolf. Additionally, Volkov altogether means feminine (Volkova), which is a common surname in Russia.
How long is Alexander Volkov's reach?
Alexander Volkov's reach is 203.2 cm.