Russians are known for their fierceness and shrewdness. Moreover, Russians have dominated the world of sports, arts, culture, and politics.
There is no doubt that Russia can produce skillful people like Alexey Kunchenko. Alexey Kunchenko is a Russian professional mixed martial artist.
The exciting personality of the fighter is a thrilling watch. Moreover, he has played professionally in various formats of MMA.
Similarly, Kunchenko has the ability to entertain the audience. Despite being at age 39, Kunchenko still holds great power and skills in his body.
Furthermore, Kunchenko has played in the UFC and now is a fighter for the PFL. So far, the Russian fighter has lost only three times in his career. He is nicknamed 'The Wolverine.'
We know that you are excited to learn about the Russian fighter. However, as we move forward, let's read some quick facts about him.
Quick Facts:
| | |
| --- | --- |
| Full Name | Alexey Andreevich Kunchenko |
| Birth Date | May 2, 1984 |
| Birth Place | Prokopyevsk, Russia |
| Nick Name | The Wolverine, Kunchenko |
| Religion | Unknown |
| Nationality | Russian |
| Ethnicity | White |
| Education | Unknown |
| Horoscope | Taurus |
| Age | 39 years old |
| Height | 5 feet 8 inches (173 cm) |
| Weight | 77 kg (170 lbs) |
| Hair Color | Black |
| Eye Color | Light Blue |
| Body Measurement | Unknown |
| Figure | Athletic |
| Married | Yes |
| Wife | Daria Kunchenko |
| Children | One |
| Profession | Mixed Martial Artist, |
| Gym | BK Arkhangel Mikhail |
| Stance | Orthodox |
| MMA Record | 20-2-0 |
| Management | Archangel Michael |
| Team | New Stream, Storm Fight Team, Boets MMA |
| Active Since | 2015 – Present |
| Net Worth | $750 – $1 Million |
| Social Media | Instagram |
| Merch | MMA Gloves, Punching Bag |
| Last Update | November, 2023 |
Where is Alexey Kunchenko from?
Alexey Kunchenko was born as Alexey Andreevich Kunchenko. He was born in Prokopyevsk, Russia, on May 2, 1984.
The Russian fighter fights out of Tyumen, Russia. There are great interest and curiosity regarding his family life. However, there is little-to-no information regarding it.
The name of his parents continues to remain a mystery to this date. Similarly, we do not know if he has any brothers or sisters.
How old is Alexey Kunchenko? | Age, Height & Appearance
Kunchenko's age is a highly discussed topic. Though the MMA fighter is quite aged, his physical appearance doesn't show that.
Moreover, his fights show that he still has a lot of gas left in the tank. Also, he appears to be in his mid-20s. However, the real age of Alexey Kunchenko is 39 as of 2023.
As Kunchenko's birth date is on May 2, his zodiac sign is Taurus. People of this zodiac sign are known to be loyal, systematic, and steadfast.
Talking about his physical appearance, he is a muscular fighter. He has an optimal height of 5 ft 8 inches.
Moreover, the Russian fighter holds enormous strength in his arms and core due to his heavy workout. Likewise, Kunchenko weighs 170 lbs (77 kg).
The combination of his height and weight is a perfect match for the competitive welterweight division.
Similarly, he also has beautiful eyes that complement his athletic body. The Russian beast has dark blue-colored eyes.
Moreover, Kunchenko trains like a beast in the gym. He is known for his obsession with working out and training.
Alexey Kunchenko | Career
As we move forward to learn about Kunchenko, it is important to understand how he started.
Kunchenko comes from Prokopyevsk in Russia. According to many reports, he had a great interest in fighting from his youth.
Early Steps
Likewise, the fighter started his professional MMA career in 2013. Kunchenko trained day and night to reach the height of success.
Initially, he fought many fights for different Russian promoters. Kunchenko's most notable promoter is M-1 Global. M-1 Global is a mixed martial art promotion company.
Also, they are based in St.Petersburg, Russia. Moreover, they organize 10 to 20 fights every year. Similarly, M-1 global has also signed a partnership deal with the UFC.
The deal includes the opportunity for the UFC to scout and recruit players from M-1 Global. As a fighter for M-1 Global, Kunchenko was prolific and thrilling in every way.
In his entire career with them, he lost zero matches. Moreover, Kunchenko also won the M-1 Global Welterweight Championship.
UFC & Alexey Kunchenko
Alexey Kunchenko showcased his potential in the ring. Moreover, due to his outstanding fighting abilities, the UFC showed interest in him.
Kunchenko, with the M-1 Global, stood undefeated in 18 professional matches. Moreover, Kunchenko showed that he could pull back any fight from a losing position.
Similarly, due to his amazing skill, the UFC signed him in 2018. Moving forward, a lot of Russian and MMA fans were excited to see the fighter in the Octagon.
After signing for the UFC, Kunchenko debuted in a match against Thiago Alves on August 4, 2018. The fight happened at UFC Fight Night: Hunt vs. Oleinik.
After going through the full three rounds, the decision went to the judge's scorecard. Likewise, Kunchenko won the fight against Alves by unanimous decision. Furthermore,
Kunchenko went on to fight against Yushin Okami on December 1, 2018. He continued his unbeaten streak and won the fight by unanimous decision.
Kunchenko vs. Burns
Similarly, Kucnhenko rose upwards in the UFC. He was set to fight Laureano Staropoli on August 10.
However, the fight got canceled due to an injury to his opponent's nose. Likewise, Gilbert Burns replaced Laureano Staropoli.
There was high anticipation for the match between Kunchenko and Burns. Gilbert Burns, a
Brazilian fighter brought a lot of threat and danger to the table. The fight took place at UFC Fight Night: Shevchenko vs. Carmouche 2.
Gilbert Burns thoroughly dominated the match. As a result, he won the match by unanimous decision.
Thus, he ended the second-longest winning streak of Alexey Kunchenko. Before fighting burns, Kuncheko had a fight record of 20-0.
Likewise, Kunchenko fought against another Brazilian mixed martial artist, Elizeu Zaleski dos Santos on March 14, 2020. He lost the fight by unanimous decision.
New Chapter with PFL
Despite losing two games in a row, Kunchenko never doubted himself. Moreover, to challenge himself, he took on a new journey.
As a result, he signed for Professional Fighters League. The PFL (Professional Fighters League) is an American mixed martial art league.
Likewise, Kunchenko signed a five-fight contract with the league. He announced the signing on February 18, 2021.
Moreover, he will spend the entirety of the 2018 season with them. Similarly, Kunchenko will once again compete in the welterweight division of the league.
The Wolverine | Nickname
Alexey Kunchenko is nicknamed the Wolverine. The nickname arises from Kunchenko's resemblance to the movie character 'Wolverine' played by Hugh Jackman.
As Kunchenko has brute power and strength in his hands, he is compared to a wolverine.
Moreover, his facial appearance is similar to Hugh Jackman in the movie wolverine.' Kunchenko goes by the stage name of Alexey "Wolverine" Kunchenko.
What is Alexey Kunchenko's Fighting Style?
A lot of people are curious about the fighting style of Alexey Kunchenko. So, how does he really fight? Kunchenko is a fighter trained under the discipline of Muay Thai.
Muay Thai is also known as Thai boxing. Also, it uses striking and clinching techniques.
Kunchenko is a prolific fighter who uses Muay Thai efficiently. Moreover, his fight highlights showcase the techniques being displayed. Kunchenko is a right-handed fighter with a natural stance.
You can find the latest news, fights stats, videos, fight history, and much more information about Alexey Kunchenko on the Sherdog website.
How much is Alexey Kunchenko worth? | Net Worth & Salary
Kunchenko's net worth is a highly discussed matter in the MMA world. The Russian fighter has earned his fortunes through his impressive MMA career.
Moreover, his success resonates with his fight record of 20-2-0. Kunchenko has fought in the UFC, M-1 Global, and other MMA formats.
The exciting fighter has earned a lot of money through his playing career. According to various online sources, his net worth is between $750k – $1million.
Is Alexey Kunchenko married? | Wife & Children
Well, the handsome man from Russia can never be a single man. The fighter nicknamed 'Wolverine' is a winner on and off the fighting ring.
He has a wife who is beautiful in every way possible. Kuncheko is married to his long-time partner and lover, Daria Kunchenko.
The two of them share a deep love for each other. Moreover, they remain close and have a strong relationship.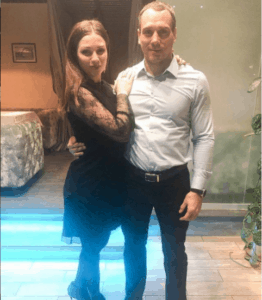 Likewise, the couple has a small baby boy. His name remains undisclosed as of now. However, Kunchenko occasionally posts pictures and videos with his son.
Daria Kunchenko is also from Russia. However, we have limited information as to what she does. But, the one thing we know about her is that she can keep her husband happy.
You might be interested in reading about:<<66 Famous Mike Tyson Quotes that will inspire you >>
Alexey Kunchenko | Personal Life
So, how is Alexey Kunchenko as a person? If you have asked that question, you're not the only one.
A lot of people have a significant interest in knowing the personality of Kunchenko.
Kunchenko loves Gun
If there is a word to describe Alexey Kunchenko, it can well be 'guns.' The fighter absolutely loves guns.
This can be due to his Russian heritage. However, Kunchenko is a big fan of guns and ammunition.
His Instagram profile consists of pictures of him using guns in different places.
Moreover, he loves to practice guns in his free time. We guess that he wants to remain protected all the time.
Always in the Travel Mood
Kunchenko spends a significant amount of his time training. Also, as he has to fight every year, he spends a lot of time at fighting camps.
As a result, Kunchenko has very little time to go on vacation or enjoy life. Therefore, he utilizes every free minute he gets. He travels to different places.
Moreover, he participates in various activities like boating, archery, skiing, and go-carting.
Animal Lover
Kunchenko is a ferocious fighter inside the ring. However, we also can see his gentle side outside of the ring.
During his vacations, he loves spending time in nature. Moreover, he likes to spend quality time with different birds and animals.
During one of his travels to Australia, Kunchenko spent a full day in the national park. He fed birds and visited different animals.
Football Lover
Although Kunchenko is invested in MMA, he also spends time watching other sports.
Moreover, in his spare time, he watches football matches. Likewise, depending on his schedule, he commits to watching football matches in the stadium.
Kunchenko visited the Ekaterinburg Arena Stadium on August 26, 2019. The stadium belongs to Russian premier league team FC Ural Yekaterinburg.
You might be interested in reading about:<<Tatiana Suarez Bio: UFC, Cancer, Net Worth & Boyfriend >>
Does Alexey Kunchenko use Social Media? | Social Media Presence
Yes, Alexey Kunchenko is an avid user of his social media platform. Kunchenko remains active on his Instagram. Moreover, the fighter posts a lot and remains connected with his fans.
Similarly, Kunchenko's Instagram posts are related to his MMA career. He absolutely loves posting about his fight pictures.
Likewise, he regularly updates his training and work-out snaps. As Kunchenko loves guns, he posts himself using guns in different ranges.
Moreover, Kunchenko posts photos of his family vacation, holidays, daily life, and children.
You can follow Alexye Kunchenko on Instagram at @kunchenkoaa. Currently, he has 17.8 k followers.
You might be interested in reading about:<<Ariel Helwani Bio: MMA Reporting, Controversies, UFC Ban & Family >>
Some FAQs:
What is Alexey Kunchenko's MMA record?
Kunchenko's MMA record is 20-2-0. His two losses came against Gilbert Burns and Elizeu Zaleski dos Santos in the UFC.
Who is Alexey Kunchenko's wife?
Kunchenko is married to Daria Kunchenko. Likewise, she is Russian.
Who won Alexey Kunchenko vs Murad Abdulaev?
Alexey Kunchenko won the fight by unanimous decision. Alexey faced Murad Abdulaev at "M-1 Challenge 72" on November 18, 2016.
How many times has Alexey Kunchenko been knocked out?
Alexey Kunchenko has never been knocked out to date.
When was Alexey Kunchenko's last fight loss?
Alexey Kunchenko last loss to Sadibou Sy at PFL 5 on June 17, 2021. He lost the fight by unanimous decision at 5:00 of Round 3.
How many pro UFC knockouts does Alexey Kunchenko have?
Alexey Kunchenko has knocked out 12 opponents to date.
(Make sure to comment down below if any information regarding Alexey Kunchenko is missing.)