Ariel Helwani is one of the most popular Canadian-American MMA journalists. He has been associated with Fox Sports and ESPN, covering Ultimate Fighting Championship (UFC) matches.
He gained popularity not only because of his good journalism but also because of all the controversies he has been part of. Helwani has been associated with quite a lot of disputes.
Ariel is widely credited for increasing the media coverage of the MMA. In February 2023, he called-out Dana White, a "bold-faced lie" in the wake of Francis Ngannou's UFC departure, a potential UFC's heavyweight titleholder.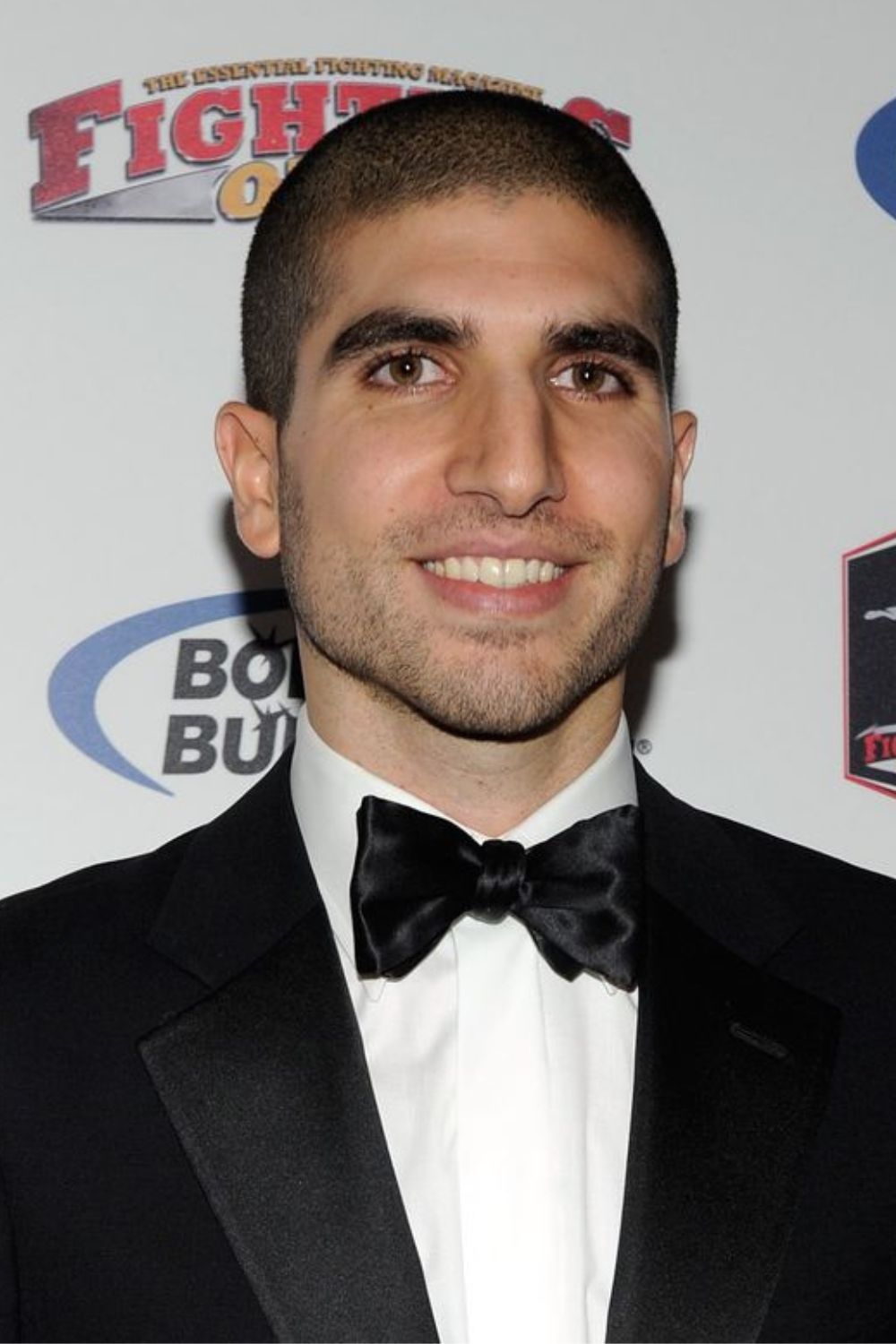 As a sports journalist, your prime responsibility is to build a tie between the athletes and well-wishers, in which Helwani is pretty good at.
In January 2023, Helwani was questioned about his love for MMA by Sean Strickland. He did not like the assessment from him and replied to Strickland about his role in the history of the sport when it was in its initial phase and how he came along and bloomed together.
Today, we will discuss Ariel Helwani without excluding anything worth mentioning that has ever happened in his personal and professional life. Let's get started!
Quick Facts
Full Name
Ariel Helwani
Birthdate
July 8, 1982
Birthplace
Montreal, Quebec, Canada
Religion
Mizrahi Jewish
Nationality
Canadian-American
Horoscope
Cancer
Father's Name
Claude Helwani
Mother's Name
Pina Helwani
Siblings
Not Known
Age
41 Years Old
Height
5 ft 11 in / 181 cm / 1.81 m
Weight
110 kg / 242 lb
Eye Color
Light Brown
Hair Color
Dark Brown
Marital Status
Married
Spouse
Jaclyn Stein
Children
Three (Two Daughters And A Son)
Daughter's Name
Claire Helwani
Profession
Mixed Martial Arts Journalist
Affiliation
Entertainment And Sports Programming Network (ESPN)
Shows

Ariel Helwani's MMA Show




Ariel & The Bad Guy




DC & Helwani




ESPN MMA Snap Show




NBA Sideline rookie

Former Shows
MMA Fighting
Fox Sports 1's Weekly UFC Tonight
Sirius XM Radio Show "Fight Club
The MMA Hour Podcast
MMA Beat Show On YouTube
Awards And Honors

MMA Journalist Of The Year For Nice Subsequent Years (2010-2018)


Named Power 20 (By Fight! Magazine) In 2011
2014 Journalist Of The Year
Net Worth
Around $8 Million
Social Media
Facebook, Instagram, Twitter
Last Update
November 2023
Early Life, Family, & Education
Ariel Helwani was born on July 8, 1982, in Montreal, Quebec, Canada, to his parents, Claude Helwani and Pina Helwani.
Claude Helwani owns a big textile company named Tricots-Liesse in Canada.
Helwani is mainly the descendant of the Mizrahi Jewish community from the Middle East.
His mother is from Lebanon, and his father is from Egypt.
Helwani is not just connected to the fighting business through journalism. His maternal uncle, David Saad, is a popular Judoka from Lebanon.
Saad fought in the men's lightweight event at the 1976 Summer Olympics. His other maternal uncle, Gad Saad, is a Lebanese-Canadian evolutionary psychologist.
He works at John Molson School of Business, which applies evolutionary psychology to marketing and consumer behavior.
Growing up in a culturally diverse environment, Helwani can speak several languages. He is fluent in English, French, and Hebrew. Similarly, he understands Spanish and Arabic.
Education
Helwani grew up in Mount Royal, Quebec, and Westmount, a Montreal suburb. He first went to Akiva School, then studied at Herzliah High School.
He then joined Syracuse University's S.I. Newhouse School of Public Communications in Syracuse, New York, and graduated from the university in 2004.
Age, & Body Measurements
Having been born on July 15, 1978, Ariel is 46 years old as of 2023. Also, his star sign happens to be Cancer.
And from what we know, the people of this sign are known for being brave, determined, passionate, and energetic.
Regarding his physique, Helwani stands at 1.81 m and weighs around 242 lbs.
Likewise, Ariel's other notable body facts are his short dark brown hair and shining pair of light brown eyes.
Professional Career
Helwani started working with MMA Fighting and has been in the MMA reporting business since 2006.
He hosted The MMA Hour podcast and an MMA Beat show on YouTube. He was a co-host of the Sirius XM radio show "Fight Club."
He has also worked as "MMA Insider" for Fox Sports 1's weekly UFC Tonight and other pre- and post-event programming since 2011.
Helwani is also the interim vice president of the Mixed Martial Arts Journalists Association. The organization is deemed to be very controversial.
Additionally. he works as a host in a show called "Ariel & the Bad Guy" at ESPN. He partnered with Chael Sonnen as a co-host for the show.
Similarly, he has been continuing his podcast and reports on MMA for all ESPN platforms.
UFC
The UFC escorted Helwani and his two colleagues out of UFC 199 before the main event on June 4, 2016.
Moreover, the press credentials of the three of them were taken. The trio was banned for life from all UFC events.
Helwani reported the revival of Brock Lesnar at UFC 200 hours before UFC announced it on the broadcast, which he did without notifying UFC first.
UFC spokesman Dave Sholler came forward, saying such reporting was against standard practice. Later, UFC Joe Rogan said that the company had asked Helwani not to report that news.
The management assumed that a mole had broken that news to him without knowing the responsible person. Hence, they went to remove all possible suspects from the company.
However, Helwani had a different story to tell. He refused to accept Rogan's story and considered it 100% inaccurate.
Got More Severe
Dana White, the current president of UFC, did not like the news and said the ban would not be dismissed as long as he serves at UFC.
White further added that he wouldn't have issues with Helwani covering the event without credentials.
Helwani then came forward with his side of the story. He explained the incident in an emotional broadcast on the June 6 episode of The MMA Hour.
He said he was invited to see Dana White, who told him he was banned for being too negative. Helwani later discovered that Lorenzo Fertitta made the entire call.
Moreover, he announced that he would continue to work as an MMA journalist. Life is all about ups and downs.
There are times when you fall into the trap, and there are also times when you create the trap.
As long as you are determined to continue the profession you love with pride, nothing should bother you. Helwani stood by this theory indeed.
And Then
Helwani did not end up having an entirely negative image. Many high-profile UFC fighters sympathized with him.
Light-heavyweight champion Jon Jones posted on Twitter that news of Helwani's ban is unfortunate, sympathizing and empathizing with him.
Helwani's close friend Daniel Cormier also showed similar feelings.
Former Middleweight champion Chris Weidman wrote on Twitter, "This sport needs the GOAT of MMA reporting."
The UFC canceled the move on June 6. They stated they would not prevent MMAFighting.com from receiving media credentials to cover live UFC events.
The UFC further added that they respect the role played by media in the sport and beyond. They also acknowledged the importance of reporting MMA Fighting's ability.
But they also talked about the incident, calling it the recurring tactics used by the lead reporter extended beyond journalism's purpose.
They concluded by saying they feel confident about their adequately communicated position to the SB Nation editorial team.
Mayweather Vs. McGregor Ban
Helwani has indeed been a very controversial figure.
He came forward, saying that UFC removed him from the Showtime broadcast team hours before the first press conference. It was during the Mayweather vs. McGregor press tour.
He went to Twitter and wrote that he wouldn't be working for SHOsports anymore on the May/Mac tour.
He further said that UFC specifically asked to remove him and expressed his disappointment.
ESPN
His contract with MMA Fighting was about to expire in June 2018; he received offers from ESPN in February; hence, he joined ESPN in May 2018.
ESPN is the UFC's official broadcast partner. Helwani hosts Ariel Helwani's MMA Show on Twitter and YouTube.
Similarly, he hosts "Ariel and the Bad Guy" on ESPN +. He also hosts a Wednesday podcast.
He is a part of occasional ESPN broadcasts of the NBA. UFC and ESPN shared a working relationship for quite a while.
Hence, the objectivity of Helwani and other ESPN personalities like Brett Okamoto always stays in a risky place.
You can read Helwani's articles at Muck Rack and Sport Bible. Similarly, you can listen to his radio podcast on the website of Radio Net.
Comeback At MMA Fighting
Andrew Marchand from the New York Post reported that he made just short of $500k annually at ESPN. However, their new offers to him included a 5% pay reduction as part of company-wide cost-cutting.
The reporter announced his departure from ESPN after failing to reach terms on a new contract in June 2021.
Helwani returned to MMA Fighting and works as a host and producer of the MMA Hour twice a week. He also works for BT Sport and Spotify/The Ringer, covering boxing and professional wrestling while creating non-MMA content for his YouTube channel.
Substack is the account where he shares his written thoughts. He expressed he does not want to be known as "the MMA guy" or "the combat guy. I want to be viewed, quite honestly if I can be so brash, as the best interviewer in sports. And if I want to do that, Inned to do many different things."
He has been a brand ambassador of BetMGM since September 2021. In July 2022, he returned to Real Sports with Bryant Gumbel as an on-air correspondent.
Helwani shared his thought on Stephanie McMahon's WWE exit on 10 January 2023.
He described her as a very beloved leader; she lit up everybody's spirits, and nobody had a bad thing to say about her. In her leadership, everybody was just very happy, according to him.
In the Bill Simons Podcast, Helwani and Simon said that her leave was a "bad sign" for the company.
Helwani complemented, "She's so likable and respected," and "She is the quintessential businesswoman."
They believe that she can achieve anything if she wants to.
Ariel is hopeful that Khan and Paul Levesque, still working in the company's executive office, will do a good job.
White made major announcements at the post-fight press conference that Francis Ngannou's departure on 5 February. Francis's lengthy contractual dispute started before his successful title defense against Ciryl Gane in January.
He revealed that "The Predator" rejected a contract offer that would have made him the highest-paid heavyweight of all time.
Feud With Ali Abdelaziz
Helwani has a long-term feud with mixed martial arts manager Ali Abdelaziz, president of Dominance MMA Management.
Josh Gross of The Athletic reported on June 2020 that Abdelaziz is angry about disseminating negative rumors by Helwani.
On the contrary, Helwani denied the allegation while confirming that he had not had access to interview Abdelaziz's fighters for more than a year.
In one of the episodes of UFC 251, where DC & Helwani disagreed with the suggestion that Gilbert Burns should be next to receive a title match against then-champion Kamaru Usman.
Helwani suggested a match between Burns and Leon Edwards would determine a number one contender.
Helwani claimed that Abdelaziz called Helwani's boss while employed at ESPN and attempted to have him fired.
Most of Abdelaziz's clients still declined to be interviewed by Helwani, with some expectations as of August 2022.
Honors & Awards
Helwani might be anything but not an incapable journalist. The man has shown his potential and motivation to work for years; therefore, he holds several awards and titles.
He was named MMA Journalist of the Year for nine consecutive years. Helwani earned the title at 2010, 2011, 2012, 2013, 2014, 2015, 2016, 2017, and 2018 World MMA Awards.
FIGHT! Magazine named Helwani as one of their "Power 20" in 2011. The list comprises MMA's most significant power players, movers, shakers, ambassadors, and game-changers.
The magazine further described him as the Howard Cosell of MMA.
Similarly, he won the 2014 Journalist of the Year award in the Awakening WMMA Awards at the beginning of 2015.
He has won awards and hosted two separate Helwani Nose Awards events in Chicago and Las Vegas. The event has current and former MMA fighters participating in a UFC trivia show for the Nose World Order belt.
Wife & Children
Ariel Helwani is married to Jaclyn Stein. She is a creative director and CEO for several jewelry brands, one of which is ANZIE.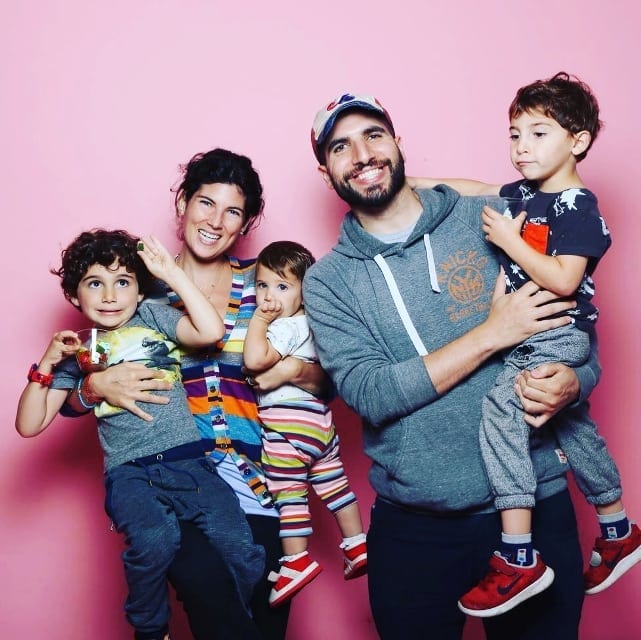 Helwani and Stein look ravishing together. They were childhood friends who later fell in love. They have three children, a daughter named Claire Helwani and two sons.
Apart from this, we could not get other details about his family member, as he keeps his personal life out of the limelight.
Net Worth & Income
Ariel Helwani has had a successful career as a journalist. He has a huge reputation and is considered one of the best experts in his line of work.
According to several sources, Ariel's net worth is assumed to be $8 million. His fortune results from his credibility and demand as an MMA journalist.
Besides this, Ariel has not revealed his exact profit and assets. But for now, the journalist seems to be living a lavish and comfortable life with his family.
Social Media Presence
Helwani is very active on his social media, where he mostly updates about his work.
View this post on Instagram
Facebook (@Ariel Helwani): 181k followers
Instagram (@arielhelwani) : 1.2m followers
Twitter (@arielhelwani): 1.2m followers
Popularity Graph
Ariel Helwani is a prominent MMA journalist who works at MMA Fighting.
The above graph shows Helwani's popularity over the past twelve months.
Frequently Asked Questions (FAQS)
Is Ariel Helwani a black belt?
Yes, Ariel Helwani is a black belt. Being in the MMA industry for a long time, he must have developed an interest in the sport. He received the black belt in 2013. He announced the news via his social media. Helwani wrote, " Just got my Metamoris " invitation. Holy moly, look at this thing. I'm finally a black belt."
Why was Ariel Helwani fired from FOX?
Ariel Helwani mentioned in an interview that he was fired from FOX because UFC wanted him gone. He said, "Fox dropped me because the UFC told it to. That's a fact. "
What fighter freaked out on Ariel Helwani?
Jason "Mayhem" Miller, an American mixed martial arts fighter, freaked out on Ariel Helwani.
Did Ariel Helwani interview Roman Reigns?
Ariel Helwani interviewed Roman Reigns for BT Sport to talk about WWE SummerSlam.
Why does everyone dislike Ariel Helwani?
Being active and famous in any field will bring a lot of attention, and some will not like what you are doing. According to sources, people dislike Ariel Helwani because he often pushes too much on his questions or asks too much personal stuff in his interviews. Also, his compliments and fighter introductions can seem a bit over the top, which leads people to think he is disingenuous. However, many people like him too for the same reason.
Did Ariel Helwani ever fight?
Ariel Helwani has been a part of MMA outside the octagon for a long time. But he has not been given a try to get into a fight. He holds a black belt as well. It would be interesting to watch him fight, though.
Why did Ariel Helwani slam Brendan Schaub?
Ariel Helwani slammed Brendan Schaub and Joe Rogan for spreading rumors regarding his UFC ban.
Who replaced Aljamain Sterling at UFC 267, according to Ariel Helwani?
According to Ariel Helwani, Cory Sandhagen would replace Aljamain Sterling at UFC 267. He also shared that Yan's fight at the pay-per-view was expected to be for the interim title.