We think "lightning-fast" is just an understatement, as Alphonso Davies is simply imperceivable to the naked eye. One minute he is up top, and in a blink of an eye, the Canadian is at the heart of the defense.
Transitioning from a winger to a fullback, Davies is fulfilling the role quite well. However, should we call it fate or just plain luck?
It's because the German giants, Bayern Munich, are relishing the services the 19-year-old Canadian is providing.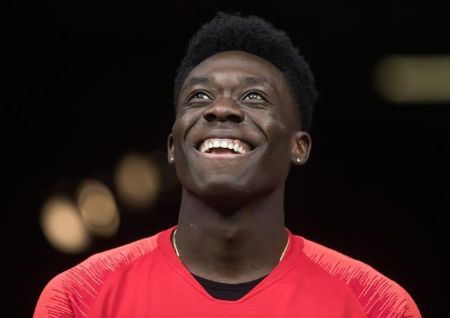 Not just fast, but with astounding dribbling abilities, Alphonso is a force to be reckoned with.
At present, he might be the best left-back the world has seen. With all due respect, even Liverpool's Andy Robertson feels pale in comparison.
What can Davies not do? Create wing-play, overlap with the wingers perfectly, set up crosses, make game-changing decisions when threatened, utilize his speed to the full extent, and provide defensive cover; the Canadian has got it all!
Today we will talk about the young sensation that is Alphonso Davies. We will learn why he is vital to Bayern Munich, his early life, and introduction to football, and eventually, his net worth! So stick around till the end!
Quick Facts
| | |
| --- | --- |
| Birth Name | Alphonso Boyle Davies |
| Date of Birth | November 2, 2000 |
| Age | 23 Years Old |
| Birth Nation | Buduburam, Ghana |
| Parents | Debeah Davies (Father), Victoria Davies (Mother) |
| Height | 6 feet/ 1.83 m |
| Weight | N/A |
| Build | Mesomorph |
| Marital Status | In a relationship |
| Girlfriend/Partner | Jordyn Huitema of PSG Women |
| Children | N/A |
| Active years | 2005-present |
| Clubs | Vancouver Whitecaps FC, Bayern Munich II, Bayern Munich (Present) |
| Position | Left-winger/Right Winger; Left-back (Current) |
| Net Worth | $1.2 million |
| Market Value | €40 million |
| Agent | Nick Huoseh |
| Jersey Number | #19 |
| Social Media | Twitter |
| Merch | Jersey, Boots, Shocks |
| Last Update | November, 2023 |
Alphonso Davies | Early Life & Career
Alphonso Boyle Davies, or simply Alphonso Davies, is a Ghanian professional football player born in Buduburam, a refugee camp located in the Gomoa East District of Ghana.
Life was certainly not easier for the Davies family, and being at the onslaught of a civil war, they had to flee their country and seek refuge in Canada.
Added to that, the Second Liberian Civil War displaced around 450 thousand people all over.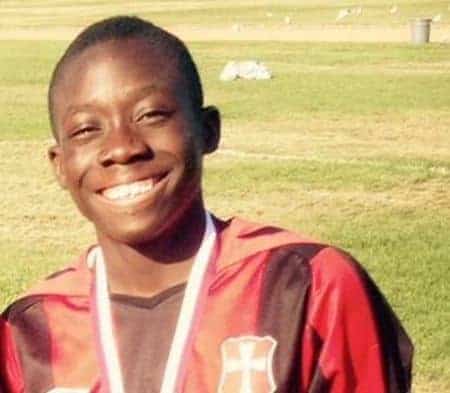 On the other hand, Alphonso is a family of 5, with two siblings, a brother, and a sister. It was due to his father that got Alphonso into football.
In an emotional interview, Victoria, Davies' mother, said she was proud of her son's achievement.
Before the Canadian winger was born, the family lived in Monrovia, a city in Liberia. The war plagued the town, and residents had to flee to save their life. After arriving at the Accra refugee camp, Alphonso was born.
Robert Lewandowski Bio: Age, Height, Stats, Club, Career, Net Worth Wiki >>
Being Canadian
There was no food, no water, and minimal means to earn your living despite the safer environment.
Fortunately, Debeah and Victoria found a way out and went to Canada. With that, Alphonso and his siblings were in school.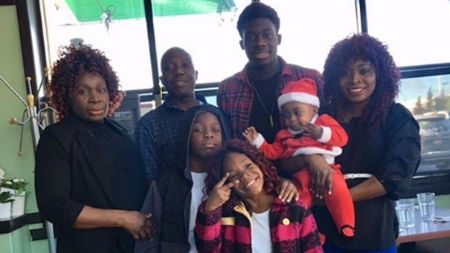 Moreover, Alphonso was just a five-year-old as the family migrated to Windsor, Canada. After a year in the city, the family moved to Edmonton.
The young Canadian didn't receive Canadian citizenship right away. After 12 long years, Alphonso proudly holds citizenship to Canada, which was granted in 2017.
There is even a short documentary titled 'Being Canadian' on YouTube.
This youngster is not only making his family proud but the entire of Canada. Starting from Edmonton Internationals and Edmonton Strikers ranks, the winger joined Whitecaps FC Residency at the age of 14.
Alphonso Davies | Age, Height, & Physical Stats | How fast is Alphonso Davies?
The Canadian took the Bundesliga by storm and is only 23 years old at present. Competing with fellow wonder kids like Erling Braut Halaand and Jadon Sancho, Davies is definitely making a place for himself in Germany.
Similarly, the winger-fullback has a physically commanding presence; and he is always trending for his hairstyle.
Added to that, he shows excellent quality winning aerial duels, which is possible due to an astonishing height of 6 feet (1.83 m).
Despite a leaner frame, the Canadian possesses brute strength, which he utilizes to rectify any mistakes defensively or offensively. Similarly, Alphonso has mad speed. When we say mad, it is simply unbelievable.
In his first Der Klassiker, Davies pocketed Dortmund's Sancho, Reus, and Achraf Hakimi, one of the most agile and pacy players in the Bundesliga. Notwithstanding that, Alphonso has a great eye for the goal as well.
Utilizing a lightning-fast pace to recover balls, dribble past opposition, and use funky footwork, Canadians are a threat offensively or defensively on the pitch.
In all fairness, he is probably the best talent under 20 in the world at the moment.
Manuel Neuer Bio: Age, Career, Stats, Net Worth, Wife, Instagram Wiki >>
Alphonso Davies even beat out fellow Bayern teammate Serge Gnabry and fell just slightly short of overtaking Kingsley Coman in distance-covered and maximum speed recorded. As such, at one game, the winger recorded an eye-popping 34.76 kph.
Let me stress the phrase "raging pace"; that is what the winger-fullback has. I bet not even Sadio Mane can catch him, and Davies might be just faster or as fast as the French prospect Kylian Mbappe.
Alphonso Davies | Career: Club & International
At the young age of 5, Alphonso joined Edmonton International. After a brief stint with the youth club, the Canadian joined Edmonton Strikers, for whom Davies played for nine years.
In those youth clubs, Alphonso made a profound impact that brought Whitecaps' attention towards the 14-year-old. Hence, the Canadian got the opportunity to play for the Whitecaps FC Residency.
Moving on to the MLS 2016 preseason tour, the officials monitoring Davies' growth became more convinced about the young winger's potential. As a result, Alphonso signed with the Whitecaps' reserve team on February 13, 2016.
Rolling with the Whitecaps
Moreover, the winger-fullback record-breaking streak commenced when he became the youngest player to sign in the USL at 15 years and three months.
Two months later, the youngster made an official debut for the second team in April 2016.
If you are interested in buying Davies' jerseys, click here.>>
Further, Davies set another record as the Canadian became the youngest ever to score in the USL's entire history at 15 years, six months. During that season, the teenager scored two goals out of 11 game appearances.
For the Canadian Championship of 2016, Alphonso made the roster in that campaign. Likely so, his efforts came into fruition as the teenager debuted against Ottawa Fury and later was a starter in the second leg.
Throughout the 2016 and 2017 seasons, Davies was unable to find the net. On the other hand, the club only took his individual performance into account and was eager to sign him until 2018.
Officially, at that very moment, when the pen met the paper, the winger was the youngest player to sign for the MLS (Major League Soccer). Immediately, in July 2016, Alphonso signed played his first game in the MLS.
Yussuf Poulsen Bio: Age, Parents, Instagram, Stats, Club Wiki >>
Professional Journey
The impact of Davies became imminent as the youngster smashed a goal in stoppage time to send the Whitecaps to CONCACAF Champions League knockout round.
The Canadian played in a total of 4 Canadian championships, 8 MLS games, and three CONCACAF games.
Meanwhile, many top clubs were eyeing the development of the teenager. In like manner, Davies delivered a good game against Montreal Impact, Orlando City, and Minnesota United.
Subsequently, the Canadian made the roster for the 2018 MLS All-Star game that pitted the MLS All-Stars against Juventus.
After that season, Alphonso proudly accepted Whitecaps' Player of the Award and Goal of the Year.
In fact, the two seasons were a period of great revelation to the Ghanian-born. Due to an exceptional performance throughout, Davies earned a move to one of Europe's biggest clubs, Bayern Munich.
Enter: Bayern Munich
Who knew it would be one of the best deals Bayern would ever make? On July 25, 2018, the German record champions completed the transfer of Alphonso Davies for Vancouver's record transfer of $13.5 million.
Upon arriving in the Saebener Strasse, the Canadian was starstruck when he came across Arjen Robben. After a warm welcome by Bayern coach and players, Davies started training sessions as early as November 21, 2018.
Initially, Alphonso was just a reserve for the first team. But, after debuting against Borussia Monchengladbach in the Telekom Cup on January 12, 2019, Bayern had to decide upon the young Canadian's future.
Furthermore, the winger came on as a substitute for Kingsley Coman and made his first Bundesliga debut against VfB Stuttgart. But, the main cementation was yet to come.
Alphonso opened his Bundesliga scoresheet in the 6-0 thrashing of FSV Mainz, netting that game's sixth goal. Thus, the winger became the youngest scorer for Bayern Munich since Roque Santa Cruz, almost two decades ago.
Yann Sommer Bio: Wife, Height, Clubs, Stats, Net Worth, Instagram Wiki >>
Prominence & Rise
It was about time; Davies won a title with the German giants. Eventually, the 18-year-old winger lifted his first Bundesliga title as the record champions managed to clinch the title, two points ahead of Dortmund.
In the same way, Alphonso added one more title to his collection by lifting the first DFB-Pokal in 2019 after a 3-0 defeat to RB Leipzig. Nonetheless, this was not the end of the budding talent.
Niko Kovac, the former coach, presented Davies with a 90-minute game time against the newly-promoted side Union Berlin in a difficult 2-1 win.
Likewise, when the Canadian made an official UEFA Champions League debut against Olympiacos, it was about that time.
However, we might call it a golden opportunity for Davies. Bayern's undisputed center-back Niklas Sule and the new summer signing, Lucas Hernandez, met with an unfortunate injury.
From that moment on, David Alaba freely plays as a center-back alongside Jerome Boateng or Benjamin Pavard. In contrast, Alphonso is a regular starter for the team but as a left-back.
World's best Left-back
22 Bundesliga and 10 Champions League games later, Davies gave the impression of a perfect transition from the left-wing position to the defensive left-back position.
Undoubtedly, there were concerns regarding such a decision by the coach.
But, since Bayern is plagued by an injury this season, an interim squad planning was underway.
Impressive Playing Style
According to the manager and the responsible authorities, Bayern deemed Davies as an alternative solution at the left-back.
Never would have fans and pundits imagined Davies to behave as a core defensive force. Combined with a blazing pace, perfect interception skills, applaudable ball recovery techniques, and most brilliant dribbling ability, it shocked everyone.
Consequently, teammates and coaches ran to Davies' praise. Yes, the Canadian made some blunders along the way, but it didn't cost Bayern any matches. It was solely due to his amendments right after it.
Being a regular starter helped Alphonso hone his defensive skills. The Canadian has a long way to go and a lot to learn, but I don't think any defender comes close to what Davies can do in the present context.
Hence, it is safe to say the Canadian is an extraordinary left-back. It is still questionable if he will be the best. Nevertheless, Alphonso proved to be a blessing for Bayern.
Finally, thanks to the ex-Bayern coach Niko Kovac and the current coach's continuous faith, Hansi Flick, the left-back, could nurture himself and shine in the first team.
International Career
Being of Liberian origin didn't stop the Canadian Soccer Association from acquiring the services of Alphonso Davies. With this, the Ghanian attended various U-15 and U-18 camps.
After successful incubation, the U-20 squad awaited him. In due time, Davies made a debut for the team against a friendly with England-20. Also, the Canadian participated in many international squad levels.
In particular, the winger became a part of U-17 and U-20 in many friendly games. Along the way, Davies bagged U17 and U20 Player of the Year while the doorway to the senior team was open.
Before June 6, 2017, Alphonso had yet to acquire Canadian citizenship. Right after the approval, the Canadian now expressed his joy in representing Canada's beautiful country in an interview.
Thus, Davies was made into the roster friendly against Curacao and the 40-man preliminary squad for the 2017 Gold Cup with eligibility to play for the national team. Against Curacao, the Bayern left-back became the youngest player to play for Canada.
Besides, in the 2017 Gold Cup match against French Guiana, Davies sealed the win with a 4-0 victory brace.
In like manner, Alphonso scored one goal against Costa Rica, ending the match in a draw, and, in turn, received Golden Boot for the highest score.
Further, the Canadian was made into the 23-man squad for the 2019 CONCACAF Gold Cup. In that match, the Bayern fullback became a decisive factor, as the Canadians defeated the Americans after almost 34 years.
Career Achievements
For Bayern Munich,
Bundesliga – 2018/19
DFB-Pokal – 2018/2019
Apart from these, his individual honors include:
CONCACAF Gold Cup Best XI: 2017
Gold Cup Golden Boot Award: 2017 CONCACAF
CONCACAF Gold Cup Bright Future Award: 2017
Canada U-17 Male Player of the Year: 2016, 2017
2018 MLS All-Star
2018 Vancouver Whitecaps FC Player of the Year
2018 Vancouver Whitecaps FC Goal of the Year
Canadian Men's Player of the Year: 2018
There are still more accolades that will come Bayern's left-back way. With commendable international and club statistics, Davie is on his way to be a bonafide legend.
Alphonso Davies | Net Worth & Transfermarkt | How much does Alphonso Davies make a year?
After signing a professional deal, Alphonso was never disappointed. Doing impossible things for his hometown club, the teenager inevitably attracted attention from all over, especially from Europe's major clubs.
The Munich-based club gathered the youngster's signature by beating out several big competitors like Manchester United and Liverpool.
Reportedly, Alphonso signed a deal with Bayern in the January transfer window of 2019 for €10 million.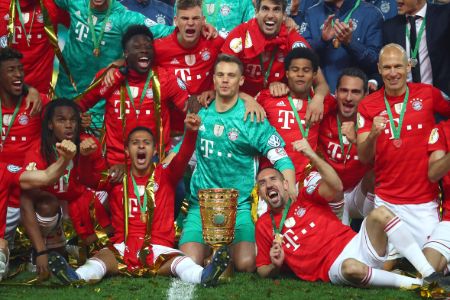 Upon joining the German giants, the Canadian prospect kept working hard and patiently waited for his moment.
Ever since David Alaba had to fill in for the center-back position, Alphonso started shining as a left-back.
Accordingly, the transfermarkt website listed the winger-turned-fullback at a whopping €40 million market value.
Let me recap things; it has been a year since the Ghanian-born players joined Bayern, and to record such a huge sum in a matter of 1 year is just otherworldly. Kudos to the young talent!
Presnel Kimpembe Bio: Wife, Club, Stats, Salary, Transfermarkt, Instagram >>
High Contract Deals
Let's move onto his professional contract and his earnings. To begin with, Alphonso has a net worth of $1.2 million as of 2021.
It became clear that the Whitecaps FC 2 was paying him an annual $62,500 salary from the records.
In the same way, after joining the first-tier Vancouver Whitecaps FC, the sum bumped to $65,000. After much negotiations, Alphonso pocketed a staggering $72,500. Mind you; he was only 17 at that time.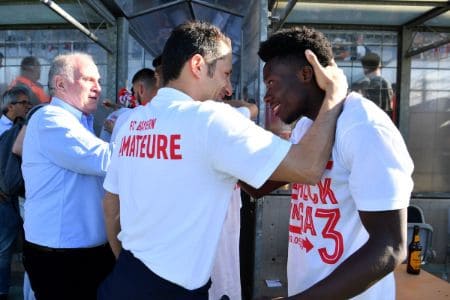 Totaling $200,000 salary with the Whitecaps, Davies now enjoys a heftier and improved pay with the German record-champions, Bayern Munich. The contract keeps in the city of Munich until 2023.
In the meantime, Bayern Munich pays Alphonso a mouth-watering $520,000 yearly.
After a laudable performance against the London club, Chelsea FC, the CEO, and all parties involved plan to give the 19-year-old a three-year contract extension.
Alphonso Davies | Personal Life
Bayern's winger-fullback is currently in a relationship with Jordyn Pamela Huitema. Like Alphonso, Huitema is a Canadian citizen and plays for the French club, Paris Saint-Germain, and the Canada Women's National team.
Talk about making a pair; both stars became Canada's Soccer Player of the Year of 2018. Also, Davies and Huitema have a strong bond regardless of living afar in different cities.
Alphonso makes sure to surprise his girlfriend by traveling to Paris and spending quality time together in his leisure time.
Simultaneously, the Bayern left-back pokes fun at Jordyn on social media while still being supportive of her.
Social Media Presence
Twitter: 282.5k followers
Interesting Facts About Alphonso Davies
Alphonso Davies became the youngest debutant to wear Canada's national team colors at 16.
Davies also became Canada's youngest ever goal-scorer when he scored against French Guiana.
Also, Alphonso's playing style mimics the GOAT Messi, where he admitted to formulating his style on him.