A high school love story turned to marriage- the NBA All-Star Andre Iguodala and his wife Christina Gutierrez are among the power couples of the NBA.
Christina and Andre married more than 7 years ago- their son served as the best man for the wedding. The duo leads a happy family of three as of 2022.
Understanding & deep love have kept the two together over the years despite relationship hurdles- that includes Iguodala's extra-marital affair and a daughter from that.
A 2004 NBA round-one pick, Andre Iguodala plays for Golden State Warriors after signing in 2021. The 2022-23 season marks his 19th as well as final NBA season, having played for the 76ers, Denver Nuggets, and Miami Heat earlier.
Often Andre Iguodala and his wife, Christina Gutierrez, are hotcakes for NBA fans. Many prying eyes are eager to know more about Christina, who prefers to stay low-key.
In this article, we cover the married life of Andre Iguodala & his wife, Christina, and all the other facts you need to know about her.
Andre Iguodala Wife, Christina Gutierrez | Quick Facts
| | |
| --- | --- |
| Full Name | Christina Guiterrez |
| Date of Birth | Not available |
| Birth Place | Not available |
| Nick Name | Christina |
| Religion | Christian |
| Nationality | American |
| Age | In Her late 30s |
| High School | Lanphier High School |
| Hair Color | Black |
| Father's Name | Not available |
| Mother's Name | Not available |
| Eye color | Black |
| Marital Status | Married |
| Husband | Andre Iguodala |
| Kids | Two (Including A Step-Daughter) |
| Son's name | Andre |
| Daughter's name | London |
| Marriage year | 2015 |
| Wedding location | Los Cabos, Mexico |
| Husband's profession | Professional NBA player |
| Zodiac Sign | Not available |
| Net Worth | Under review |
| Husband's net worth | $80 Million |
| Social Media | None |
| Last Update | November 2023 |
Who Is Andre Iguodala's Wife, Christina Gutierrez?
Christina Gutierrez got into media highlights after her marriage with four-time NBA champion Andre Iguodala. She and Iguodala are together since their high school days.
While Andre, as a professional NBA small forward, has no secrets about his career, his wife Christina is an expert at leading a super-secret life.
Yet she does make occasional TV show appearances with her husband & also attends his games.
Nothing much more on Christina Gutierrez is out; well, her absence from social media platforms gets somewhat credit for it. She comes from African roots.
The most widely known fact about Gutierrez is that she and Andre attended Lanphier High School in Springfield, Illinois.
Age, Height & Body Measurements
Christina Gutierrez has a slim body built- appears to be around 5 feet and 5 inches tall.
On the other, her NBA star husband, Andre Iguodala, has a height of 6 feet 6 inches (1.98 m) and weighs 98 kg (215 lbs).
Gutierrez, with dark-brown eyes and brown hair, seems to have a calm and charming personality. As for her age, she appears to be in her late 30s.
Christina Gutierrez (Andre Iguodala Wife) | Marriage & Kids
Andre and Christina are familiar with each other since they were teenagers in high school, yet, regarding marriage, it took them quite a while.
After more than a decade & a half, the two walked down the aisle, having shared a son together.
Christina Gutierrez and Andre Iguodala married on August 8, 2015, at One&Only Palmilla in Los Cabos, Mexico. Their marriage came a few months after Andre won the 2015 NBA Finals with Golden State Warriors.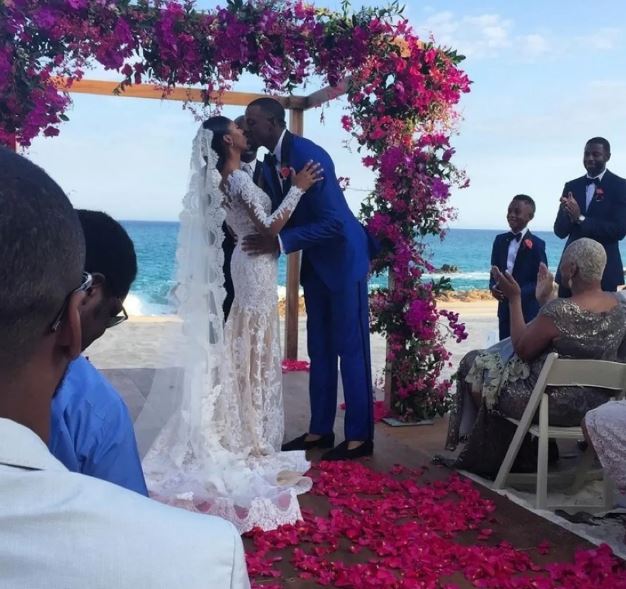 At the wedding, their son Andre Tyler Iguodala II (born on March 24, 2007) served as the best man.
According to reports, the bride donned Reem Acra before changing into Zuhair Murad for the Marcy Blum-planned nuptials.
While the ceremony remained private, the attendees of the seaside wedding did share the picture from the moment on social media.
The guest lists included Andre's teammates Stephen Curry, Klay Thompson, Festus Ezeli, Shaun Livingston, and Draymond Green, as well as Celtics player Evan Turner.
At the time of the wedding, Andre Iguodala, the 2015 NBA Finals MVP, was playing his third season with Golden State Warriors.
Andre Iguodala Has A Daughter From Another Relationship | Child Support
Besides his son Adre Tyler II, the NBA player, another child, a daughter named London Iguodala (born on May 7, 2009), with ex-girlfriend Clayanna Warthen.
Warthen, a native of Camden, is a hip-hop rap model and has a bachelor's degree in criminal justice.
As reported, Andre and Clyanna were in a relationship from October 2004 to January 2009- it was before Andre's marriage to Christina Gutierrez.
Though it is unclear if the NBA star and his high school sweetheart Christina were in an on-off relationship when he had an affair with Clayanna.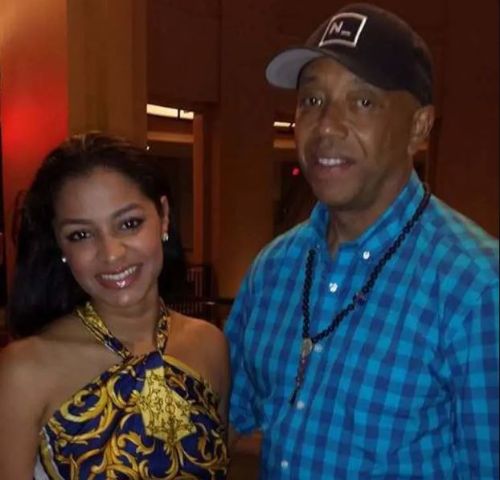 In 2009, then 23 years old Warthen filed a lawsuit against Iguodala in Camden County court, seeking monthly child support of $12,000 to $15,000.
Moreover, as per her interview with The Inquirer, Andre provided her "$3,000 to $4,000 on several occasions during her pregnancy."
Daughter With A 151 IQ
As per TMZ, in January 2016, in another lawsuit, Clayanna Warthen claimed $56K per month on child support– that was up from the $16K the player was paying previously.
As per the filed documents, their 6-year-old daughter London was a genius with a 151 IQ, ranking her among the top 97 percent of all Americans. So, she needed more money for extracurricular activities for the child.
She also claimed that NBA veteran Andre had prevented his daughter from meeting his other child.
Though Andre's legal defenders claimed that Claynna was trying to strip the money for her own personal reasons- for a personal chef and $7k for floor seats at 76ers games.
Brief About Andre Iguodala | Bio, Family & Career
Andre Tyler Iguodala is an American professional basketball player for NBA's Golden State Warriors- he played for the team from 2013 to 2019 before joining again in the 2021-22 season.
Born on January 28, 1984, Iguodala is from Springfield, Illinois. He is the youngest of two- has an older brother named Frank. His father Leonard Shanklin, is Nigerian, while his mother, Linda, is African-American.
The swingman was a two-time member of the NBA All-Defensive Team and an NBA All-Star in 2012. He has four NBA Championship titles (2015, 2017, 2018 & 2022)- all of them while playing for Golden State Warriors.
In 2015, he was voted the NBA Finals Most Valuable Player (MVP).
Moreover, he competed for the United States and helped them earn the gold medal at the 2012 Summer Olympics and the 2010 FIBA World Championship.
When Andre was in college, he played basketball for the Arizona Wildcats. The Philadelphia 76ers chose him with the ninth overall pick in the 2004 NBA draft after being named to the first team of the Pac-10 (now the Pac-12) as a sophomore that year.
Additionally, Andre was chosen to serve as the National Basketball Players Association's first vice president in February 2019. (NBPA). In that capacity, he took LeBron James' place.
Retirement
In the 2022 fall, while signing with the Warriors, Andre confirmed that he would retire from NBA after the 2022-23 season.
Throughout his career, Iguodala played for four NBA teams: Philadelphia 76ers (2004-12), Denver Nuggets (2012-13), Miami Heat (2020-21), and Golden State Warriors (2013-19, 2021-22).
Andre Iguodala's Wife, Christina Gutierrez | Net Worth
Christina Gutierrez's current profession or insights on her career journey remain under wraps. So, Gutierrez's net worth is under review.
But without a doubt, as the wife of a millionaire NBA star, she enjoys a luxurious lifestyle.
Her husband, Andre Iguodala, owns an $80 million net worth as of November, 2023. Iguodala's source of wealth is his basketball career.
Through his 19 NBA seasons, his career earnings record $185,219,886. The most notable career contracts of the player include:
A 4 year $8.98 million contract with the 76ers (in 2004)
$80.5 million contract for 6 years with the 76ers (in 2008)
A 4 year $48 million contract with the Warriors (in 2013)
A 3 year $48 million contract with the Warriors (in 2017)
In the 2022-23 season, Andre's salary from Golden State Warriors came from the one-year $2.91 million contract.
Andre Iguodala also earned a hefty sum through investments- in Facebook, Twitter, Tesla & other 25 different startup companies.
Also, the NBA player released the New York best-selling The Sixth Man: A Memoir in 2019.
Frequently Asked Questions (FAQS)
What are Andre Iguodala's hobbies?
Iguodala is a well-known golf enthusiast. Likewise, Iguodala also enjoys playing video games, especially the NBA 2K series. The player competed against NBA stars Nate Robinson, Brook Lopez, and Rajon Rondo, as well as rapper Wale in a tournament that was organized at the NBA 2K10 launch party in New York City.
What jersey number is Andre Iguodala?
Andre wore jersey number #9 playing for the Golden Star Warriors before retiring in the 2022-23 season.