Andre Iguodala is an American basketball player who currently plays for the Miami Heats of the National Basketball Association (NBA).
He has been in the business for a long time, receiving several honors and recognitions.
Moreover, he became an NBA All-Star in 2012 and has also been referred to the NBA All-Defensive Team twice.
Similarly, he is the owner of three NBA Championships, which he received while he played for the Golden State Warriors
Notably, Andre was also named the NBA Finals Most Valuable Player (MVP) in 2015.
Likewise, he also represented the United States in the 2010 FIBA World Championship and 2012 Summer Olympics and proved his worth, winning gold medals both times.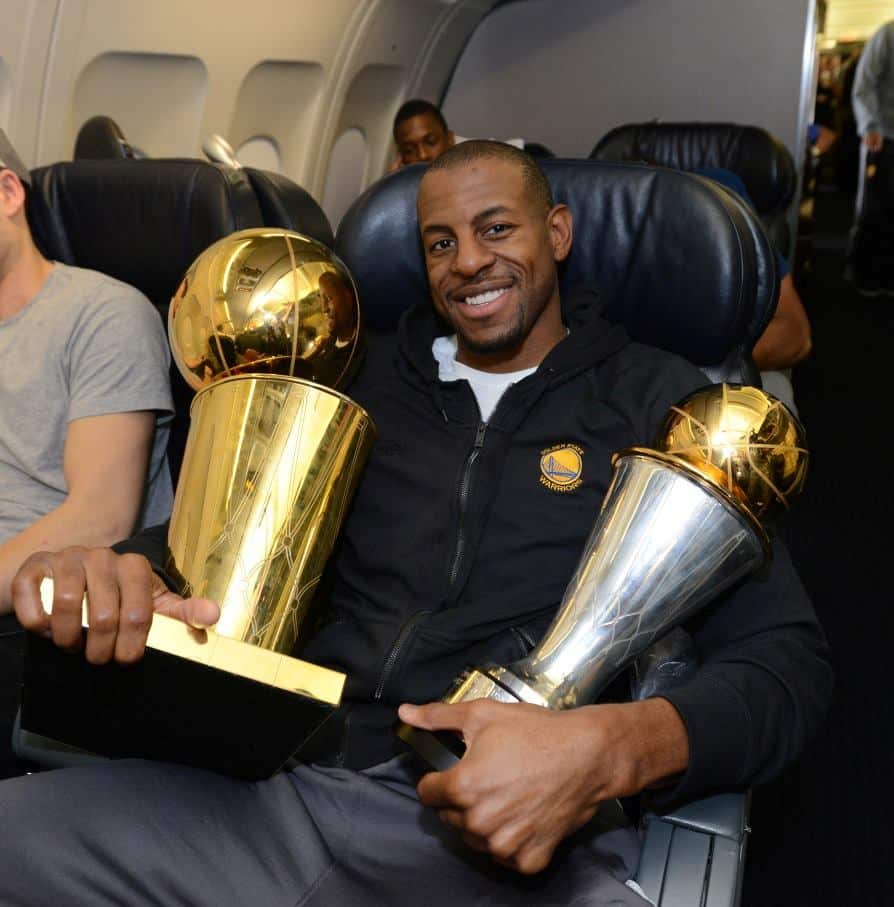 He is indeed a basketball masterpiece and shines in most of his games, wins many, and builds marvelous records. Today, we will be talking about Andre Iguodala's personal and professional life. Let's get started!
Quick Facts
Full name

Andre Tyler Iguodala

Known as

Andre Iguodala

Birthdate

January 28, 1984

Birthplace

Springfield, Sangamon County, Illinois, United States

Nationality

American

Religion

Christian

Horoscope

Aquarius

Age
39 Years Old
Father's name

Leonard Shanklin

Mother's name

Linda Shanklin

Sibling

A brother

Brother's name

Frank Iguodala

Education

Lanphier High School




Arizona State University

Marital status

Married

Spouse

Christina Gutierrez

Children

Two Sons

Sons' Name

London Iguodala




Andre Tyler Iguodala II

Height

198 cm (6 feet 6 inches)

Weight

98 kg (216 lbs.)

Build

Athletic

Eye Color

Dark Brown

Hair Color

Black

Profession

Basketball player

Current Affiliation

National Basketball Association (NBA)

NBA Draft

2004 / Round: 1 / Pick: 9th overall

NBA Debut

2004 (For

Philadelphia 76ers )

Currently Plays for

Miami Heat

Jersey number

28 in Miami Heat

Former Teams

Memphis Grizzlies




Golden State Warriors




Denver Nuggets

High School Basketball

Lanphier Lions basketball team

College Basketball

Arizona Wildcats Men's Basketball team

Highlights and Awards

All-Conference academic honor




Chicago Sun-Times Player of the Year




AAU national tournament Most Valuable Player (MVP) in 2000




Finals MVP in the 2014-2015 (Golden State Warriors)




The best player on the 76ers in the 2011-2012 seasons, etc.

Book

The Sixth Man: A Memoir

Position
Small Forward and Shooting Guard
Philanthropy

Andre Iguodala Disaster Relief Fund




Andre Iguodala Youth Foundation

Net Worth
$50 million
Social Media Handles
Facebook,Instagram & Twitter
Merch

Books

, Jersey
Last Update
June, 2023
Andre Iguodala | Early Life, Family, and Education
Andre Tyler Iguodala shortly Andre Iguodala was born in Springfield, Sangamon County, Illinois, the United States, to parents Leonard Shanklin and Linda Shanklin. Along with his parents, he has an older brother Frank Iguodala.
Like Andre, his brother, Frank, also played basketball for the Lake Land College in Mattoon, Illinois, and Dayton.
Moreover, Iguodala religiously followed and rooted for the Chicago Bulls while growing up. He idolized Michael Jordan then and looks up to him even today.
High School Career
Andre Iguodala went to Lanphier High School in Springfield, Illinois. He was good both academically and athletically while in high school and was also the recipient of several honors and awards.
Moreover, Andre earned All-Conference academic honors. Likewise, he was also on the National Honor Roll. He became the State Journal Student-Athlete of the Week several times.
Again, he also won three letters in track for the high jump. Notably, he also led his high school basketball team to a runner-up finish at the Illinois High School Association Class AA state tournament in his senior year.
He also won the Chicago Sun-Times Player of the Year award. Similarly, he was a second-team Parade All-American and Nike All-American.
Likewise, he also became a finalist for the Illinois Mr. Basketball award. However, he could not earn it. Dee Brown won the award.
Moreover, Andre was also named the AAU national tournament Most Valuable Player (MVP) in 2000.
He received that honor after hitting the game-winning shot at the final buzzer. That shot earned his team the 17-and-under national title.
Iguodala also played AAU basketball under Larry Butler and the Illinois Warriors. Moreover, Scout.com considered him a four-star recruit.
Similarly, he has enlisted as the No. 6 small forward and the No. 26 players in the nation in 2002.
College Career
Iguodala received offers from many schools, but he narrowed it down to Kansas or Arkansas. He also sent a National Letter of Intent to play at Arkansas.
Initially, Iguodala went to the Arkansas campus to see things. He returns, getting impressed by their large gymnasium and the number of fans at practice.
Arkansas fired their coach, Nolan Richardson, in 2002. Iguodala then decided to go to Arizona. He played for the Arizona Wildcats at Arizona University.
He made it to the Pac-10 All-Freshman team in 2002–2003. Andre made an impression as one of the best all-around players on the team. In fact, he was ranked in the top 5 for his team in terms of every major category.
He was named team MVP in 2003–2004, his sophomore year. He also earned the All-Pac-10 First Team. Similarly, he was named Honorable Mention All-America by The Associated Press.
How old is Andre Iguodala? Age, Height, and Body Measurements
Having born in the year 1988 makes Andre Iguodala 39 years old at the time of writing.
Similarly, Andre celebrates his birthday every year on the 28th of January under the sign of Aquarius. Also, this sign is known for being talented, confident, and goal-oriented.
Besides, Andre also has a fit and impressive physique, measuring 47-inches of the chest, 36-inches of the waist, and 16-inches of hips. He does several workouts and exercises to remain active and in shape.
Moreover, the basketballer stands at a towering height of 6 feet 8 inches(198 cm) and weighs 98 kg (216 lb). Other than that, Andre has got short black hair and a pair of dark brown eyes.
Andre
Iguodala | Professional Career
The Philadelphia 76ers drafted Iguodala in the 2004 NBA draft, 9th overall. He was the only member of the team to start all 82 regular-season games. He also played the other five playoff games.
Iguodala becomes Allen Iverson's favorite target in the process. The duo often connected on dunks on passes or alley-oops.
Iguodala showed his skill and versatility very much. He stood up as the only rookie and 76er to have recorded a triple-double that season.
Moreover, he was then named to the All-Rookie First Team. Andre started on the rookie team in the Rookie Challenge portion of All-Star Weekend. Further, he ranked fourth in voting for NBA Rookie of the Year.
He then became the only Sixer to have played in and started all 82 games in his sophomore season. He also won MVP honors on February 17, 2006, at the Rookie Challenge for his performance.
2008 – 2016
Iguodala signed a six-year contract worth $80 million with an extension on August 17, 2008. The deal also had $5 million as bonuses with a player option for the sixth year.
Iguodala got named to the NBA All-Defensive Second Team in the 2010-2011 seasons for his defensive efforts. His coaches and fellow teammates lobbied for him to make the First- Team acknowledging his potential.
He also recorded a career-high in triple-doubles in the 2010-2011 seasons. He was then rewarded for being the best player on the 76ers in the 2011-2012 seasons.
The Philadelphia 76ers traded Andre to the Denver Nuggets. He spent a brief time with them.
He then signed a four-year contract worth $48 million with the Golden State Warriors on July 5, 2013. Andre was named the Finals MVP in the 2014-2015 seasons while he played for the Golden State Warriors.
He became the first player to win the MVP award without starting a game during the regular season. Similarly, he became the first MVP not to have started every game in the Finals.
2017 – 2020
In the 2017 season, Andre contributed to leading the Golden State Warriors to win the Second NBA Championship by defeating the Cleveland Cavaliers in five games.
Later, Iguodala re-signed with the Golden State Warriors on a three-year contract worth $48 million on July 25, 2017.
But, Golden State Warriors traded Iguodala to the Memphis Grizzlies on July 7, 2019. The trade was made to acquire player Julian Washburn.
How many games did Andre Iguodala miss in the 2018 playoffs?
In the 2018 season, Andre missed the final four games of the Western Conference finals against Houston due to a fracture in his leg.
Likewise, he also missed the Finals' first two-game against the Cleveland Cavaliers.
What happened to Andre Iguodala in 2020?
The Memphis Grizzlies traded Andre to the Miami Heats on February 6, 2020.
Likewise, He agreed to a 2-year worth $30 million extensions with Miami Heat, with the last year being a team option. It was a part of the contract.
"It was brought to me. The trade happens, and it's brought to me"
Later, Iguodala then stood up as the tenth person in NBA history to have made it to six straight NBA Finals on September 27, 2020.
Andre Iguodala | National Team Career
Iguodala represented the United States national team in the 2010 FIBA World Championship and won the gold medal.
Likewise, he also played very well with an array of fastbreak dunks in the FIBA World Championships.
After that, Andre then represented the United States team in the 2012 London Olympics team.
His exceptional defensive ability contributed to land him there. He assisted Team USA in winning the gold medal against Spain in a 107–100 victory.
Notably, he also earned a bronze medal with the United States at the FIBA Americas Under-18 Championship in 2002 and was one of the team's best players.
Andre Iguodala | Career stats
Andre Iguodala |
Beyond Basketball
Andre is a video game geek. He particularly enjoys playing the NBA 2K series. He also played in a tournament put together at the NBA 2K10 launch parties in New York City.
Infact, he played against Nate Robinson, Brook Lopez, and Rajon Rondo, and Rapper Wale.
Moreover, Andre is also an avid golf lover. Whenever he gets extra time on his hands, Iguodala spends most of it on the golf course.
For instance, if you check out his social media sites, you can often see him posting pictures and videos playing golf and enjoying it.
Andre Iguodala | Into Business
Iguodala is a tech-investor. He advocates and motivates athletes in the NBA to invest in the technology industry.
He has partnered with entrepreneurs in San Francisco's Silicon Valley, leading to an annual event tagged Players Technology Summit.
Moreover, the Players Technology Summit was sponsored by Bloomberg. Likewise, it was initiated to set a discourse and help shape conversations for athletes' financial future.
Its significant ground is to search for opportunities for athletes in the technology industry.
Further, Iguodala has also invested in companies like Facebook, Twitter, and Tesla. Also, he has partnered with Rudy Cline-Thomas for the venture.
The duo has also invested as partners in at least 25 various startups in the technology industry.
Similarly, Iguodala is also a venture partner in the Catalyst Fund. The fund invests in underrepresented founders and entrepreneurs of tech companies.
He is also named the Menswear Style Director of an online secondhand apparel outlet called 'Twice.'
Interestingly, Andre has also tried his hands-on books and is also the New York Times Best Selling Author. He has published the book The Sixth Man: A Memoir on June 25, 2019.
Andre Iguodala | Net Worth, Income and Charity
The NBA player has accumulated an immense fortune. He earned a good amount of money from his NBA career. His business venture gave a nice hike to the considerable wealth that he already had.
Andre Iguodala's net worth is estimated to be around $50 million.
Likewise, he also receives $15,000,000 as an annual salary by playing for Miami Heats. Not to mention, Andre is the 3rd best-paid player of the Miami Heat this year.
Charity
Iguodala established the Andre Iguodala Disaster Relief Fund to raise money for tornado victims in Springfield, Illinois. Later, he also founded the Andre Iguodala Youth Foundation.
Moreover, the foundation aims to use sports as a means to provide fruitful ends to the youths. The organization has also hosted basketball camps and the annual "Thanksgiving with Dre."
Likewise, the "Thanksgiving with Dre" was initiated to provide food baskets to families in need. The Sporting News acknowledged his deeds and deemed him one of "the good guys of 2006".
Andre surely knows how to give back to the community.The fact that he spends a good part of his wealth on community service sanctifies all of his wealth. May he prosper even more, and may he serve the community even hard.
Andre Iguodala Personal life| Wife and Children
Andre Iguodala has successfully lived his life as a great basketballer. The talented basketballer is not just a successful player but also a wonderful husband and father to two.
Moreover, Andre is happily married to his long-time girlfriend, Christina Gutierrez.
The couple lives a private life, so not much is known about their relationship: like when and where they first met and how it all started.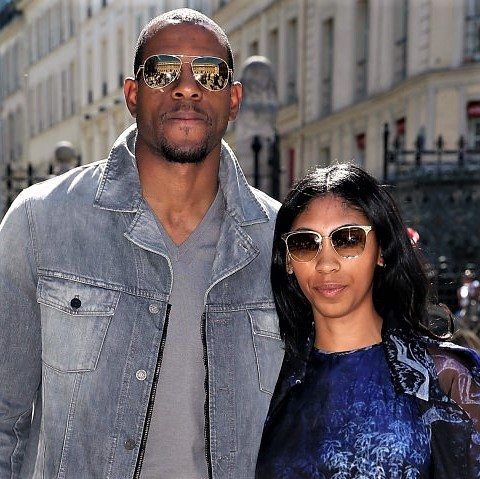 However, the couple tied the knot in August 2015 at One&Only Palmilla in Los Cabos, Mexico. Moreover, the couple is blessed with two children, a son Andre Tyler Iguodala II, and a daughter London Iguodala.
Before their marriage, Andre was having a love affair with Clayanna Warthen.
Likewise, some sources also claimed that Andre had his son with his wife Christina, but his daughter was from his previous relationship.
However, everything seemed to be going very well with Andre and Christiana, and there are no signs of marital issues or breakup. With the support and love for each other and two children, they are living a blissful life.
Social Media Presence:
Andre Iguodala is quite active on social media.
Apart from the fortunes and fame he has collected, Andre has also successfully accumulated millions of followers in his social accounts. You can follow him via these links:
Facebook account: 1,240,028 followers
Instagram account: 1.7 million followers
Twitter account: 1.3 million followers
People also ask:
How many rings does Andre Iguodala have?
Andre Iguodala has won three championship rings with Golden State Warriors in the (2014–2015) (2016-2017) and (2017-2018) season.
What shoes does Andre Iguodala wear?
Andre Iguodala wears different shoes wears on and off the court. The basketballer has an impressive shoe collection, including Retro Jordans, Nike Foamposites, and other Nike shoes in his home closet.
Likewise, in the last few seasons, Iguodala has been seen wearing various versions of Nike's Hyper line, including the low top HyperRev, Hyperdunk, and Hyperchase on occasion.
Over the past week, Andre was wearing two colorways of the Adidas QNTM basketball sneaker.
Who is the agent of Andre Iguodala?
Brandon Rosenthal is the agent of Andre Iguodala.
Where will Andre Iguodala play the 2020-2021 season?
Since Andre was traded to Miami Heat on February 6, 2020, he will play for Miami Heat on the 2020-2021 season.
What numbers have Andre Iguodala worn?
Andre Iguodala began his NBA career wearing No. 4 for the Philadelphia 76ers.
After that, he wore No. 9 with the 76ers, Denver Nuggets, and through the other three championships with the Golden State Warriors. Currently, he is wearing No. 28 as the player of the Miami Heat.
How many the sixth man of the year award Andre Iguodala have won?
Andre Iguodala has never won the sixth man of the year award, but he received two third-place votes that put him in 10th place for the award.
How many rebounds did Andre Iguodala make in a game, Golden State Warriors VS. Portland Trail Blazers?
Andre Iguodala made two points to go along with six rebounds, three assists, one steal, and one block in a game of Golden State Warriors VS. Portland Trail Blazers.